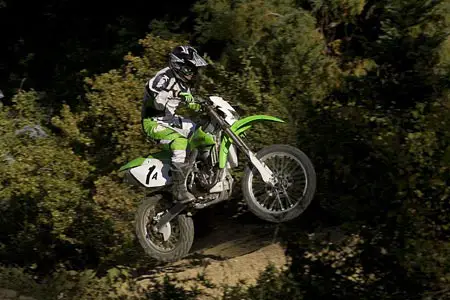 You are here: Home — New 2007 Models — 2007 Kawasaki Motorcycle Models
2008 Kawasaki KLX450R
Back to 2007 Kawasaki Motorcycle Index Page
Click photos to enlarge.
They make great desktop images.

 
– 2008 Kawasaki KLX450R

2008 Kawasaki KLX450R
Early Release 2008 model- arriving in dealerships early 2007
NEW 2008 KAWASAKI KLX™450R MODERN OFF-ROAD DESIGN MEETS WORLD CHAMPION MOTOCROSSER
Off-road toughness, electric-start convenience, motocross performance
Kawasaki's 2008 KLX™450R will soon be making a name for itself amongst the growing legion of off-road racing fans. This purpose-built version of the brand's World Supercross Championship winning four-stroke KX™450F motocrosser delivers the same high performance features as the KX model, yet modifies it for the improved durability, comfort, and range needed by off-road racers.
Adapted to the rigors of grueling courses, this model's lightweight engine has been tweaked for more low and mid-range performance delivering a wide spread of responsive, high-traction torque and superior throttle control for low-speed maneuvering. The KLX450R's gutsy response to hill climbing, mud holes, or other poor-traction, low-speed conditions will put it at the top of every racer's "want" list.
Kawasaki engineers have combined revisions in cam lift and timing in order to boost low and mid-range torque. Adding to the special characteristics of this engine are a heavier flywheel with double the mass of the KX450F's unit and a wide-ratio five-speed transmission with gears that have been specifically selected for off-road competition.
Adding an electric starter in addition to its kick-starting capability gives the KLX rider more options in the event of a stall. A high-capacity starter motor and compact, high-output battery helps insure quick and reliable starts under virtually all conditions a racer might face. A simple push of the starter button is all that's required in the event of a stall and can often be accomplished while still moving.

Given the length of some off-road race courses, being there at the end is just as important as getting there quickly. Kawasaki has engineered-in extra durability for the KLX450R, to help make it the envy of all competitive off-road riders. While the lightweight titanium intake valves from the KX remain unchanged, steel valves are used in place of the KX's titanium exhaust valves and the radiator is fitted with a reservoir tank to provide efficient cooling during long enduros. The KLX450R also features a sealed chain.
Utilizing the top-of-the-line suspension from the championship-winning KX450F, this new motorcycle puts extreme off-road capability at the top of its must-do list. The Kayaba AOS inverted fork provides superb damping and steering precision with tuning specifically optimized for light, easy handling characteristics. Oil and air are kept in separate chambers for stable damping performance during long events and low-friction seals contribute to smooth fork action.
Rider fatigue can be a significant factor in the outcome of an event, or just a weekend play ride, and Kawasaki has taken steps to minimize this bothersome effect. The KLX450R's chassis has been specially set-up to be nimble while negotiating narrow trails or maneuvering between rocks and trees. The wider seat with slip-resistant top surface adds both to comfort and mobility, while the 18-inch rear wheel allows for use of a taller/thicker rear tire which is more suited to absorbing sharp-edged impacts and allows the rider to choose from a wide selection of off-road tires.
A lightweight digital instrumentation cluster includes speedometer, twin tripmeter, odometer, and clock. The plastic fuel tank, which meets all environmental regulations, has a 2.1 gallon capacity and the petcock is fitted with a reserve. Illumination equipment is also kept on the light side, with the 35 watt compact headlight using a plastic lens, while the ultra-compact and energy efficient LED tail lamp highlights the part of the KLX450R that most other competitors will see.
Among the other race-ready features of this new motorcycle are: side covers shared with its motocross brother, though purposely lacking any holes so that water can't seep in; a left-side cover made of two pieces with a special "door" that allows easy access to the air cleaner; engine guards for both sides of the engine; and a works-style aluminum skid plate. All told, this new Kawasaki is ready to get dirty.
This straight-from-the-factory racer has everything needed to both maneuver an open course and find its way to the winner's podium. Every component found on the new KLX450R has been developed to enhance off-road racing performance while adding as little weight as possible. In fact, a fully-equipped KLX450R only weighs about 22 pounds more than the KX450F.
FEATURES:
Ultra-powerful 449cc Liquid-cooled, Four-stroke Single
– 449cc liquid-cooled, four-stroke single with four valves
– Features improved low and mid-range power delivery for climbing hills, riding in the mud or other poor-traction, low-speed conditions
– Linear power curve offers plenty of over-rev, for maximum flexibility in choosing shift points
Top End
– Revised cam lift and timing boost low- and mid-range torque
– Camshaft lobes and tappets feature a soft-nitride surface treatment for long wear and high-rpm reliability
– Hand-finished surfaces of the polished intake ports improve intake efficiency at all rpm
– Lightweight 36mm titanium intake valves and aluminum valve retainers reduce reciprocating weight for reliable valve control at high rpm
– 30mm steel exhaust valves replace the KX's 31mm titanium units for improved durability
– Double valve springs help ensure stable valve operation
– Screw-type automatic cam chain tensioner with oil pressure spring
– Revised ignition timing helps boost power
– Low-friction coating on piston skirt
Bottom End
– Flywheel mass is double that of the KX450F to provide ultra-smooth engine power characteristics
– Crankshaft, rotor mass centralization, oil circulation, and ignition timing have been carefully examined to help ensure ideal engine braking characteristics
– Crankshaft and connecting rod are sintered for additional rigidity
Exhaust
– Large 41mm titanium exhaust header for maximum power
– Tapered exhaust pipe joint helps increase ultra-low rpm power.
– Titanium exhaust pipe heat shield
– Silencer uses long-fiber packing for lower maintenance
Cooling
– High-capacity Denso radiators deliver superior cooling efficiency
– A reservoir tank is fitted to the radiator, for efficient cooling during long enduros
– Slim radiators feature tightly packed cores and fins designed to enhanced heat dispersion
– The KLX radiator shroud design is optimised for a seated position, compared to the KX shrouds
Electric Starting
– High-capacity starter motor is compact, yet offers high-output to help ensure quick and reliable starts under all conditions
– Lightweight battery is located beneath the seat and behind the airbox for optimum mass centralization
– Having both electric and kick starters means the KLX450 can be quickly restarted if the engine stalls during an event
– Features highly reliable auto-decompression system; the dual-weight centrifugal decompression system fitted to the exhaust cam eases starting, and its simple construction helps to ensure reliability

Wide-Ratio Five-Speed Transmission
– The wide-ratio 5-speed transmission features ratios selected specially for off-road racing
– The transmission's gears are designed for high durability
– Ball bearing shift lever for smoother shifting
– Ratchet-type shift mechanism for smoother shifting and a more positive feel
Frame
– Lightweight all-aluminum perimeter frame – straight from the KX450F – is a composite structure comprising forged, extruded and cast components
– The slim profile of the KLX450R frame, two-piece radiator shrouds that leave the upper frame spars exposed, and careful design of the remaining bodywork make the KLX450R feel light and narrow beneath the rider
– Aluminum skid plate
Front Suspension
– Fork tuning is optimized for light, easy handling characteristics
– Kayaba AOS (Air-Oil-Separate) fork keeps oil and air in separate chambers for stable damping performance during long motos
– Large front fork damper cartridges offer a more progressive and plush action
– Low-friction fork seals help reduce stiction
Rear Suspension
– New Uni-Trak® rear suspension system mounts the suspension arm below the swingarm, allowing a longer rear suspension stroke.
– The rear shock features dual compression adjustability, allowing high-speed and low-speed damping to be tuned separately
– Alloy swingarm uses cast front section, tapered hydroformed spars and forged chain pullers; the tapered spars are shaped to match the balance of flex and rigidity required of the aluminum frame.
– Sprocket style chain roller reduces drive lash
Brakes
– Like the KX450F, the KLX450R features petal brake discs front and rear. In addition to helping reduce unsprung weight, the wave shapes of the petal discs help clean the brake pads for more efficient braking performance
18" Rear Wheel
– Durable 18" rear wheel allows fitment of a wide selection of off-road tires
From the Cockpit
– Renthal aluminum handlebars are standard
– Lightweight short-length grips feature a special pattern to reduce vibration transmitted from the bars to the rider
– The seat is wider than the KX450F's for additional comfort during long enduros
– Seat uses a slip-resistant top surface for good grip when seated and smooth sides for excellent rider mobility

Off-road racing equipment
– Lightweight digital instrumentation includes a speedometer, twin tripmeter, odometer and clock
– Lightweight 2.1 gallon fuel tank is constructed to meet strict U.S. environmental regulations
– Gas tank petcock is fitted with a reserve
– Compact lighting package includes a 35 W headlight with lightweight plastic lens
– An ultra-compact and energy efficient LED tail lamp is used
– Side cover airbox holes have been eliminated to prevent the ingress of water. The left-side cover features a two-piece construction with a special "door" that allows easy access to the air cleaner
– Engine guards protect both sides of the engine. (KX450F has a right-side guard only.)
– Includes an aluminum skid plate for added protection from rocks and ledges
– A side stand is fitted as standard equipment
– California models feature a secondary air system to enable them to meet strict emissions regulations


SPECIFICATIONS:
Engine: Four-stroke, DOHC, four-valve single
Displacement: 449cc
Bore x stroke: 96.0 x 62.1mm
Compression ratio: 12.0:1
Cooling: Liquid
Carburetion: Keihin FCR
Ignition: Digital AC-CDI
Starting: Electric, with primary kick backup
Transmission: Wide-ratio five-speed
Final drive: Sealed chain
Frame: Aluminum, perimeter design
Rake / trail: 27.1 degrees / 4.6 in.
Front suspension / wheel travel: 48mm inverted AOS-type cartridge fork with 22-way compression damping and 20-way rebound damping / 11.2 in.
Rear suspension / wheel travel: UNI-TRAK® single shock system with 22-way low-speed, two-turn variable high-speed compression damping and 22-way rebound damping / 11.0 in.
Front tire: 80/100×21
Rear tire: 110/100×18
Front brake / rear brake: 250mm petal rotor with hydraulic dual-piston caliper
/ 240mm petal disc with hydraulic single-piston caliper
Overall length: TBD
Overall width: TBD
Overall height: TBD
Seat height: TBD
Wheelbase: TBD
Ground clearance: TBD
Fuel capacity: 2.1 gal.
Dry weight: TBD
Color: Kawasaki Lime Green
MSRP: TBD