You are here: Home — New 2008 Models — 2008 Ridley Motorcycle Models
2008 Ridley Auto-Glide Classic
Back to 2008 Ridley Motorcycle Index Page
Click photos to enlarge for detail.
They make great desktop images.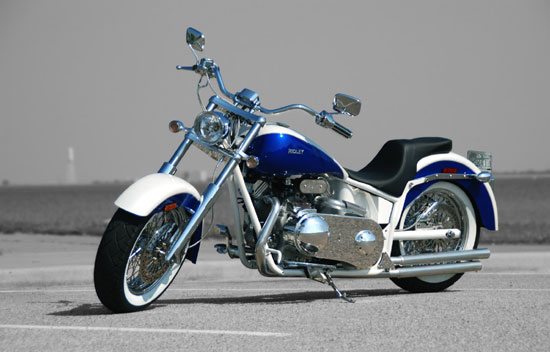 2008 Ridley Auto-Glide Classic
– 2008 Ridley Auto-Glide Classic

2008 Ridley Auto-Glide Classic
The model that started Ridley's Automatic Revolution. Formerly known as the Auto-Glide 740, it was later changed because of its styling cues from the era of traditional, timeless motorcycle designs with the unique Ridley twist. Featuring full fenders front and rear, immaculate six layer paint, bright chrome accents, high visibility LED turn signals, and much more. The Auto-Glide Classic is Ridley's most refined and famous model. To compliment the exterior, Ridley is now including its new "2 Year-Plus" warranty. This year's model is without a doubt Ridley's finest Classic ever.




AUTO-GLIDE™ CLASSIC
2008 Features
– Engine: Ridley 750 V-Twin features new retro style valve covers & exhaust heat shield.

– Instruments: Housed in chrome billet LED Speedometer with Tachometer, Indicators, & even battery voltage.

– Safety: Includes additional reflector on sides in front and rear for added visibility.

– Sound: New 80db exhaust quiets engine noise.

– Comfort: Redesigned solo seat features contoured foam wrapped in genuine leather.

– Parking Brake: New parking brake allows you to securely park your bike on hill or anywhere else!



Engine: Clear or Black engine finish looks great and helps protect against the salt corrosion.
Speedometer Display: LED Display adjusts to various lighting conditions to provide easy to read speed, tachometer, odometer, trip meter, battery voltage and more.
Seat: Redesigned to provide comfort, contoured to provide more back support. The added embroidery gives the new seat a touch of class.
Rear Foot Brake: Redesigned for a more smooth rotation by adding ball bearings. More chrome, anti-slip rubber and an easy to reach flat pedal for excellent stopping and comfort.
Parking Brake: Designed exclusively for the Ridley Auto-Glide, the brake secures the motorcycle from rolling and disables the engine.
Safety: Additional reflectors adorn the front and rear fenders to enhance visibility at night and during the day.
Exhaust: Engine exhaust noise has been reduced by increasing the exhaust pipe size and adding additional baffling. Optional exhaust is also available.
Heat Shield: Shields the heat from the exhaust and looks great too. Ceramic coated to match the exhaust.
Standard Equipment
– Steel Fenders
– Stretched Fuel Tank
– Billet Fuel Caps
– Round Tube Swingarm
– 24.5″ Seat Height
– Belt Final Drive
– Type II CVT Transmission
– LED Speedometer/Tachometer
– Chrome Accents
US SPECIFICATIONS: 2008 Ridley Auto-Glide Classic
MSRP: $17,650-18,950 USD
CAPACITIES
Oil Capacity 2 Quartz
Fuel Capacity 4.2g/15.9L
Seat Height* 24.5in/62.2cm
Footrest Height 6in/15.2cm
Rear Wheel Travel 3.5in/8.9cm
Dry Weight 460lbs./209kg
GVWR 760lbs./345kg
WHEELBASE 66in/167.6cm
LENGTH 97in/246.4cm
WIDTH 37in/94cm
HEIGHT 41in/104.1cm
GROUND CLEARANCE 4.75in/12.1cm
ENGINE
Manufacturer (MOR) Ridley™
Configuration AirCooled 90° V-Twin
Displacement 44ci/738cc
Compression Ratio 8.5:1
Valves Per Cylinder 2
Starter Electric
Exhaust Type 2 Stage: Muffled, Baffled
Lubrication Pressure
RPM @ 80 MPH 3850
Spark Plug RC12YC
DRIVE SYSTEM
Transmission Type Automatic CVT Type II
Primary Drive Kevlar/Rubber Belt
Final Drive Belt
WHEELS
Front Wheel 16″/40.6cm | 60 Spoke
Rear Wheel 16″/40.6cm | 60 Spoke
BRAKES
Brake Type Hydraulic (DOT5)
Front Brake 4 Piston (Ferodo Pad)
Rear Brake 4 Piston (Ferodo Pad)
LIGHTING SYSTEM
Headlight High/Low, Daytime
Brake/Tail Light** Daytime
Turn Signal Front Amber
Turn Signal Rear*** Red

MSRP Pricing
Manufacturer's Suggested Retail Price
Base Model MSRP
Black $17,650
Two Tone $18,150
Custom Flame $18,550
Custom Faded Flame $18,950

Freight** $625

Paint Options
Premium Pearl Paint $300
Custom Paint $300
Key Color Frame $250
Premium Key Color Frame $550

UPGRADE STYLES: ALL
UPGRADE PAINT: LEVEL Two & LEVEL Three
UPGRADE FRAME: ALL

Optional Equipment
Polished Engine $640
Big Gun Ceramic Exhaust $550
Pull Back Handlebar Risers $50
Plush Touring Seat $140
Metzler White Wall Tires $100

Canada Compliance Package $1000
Includes: Chrome Intake $225
Touring Seat $140
CN Headlight $150
CN Suspension $100
CN Labeling $75
Filament Turn Signals $125
Rectangle Tail light $185

*All models shipped to Canada require compliance package.
US models do not qualify for export to Canada.
** Freight is estimated to US 48 contiguous states.
OPTIONS
Factory Installed Options


ENGINE/EXHAUST
Polished Engine
Black Engine
Big Gun Ceramic Coated Exhaust

WHEELS/TIRES
Metzler White Wall Tires

SEATS
Black Touring Seat
Gray Touring Seat
Studded Black Touring Seat

HANDLEBARS/ERGONOMICS
Pull Back Risers

PAINT COLORS
'0eight FRAME COLORS
Black
Pearl White
Viper Red (P)
Candy Red (P)
Candy Purple (P)
Rosewood (P)
Candy Blue (P)
(P): Premium Key Color Option
'0eight PAINT COLORS
SOLID : LEVEL One
Black
Stark White
Viper Red
SOLID : LEVEL Two
Black
White Pearl
Candy Red
SOLID : LEVEL Three
Black/Rose
Quartz Black/Sonic Blue
Black/Candy Red
Black/Turquoise
Black/Silver
Black/White Pearl
TWO ONE PEARLS : LEVEL Three
White Pearl/Rose
Quartz White Pearl/Sonic Blue
White Pearl/Candy Red
White Pearl/Turquoise
White Pearl/Silver
White Pearl/Black


0eight PAINT STYLES
Solid (SLD)
Solid w/Pin Stripe (SPS)
Two Tone Deluxe (DTT)
New School Scallop (NSS)
Traditional Flames (TDF)
Tribal Flames (TRF)

IMPORTANT INFORMATION REGARDING PAINT:
All 2008 Ridley models feature a standard paint color and style which is offered as part of the base model. Dealers and Customers may choose to upgrade their colors and styles at an additional charge. Not all styles and colors are available on all models. See model specific information for color and style availability. Colors represented on this web site may not be accurate.


Options are not available in all areas.Contact a Ridley Dealer for information.
Pricing is believed to be accurate at the time of posting, but cannot be guaranteed. For updated pricing, contact a Ridley Dealer or Ridley Motorcycle Company. Ridley Motorcycle Company nor its Dealers may be held liable for inaccuracies in pricing or specifications.
Media Press Releases
'08 Model Unveiling Sells Three Months Production for Ridley Motorcycle.
(Okla. City, Okla.-10/19/07) The first ever Ridley Motorcycle Dealer Conference was held earlier this week in the manufacturer's hometown of Oklahoma City, Oklahoma. Focused on providing dealers with the guidance and information needed to successfully position the Ridley brand, the event brought dealers together in an open forum setting. The two day event started with a tour of the company's corporate office and final assembly facility followed by the long awaited unveiling of the '08 model line. One by one the new models were introduced by Clay Ridley. In all, Ridley introduced eight models including the company's first ever three wheel model, the Auto-Glide Trike.
North American Ridley Dealers attended the two day event October 14 – October 15 responding to the success of the presentations, the company's future plans, and unveiling of the new models by purchasing over three months production. "This was the shot in the arm I needed" commented Jim Lytner of Trike Toys, Las Vegas' exclusive Ridley Dealer. On monday, break out sessions covered topics from the manufacturing process to Ridley retail marketing and the future of Ridley. "I have attended dealer conferences for many companies in and out of the motorcycles industry. None of them covered as much or was as important as this weekend", stated Grimes Motorsports' Jim Grimes "the information was pertinent, the event was done with class and the timing was not disruptive to my business."
Currently ramping up production to satisfy the demand from new riders, Ridley Motorcycle has designed its two and three wheeled motorcycles to help build confidence and make riding easier leading to a safer motorcycling experience.
Ridley Automatic Motorcycles are the world's only line of fully-automatic motorcycles. Ridley's Continuously Variable Transmission (CVT) allows the rider to cruise without manual shifting or clutching.
Press Release #2
New Styles & Features for Ridley's Automatic Motorcycles in '08.
(Okla. City, Okla.-10/19/07) Ridley Motorcycle Company introduced its new line of fully automatic transmission models earlier this week on the company's website, www.ridleymotorcycle.com. The new '0eight line includes eight distinct models to meet the varying tastes of its broad customer base. For the new year, Ridley has added models to improve its product price range from an entry model price of $13,995 to a new three wheel model that has a base price of $25,995. In all, eight models will be offered by Ridley in 2008 which have already begun shipping to its dealer network of over sixty locations.
"Our focus is on delivering a motorcycle that fits the needs of the new market. It seems that so many companies are trying to revamp their line by adding a sixth gear. We're taking the gears completely out of the equation and letting riders get back to actually riding", said Clay Ridley about the effort his company has directed towards their new product line. Several new unique features are creating interest among Ridley Riders on the company's riders forum, one of which is a parking brake. "We take comments from the owners of our motorcycles very, very seriously. Ridley Riders have asked for a parking brake for added security", commented Jay Ridley, Vice President for the company.
Added to the long list of improvements for the new year model is the new "2 Year Plus" factory warranty which offers twenty-five months of factory backed warranty. According to Ridley, this new warranty exceeds coverage provided by most other domestic manufacturer's. One more reason Ridley believes 2008 will be the company's best selling year model.
With the holiday season fast approaching, Ridley Motorcycle felt the introduction of the new models would have more impact if held back until the middle of November. For Ridley, the holiday season means big business. Several of Ridley's dealers have reported higher sales in December than in May. The company attributed this to their market which is nearly divided in half among men and women.