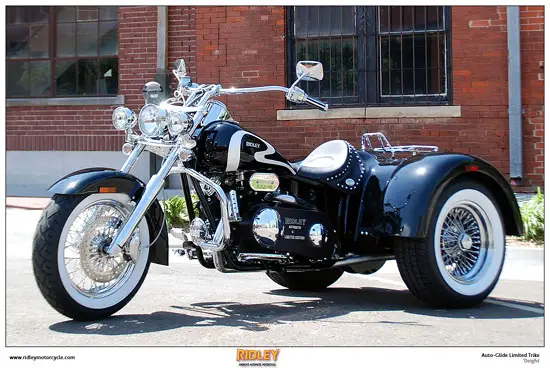 You are here: Home — New 2008 Models — 2008 Ridley Motorcycle Models
2008 Ridley Auto-Glide Trike Limited Edition
Back to 2008 Ridley Motorcycle Index Page
Click photos to enlarge for detail.
They make great desktop images.

2008 Ridley Auto-Glide Trike Limited Edition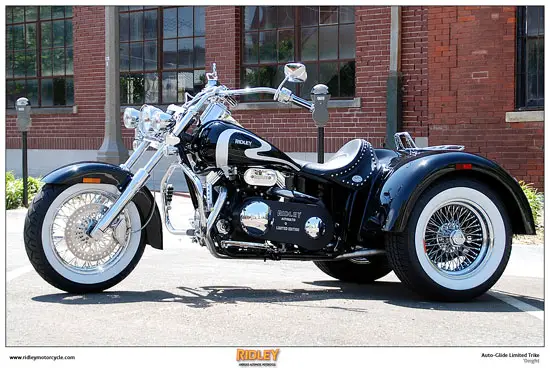 2008 Ridley Auto-Glide Trike Limited Edition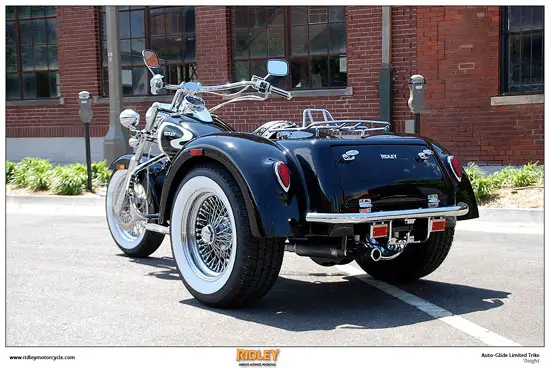 2008 Ridley Auto-Glide Trike Limited Edition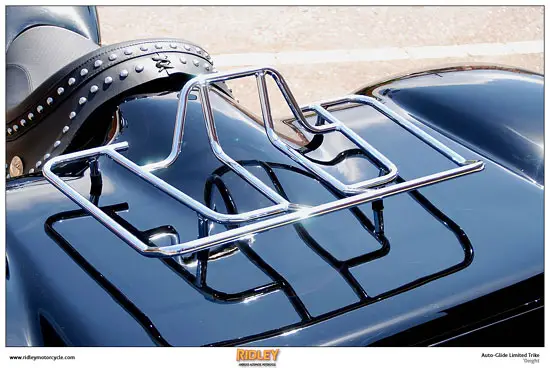 2008 Ridley Auto-Glide Trike Limited Edition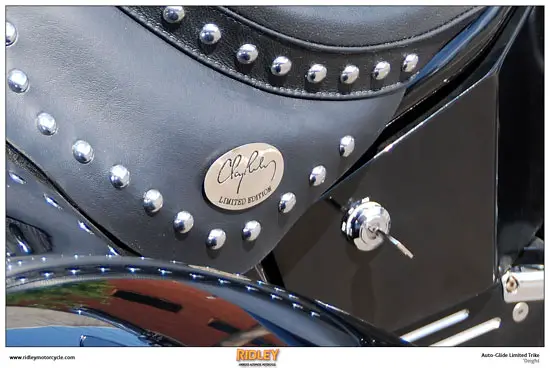 2008 Ridley Auto-Glide Trike Limited Edition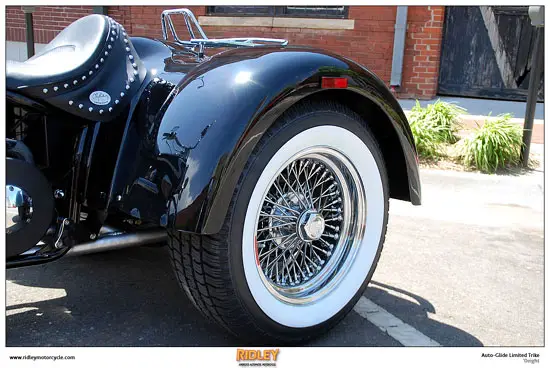 2008 Ridley Auto-Glide Trike Limited Edition
– 2008 Ridley Auto-Glide Trike Limited Edition

2008 Ridley Auto-Glide Trike Limited Edition
FEATURED : LIMITED EDITION TRIKE
Ridley Motorcycle recently announced it will be producing six Limited Edition Trikes. The model will feature styling ques from the sold out Auto-Glide Limited Edition model including the popular Liquid Black paint scheme with "Flying R" in pearl white. The engine and transmission are offered in mono-chrome with chrome and polish accents.

With the two wheel version long sold out, the Limited Edition Trike will certainly be a hit with riders demanding the fit and finish of Ridley with the features of the three wheel design.

When Ridley announced the company would be producing a very limited number of 2008 Auto-Glide Limited Edition Trikes, City Cycles owner Jon Olin was one of the first in line. Out of six only one Limited Edition Trike will feature candy red paint with the signature "Flying R" in pearl white.


Below is a list of Ridley Dealers where the Limited Edition Trike will be available*
*As of August 15th, 2008

Hi-Way Motorsports | Plainfield, Connecticut

Cycles & Trikes | Frederick, Maryland

Green Country Cycle City | Broken Arrow, Oklahoma

City Cycles | Brooklyn, New York
IMMEDIATELY SOLD
Treasure Coast Harley-Davidson | Stuart, Florida

IMMEDIATELY SOLD
Trike Toys | Henderson, Nevada


AUTO-GLIDE™ Trike Limited
2008 Features
– Engine: Ridley 750 V-Twin features new retro style valve covers.

– Gearing: Specially designed to handle the extra load.

– Speed : Capable of highway speeds, you'll find the Trike Limited Edition is great around town!

– Transmission: Features Ridley's Type II CVT automatic transmission.

– Reverse: The new Trike Limited Edition comes with an electric reverse making tight spots easy!

– Design: Function meets style with room to spare.

Standard Equipment
– Composite Front Fender and Body
– LED Speedometer/Tachometer Display
– Spoked Wheels
– White wall tires
– 24.5″ Seat Height
– Type II CVT Transmission
– Trike Limited Edition Gearing
– Adjustable Air suspension
– Straight Axle
– Rear luggage rack
– Limited Edition of 6
– Signed Clay Ridley badge
– "Flying R" in pearl white.
US SPECIFICATIONS: 2008 Ridley Auto-Glide Trike Limited Edition
Limited Edition Trike (Black & White) MSRP: $29,605 USD (not including freight or any options)
Limited Edition Trike (Red) MSRP: $31,155 USD (price includes shipping).

CAPACITIES
Oil Capacity 2 Quartz
Fuel Capacity 4.2g/15.9L
Seat Height* 24.5in/62.2cm
Footrest Height 6in/15.2cm
Rear Wheel Travel 3.5in/8.9cm
Dry Weight TBD
GVWR TBD
WHEELBASE 66in/167.6cm
LENGTH 97in/246.4cm
WIDTH TBD
HEIGHT 41in/104.1cm
GROUND CLEARANCE 4.75in/12.1cm
ENGINE
Manufacturer (MOR) Ridley™
Configuration AirCooled 90° V-Twin
Displacement 44ci/738cc
Compression Ratio 8.5:1
Valves Per Cylinder 2
Starter Electric
Exhaust Type 2 Stage: Muffled, Baffled
Lubrication Pressure
RPM @ 80 MPH 3850
Spark Plug RC12YC
DRIVE SYSTEM
Transmission Type Automatic CVT Type II
Primary Drive Kevlar/Rubber Belt
Final Drive Belt
Final Gear Ratio 3.69 : 1
WHEELS
Front Wheel 16″/40.6cm | 60 Spoke
Rear Wheels TBD
BRAKES
Brake Type Hydraulic (DOT5)
Front Brake 4 Piston (Ferodo Pad)
Rear Brake TBD
LIGHTING SYSTEM
Headlight High/Low, Daytime
Brake/Tail Lights** Daytime
Turn Signal Front Amber
Turn Signal Rear*** Red

Colors
5 out of 6: Black paint scheme with "Flying R" in pearl white.
1 out of 6: Candy red paint with the signature "Flying R" in pearl white.
Media Press Releases
Oklahoma City-based Ridley Motorcycles Unveiled World's First Fully Automatic Trike Limited Edition

(OKLAHOMA CITY – 04/07/08) The Ridley Motorcycle Company unveiled the world's
first and only fully automatic transmission, three-wheeled Trike Limited Edition motorcycle this weekend
in Oklahoma City, Okla. The Trike Limited Edition was on display at the "Thunder Run IV" event in
Oklahoma City, OK. Ridley's Auto-Glide Trike Limited Edition is the latest addition to Ridley's full line of
automatic transmission motorcycles.

"Adding an extra wheel to our already fun and easy to ride motorcycle is giving many
people the opportunity to feel the excitement of motorcycling for the first time," said Vice
President of Ridley Motorcycle Company, Jay Ridley. "On a Ridley Trike Limited Edition, you do not
have to worry about maintaining balance or using a clutch. Our Trike Limited Edition offers a retro style,
more storage, an electric reverse and the same automatic transmission that has become
a staple of our brand."

The rise in the popularity of Trike Limited Editions has been attributed to the growing baby-boomer
population. Trike Limited Editions offer greater stability while riding and are easier to handle. Ridley
looks to capture this market as motorcycle rider age demographics as a whole continue
to rise.

As with each Ridley model, the motorcycles are designed and manufactured at the
Ridley Motorcycle Factory in Oklahoma City.

"Some manufacturers will start with a two-wheeled motorcycle and modify the body to
make room for additional Trike Limited Edition parts," said Ridley. "We start with a frame specifically
designed to be a Trike Limited Edition. This allows for a higher quality product and a lower price point for
customers."

The Ridley Factory Team was on-hand at the "Thunder Run IV" event along with the
complete line of 2008 Ridley Auto-Glide Motorcycles including a redesigned Sport and a
completely new Auto-Glide Standard model. All Ridley Motorcycles feature an automatic
transmission. The 2008 Ridley Auto-Glide Trike Limited Edition is currently shipping to Ridley US
dealers with a base MSRP of $25,995.

Ridley Motorcycles are sold throughout the world. Their dealership network spans over
60 US markets, Canada, Puerto Rico, the Philippines and Japan. Ridley is looking to
expand into the majority of the EU member countries in the near future.