You are here: Home — New 2008 Models — 2008 Royal Enfield Motorcycle Models
2008 Royal Enfield Thunderbird
Back to 2008 Royal Enfield Motorcycle Index Page
Click photos to enlarge for detail.
They make great desktop images.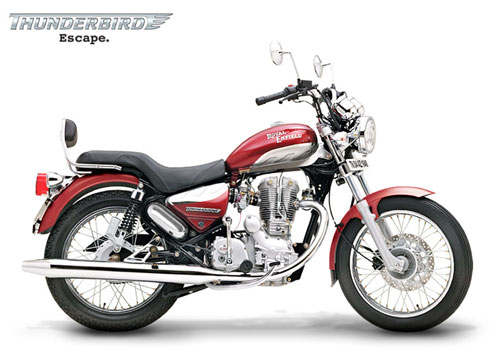 2008 Royal Enfield Thunderbird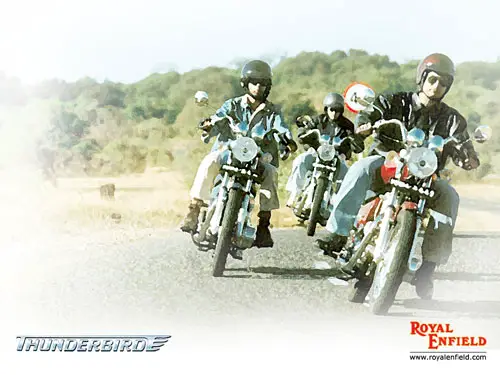 2008 Royal Enfield Thunderbird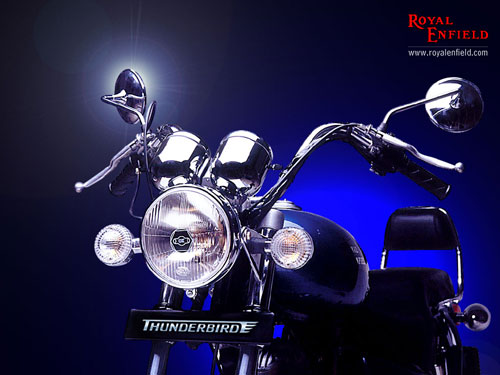 2008 Royal Enfield Thunderbird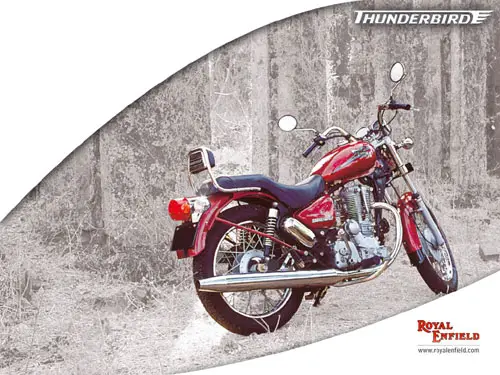 2008 Royal Enfield Thunderbird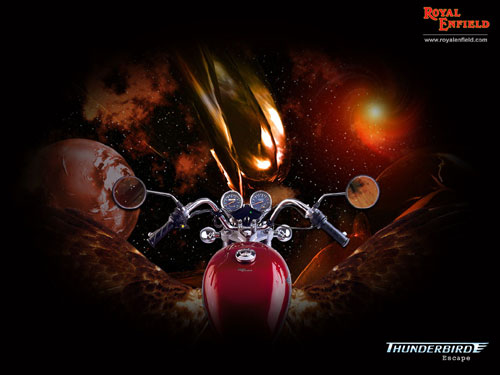 2008 Royal Enfield Thunderbird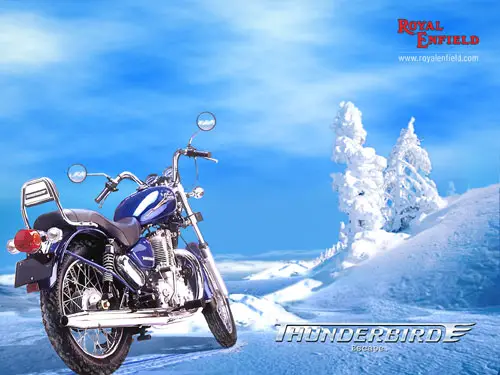 2008 Royal Enfield Thunderbird

– 2008 Royal Enfield Thunderbird

2008 Royal Enfield Thunderbird
The Thunderbird is built for those who choose to cruise.
With a smooth lean burn 350cc engine, Constant Vacuum (CV) carburetor for easy starts, ergonomic stepped seat and confortable pillion backrest, the laid back Thunderbird roams open highways and circumnavigates crowded city streets effortlessly.
The ideal vehicle for the road to inner peace, this easy rider won the coveted Best Cruiser Award from BBC Wheels.
FEATURES:
Optional Disk Brake
Multi focal head lamp
5 speed gear box with left foot gear shift
Optional Electric start
All aluminium lean burn engine
CV carburetor
Gas filled shocks
2 tone colors and graphics
SPECIFICATIONS India – 2008 Royal Enfield Thunderbird:

OVERALL RATING :
0-60 kmph : 7.7 sec
0-400 m : 22.3 sec
Top speed: 107.6 kmph
Ride : Good
Handling : Fair
Brake Rating : Very Good
Price as Tested: Rs 71,590 (Disc brake)*, Rs. 67,590 (Drum brake)
Price as tested includes 160kmph speedometer, 8000rpm tachometer and fuel guage.
* OTR Bangalore

Engine
Service Data
Type 4-stroke, air cooled single cylinder
Valvetrain OHV, 2 valves/cyl
Displacement 346cc
Bore x Stroke 70.0 x 90.0mm
Comp Ratio 8.5+-0.3:1
Carburettor Mikuni CV carb
Max Power [email protected]
Max Torque [email protected]
Power to Weight 103 bhp/ton
Ignition Electronic CDI
Idle Speed 900 – 1000rpm
Air Filteration Paper
Oil Filteration Felt
Lubrication Forced
Oil Pump type Gear pump
Fuel Unleaded petrol
Starting Kickstart
First Inspection 500 km
Service Interval 3000 kms
Engine Oil Grade SAE 20W/40 API-SF
Engine Oil Capacity 2.25 litre
Oil Filter Change 6000 kms
Oil Change interval 6000 kms
Spark Plug Mico W5DC
Spark Plug gap 0.46-0.5mm
Cyl Compression 8.5:1
Valve Clearances (cold)
Intake 0.08mm
Exhaust 0.10mm
Tyre Pressure
Front (Solo/Pillion) 1.27/1.41kgf/cm2
Rear (Solo/Pillion) 2.0/2.11kgf/cm2
Warranty 12000kms or 12months whichever is earlier


General Data Transmission
Kerb Weight 175 kg
Gross Weight 350 kg
Max payload 175 kg
Wheelbase 1370 mm
Length 2120 mm
Width 750 mm
Height NA
Saddle height 740 mm
Ground Clearance 140 mm
Min. Turning Radius 2.21m
Fuel Tank Capacity 14.45 litres
Reserve 1.25 litres
Clutch Wet multiplate
Primary Drive Duplex chain & sprocket
Final Drive Chain
Primary reduction 2.24
Final reduction 2.375
Gearbox-5 speed 5-Speed constant mesh
Gear Ratio kmph/1000rpm
1st 3.063 7.45
2nd 2.013 11.34
3rd 1.522 14.99
4th 1.212 18.83
5th 1 20.75


Electricals Chassis
Battery 12V 5Ah
Alternator 12V – 108W
Head lamp 12V 40/45W
Tail lamp 12V 5W
Stop lamp 12V 21W
Turn signal lamp 12V 10W
Fuse 15 Amps
Type Tubular welded
Suspension
Front Telescopic hydraulic damped
Rear Swingarm with hydraulic shock absorber.
Brakes
Front Mechanical internal expanding 7″ twin lead drum/ Hydraulic disc brake (optional)
Rear Mechanical internal expanding 6″ twin lead drum
Wheels and tyres
Rim (F/R) 2/1.85 x19
Tyre (F/R) 3.25×18″, 4/6PR
3.5×19″ 4/6PR
Make (F/R) Srichakra, Dunlop, MRF


Instrumentation Test Conditions
160kmph speedometer, tachometer, fuel guage Terrain All tarmac
Temperature 36º C
Distance 250km


Performance
Acceleration Braking
Time To Speed Seconds Meters
0-20kmph 1.4 4.1
0-30kmph 2.5 11.5
0-40kmph 3.9 24.9
0-50kmph 5.4 43.9
0-60kmph 7.7 79.8
0-70kmph 10.4 128.4
0-80kmph 15.1 228.7
0-90kmph 22.3 393.4
Minimum Stopping Distance
From 60kmph 21.3m/2.5s*
Control Good
Brake Feel Good
Overall Brake Rating Good
* Above figures achieved with disc brake

Time to Distance Ratings

Engine
Clutch/Gearbox
Handling
Braking
Rider comfort
Pillion comfort
Value for money

0-400m 22.3s @ 91.0 kmph

Roll – on
kmph 3rd 4th 5th
30-70 7.5 11.8 24.4


Fuel Economy Top Speed
IDC NA*
Overall 34kmpl
Best 40kmpl
Worst 28kmpl
Range 491.3km
*Manufacturer claimed
Max Speed 107.6kmph*
Speedo read 112kmph
*Achieved in 5th gear using Datron Correvit EEP-3 laser test gear.


Specifications and features are subject to change