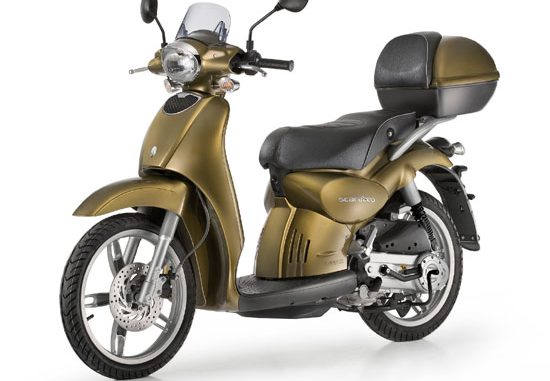 You are here: Home — 2009 Models — 2009 Aprilia Motorcycle Models
2009 Aprilia Scarabeo 50
Back to 2009 Aprilia Motorcycle Index Page
Click photos to enlarge.
They make great desktop images.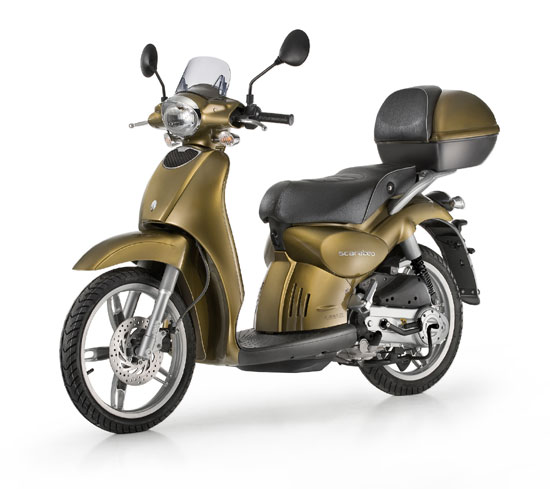 2009 Aprilia Scarabeo 50 (Same look at the 100T)
– 2009 Aprilia Scarabeo 50

2009 Aprilia Scarabeo 50
Aprilia has updated its mythical 2-wheeler with extreme caution, allowing the Scarabeo to evolve without making any radical changes.

That is the philosophy that distinguishes the 2008 Model Year. Although it received important upgrades, it didn't betray the philosophy behind its iconic status. The design is enriched by new stylistic elements with an optical group whose design and technology was renovated. The posterior light is completely redesigned with LED technology to increase rear visibility and carries superb safety implications. The blinkers have adopted white glass with a glazed structure. The front light has also been changed and the steering wheel is improved. An elegant front fairing improves the aerodynamics of the 4-time.

In the perfect Scarabeo style, even the new instruments are completely redesigned and extremely thorough.

The new wheels are even more captivating with a design that improves performance thanks to the lightweight design and slight inertial direction. They are also equipped with a more generous rubber area, guaranteeing perfect stability.
The two-cylinder theme is unaltered in the 50 Street. The Scarabeo 50 Street, the leading seller in Italy, is the go-to version of the grand Scarabeo family. It is the youngest with a minimalist design and a brilliant 2T engine. The Scarabeo 50 4T is ideal for urban movement in terms of safety and comfort while enjoying extremely economic consumption, boasting of optimal performances, and moving smoothly in traffic.

The 4T version is destined for those who want to increase performance. The scooter is in accordance with the Euro3 regulations.
The Scarabeo 50 has extremely refined mechanics that, together with the unmistakable design, epitomize the Scarabeo's success. The frame is reinforced with highly-resistant steel tubes for incredible manageability and an unwavering stability in addition to a tele-hydraulic front fork with an 82 mm diameter. Worthy of mentioning is the braking system that guarantees absolute safety in any type of situation. The anterior 220 mm braking disc adopted a caliper with a double contrasting-piston (Æ 30 mm) while the posterior brake cylinder (with a large diameter of a solid 140 mm) allows for precise and modular braking.

Accessories
– Complete large windshield
– Single key top box with passenger backrest (50 Four Stroke)
– Passenger footrests (50 Four Stroke)
– Body Guard armoured cable lock
2009 Aprilia Scarabeo 50 – USA Specifications
MSRP: $0 USD

Model not available in the USA

2009 Aprilia Scarabeo 50 – Canada Specifications
MSRP $TBA CDN
Engine
Horizontal single cylinder four stroke. Overhead cam. Forced air cooling. Catalytic exhaust.

Fuel
Lead free petrol.

Bore and stroke
(39.0 x 41.8 mm).

Displacement
(49.9 cc).

Compression ratio
(11.5-12:1).

Fuel system
(Keihin Ø 20 mm).

Ignition
Electronic.

Starting
Electric starter and kick-start.

Alternator
Permanent magnet, 12V – 120 W.

Lubrication
Forced wet sump lubrication with orbital pump.

Gearbox
Air cooled automatic variator.

Clutch
Automatic centrifugal.

Primary drive
V belt.

Final drive
Gearbox.

Frame
Single spar with double cradle in high strength steel.

Front suspension
Hydraulic fork. Wheel travel 80 mm.

Rear suspension
Hydraulic monoshock. Wheel travel (80 mm).

Brakes
Front: 220 mm stainless steel disk. Calliper with two opposed 30 mm pistons.
Rear: 140 mm drum.

Wheels
Light alloy, five petal-configuration spokes. Front 1.60 x 16″. Rear 1.85 x 16".

Tires
Front: 80/80 x 16″. Rear: 90/80 x 16″.

Dimensions
Max. length: 1,905 mm
Max. width: 705 mm
Max. height: 1,270 mm
Seat height: 780
Wheelbase: 1,256 mm

Tank capacity
8 litres (including 1 litre reserve).
2009 Aprilia Scarabeo 50 – UK Specifications
MSRP: £0
Model not available in the UK

*All prices shown are MSRP (Manufacturer's Suggested Retail Price).
Freight/destination, tax, license, title, or other dealer charges and optional or regionally required equipment (e.g., helmet) are excluded. Pricing, standard features, specifications and available equipment are those in effect when the page on which the information appears was produced and are subject to change without notice. Some images may reflect European models. Obey local traffic safety laws and always wear a helmet, appropriate eyewear and proper apparel.

** Windshield shown is not available in the U.S.

Colours, specifications and technical data may be subject to change without prior notice.