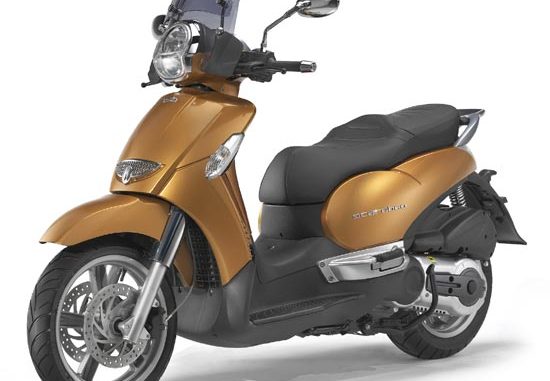 You are here: Home — 2009 Models — 2009 Aprilia Motorcycle Models
2009 Aprilia Scarabeo 500 ie
Back to 2009 Aprilia Motorcycle Index Page
Click photos to enlarge.
They make great desktop images.
– 2009 Aprilia Scarabeo 500 ie

2009 Aprilia Scarabeo 500 ie
Aprilia was the first to believe that the lightweight motorcycle was destined to return in the form an easy and fun to ride, automatic, spacious and comfortable large wheel scooter – the Scarabeo. Over the years Scarabeo has become a genuine style icon with its classic-modern design.
UTILITY DESIGN
One glance is all you need to pick out a Scarabeo i.e. from a thousand other bikes. Scarabeo i.e. is unique, a perfect mix of classic styling and modern finish that inevitably sets the pace. But like every other member of the family, Scarabeo i.e. with its unmistakable, classical lines is not just a pretty face! Its sleek lines hide advanced ergonomics and functionality, and incorporate a wide range of solutions to make life in the saddle easier and more comfortable than ever. Scarabeo i.e. is equipped with an adjustable windshield and the under-seat storage compartment is the biggest of any large wheeled scooter.
PERFORMANCE PLUS SAFETY
Though light in weight, equipped with an automatic variator, and aerodynamically protective, Scarabeo i.e. also gives you all the performance you need to tackle medium and even long journeys.

Lightweight, agile and fast, Scarabeo i.e. is as comfortable as any motorcycle, but far, far easier to ride. Its compact dimensions make it the perfect vehicle for traffic-intensive routes and easy parking, while high performance engines guarantee nippy overtaking. Just open the throttle and watch the traffic retreat behind you! Scarabeo 500 i.e. is the lightest motorcycle in its class. This, plus excellent engine performance, means a record power to weight ratio for lively acceleration, quick and safe overtaking and intuitively easy control. An oversized, integral braking system and wide section tyres add to active safety too, making Scarabeo i.e. far more than just another scooter.
A FLAGSHIP ON TWO WHEELS
Rider and passenger comfort has always been at the top of the list for the Aprilia design team. Scarabeo i.e. is designed and built to the highest ergonomic standards, and is equipped to make life on board as relaxed as possible. Abundant space for rider and passenger ensures a high level of comfort even on long journeys. Seat height is only 780 mm, and the platform is narrower under the rider's legs to make it easy to get your feet firmly on the ground. As you would expect from Aprilia, a tremendous amount of effort has been put into perfecting even the smallest detail, so Scarabeo i.e. boasts an unbeatable quality to price ratio. This sort of attention to detail, and such a generous level of equipment (which includes a sophisticated electronic anti-theft system) are only found on flagship vehicles.
ENGINE
The 500 cc engine is a single cylinder, liquid cooled, four stroke power plant with a single overhead cam and a four valve head.

Thanks to a maximum power of 29 kW at 7500 rpm and a maximum torque of 43 Nm at 5500 rpm, Scarabeo 500 i.e. delivers unbeatable performance, easily equivalent to many multi-cylinder motorcycles. In fact, impressive power plus extremely light weight gives the Scarabeo i.e. one of the best power to weight ratios on the market (6.55 kg/kW).
CHASSIS
Like all Aprilia motorcycles, the Scarabeo i.e. benefits from the tremendous know-how that Aprilia has built up over many years of success in racing. The frame and suspension are designed to let you make full use of the generous performance of its electronic injection engines.
The main objective of the Aprilia design team throughout the Scarabeo i.e. project was to achieve maximum comfort with maximum riding satisfaction. The result is a scooter with big-bike weight distribution, capable of amazing agility and handling without compromising the high speed stability for which all Aprilia scooters are famous. Scarabeo i.e. is a real delight to ride, not only because it is an inimitable style icon, but also because the active control typical of all Aprilias turns the Scarabeo i.e. into a truly dynamic motorcycle with the ability to thrill its rider even on the daily commute between home and work.
The double cradle frame is made from high strength steel, and is specially designed to guarantee fantastic torsional rigidity and amazing strength. This highly rigid and efficient frame ensures that Scarabeo i.e. remains totally stable even at high speed.
The hydraulic fork incorporates robust 40 mm stanchions for precision control and steering and effortless shock absorbing even on long journeys.
The engine and transmission assembly functions as a swingarm and is damped by two double acting shock absorbers. Spring preload can be adjusted to four settings to let you achieve perfect suspension action for all loads and all road surfaces.
Large diameter wheels (16 inch at the front and 14 at the rear) with tubeless motorcycle tyres (110/70 front and 150/70 rear) give exceptional comfort and control as well as faultless road holding. Wide profile tyres also assist the suspension in absorbing the roughness of uneven road surfaces as well as ensuring super-safe braking.
Braking is indeed one of the strong points of Scarabeo i.e.. Its integral braking system is always powerful, safe and easy to control, whatever the road conditions. Scarabeo i.e. model is fitted with three large diameter discs. Two 260 mm front discs with floating calipers are assisted by a powerful 240 mm rear disc.

The principle of integral braking is simple. When you pull on the left hand lever (the rear brake lever) you operate not just the rear disc brake but one of the two front disc brakes too. A special valve distributes pressure between the two wheels to maximise effect and make braking easy to control even for novice riders. Integral braking dramatically reduces stopping distances and gives you a far greater feeling of safety and control than conventional braking systems.
LOAD CAPACITY AND EQUIPMENT
Load carrying capacity plays a fundamental role when you choose a new scooter. Under-seat storage space has always been the Achilles' heel of other high wheel scooters, but Aprilia's engineers have found a brilliant solution. Despite its compact dimensions, low seat and large wheels, Scarabeo i.e. boasts an under-seat storage compartment worthy of the biggest GT scooters, big enough to hold a full-face helmet and other personal effects besides, or even an A3 size briefcase, thanks to 15 centimetres of depth throughout. There is even another lockable storage compartment in the back of the leg shield.
In addition to all this standard storage space, you can add an (optional) top box that is beautifully easy to install on the standard luggage rack.
The analog-digital instruments with classic white background provide all the information you could possibly want. The compact display even includes a fuel level gauge.
The seat can be released from the anti-theft system's remote control, so you can access your belongings without fumbling for a key: a small but important contribution to making daily life that little bit easier.
In keeping with Aprilia's design policy, Scarabeo i.e. gives you everything you need as standard, including an electronic anti-theft system with remote control. This advanced vehicle security device is fitted as standard for the first time on any scooter, and functions by locking the engine's electronic control unit, making any attempt to start the bike or tamper with it pointless. Like any car security system, Scarabeo i.e.'s anti-theft system is switched on and off at the touch of a button on the remote control. It also cuts in automatically 50 seconds after you remove the ignition key. The system sounds a high power siren and flashes the hazard warning lights if any attempt is made to move the vehicle.
2009 Aprilia Scarabeo 500 ie – USA Specifications
MSRP: $6,299* USD

Engine
Liquid cooled single cylinder four stroke.
Single overhead cam (SOHC), 4 valves.
Fuel
Unleaded petrol.
Bore and stroke
92 x 69 mm.
Displacement
460 cc
Compression ratio
10.5:1.
Maximum power
29 kW (39 HP) at 7,500 rpm
Maximum torque
43 Nm at 5,500 rpm
Fuel system
Electronic fuel injection.
Ignition
Electronic CDI ignition with automatic timing.
Starting
Electric.
Alternator
12 V – 380 W.
Lubrication
Wet sump. Forced circulation with mechanical pump.
Gearbox
Automatic variator.
Clutch
Automatic centrifugal dry clutch.
Primary drive
V belt.
Final drive
Gearbox.
Frame
High strength tubular steel frame with closed double cradle.
Front suspension
40 mm hydraulic fork. Wheel travel 103 mm.
Rear suspension
Engine acting as swingarm. Two double acting shock absorbers
with 4 spring preload settings. Wheel travel 100 mm.
Brakes
Front: Twin 260 mm stainless steel discs. Floating calipers with two parallel pistons. Integral braking system.
Rear: 240 mm stainless steel disc. Fixed caliper with two pistons. Integral braking system.
Wheels
Light alloy.
Front: 3.00 x 16";
Rear: 4.50 x 14".
Tyres
Tubeless.
Front 110/70 x 16";
Rear: 150/70 x 14".
Dimensions
Overall length: 2,263 mm
Overall width: 765 mm (at handlebars)
Overall height: 1,411 mm (at windshield)
Wheelbase: 1,535 mm
Seat height: 780 mm
Dry weight
189 kg
Tank capacity
13.2 litres (3 litres reserve)
Standard equipment
Car-type electronic anti-theft system with remote control.
Optional accessories
Large windshield with hand-guards, 50 litre tunnel bag, 47 litre
Street Case top box in matching paint finish, 35 litre City top box in matching paint finish personalised for Scarabeo, optional top box backrests.

2009 Aprilia Scarabeo 500 ie – Canada Specifications
MSRP $0 CDN
Model not available in Canada

2009 Aprilia Scarabeo 500 ie – UK Specifications
MSRP: £0
Model not available in the UK

Colours, specifications and technical data may be subject to change without prior notice.
*All prices shown are MSRP (Manufacturer's Suggested Retail Price).
Freight/destination, tax, license, title, or other dealer charges and optional or regionally required equipment (e.g., helmet) are excluded. Pricing, standard features, specifications and available equipment are those in effect when the page on which the information appears was produced and are subject to change without notice. Some images may reflect European models. Obey local traffic safety laws and always wear a helmet, appropriate eyewear and proper apparel.