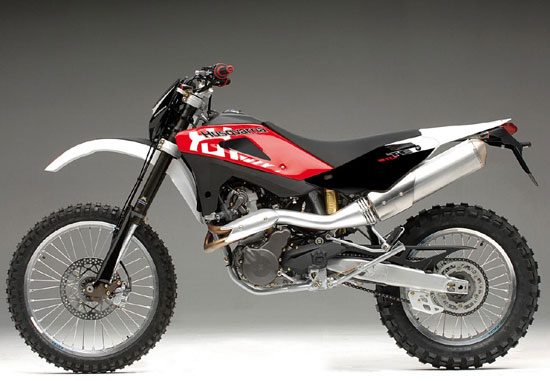 You are here: Home — 2009 Models — 2009 Husqvarna Motorcycle Models
2009 Husqvarna TE610 IE
Back to 2009 Husqvarna Motorcycle Index Page
Click photos to enlarge.
They make great desktop images.
– 2009 Husqvarna TE610 IE

2009 Husqvarna TE610 IE
TE 610 -HUSQVARNA. In the Husqvarna Dual range, the new TE 610 i.e. lines up like a big sister to the WRE 125.
This model has been designed to fill a gap in a particularly interesting sector of the motorcycling market – that of the 600 cc four-stroke, single cylinder, off-road machine. Based on the SM 610 i.e., the Husqvarna TE 610 i.e. benefits from having many parts in common with other four-stroke racing Enduro Husqvarnas.

The machine along with the unique Husqvarna WRE 125 that is the 74 times off-road champion sits neatly in the dual purpose sector – meaning bikes that will take you anywhere. With the TE 610 ie., Husqvarna intends to widen its range to include those less competition-minded riders who use their bikes every day and need more comfort and practicality but want to combine this with the thrill of owning a race bike.

The Husqvarna TE 610 ie.. is perfect for those of you that want a bike with muscle but also class. It is without any doubt the best example of how a racing off-roader can be transformed into a road-going machine.

The new Husqvarnas happily took up the challenge of racing and in the last Italian Championship Motorally and Marathon Raid won the "Marathon" category for production bikes.

The TE 610 ie. combines a strong character with looks. Part of its brilliance comes from the frame that has been re-tuned to cope with daily road use but is still powered by one of the best engines in production today, especially in the low-medium rev band.

This version has had some highly significant modifications to the cylinder and head as well as now being fitted with electronic fuel injection developed in collaboration with Mikuni to facilitate its Euro 3 homologation. The TE 610 will have Tommaselli tapered handlebars with new steering head clamps and no cross bar. The colour scheme is the same classic red and white as seen on the Italian Championship Marathon class.

Updated in 2007 with fuel injection, Husqvarnas big bore trail bike offers the perfect blend of on road performance and off road manners for those looking for a true dual purpose bike. The proven single cam engine provides ample torque from tickover up and the Mikuni fuel injection gives a faultless power delivery right through the range. The chassis benefits from Marzocchi forks, Sachs rear shock and Brembo brakes to ensure the power is nicely controlled. Check out the magazine test on the Downloads page for more information.
Features:
576cc Liquid Cooled Engine

Mikuni Fuel Injection

Marzocchi Forks

Tommaselli 'Fat Bars'

Brembo Brakes

Two Year Warranty


2009 Husqvarna TE610 IE Specifications
TBA

Model TE610IE
Category Trail
Engine 576cc 4 Stroke