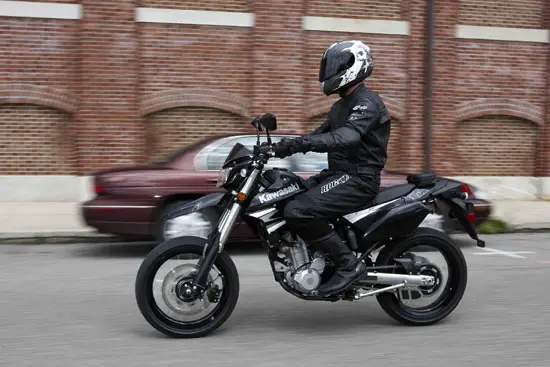 You are here: Home — 2009 Models — 2009 Kawasaki Motorcycle Models
2009 Kawasaki KLX250SF
Back to 2009 Kawasaki Motorcycle Index Page
Click photos to enlarge.
They make great desktop images.
– 2009 Kawasaki KLX250SF

2009 Kawasaki KLX250SF
Lightweight supermotard delivers quick reflexes and unlimited fun
For those seeking a nimble user-friendly bike with supermoto styling, Kawasaki has a solution in the shape of its new KLX™250SF. Based on the KLX250S dual sport, the new SF model is specifically tuned to deliver maximum on-road fun. Its 17-inch wheels, radial sportbike tires, a big front brake rotor and lowered suspension give it an air of purposeful aggression.
Sporting all of the updates and refinements found on the freshly minted KLX250S, the new KLX250SF has reduced wheel travel at both ends, placing the center of gravity lower to improve on-road handling and enhance straight-line stability. This also results in a more planted feel in corners and a lower seat height. The change in setup offers a firm ride quality, thanks to a change in front fork oil level and revised damping settings for both the fork and shock.
These changes provide a reduction in pitching motions during braking and acceleration and help allow the rider to hold a consistent line during aggressive on-road cornering. However, the suspension is still supple enough to soak up most road surface irregularities and offer a smooth ride. The KLX250SF's fully-adjustable suspension features 16-way adjustable compression damping on the 43mm inverted cartridge-style front fork and 16-way adjustable compression and rebound damping on the Uni-Trak® rear suspension. Wheel travel is 9.1-inches front and 8.1-inches rear which strikes a happy-medium between long-travel off-road designs and short-travel sportbikes.
The KLX250SF's short wheelbase aids its already outstanding ability to hold tight lines and its rigid box-section perimeter frame provides excellent transitional response, thanks to it's rigid steering head. Complementing the chassis is a lightweight aluminum swingarm with a highly-rigid D-shaped cross section and KX™ racing-type chain adjusters for precise chain adjustment.
The new KLX250SF employs convenient electric-starting for its compact, liquid-cooled, four-stroke, single-cylinder engine. The 249cc engine is mounted in a lightweight, high-tensile steel perimeter frame to deliver a low center of gravity and superb maneuvering on tight roads. A gear-driven engine balancer keeps engine vibrations at bay for greater comfort and less fatigue on long rides.
A 34mm semi-flat slide Keihin CVK carburetor contributes to quick throttle response and precise power delivery. It also helps to provide increased fuel economy. An evaporative emissions system allows the KLX250SF to meet strict CARB regulations, making it eligible for sale in all 50 states.
A six-speed transmission provides optimum gearing for most occasions and helps the rider to keep the 249cc engine at its optimum rpm. It employs a smaller 39-tooth rear sprocket to extend its high-speed capabilities beyond those of the KLX250S dual sport.
Negotiating urban traffic or blasting around a tight race track highlights another strength of the KLX250SF – it keeps its cool. Incorporating dual lightweight, high-capacity Denso radiators and a shallow-footprint cooling fan provides an ample solution to potential heat issues.
New 17-inch cast aluminum wheels offer great handling, improved stability and the aggressive on-road performance sought by urban commandos and canyon carvers. The new wheels also allow access to a wide range of sportbike tire options. Aggressive riding on pavement demands powerful, fade-resistant stopping capabilities and the new KLX250SF delivers with a massive 300mm semi-floating petal disc up front clamped by a twin-piston caliper. The rotor is 4.0mm thick for increased rigidity, efficient heat dissipation, and optimum fade resistance. A single-piston caliper squeezing a 240mm rear petal disc compliments the big front brake.
Finishing off this package is a new set of aggressively styled ebony bodywork, a comfortable seat and a handlebar which offers good leverage so riders can flick the light KLX250SF side to side, or hold a tight cornering line with a minimum of effort.
Riders seeking supermoto handling and modern engine performance in a lightweight motorcycle designed for exciting street rides will find it at their local Kawasaki dealership. The KLX250SF offers serious capabilities in a fun, easy-to-ride package, regardless of where the adventure takes it.
Authentic Kawasaki Accessories are available through Kawasaki dealers.






Features and Benefits

Engine
– Compact engine design is lightweight and high revving, with a broad torque curve
– Good mass centralization for superior handling
– Flat-top piston and pentroof combustion chamber deliver an 11:1 compression ratio
– Lightweight piston, piston pin and connecting rod enable higher revs for maximum power
– Aluminum cylinder features electrofusion coating, which allows a tight piston-cylinder clearance for greater horsepower and offers increased engine life thanks to superior heat transfer and lubrication retention properties
– A gear-driven engine balancer provides smooth power delivery from idle to redline
– 34mm semiflat slide Keihin CVK carburetor delivers the optimum amount of fuel at all rpm, contributing to quick response and healthy power, as well as good fuel economy
Liquid Cooling
– Dual high-capacity, vertical-flow Denso radiators provide reliable and efficient engine cooling
– Radiators feature tightly packed cores and a fin design for excellent heat dispersion
– More consistent engine temperatures allow tighter engine clearances for quieter running and sustained power, while promoting longer engine life
– Cooling fan is powered by a shallow-footprint electric motor
Four Valve Cylinder Head
– Provides maximum valve area for optimum flow to for low end torque and efficient high-rpm breathing for more power
Electric Starting
– Quick and easy push-button starting
– Kawasaki Automatic Compression Release (KACR) automatically lifts one of the exhaust valves at cranking rpm, for reduced starting effort
Cleaner Emissions
– An evaporative emissions system that meets strict CARB regulations means the KLX250SF is available in California too
– Secondary air system helps provide clean emissions
– USFS-approved spark arrester allows the KLX250SF to access designated off-road riding areas
Updated Six-speed Transmission
– Allows engine's full potential to be used
– Provides excellent acceleration as well as relaxed highway cruising
– Matched to revised a 14/39 final gearing to enhance its open road performance
Inverted Front Fork
– 43mm inverted cartridge fork offers excellent rigidity and consistent damping performance
– Reduced travel to 9.1 in. for increased straight-line stability, more-consistent handling in corners and a lower seat height
– 16-way compression damping adjustment allows tuning for differences in rider weight or various terrain profiles
UNI-TRAK® Rear Suspension
– Linkage and damping settings fine-tuned for optimum street performance and reduced front-rear pitching motion
– Rear wheel travel reduced to 8.1 in for enhanced straight-line stability, handling in corners and a lower seat height
– Progressive linkage rate provides a smooth ride and excellent bottoming resistance
– The gas-charged shock features 16-way adjustable compression and rebound damping and remote reservoir
– Lightweight, aluminum D-section swingarm is highly rigid and reduces unsprung weight
– KX racing-type chain adjusters allow precise adjustment to minimize drivetrain power losses
Perimeter Frame
– Lightweight, high-tensile steel for amazing rigidity
Easy Ergonomics
– Handlebar offers a relaxed position and effortless control
– Footpegs are positioned close to the bike's centerline
– Seat shape and stiff urethane makes it easier to change seating position
Aggressive Bodywork
– Headlight and front fender design contribute to the aggressive look
– Two-piece radiator shrouds
– Rear fender is a two-piece unit featuring a sharp tail light design that offers increased visibility and further contributes to the KLX's aggressive styling
Narrow Fuel Tank
– Narrow tank design gives riders maximum comfort and control without sacrificing capacity
Digital instrumentation
– All-digital instrument console gives at-a-glance information that includes a digital bar-graph tachometer, digital speedometer, clock, and dual trip meters
Petal disc brakes
– Front and rear disc brakes offer impressive stopping performance
– Twin-piston caliper grips a 300 mm petal disc up front and a single-piston caliper grips the rear 240mm petal disc
Wheels/tires
– Features 17-inch wheels like its larger supersport brothers for excellent road handling
– Low-profile sportbike tires on wide rims contribute to its easy, neutral handling at low speedsSingle-cylinder 249cc DOHC
2009 Kawasaki KLX250SF – USA Specifications
MSRP: $5,299 USD

Engine: Four-stroke, Liquid-Cooled, DOHC, four-valve single
Displacement: 249cc
Bore x stroke: 72.0 x 61.2mm
Compression ratio: 11.0:1
Cooling: Liquid
Carburetion: Keihin CVK34
Ignition: Digital CDI
Transmission: Six-speed
Final drive: Chain
Frame: Semi-double cradle, high-tensile steel
Rake / trail: 25.5 degrees / 2.9 in.
Front suspension / wheel travel: 43mm Inverted Cartridge Fork with 16-Way Compression Damping Adjustment / 9.1 in.
Rear suspension / wheel travel: Uni-Trak® with Adjustable Preload, 16-Way Compression and Rebound Damping Adjustment / 8.1 in.
Front tire: 110/70×17
Rear tire: 130/70×17
Front brake: 300mm semi-floating petal disc with two-piston hydraulic caliper
Rear brake: 240mm petal disc with single-piston hydraulic caliper
Overall length: 83.9 in.
Overall width: 31.3 in.
Overall height: 44.9 in.
Ground clearance: 8.9 in.
Seat height: 33.9 in.
Curb weight: 302.1 lbs.
Fuel capacity: 2.0 gal.
Wheelbase: 55.9 in.
Color: Ebony
MSRP: $5,299
Warranty: 12 months

2009 Kawasaki KLX250SF – Canada Specifications
TBA


*Prices and specifications subject to change without notice.