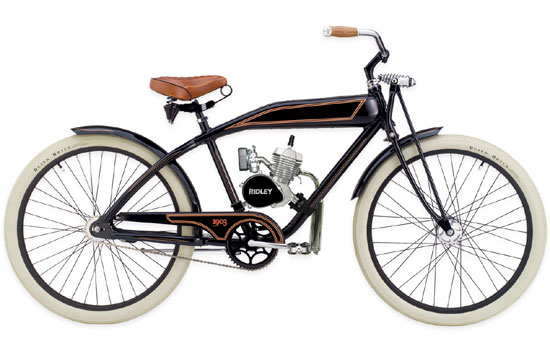 You are here: Home — 2009 Models — 2009 Ridley Motorcycle Models
2009 Ridley The 1903
Back to 2009 Ridley Motorcycle Index Page
Click photos to enlarge.
They make great desktop images.
– 2009 Ridley The 1903

2009 Ridley The 1903
Vintage American Style
The 1903 is vintage. Roll back the clock to the day when these single cylinder motorbikes where your daily transportation. The good-ole days are back with the Ridley 1903 Vintage Motorbike.
The base model includes Ridley's model 49 engine capable of 24 miles per hour and nearly 120 miles per gallon.
Pedal to start, handlebar kill switch.
Ridley's Vintage Motorbikes are about a lot more than just function. These unique bicycle kits are admired because of their fit and finish. The attention in every detail translates into a real high quality piece of art.
The Ultimate 120 Mile Per Gallon Ride!

At first glance you might think these vintage motorized bicycles are from early 1900's, which is exactly our intension. Styled after original "motorcycles", the Ridley Vintage Motorbike line exudes class with an element of real function. Each motorbike kit includes a "motor ready" bicycle. Engine are sold separately to give you the option of a 49cc or 70cc motor. If you are looking for the ultimate gift, this is definitely it! Ridley is taking motorcycles back to their roots, with our new line of vintage style motorized bicycles.

Product
These kits are offered as bicycles with optional motor kits. The bicycles come 90% assembled by Ridley with the front wheel, handlebar, pedals, and seat to be installed by the dealer or customer. They include a right side handlebar throttle, sealed "in frame" fuel cell, cdi, and wiring harness for easy engine installation. The motor kits offered are the Model 48 which is a 49cc (2 stoke) engine that is capable of speeds around 24 MPH and the Model 49 which is a 70cc (2 stoke) engine that is capable of speeds around 33+ MPH. The kit includes an easy rubber mounting system that is universal for the vintage bicycles offered by Ridley. Less than one hour is required to assemble the bicycle and install the engine.
Features & Benefits

– Cruiselite Aluminum Monocoque Tank Frame

– Springer Fork

– 1-1/8" Oversized Threaded Headset

– Aluminum Adjustable Quill Stem

– Super-Wide Felt 50mm Aluminum Rims

– Heavy Duty 12g Stainless Spokes

– 1-Speed Shimano Coaster Brake Hub

– Oversized Alum. Double 5-Star Design Front Hub

– 26 x 2.125 Antique White Quick Brick Tires F&R

– Front & Rear Shorty Fenders

– Rubber Isolated Billet Engine Mounts

– Aluminum Fuel Cap

– Steel Sprocket Chain Adjuster with Ball Bearings

2009 Ridley The 1903 – USA Specifications
MSRP: Model 48/2 Stroke
.. 49cc – 24 MPH
…MSRP $1999 USD
The Model 48 engine kit is for use with Ridley's complete line of vintage motorized bicycles. With a displacement of 49cc, this two stroke engine might be just the right displacement to be legal in your city. With this motor the vintage motorized bicycles are capable of 24 MPH.
MSRP: Model 49/2 Stroke
.. 70cc – 33 MPH
…MSRP $1999


The Model 49 engine kit is for use with Ridley's complete line of vintage motorized bicycles. With a displacement of 70cc, this two stroke engine might be just over the legal limit for displacement but it looks identical to our 49cc engine. With this motor the vintage motorized bicycles are capable of 33+ MPH.
Availability
These bicycles and engine kits are offered on a limited basis. Each bicycle is individually assembled by Ridley Motorcycle Company. They are sure to be the "ultimate gift" for Christmas.
Dealers & Retailers
Many Ridley Dealers across the US and Canada will be offering the Ridley Vintage Motorbikes. will have the first right of refusal for their local market. To locate a retailer near you, contact Ridley's Customer Service at (405) 525-5400.

How to Order
Contact your nearest Vintage Motorbike Dealer or purchase off the Ridley Online Store.

Warranty
Ridley is offering a "3 year/30 day warranty, whichever comes first" warranty for all the vintage motorbike kits which will cover manufacturing defects. Coverage will not be extended to the installation of the engine or engine failure due to improperly mixed fuel. Warranty claims will be handled through Ridley Vintage Motorbike Retailers.

Media/Press Release
Ridley Unveils New Vintage Motorbikes.

(Okla. City, Okla.-11/07/08) The first ever Ridley Motorbikes were formally introduced in an unveiling today in the company's hometown of Oklahoma City, Oklahoma. The model line features vintage style motorbike kits that bring back the fun, ease, and vintage styling of the early 1900's. One by one the new models were introduced by Clay Ridley. In all, Ridley introduced five models including a limited production model marking the company's new line of vintage motorized bicycles, the Desert Patrol MP.

The styling and overall feel of the new vintage motorbike line is a throw back to the original motorcycle. Ridley's 1903 model features a gloss black with gold pin stripe scheme and white tires. The Twin model pays tribute to the British models of the early 20th century with its hunter green and black glossy paint, white wall tires, and "GBR 750" decorative plates. With a look straight out of WWI- the MP is "OD" green with luggage racks on the front and rear fenders. The Boardwalk model features a custom stark white and hunter green paint scheme with "Huntington Beach" decals, white wall tires, and springer style front end.

Ridley will be offering two engine kit options. The model 48 kit includes a 49cc- two stroke engine that is capable of speeds around 24 mph. For those a little more daring, the model 49 kit includes a 70cc- two stroke engine that is capable of speeds around 33 mph. Both motors are EPA compliant and offer an estimate 120 mile per gallon efficiency.

"This is an idea we have been contemplating for several years" commented Jay Ridley, Vice President of Ridley Motorcycle. "As a novelty- this is the ultimate toy. The motorbikes have a real vintage look that will leave people scratching their heads." Ridley began R&D on the project earlier this year with production starting November 1st.

Interest in the project has garnered World-wide attention with orders already booked for customers in several countries including Australia, Germany, England, Belgium, and the UAE. "Our next challenge is setting up the retailer network to handle the demand" said Don Cox the company's head of Dealer Development. "We will be offering the motorbikes to our current Ridley dealer network first and filling in the gaps where necessary."

Bicycles and engines are sold separately. Bicycle kit MSRP $1,440.00. Model 48 Engine kit MSRP $559.00. Model 49 Engine kit MSRP $559.00. Shipping in the lower 48 states $175.00.

Ridley Automatic Motorcycles are most notably known as the manufacturer of high quality American made fully-automatic motorcycles. Ridley's Continuously Variable Transmission (CVT) allows the rider to cruise without manual shifting or clutching.

For more information on Ridley Motorcycle Company visit www.RidleyMotorcycle.com.