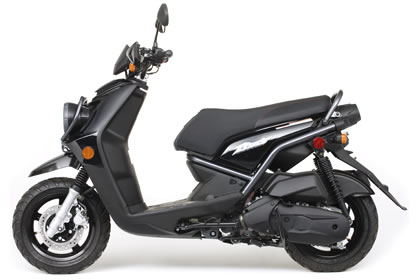 You are here: Index — 2009 Models — 2009 Yamaha Motorcycle Models
2009 Yamaha BWs 125
Back to 2009 Yamaha Motorcycle Index Page
Click photos to enlarge.
They make great desktop images.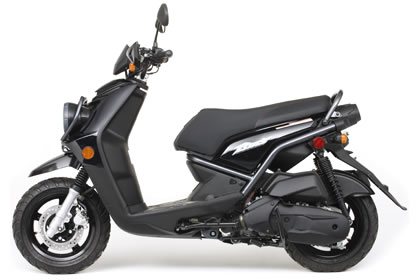 2009 Yamaha BWs 125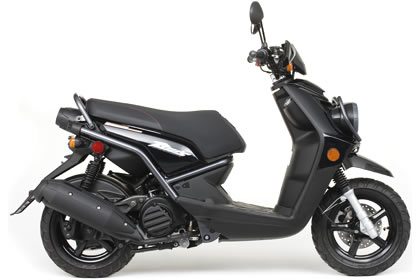 2009 Yamaha BWs 125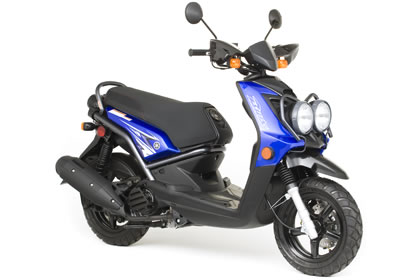 2009 Yamaha BWs 125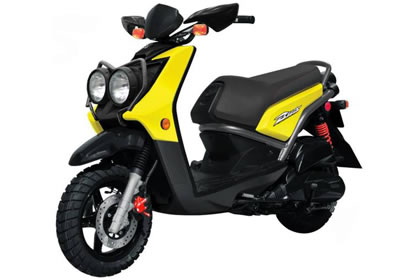 2009 Yamaha BWs 125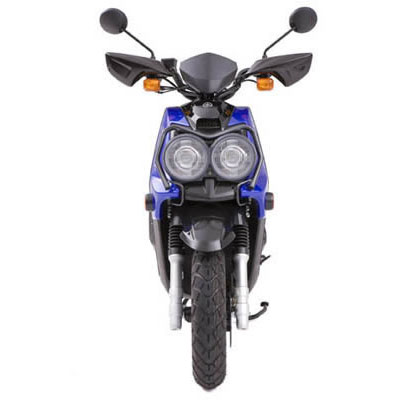 2009 Yamaha BWs 125
• 2009 Yamaha BWs 125

2009 Yamaha BWs 125
The fun just got bigger!
Introducing the fun loving, sporty, 2009 Yamaha BWs 125. The ever popular BWs 50 now has a larger sibling. The increased engine displacemnt and more roomy design expands the functionality of the new BMs 125, making it a great urban and suburban commuter or fun riding machine.
The new 2009 BWs125 is powered by an all new 125cc, 4-stroke engine.
Featuring a gas sipping fuel injection system, an environmentally friendly catalyzer exhaust and a fully automatic gas it and go transmission, the new BWs125 is economical to operate and a ton of fun to ride. Two-up seating means you can share the fun with a friend. The single cylinder 125cc, 4-valve engine provides plenty of power while the fully automatic transmission and electric starting make it a snap to operate.
Highlights:
– 124cc, fuel injected, 4-stroke power
– Rugged chassis design & 2-up seating

Key Features:

Engine:

Peppy, 124cc, air-cooled (with fan assist), SOHC, 4-valve, 4-stroke engine produces solid, predictable power and excellent fuel economy.
Fan-assisted cooling system maintains consistent engine temperatures, even while idling at stoplights or in stop and go traffic for maximum efficiency and extended engine life.
Fast, dependable push button electric starting
Maintenance-free CDI ignition system provides a precise, high-voltage spark for seamless engine performance, sure starts and excellent reliability.
16 bit ECU (electronic control unit) is used to control the fuel injection and ignition systems.
Four valve cylinder head design utilizes two intake valves and two exhaust valves for maximum breathing efficiency and great power output. Valves are operated by rocker arms.
Both the intake and exhaust valves feature a special "carbon cutter" design which removes any carbon build up from the valve stem, keeping the engine operating at maximum efficiency, even during extended slow speed use. Carbon build up on the valve stem can lead to sticky valves and poor performance.
The light weight aluminium cylinder features a ceramic composite coating on the cylinder bore which insures uniform heat dissipation, reduced friction, reduced weight and an extended service life.
A wet sump-type oil delivery system is utilized. A special centrifugal oil filtering system is used. This type of oil "filter" automatically removes any particles found in the oil and never requires cleaning or maintenance.
A flat top "gravity" cast lightweight aluminium piston is used to provide fast engine response.
Automatic cam chain tensioner reduces both mechanical noise and maintenance time
24mm throttle body fuel injection provides crisp throttle response, reduced fuel consumption, reduced emissions and reduced weight. Other fuel injection benefits include no choke or idle adjustment to fuss with … it is all controlled automatically.
The single fuel injector uses a 6-hole design for better fuel / air atomization for strong engine performance. The fuel injector is located down stream of throttle body in the intake manifold
The fuel injection system is a "closed loop system" which means there is an oxygen sensor in the exhaust that monitors the exhaust emissions and constantly regulates / adjusts the fuel mixture for optimum performance and reduced emissions
Oil coated paper-type air filter is used. The air box is designed for excellent performance and reduced intake noise.
Fully automatic, V-belt, C.V.transmission ensures easy "twist-the-throttle-and-go operation". There is no hand clutch or gear shifting to worry about. A wide range reduction ratio is used for peppy performance. Washable foam air filter allows cooling air to enter the belt case for reduced heat and extended V-belt life.
AC magneto produces 170 watts of power.
Stylish upswept muffler contains a catalytic converter to reduce harmful hydrocarbons and nitrous oxide exhaust emissions. The muffler produces a quiet exhaust note.


Chassis/Suspension:

Rugged "underbone-style" steel frame means it is easy to get on and off the BWs, plus it also features a special anti corrosion paint process
Plate type rear swingarm helps to maintain a comfortable ride on paved or unpaved roads
27mm hydraulic front fork delivers excellent bump-absorbing performance and comfort wheel travel is 78mm (3.1″).
Dual-shock rear suspension provides a plush, comfortable ride wheel travel is 71mm (2.8″).
220mm hydraulic front disc brake with single piston caliper and semi metallic pads provides excellent stopping power.
150mm rear drum brake supplies strong, reliable stopping power.
Rugged, yet lightweight die cast aluminium 5-spoke "mag style" wheels are fitted with wide, aggressive tubeless tires.
Roomy two-person seat ensures excellent rider and passenger comfort. The seat locks for added security
Ultra convenient 20 litre, under seat storage compartment can hold selected full-face helmets or other items.
Note: This compartment will not hold all full face helmets.
6 litre fuel tank features an integrated electric fuel pump. Gas cap locks for peace of mind
Dual 60/65-watt, multi-reflector, quartz headlights maximizes night time visibility and enhances the BWs rally styling.
Full-size floorboards and wide front apron provide excellent splash and wind protection as well as highlighting the BWs aggressive sports styling.
Sporty instrument panel includes analog speedometer, odometer and electric fuel gauge, plus a range of warning lights.


Additional Features:

Aggressive rally sports styling
Colour matched hand guards help protect hands from the cold and add a special styling touch too.
Stylish headlight guard
Convenient passenger grab rail
Push-to-cancel-type turn signals enhance ease of use.
Easy-to-use centre stand plus side stand. Side-stand safety lock-out switch prevents unit from being ridden when side stand is down.
Anti-theft 3-in-1 main ignition switch combines the ignition, fork lock and under seat storage compartment lock in one convenient switch. This switch also features a special "key hole cover" that blocks access to the key slot to avoid "jimmy starts" using a screw or similar tool.
Low-maintenance, sealed battery (12v 6.5Ah)
Lean angle sensor will stop the engine in the event of a tip over
Heat shield on muffler protects rider and passenger from hot components.
Flexible turn signals in the event of a tip-over
Front and rear side reflectors help maximize conspicuity in city traffic.
2009 Yamaha BWs 125 – Canada Specifications
MSRP* $3,999
Engine 4-stroke, air-cooled (fan assist), SOHC, 4-valve, single
Displacement 125 cc
Bore and Stroke 52.4 x 57.9mm
Compression Ratio 10 : 1
Maximum Torque 1.0 kg-m (7 ft-lb.)@6,000 rpm
Fuel Delivery 24mm throttle body fuel injection
Lubrication Wet Sump
Ignition TCI / Electric Start
Transmission Fully Automatic V-belt
Drive Train Spur gear/belt

Suspension (Front) 27mm fork
Suspension (Rear) Dual shock unit swingarm
Brakes (Front) 220mm disc
Brakes (Rear) Drum
Tires (Front) 120/70-12
Tires (Rear) 130/70-12

Length 1,910mm (75.2")
Width 765mm (30.1")
Height 1,112mm (43.8")
Wheelbase 1,290mm (50.8")
Ground Clearance 125mm (4.9″)
Seat Height 780mm (30.7")
Dry Weight 113kg (248.6lb)
Fuel Capacity 6 litres (1.3 Imp. gal.)
Wet Weight 122 kg (268.4 lb)
Colour(s) Yamaha Blue
Metallic Black
Calm Yellow

*Prices and specifications subject to change without notice.