Back to 2010 Honda Motorcycle Index Page
Click photos to enlarge.
They make great desktop images.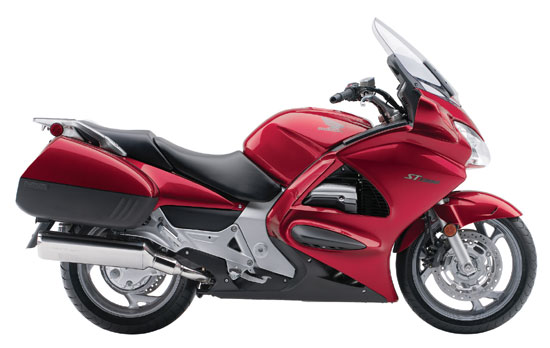 2010 Honda ST1300A ABS (2009 models shown, 2010 in black only)
– 2010 Honda ST1300A ABS

2010 Honda ST1300A ABS
If your favourite bed-table book is a road atlas, the Honda ST1300A is your kind of motorcycle. Its ultra-smooth fuel-injected V-4 engine can motor along effortlessly kilometre after kilometre, but it still revs like a four-cylinder Honda sportbike when you twist the throttle. And its twin-spar aluminum frame and premium suspension contribute to the ST1300A's agile handling. Of course, comfort is key when you're riding coast to coast, so the ST gets a plush adjustable seat and an electrically adjustable windshield.

The sport-touring motorcyclist is a unique animal, one part long-distance hauler, one part canyon-carving ace. Comfort and performance have to be perfectly balanced in their machine, and that's why there's really only been one choice: the Honda ST1300. Gold Wing-inspired luxury and CBR-derived performance have been impeccably fused, with wind-tunnel-honed bodywork and hard saddlebags complementing a powerful V-4 engine, shaft drive, a race-bred chassis, and optional ABS. The result? A bike that's equally at home swallowing up miles of blacktop as it is dicing through the twistiest of alpine passes. And all without ever breaking a sweat.
Features/Benefits

Engine/Drivetrain
Powerful liquid-cooled 1,261 cc longitudinally mounted V-4 engine produces effortless acceleration and passing power.

Longitudinal engine mounting eliminates an inefficient 90-degree turn in the power flow for improved drivetrain efficiency.

The ST1300A's low overall centre of gravity contributes to excellent low-speed handling. The 360-degree crank contributes to a very broad powerband. Two engine counterbalancers virtually eliminate primary and secondary vibration. Both gear-driven counterbalancer shafts are installed in the lower crankcase, to the left side of the crankshaft. The first shaft is driven directly by the crankshaft at a 2:1 ratio. The second shaft is positioned below the first and is driven in the opposite direction by the first balancer shaft's drive gear. The combination of these two balancers assures a supremely comfortable ride for the long-distance touring rider.

Aluminum composite cylinder sleeves are high-pressure-formed from sintered aluminum powder impregnated with ceramic and graphite. The composite sleeves provide better wear resistance and superior heat dissipation compared to conventional sleeves.

Silent-type cam-chain drive eliminates the previous model's wider belt-driven cam drive, reducing engine length 10 mm and lowering overall weight.

Large 31 mm intake valves and 27 mm exhaust valves feed a combustion chamber with a 10.8:1 compression ratio.

Direct shim-under-bucket valve actuation system ensures high-rpm durability and allows lengthy valve-maintenance intervals.

High-pressure electronic PGM-FI delivers fuel at 50 psi into each injector.

Fuel is delivered through eight laser-drilled nozzle holes in each injector, producing a very fine spray and a highly combustible air/fuel charge for maximum combustion efficiency and power.

PGM-FI combines a sophisticated throttle sensor, advanced 3-D digital fuel injection and ignition mapping, and precisely metered fuel delivery to produce smooth and linear throttle response.

ECU-controlled closed-loop emission control system utilizes two oxygen sensors to constantly deliver a precise air/fuel mixture, and the exhaust system uses two catalytic converters.

The ST1300A meets the California Air Resources Board (CARB) emissions standards.

Auto-enriching system is integrated into PGM-FI module, optimizing the air/fuel mixture on cold starts and eliminating the need for a manual choke.

Four-into-two stainless steel exhaust system features a pair of attractive triangular-section mufflers with stainless steel heat shields.

Dampers on the transmission mainshaft, clutch and drive shaft reduce noise, vibration and driveline lash.

High-output 660-watt air-cooled alternator is located between the cylinder banks, contributing to a shorter and more compact engine design.

U-shape aluminum radiator has excellent cooling capacity, and a ring-type fan draws air through the radiator at low speeds to ensure stable operating temperatures for consistent performance and long engine life.

Sturdy eight-plate hydraulic clutch.

Cassette-type five-speed transmission features gear ratios that allow for quicker acceleration and excellent roll-on performance.

Quiet and reliable shaft-drive system is virtually maintenance-free.
Chassis/Suspension

Aluminum frame combines optimal rigidity and tuned flex to produce excellent handling, superb riding comfort and wonderful road feel. It features a massive steering head casting and triple-box-section spars. The V-4 engine serves as a tuned, stressed frame member. The solid engine-mounting system utilizes specially designed hangers and carefully matched mounting bolts to provide both excellent road feel and minimal engine vibration.

Lightweight aluminum swingarm is carefully matched to the frame to provide an ideal balance of rigidity and tuned flex for optimal handling.

Rigid aluminum upper triple-clamp and a 45 mm Honda Multi-Action System (HMAS) cartridge front fork provide excellent suspension control in a wide range of riding conditions.

The rear suspension incorporates a single shock mounted directly on the swingarm, with spring preload adjustability.

Dual-Combined Braking System uses a second master cylinder and a proportional control valve (PCV) to couple the three-piston calipers of the dual-disc front and single-disc rear brakes for even better braking feel. Using the front brake lever activates the outer two pistons of the front calipers and the two outer pistons of the rear caliper. Rear pedal engagement activates the centre piston of the rear brake caliper and the centre pistons of the front calipers, and a delay valve slows initial front brake response to minimize front-end dive.

The ST1300A combines Anti-lock Braking System (ABS) with Dual-Combined Braking System for a wide range of braking and steering control. ABS features an electric-motor-driven modulator that gives quick, precise braking pressure adjustments and smooth ABS operation. The system incorporates an integrated ECU controller, self-diagnostics with an interactive ECU test function, and automatic protection against system failure.

Silver wheels are three-spoke U-section cast aluminum. 5.0-inch-wide rear wheel sports a large, low-profile 170/60ZR-17 radial tire. The 3.5-inch-wide front wheel carries a 120/70ZR-18 radial tire.
Additional Features:
Full-coverage bodywork features an aero-ellipse form that incorporates striking parabolic lines to accentuate the look of speed as well as enhance stability at high speeds.

Three-position rider's seat provides an adjustment range of 30 mm (1.2 inches) vertically and 25 mm (1 inch) horizontally. From the forward and lowest position, the seat can be moved up 15 mm (0.6 inch) and back approximately 13 mm (0.5 inch) to the middle position and again by the same amount to the highest rear position.

A motor-driven adjustable windscreen offers 188 mm (7.4 inches) and 13 degrees of adjustability for greater wind protection and touring comfort. A thumb-operated pushbutton on the left handlebar operates the windscreen motor. An additional 58 mm (2.3 inches) of manual adjustment is possible by repositioning the windshield on the mounting brackets.

Integrated lockable and detachable saddlebags hold 35 litres each (large enough for a full-face helmet). The saddlebags contain straps to limit bag opening to 90 degrees to better secure the contents. The straps are easily unbuckled when the bags are dismounted, permitting full access.

Rugged plastic-covered body-protector stays extend outward to protect the bodywork in case of a tip-over.

Dual-section fuel tank places 20.8 litres of fuel in the conventional tank location with an additional 8.3 litres located in a sub-tank located low in the chassis. This results in an increase in fuel capacity and an even weight distribution for fuel.

An electric fuel pump operates inside the sub-tank, providing consistent fuel pressure for the PGM-FI system.

Headlight features dual lenses with twin-filament H4 low/high beam bulbs and multi-reflectors.

A convenient push button located on the left side of the fairing electrically adjusts the headlight height over a 2.5-degree range.

Roomy cockpit and ergonomically designed dual-density seat offer true long-haul comfort.

Attractive, lightweight two-piece aluminum handlebars.

A locking left-side fairing pocket offers the carrying capacity of an automobile console; a weather-resistant vinyl flap covers the right-side pocket.

Breakaway rear view mirrors minimize damage in the event of a tip-over.

Padded passenger grabrails.

Convenient centrestand assist-lever folds neatly away when not in use.

Integrated front and rear turn signals.

Integrated ignition switch/fork lock. A single ignition key operates all locks.

3 year, unlimited mileage, freely transferable warranty.
2010 Honda ST1300A ABS – USA Specifications
MSRP: $16,499 USD

Engine
Engine Type 1261cc liquid-cooled longitudinally mounted 90° V-4 Longitudinal engine mounting eliminates unnecessary right angles in the driveline, delivering the ST's ample power to the rear wheel with maximum efficiency.
Bore And Stroke 78mm x 66mm
Induction PGM-FI with automatic enricher circuit, four-36mm throttle bodies, 8 holes per injector
Ignition Computer-controlled digital with three-dimensional mapping and electronic advance
Compression Ratio 10.8:1
Valve Train DOHC; four valves per cylinder

Drive Train
Transmission Five-speed
Final Drive Shaft Super-smooth shaft final drive means less maintenance — and more sport-touring saddle time — for you.

Chassis / Suspension / Brakes
Front Suspension 45mm HMAS cartridge fork; 4.6 inches travel
Rear Suspension HMAS gas-charged single shock with five-position spring-preload adjustability; 4.8 inches travel
Front Brake Dual full-floating 310mm discs with CBS three-piston calipers; ABS Braking System Optional Anti-Lock and Combined Braking Systems provide for a wide range of braking and steering control in less than ideal conditions.
Rear Brake Single 316mm disc with CBS three-piston caliper; ABS Braking System Optional Anti-Lock and Combined Braking Systems provide for a wide range of braking and steering control in less than ideal conditions.
Front Tires 120/70ZR-18
Rear Tires 170/60ZR-17

Dimensions
Rake 26.0° Caster Angle
Trail 98mm (3.9 inches)
Wheelbase 58.7 inches
Seat Height 31.1 inches (+/- 0.6 inches)
Curb Weight 730 pounds (Includes all standard equipment, required fluids and full tank of fuel—ready to ride.)
Fuel Capacity 7.7 gallons The dual-section fuel tank holds 7.7 gallons of unleaded, which means incredible touring range and, of course, more smiles to the gallon.

Other
Available Colors Black
Model Id ST1300A
Note Anti-Lock Brakes
FACTORY WARRANTY INFORMATION
FACTORY WARRANTY INFORMATION
Three Years Transferable, unlimited-mileage limited warranty; extended coverage available with a Honda Protection Plan.

2010 Honda ST1300A ABS – Canada Specifications
MSRP: $19,999 CDN

Engine Type Liquid-cooled 90-degree V-four

Displacement 1,261 cc

Bore & Stroke 78 mm x 66 mm

Compression Ratio 10.8:1

Valve Train Chain-driven DOHC, 4 valves per cylinder

Fuel Delivery PGM-FI electronic fuel injection

Transmission Five-speed

Final Drive Shaft

Front Suspension 45 mm HMAS cartridge fork; 108 mm (4.2 in.) travel

Rear Suspension HMAS gas-charged single shock with five-position spring preload adjustability; 123 mm (4.8 in.) travel

Tires 120/70ZR – 18 radial front; 170/60ZR – 17 radial rear

Brakes Front 310 mm discs with three-piston calipers; rear single 316 mm disc with three-piston caliper. Dual-Combined Braking System with ABS

Seat Height 790 mm adjustable +/- 15 mm

Wheelbase 1,491 mm (58.7 in.)

Curb Weight 331 kg (760 lb) including required fluids and full tank of gas – ready to ride

Fuel Capacity 29 litres

Colour Graphite Black