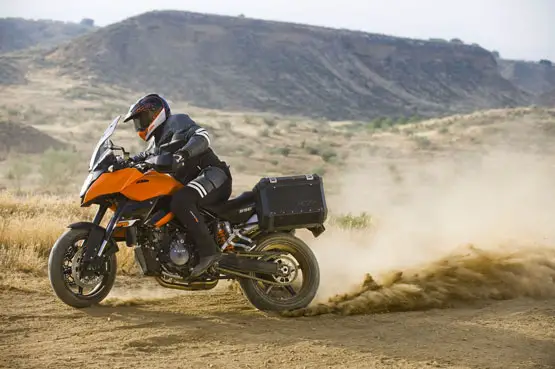 Back to 2011 KTM Motorcycle Index Page
Click photos to enlarge.
They make great desktop images.
– 2011 KTM 990 Supermoto T

2011 KTM 990 Supermoto T
The 990 SM T unites a sporty, high-precision chassis with a state-of-the-art V2 engine, a frame-anchored fairing, great comfort and a sensitively regulating ABS system. The DOHC twin offers a choice between full-on power for vigorous throttle twisting or refined power for making progress with ease. This arrangement has given rise to a unique combination of racer, tourer and city bike rolled into one. In short: a long-distance Supermoto that combines sports talent with endurance, comfort and suitability for everyday use.
2011 KTM 990 Supermoto T Features
Powerful, state-of-the-art V2

Engine
The 990 SM T's water-cooled V-engine with 85 kW (114 hp) sets the benchmark for free-revving twins. Its intelligent design principle with multifunction balancer shaft makes it one of the lightest and most compact V2s in its class. The engine impresses with explosiveness and spontaneous throttle response.
Cylinder Head
Aside from optimum combustion chamber design, the major factors behind the outstanding performance of the 990 SM T's V-twin with 75° cylinder angle are the state-of-the-art four-valve cylinder heads, each with flow-optimized ports and two overhead camshafts.
Crank drive / Pistons
Particularly lightweight pistons and connecting rods bestow the 990 SM T's V2 engine with reduced reciprocating weight and hence a decidedly spontaneous responsiveness, underlining its extremely sporty engine characteristics.
Engine Management
The electronic Keihin engine management system regulates the modern fuel injection system on the 990 SM T, focusing on smooth throttle response under partial load or spontaneous responsiveness when needed. In this way, KTM engineers were able to harmonize raw power with optimum ridability.

Sports chassis

Frame and swingarm
The 990 SM T's tubular space frame made from thin-walled chrome-molybdenum steel tubing with a bolted-on, light alloy subframe only weighs 9.5 kg (20.9 lb.), yet it impresses with exemplary torsional stiffness. The 575 mm (22.64 in) swingarm with conical profiles contributes plenty of mechanical grip.
Suspension Elements
Thanks to multiple setting options, the upside-down telescopic fork and the directly connected shock absorber from WP Suspension allow optimum individual adjustment of the chassis to suit the respective operational use of the versatile 990 SM T.
Radial brake
More than adequate braking is ensured in the 990 SM T by Brembo® brakes with the very finest components. On the front wheel, two radially-mounted four-piston brake calipers, pressured by a radial master cylinder, bite hard into 305 mm (12.01 in) rotors.

Sporty but suitable for touring

Wind screen and large fuel tank
The frame-anchored fairing on the 990 SM T provides effective protection from the wind and weather and accommodates a clearly structured multifunction cockpit that supplies the rider with all essential information. The fuel tank with a capacity of 19 l (20 qt.) ensures a long useful working range.
Passenger comfort
The 990 SM T's perfectly padded twin-level seat ensures suitable long-distance comfort for both rider and passenger, while also providing freedom of movement and crystal-clear feedback for a sportier pace.

ABS
The selectable dual-circuit ABS system developed in cooperation with Bosch offers total protection against over-braking, while maintaining the full effect and perfect feedback of a genuine sports brake thanks excellent sensitivity. Weighing no more than 1 kg (2 lb.), the ABS system therefore allows extremely sporty braking.

Luggage mounting system

Rear fender
Thanks to an integrated luggage mounting system, it is possible to secure a top box and two panniers to the rear of the 990 SM T — compact and grouped closely to the center of gravity, but with enough storage space for everything you could possibly need on your travels.
Ergonomics
The gathered sitting position behind the double-butted, perfectly angled, aluminum handlebar support relaxed touring equally as well as hitting the gas with commitment.

2011 KTM 990 Supermoto T – USA Specifications
MSRP: $13.999,00 USD
ENGINE
Design 2-cylinder 4-stroke Otto motor, 75° V arrangement, water-cooled
Displacement 999 cm³ (60.96 cu in)
Bore 101 mm (3.98 in)
Stroke 62.4 mm (2.457 in)
Performance 85 kW (114 hp)
Cold start device Electric starter
Transmission 6-gears, claw-shifted
Engine lubrication Dry sump lubrication system with two rotor pumps
Primary transmission 35:67
Secondary drive ratio 17:41
Cooling Water cooling, permanent circulation of coolant by water pump
Clutch Multidisc clutch in oil bath/hydraulically activated
Ignition system Contactless controlled fully electronic ignition with digital ignition adjustment

CHASSIS
Frame Lattice frame made of chrome molybdenum steel tubing, powder-coated
Fork WP Suspension Up Side Down 4860 ROMA PA
Shock absorber WP Suspension 4618 BAVP DCC
Suspension travel Front 160 mm (6.3 in)
Suspension travel Rear 180 mm (7.09 in)
Brake system Front Double disc brake with radially screwed four-piston brake calipers, float-mounted brake discs
Brake system Rear Single disc brake with dual-piston brake caliper, rigid-mounted brake disc
Brake discs – diameter Front 305 mm (12.01 in)
Brake discs – diameter Rear 240 mm (9.45 in)
Chain 5/8 x 5/16″ X ring
Steering head angle 65.6°
Wheelbase 1,505±15 mm (59.25±0.59 in)
Ground clearance, unloaded 195 mm (7.68 in)
Seat height, unloaded 855 mm (33.66 in)
Total fuel tank capacity, approx. 19 l (5 US gal)
Super unleaded (ROZ 95/RON 95/PON 91)
Weight without fuel, approx. 198 kg (437 lb.)
2011 KTM 990 Supermoto T – Canada Specifications
MSRP: See KTM Dealer for prices

ENGINE
Design 2-cylinder, 4-stroke, spark-ignition engine, 75° V arrangement, liquid-cooled
Displacement 999 cm³ (60.96 cu in)
Bore 101 mm (3.98 in)
Stroke 62.4 mm (2.457 in)
Performance 85 kW (114 hp)
Starting aid Electric starter
Transmission 6-speed, claw shifted
Engine lubrication Dry-sump lubrication with 2 rotor pumps
Primary gear ratio 35:67
Secondary gear ratio 17:41
Cooling system Liquid cooling system, continuous circulation of cooling liquid with water pump
Clutch Wet multi-disc clutch / hydraulically operated
Ignition system Contactless, controlled, fully electronic ignition system with digital ignition timing adjustment

CHASSIS
Frame Tubular space frame made from chrome molybdenum steel, powder-coated
Forks WP Suspension Up Side Down 4860 ROMA PA
Shock absorber WP Suspension 4618 BAVP DCC
Suspension travel front 160 mm (6.3 in)
Suspension travel rear 180 mm (7.09 in)
Brake system front Twin-disc brake with radially mounted four-piston brake calipers; floating brake discs
Brake system rear Single-disc brake with two-piston brake caliper; fixed brake disc
Brake discs – diameter front 305 mm (12.01 in)
Brake discs – diameter rear 240 mm (9.45 in)
Chain 5/8 x 5/16″ X Ring
Steering head angle 65.6°
Wheel base 1,505±15 mm (59.25±0.59 in)
Ground clearance (unloaded) 195 mm (7.68 in)
Seat height (unloaded) 855 mm (33.66 in)
Total fuel tank capacity approx. 19 l (5 US gal)
Unleaded premium fuel (95 RON)
Weight without fuel approx. 198 kg (437 lb.)
2011 KTM 990 Supermoto T – Europe Specifications
MSRP: 9.645,00 GBP
ENGINE
Design 2-cylinder, 4-stroke, spark-ignition engine, 75° V arrangement, liquid-cooled
Displacement 999 cm³ (60.96 cu in)
Bore 101 mm (3.98 in)
Stroke 62.4 mm (2.457 in)
Performance 85 kW (114 hp)
Starting aid Electric starter
Transmission 6-speed, claw shifted
Engine lubrication Dry-sump lubrication with 2 rotor pumps
Primary gear ratio 35:67
Secondary gear ratio 17:41
Cooling system Liquid cooling system, continuous circulation of cooling liquid with water pump
Clutch Wet multi-disc clutch / hydraulically operated
Ignition system Contactless, controlled, fully electronic ignition system with digital ignition timing adjustment
CHASSIS
Frame Tubular space frame made from chrome molybdenum steel, powder-coated
Forks WP Suspension Up Side Down 4860 ROMA PA
Shock absorber WP Suspension 4618 BAVP DCC
Suspension travel front 160 mm (6.3 in)
Suspension travel rear 180 mm (7.09 in)
Brake system front Twin-disc brake with radially mounted four-piston brake calipers; floating brake discs
Brake system rear Single-disc brake with two-piston brake caliper; fixed brake disc
Brake discs – diameter front 305 mm (12.01 in)
Brake discs – diameter rear 240 mm (9.45 in)
Chain 5/8 x 5/16″ X Ring
Steering head angle 65.6°
Wheel base 1,505±15 mm (59.25±0.59 in)
Ground clearance (unloaded) 195 mm (7.68 in)
Seat height (unloaded) 855 mm (33.66 in)
Total fuel tank capacity approx. 19 l (5 US gal)
Unleaded premium fuel (95 RON)
Weight without fuel approx. 198 kg (437 lb.)