Back to Total Motorcycle Dunlop Tire/Tyre Guide
Click photos to enlarge.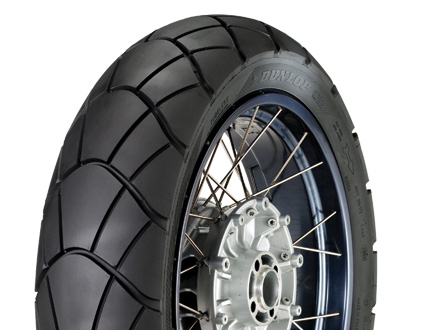 Dunlop D607
– Dunlop D607
Designed for dual-sport bikes ridden primarily on the street, the new D607 provides enhanced cornering and wear performance, excellent high-speed stability and exceptional tire compliance.
Dual-Sport/Desert

The dual-sport market arguably encompasses the most far-ranging realm in all of motorcycling. And that's why Dunlop offers tires that can withstand the rigors of Baja racing while also meeting the needs of adventure-touring riders piloting 1200cc bikes in search of abandoned logging roads.
For years, Dunlop has dominated grueling long-distance desert races such as the world-renowned Baja 500 and 1000, where factory riders run our dual-sport tires at sustained speeds in excess of 100 mph. And for years, dual-sport riders also have depended on Dunlop tires for commuting, weekend sport riding, or long-distance explorations. For unrivaled performance on the street or in the dirt—or both—winners ride Dunlop.

FEATURES
New tread pattern features wide, stable, central blocks with large grooves for superb drainage, and small grooves for optimal wear.
Single radius design maintains a consistent footprint at different lean angles for improved feel and progressive steering response.
Two front tire constructions: The 90-series uses cross-ply technology, while the low-profile 80-series uses racing-derived aramid breaker tread reinforcement and radial casing technology.
The rear tire combines Jointless Band (JLB) construction with Dunlop CTCS (Carcass Tension Control System) for enhanced cornering and wear performance, excellent high-speed stability, and exceptional tire compliance.
Sizes
 

SIZE

LOAD/ SPEED INDEX

SIDEWALL

PART #

APPLICABLE RIMS


RECOMMENDED RIM

OVERALL DIAMETER

OVERALL WIDTH

FULL TREAD DEPTH

MAXIMUM LOAD @ PSI

  D607 Front

 100/90-19

 57H

 BW

 3329-25

 2.50

 26.10

 3.98

 8/32

 

 110/80R19

 59H

 BW

 3329-11

 2.50

 24.92

 4.29

 8/32

 

 110/80R19

 59V

 BW

 3329-12

 2.50

 

 

 

 

 90/90-21

 54H

 BW

 3329-21

 2.15

 27.36

 3.54

 8/32

 

  D607 Rear

 130/80R17

 65H

 BW

 3329-81

 3.00

 25.20

 5.08

 10/32

 

 140/80R17

 69H

 BW

 3329-87

 3.50

 25.83

 5.63

 10/32

 

 150/70R17

 69H

 BW

 3329-91

 4.25

 25.28

 5.95

 10/32

 

 150/70R17

 69V

 BW

 3329-90

 4.25

 

 

 

 

  Trailmax Rear

 120/90-18

 65T

 BW

 32FM-36

 2.50

 26.57

 5.00

 

 

BW = Black Sidewall