You are here: Home — Tire/Tyre Guide — Pirelli — Pirelli Diablo Scooter
Pirelli Diablo Scooter
Back to Total Motorcycle Pirelli Tire/Tyre Guide
Click photos to enlarge.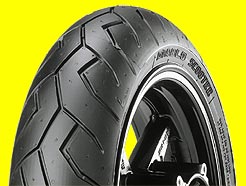 Pirelli Diablo Scooter Front
– Pirelli Diablo Scooter
FEATURES

New h-rated range of radial tyres, especially developed for maxi scooters.


– High-performance tread compound, using "cap&base" construction, for warm-up, grip and braking efficiency.
– Radial carcass and 0°-steel belt construction for speed stability.
– Diablo tread design for better wet handling and regular wear.

Alternative tyres
– EVO 22
– GTS24
– ST66
Sizes
Front: DIABLO SCOOTER
120/70R14M/CTL 55H DSCOTF
120/70R15M/CTL 56H DSCOTF

Rear: DIABLO SCOOTER
160/60R14M/CTL 65H DSCOT
160/60R15M/CTL 67H DSCOT