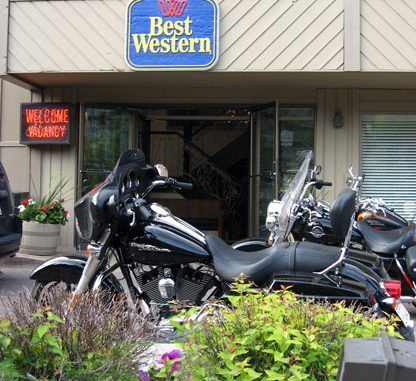 Back to Motorcycle Review Page
Best Western Hotels History and Background
Page 12 of 12 –
<< Page Back – Page Forward >>
A little Best-Western Hotels & Best-Western Ride Rewards history and background.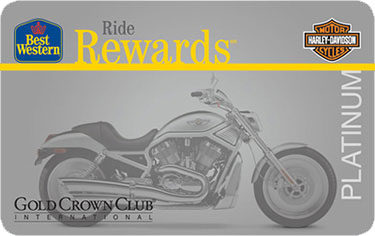 More than 1,300 BW Hotels Become 'Rider-Friendly'

"Best Western will continue to cater to the unique travel needs of the millions of motorcycle adventurers who believe the journey is as important as the destination," said Dorothy Dowling, senior vice president of marketing and sales for Best Western International. "Our heritage is deeply rooted along America's scenic roads, and extending our relationship with Harley-Davidson, another iconic brand synonymous with road travel, is a natural way to introduce more travelers to our hotel chain and contemporize our brand."

PLEASE NOTE THAT YOU DO NOT HAVE TO RIDE OR OWN a Harley-Davidson motorcycle or motorcycle to join this program – it is open to all riders.

BIKERS CAN REST THEIR HARLEY-DAVIDSON MOTORCYCLES
AT MORE THAN 1,300 BEST WESTERN HOTELS IN THE U.S. AND CANADA
..

..

Best Western Siding 29 Hotel
Rider and Wallet Friendly.
Best Western's "rider-friendly" hotels offer designated parking, wash stations and wipe-down towels.
More than 1,300 Best Western hotels in the United States and Canada have been identified as "rider-friendly," the company announced today, offering motorcycle riders wipe-down towels at check in and access to a wash station at no additional cost. In addition, some properties offer designated parking, tar remover, sunscreen and lip balm.
The hotel chain's commitment to designating participating hotels as "rider-friendly" is part of a multi-year agreement between Best Western and the Harley-Davidson Motor Company to bring travel benefits to Harley-Davidson enthusiasts.
"Best Western recognizes that Harley-Davidson and motorcycle enthusiasts have unique needs when on the road, and we're committed to providing them with amenities that make their rides more enjoyable," said Dorothy Dowling, Best Western's senior vice president of marketing and sales. "We're thrilled that more than 1,300 Best Western hotels are `rider-friendly,' and we will add to this total throughout the year."
Harley riders can also register for the Gold Crown Club International Ride RewardsTM program, a free, specially-themed rewards program for Harley-Davidson enthusiasts. Harley-Davidson owners or enthusiasts can register by going to www.bwrider.com. Once registered online as Ride Rewards members, Harley-Davidson riders will earn 10 points for every US dollar (or Canadian equivalent) spent on qualified room rates, or 250 airline miles per qualified stay, at any of the 4,000 Best Western hotels worldwide, including the 1,300 "rider-friendly" properties in North America. By joining Best Western's Gold Crown Club International Ride Rewards loyalty program online, Harley-Davidson enthusiasts will automatically receive Gold Elite status, which includes 10 percent bonus points on every Best Western stay and the ability to purchase points for award redemption, along with other signature benefits.
As a complement to Ride Rewards, Best Western will also serve as a preferred hotel chain for Harley-Davidson's interactive Web application 'Ride Planner', found at www.harley-davidson.com/experience. Using Microsoft Virtual Earth technology, the application maps out a variety of picturesque US"Great Roads" and shows Best Western hotels and Harley-Davidson dealerships along the way. Each property listing features hotel descriptions along with a directory of services and amenities. A 10 percent savings is available to customers who book their Best Western reservations through this Web site, or by calling 1-888-224-BIKE.


BW Rider – Best Western Riding Program and Rewards Site
Rider-Friendly Hotels

Rider-Friendly properties provide unique services to rider enthusiasts including, but not limited to, a clean wipe-down towel at check-in and a cleaning station for cleaning off the day's grime from your bike.

Harley-Davidson Rate

Harley-Davidson Enthusiasts Save a minimum of 10% with Best Western.
Additional H.O.G. Member Benefits

H.O.G. is the largest factory-sponsored motorcycle club in the world. Best Western Rewards members can now enroll or renew the following H.O.G. Memberships in the US and Canada with point values ranging from just 6,250 to 37,120.
– H.O.G. Membership – Full Member: One, two or three-year membership
– H.O.G. Membership – Associate Member: One, two or three-year membership
H.O.G. members are automatically upgraded to platinum elite status within the Best Western and Harley-Davidson exclusive rewards program – Best Western Ride RewardsSM , giving them 15 percent more bonus points for every qualified stay, plus complimentary room upgrades and early check-in and late check-out, if available. Members also earn the ability to save 10 percent or more with the Harley-Davidson rate. Following is a sampling of additional benefits and services available to Full H.O.G. Members:
– Discounts and enhanced travel benefits through Best Western Ride Rewards. More than 1,300 Best Western hotels in North America offer rider-friendly services. Guests will have access to a host of amenities , such as complimentary wipe-down rags and access to a washing station at check-in. Additionally, some hotels offer extra benefits, including reserved parking spaces, bottled water and lip balm.
– H.O.G. America's Touring Handbook, which provides dealer information and locations across North America
– Safe Rider Skills reimbursement of up to $50 in the form of a coupon
– H.O.G. Roadside Assistance Standard Package: especially for motorcycle towing
– Harley-Davidson Insurance that includes money-saving discounts
– Subscription to HOG® magazine
– H.O.G. Fly & Ride motorcycle rentals
– Invites to local, state and national events and rallies
– Members-only access to members.hog.com


Our new Travel Blog which includes posts for the motorcycle enthusiast, by Jason Fogelson
Plan your next ride with Harley-Davidson's interactive mapping tool, Ride Planner!

Best Western Motel and Hotel History: From 1946 – Present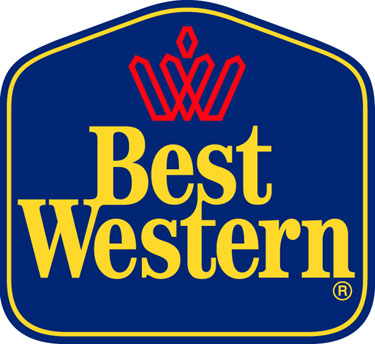 – Based on distribution and number of locations, Best Western International is the largest hotel company operating under a single brand name with 4,000* independently owned and operated hotels.
– Headquartered in Phoenix, Arizona, Best Western International corporate employs 1,059 people and offers 308,237 quality guest rooms located in 80* countries and territories worldwide.

1946 Best Western Motels was founded by M. K. Guertin, a hotelier with 23 years of experience in the business. The hotel chain began as an informal link between properties with each hotel recommending other hotel lodging establishments to travelers. The "referral system" consisted of phone calls from one front desk operator to another.

1951 In a guest editorial published in American Motel Magazine, Guertin spoke of the importance of advertising properties to the general traveling public. This was considered a very revolutionary approach in the industry.

1962 The Best Western Hotel Chain had the only hospitality reservations service covering the entire United States and Canada.

1962 Best Western began using the crown logo with a rope border to identify member properties.

1963 Best Western was the largest hotel motel chain in the industry with 699 member properties and 35,201 motel rooms.

1966 The entire membership, Best Western and Best Eastern, joined under the Best Western name.

1974 Best Western Hotels decided to drop its referral organization image, eliminated the word "motel" from its name and began competing directly with other full-service hotel lodging chains.

1977 The phrase, "world's largest lodging chain" became a part of Best Western's corporate identification and advertising theme.

1979 Best Western was accommodating 15 million guests and generating $1 billion in hotel room sales.

1980 Agreements were signed bringing 19 properties in Denmark, 120 properties in France, 19 properties in Finland, 23 properties in Spain, 19 properties in Sweden and 93 properties in Switzerland into the international hotel chain. By this time, Best Western's 903 international affiliates comprised 34 percent of the chain's total membership.

1980 Best Western membership rose to 2,654 hoteliers worldwide.

1988 The Gold Crown Club International Program for frequent travelers was launched in September. Within a year, it would report more than 200,000 members and sales of more than $40 million.

1993 The brand identity study, now complete, recommended the adoption of a new Best Western logo and identity. On Nov. 30, the members approved the adoption of a new logo and officially retired the Gold Crown logo.

1995 Best Western introduced its first hotel listings on the Internet at BestWestern.com. Full information on 150 member properties, including photographs, became instantly available via personal home computer.

2002 Best Western members implemented BestRequests, a uniform worldwide package of amenities and services.

2004 Best Western launched the hotel industry's largest High-Speed Internet Access (HSIA) initiative with the fastest implementation. In just eight months, the company established free wireless or hard-wired HSIA in some portion of the public areas, and at least 15 percent of hotel rooms, at all of its North American properties.

2004 Best Western became the first-ever Official Hotel of NASCAR. The NASCAR travel discount RaceFanRate was created.

2006 Best Western celebrated its 60th Anniversary with the 1946 Room Rate Promotion, where lucky guests were provided with a special one-night charge of $5.40 – the approximate value of overnight accommodations six decades ago, when the company got its start.
In 2006, the Best Western International Hotel Chain celebrated its 60th anniversary, providing quality service and hotel accommodations to leisure and corporate travelers alike.

2007 The hotel chain was named a Preferred Lodging Partner of AAA/CAA and began a multi-year partnership with Harley-Davidson.

2007 Best Western began using online surveys to keep track of customer satisfaction, one of the first steps in leading the industry in superior customer care.

2009 Best Western celebrated the honor of being the "Best Mid-Range Hotel Brand" in Asia-Pacific for three consecutive years.
<< Page Back – Page Forward >>
---

Harley-Davidson
If you would like Total Motorcycle, North America's leading motorcycle information website to do a test ride and ride review of your motorcycle or scooter models just contact us for information or to book a date, location and time. It is a great way to promote your model and your company to over half a million visitors worldwide each month for no cost! Contact us today to inquire.
---