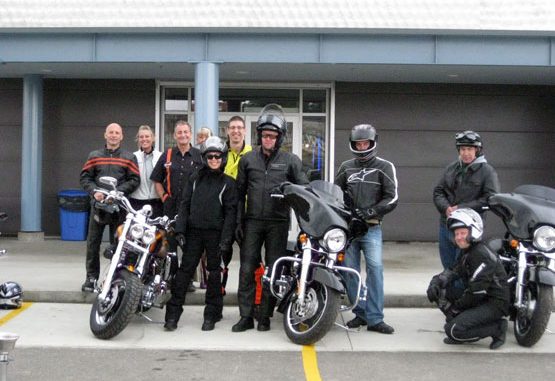 Back to Motorcycle Review Page
You can't control the weather
Page 2 of 12
<< Page Back – Page Forward >>
The Trip – Great scenery, great roads, great motorcycles, great people, great hotels and great food equals one really great ride.
 
 

..

..
 

The Group
Sometimes the most successful part of the trip isn't the trip itself. It's who you are with.

 
 
Like all multi-day motorcycle adventures it starts out with an idea; a road map, some time off and a good group of friends you don't mind sharing the experience with. Be it as it may, you can't plan the weather or the random experiences you will all encounter. But then, that's part of the experience and the memories you'll have with you forever. With everything in place, why don't we hit the starter button, shift into first and head out…
You can't control the weather…
Day 1: July 12th, 2010. Arrival in Edmonton, Alberta. Very rainy.
Two days ago, hail the size of golf balls fell upon the good people of Edmonton as they ran for cover being chased by furious gusts of wind and the occasional tornado. Dented cars and flooded streets, malls and parking lots were everywhere. Even Heritage Harley-Davidson/Buell dealer on
1616 Calgary Trail SW (Edmonton) where our bikes were waiting for us started thinking we would want personal watercraft rather than motorcycles!
By the next day the rain was still coming down in long, cold, windy waves of water and as it blew across the Best Western Denham Inn parking lot people were tempted to stay inside. The riders for our tour were all flying in to the city hoping it would come to pass as tomorrow there won't be any staying inside for us.
Day 2: July 13th, 2010. Riding from Edmonton to Jasper. Born to be wild!
We all were on Best Western's Ride Reward program (called BW Rider), which is a newer program to cater to motorcyclists around North America. The hotel chain offers 1300+ "rider friendly" hotels and provides free rider-specific hotel services (such as wipe-down towels at check in and access to a wash station at no additional cost). In addition, some properties offer designated parking, tar remover, sunscreen and lip balm. BW Rider also gives Gold Elite status, which includes 10 percent bonus points on every Best Western stay and the ability to purchase points for award redemption, along with other signature benefits. We all joked about the "Pleasantly Scented Tar Remover" wipes (Kerosene infused towel), but they are a nice addition to the package. Truthfully, it's nice to be welcomed as a rider because it wasn't that long ago that hotels turned their noses up at riders, groups of riders and even specifically Harley-Davidson riders.
 
 

..

..
 

The Best Western Denham Inn
The room was fit for a king

 
 
The Best Western Denham Inn's room was really nice (see photo) and the bed was very welcome after the flight. It was important to have a good night's sleep in preparation for the long ride ahead on the Harley-Davidson. The room was fit for a king and I slept well while the cold rain poured down outside.
Bright and early, a Best Western buffet breakfast was the first thing on the agenda, then on the bikes.
 
 

..

..
 

Best Western's Ride Reward program (BW Rider)
Free complementary Rider Friendly Hotel stuff.

 
 
Edmonton is the capital of the Canadian province of Alberta (population of 782,439). The city is located on the North Saskatchewan River in the central region of the province, an area with some of the most fertile farmland on the prairies. It is the second largest city in Alberta after Calgary.

Edmonton is a city that is live all year. Known as Canada's Festival City, Edmonton is home to over 30 annual festivals throughout the year celebrating sports, culture, music, visual arts and theatre. Home to North America's largest indoor shopping mall that even includes a roller coaster. Celebrate the summer at Edmonton's Capital X, an exciting festival held annually in July.
Ah, nothing like an alarm going off bright and early in the morning.
After a good Best Western buffet breakfast we arrived at Heritage Harley-Davidson to pick up the Harley-Davidson bikes. Thankfully the rain did stop at breakfast although the grey skies continued to look ominous.
The Heritage Harley-Davidson parking lot was being filled up with our bikes as we made ourselves comfortable in the new dealership. I'll hand it to Heritage Harley-Davidson, they sure know how to make a motorcycle dealership look good. It is newly renovated – everything to pristine displays, every single model on show, and bathrooms to dream of.
While in the dealership I also picked up one of Harley-Davidson's new Men's Hi-Vis Rain Suits (98275-08VM) to keep me warm and dry for the days ahead on the bike. Total Motorcycle believes in being safe on the motorcycle (which means being seen) and this H-D Hi-Vis Rain Suit fit the bill perfectly.
The Harley-Davidson motorcycle that I chose to ride first was the new 2010 Harley-Davidson FXDWG Dyna Wide Glide. Harley-Davidson says that the new Wide Glide is "a Dyna Big Twin done up old-school chopper style with a low, stretched-out custom with drag bars and forward foot controls that give its rider a real fists-in-the-wind profile. The LED stop/turn/tail light combo and side-mounted license plate keep the chopped rear fender clean. The Harley-Davidson Dyna family has its roots in the factory-custom revolution of the 1970s, and combines Big Twin performance with an extended FX front end. Dyna models deliver great handling and bold styling." This is a bike that works great for tall, long legged riders. Being that I am 6'4″ tall with 34″ inseam the Dyna Wide Glide worked for me.
We are riding to Jasper and thankfully it isn't stormy but unfortunately the rain hadn't completely gone away.
<< Page Back – Page Forward >>