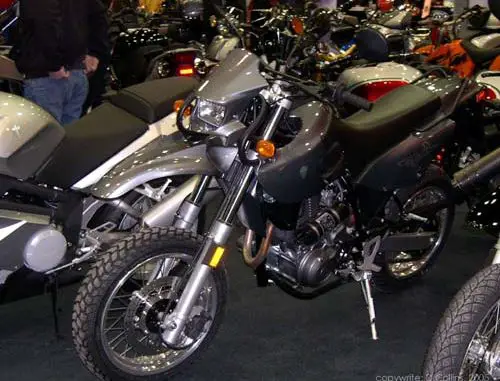 -= Page 10 =-
Detroit Motorcycle Show 2005 Review Pages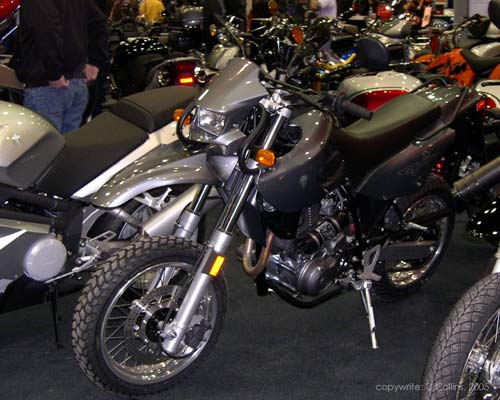 MZ dual-sport – I've never seen one of these before
In the back of the exhibition area there were tables and a place to get highly overpriced food. Not a real surprise at an exhibition. $7 for a chicken sandwich was too rich for my blood.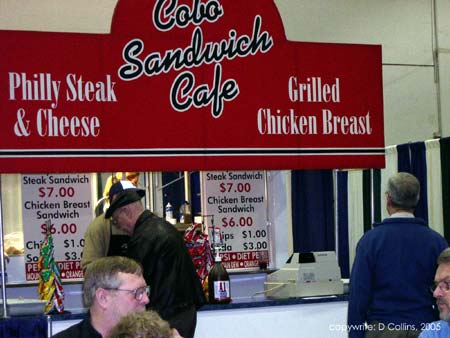 No deals on food this day
Also they were doing a thrill show, but in all the shots I took you couldn't see what was happening, so I leave you with some shots of the equipment they used for the show.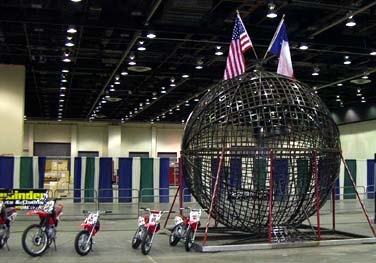 The cycle ball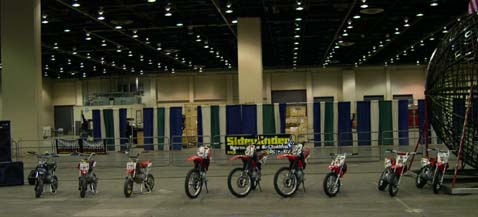 The trick cycles
Overall this was a great show and I'm glad I could cover it for Totalmotorcycle. I expect that next year I will attend either the Cleveland or Detroit show again, given the opportunity. In the dead of winter what better thing do we riders have to do than stand around, stare at bikes, share stories of warmer days, and sit in a saddle and dream?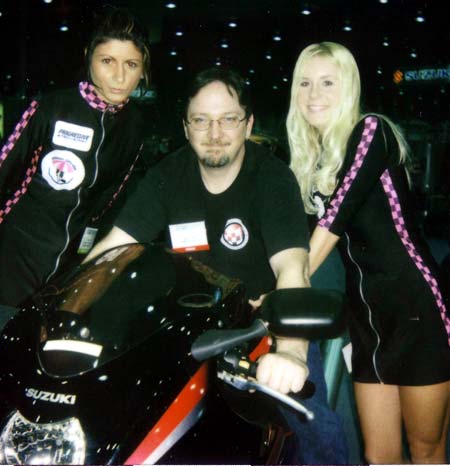 Souvenirs?

FAST FACTS:
The North American Motorcycle Industry:
– Canadian retail related sales for motorcycles, scooters and ATVs were close to $5 billion dollars per year, according to a survey conducted by the Motorcycle and Moped Industry Council (MMIC), and ending in February 2002. New vehicles made up $2.8 billion dollars of the total figure. – Motorcycle sales have gone up every year between 1992 and 2002 in the United States.
– On-highway motorcycles made up 62 per cent of the market in 2001, and cruisers accounted for more than 50 per cent of unit sales
– The Motorcycle Industry Council (MIC) from the United States, showed the age of American bikers increase from 27 in 1985 to 38 in 1998. Older Baby Boomers also tended to purchase cruiser?style bikes, which generally cost $15,000 and up.
– The number of bike owners from 35-49 years of age increased from 21.9% to 40.6% of all bike owners between 1985 and 1998
Thanks for your support and for coming back time and time again to visit us.
Mike.
Total Motorcycle.com
---
Contact us: e-mail | Total Motorcycle – Motorcycle Buyers Guides, Beginners Guides, Motorcycle Photos, 2005 motorcycles.
Unbiased, helpful, personal, friendly and useful motorcycle resource