Back to 2009 Honda ATV Quad Models Index Page
Click photos to enlarge.
They make great desktop images.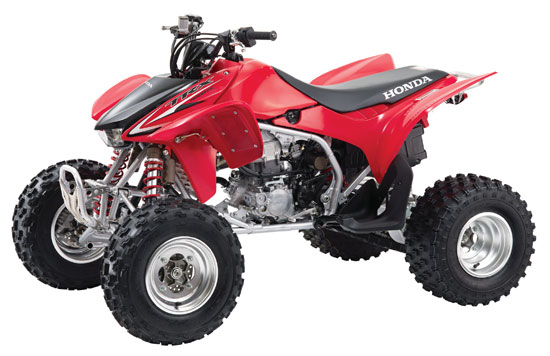 2009 Honda TRX450ER (Electric Start)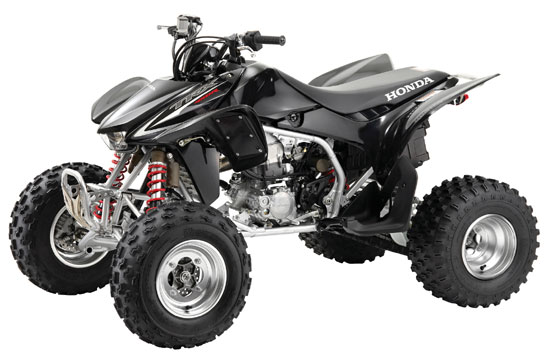 2009 Honda TRX450ER (Electric Start)
– 2009 Honda TRX450ER (Electric Start)

2009 Honda TRX450ER (Electric Start)
The Honda TRX450R stands tall as one of the hottest, most dominant sport ATVs ever built. Check out its nearly endless tally of race wins and championships, including three (and counting) Baja 1000 titles. The TRX450R's secret: a superb balance of power, handling and reliability. To top it off, the TRX450R gives you the added versatility of electric start, to make sure you keep going strong.
Sure, the Honda TRX450R makes huge horsepower. But it also handles with a confidence-inspiring predictability that lets you have fun with that power. Its 449 cc four-valve Unicam™ engine comes from the awesome CRF450X race bike, but it has been carefully adapted for ATV use with a special piston and camshaft and a heavy-duty clutch. To make sure you can put all that power to good use, the TRX450R boasts a lightweight chassis with a racy cast-aluminum swingarm, double-­wishbone front suspension with fully adjustable Showa™ shocks, and powerful, predictable disc brakes front and rear.
Available in manual- and electric-start versions, the mighty TRX450R has won races in virtually every ATV racing arena as well as four victories in the grueling Baja 1000.
Features & Benefits
New for 2009
– New White with Orange frame color joins White and Red on the TRX450ER.
Engine/Drivetrain
– High-Performance Unicam® cylinder head design (see Technology Section)
– Compact, lightweight engine designed specifically for ATV usage is worthy of its CRF® heritage.
– Electric-start version features an electric starter that drives the clutch side of the crankshaft to provide superior lubrication of starter gears and to produce a narrow engine with a short, strong crankshaft.
– Lightweight, compact, internal auto decompressor provides superb cold-starting and hot-starting operation.
– Kickstart version incorporates ATV-type forward kickstarting for ease of starting and light weight.
– Crankshaft is made of high-strength, low-carbon steel with carburized main journals for maximum durability at sustained high-rpm operation.
– Cylinder-head cover is made of magnesium to reduce engine weight.
– Forged three-ring 12.0:1 compression slipper piston is lighter than a conventional design, revving quickly while maintaining excellent cylinder sealing and high-rpm power.
– Maximum engine rpm is 9850.
– Double-carburized connecting rod utilizes a big-end needle bearing for maximum high-rpm performance and durability.
– Nikasil cylinder lining is lightweight and provides cooler and quieter operation for extended engine life.
– Press-fitted steel spark plug pipe fits between forked exhaust rocker arms, further contributing to compact cylinder-head design.
– 40mm Keihin FCR-type carburetor features four rollers on the flat slide, resulting in very light throttle effort, smooth operation, crisp throttle response and excellent rideability.
– Carburetor features a Throttle Position Sensor (TPS) that helps maintain linear response throughout the rpm range.
– Twin-sump lubrication system separates the oil supply for the crankshaft, piston and valve train from the clutch and transmission. This ensures a cool supply of oil to the clutch, eliminates clutch and transmission material contamination to the engine oil and reduces the amount of circulating oil and the required size of the oil pump.
– Vertically split crankcases feature a built-in oil pump, reducing weight compared to a conventional design.
– Left-side countershaft bearing and axle carrier feature double-row bearings for added durability.
– Exhaust system uses a lightweight, stainless steel header and muffler.
– Exhaust system and free-flowing muffler increase performance while maintaining low noise levels.
– Light-weight radiator with fin pitch designed for improved airflow in all riding conditions.
– Compact, flat radiator fan is lightweight and provides efficient cooling.
– Gear-driven balancer reduces vibration and drives the water pump.
– Eight clutch plates provide the surface area necessary to handle the engine's massive torque.
– Durable five-speed transmission with low ratios designed for racing applications and trail use.
Chassis/Suspension
– Rider's position features low handlebar, seat and footpegs for improved center of gravity and rider feel.
– Round-tube steel frame with removable aluminum subframe is lightweight and durable.
– One-piece, cast-aluminum swingarm for light weight, maximum strength and durability.
– Independent, double-wishbone, double A-arm front suspension with fully adjustable Showa shocks provide 8.4 inches of travel, and features rear-facing reservoirs for increased durability.
– Pro-Link® Rear Suspension (see Technology Section) with fully adjustable Showa piggyback shock provides 9.3 inches of travel.
– Dual 174mm front disc brakes with twin-piston calipers and high-pressure front brake lines provide excellent stopping power.
– 190mm rear disc and beefy single-piston caliper provide improved stopping power and increased ground clearance.
– Aluminum brake calipers and brackets front and rear reduce weight.
– Removable aluminum rear grabrail and front bumper for reduced weight.
– Lightweight aluminum wheels reduce unsprung weight for outstanding handling.
– Dunlop radial tires provide superb traction and cornering ability.
– Durable and lightweight O-ring-sealed drive chain.
Additional Features
– Throttle lever and carburetor feature full-closed detection system.
– Engine design meets California Air Resources Board (CARB) off-road emissions standards.
– Convenient oil-level window allows for at-a-glance oil check.
– Long, narrow seat is designed for superior comfort and performance in all operating conditions. Saddle is also easy to remove for convenient access to the air filter.
– Large air filter allows maximum airflow for optimum engine power.
– Airbox designed for improved airflow and increased power.
– Adjustable dual headlights with 30-watt bulbs and improved reflectors for excellent visibility and distinctive appearance.
– Headlight shaped for race-derived look.
– Pivot-access brake calipers for easy pad replacement.
– Engine cases protected by high-impact plastic skidplate.
– LED tail/brakelight to shed weight and add an aggressive appearance.
– CRF-style clutch and front brake lever.
– Wide footpegs for improved rider control.
– Aluminum shift and brake pedals.
– CRF-type handlebar grips.
– Honda Racing-inspired colors and graphics.
– Optional HRC Racing Kit available.
– Transferable one-year limited warranty; extended coverage available with a Honda Protection Plan.
– When you buy a new Honda Powersports Product, you may be eligible to receive a complimentary one year membership in the Honda Riders Club of America, which includes an exclusive Members-only magazine, rider training benefits, access to the Members-only Clubhouse website and much more. Some limitations apply. For more information on the HRCA, log on to hrca.honda.com.

Available Accessories
– Flag Kit.

2009 Honda TRX450ER (Electric Start) – USA Specifications
American MSRP $7,149 USD
Model: TRX450R (kick start) / TRX450ER (electric start)
Engine Type: 450cc liquid-cooled single-cylinder four-stroke
Bore and Stroke: 96mm x 62mm
Compression Ration: 12.0:1
Valve Train: Unicam; four-valve; 36mm intake, Ti; 30mm exhaust, steel
Induction: Keihin 40mm flat slide carburetor with throttle position sensor (TPS)
Ignition: CD with electronic advance
Starter: Electric or forward kick
Transmission: Five-speed
Final Drive: O-ring-sealed chain
Suspension
Front: Independent double-wishbone with Showa shocks, featuring adjustable spring preload, rebound and compression damping; 8.4 inches travel
Rear: Pro-Link with single Showa shock featuring adjustable spring preload, rebound and compression damping; 9.3 inches of travel
Brakes
Front: Dual hydraulic 174mm discs with twin-piston calipers
Rear: Single hydraulic 190mm disc with single-piston caliper
Tires
Front: 22 x 7-10 knobby radial
Rear: 20 x 10-9 knobby radial
Length: 73.3 inches
Width: 46.3 inches
Height: 43.3 inches
Seat Height: 32.8 inches
Ground Clearance: 4.4 inches
Wheelbase: 50.2 inches
Fuel Capacity: 2.7 gallons, including 0.8-gallon reserve
Colors
TRX450R: Red
TRX450ER: Red, White, Special White w/orange flames
Curb Weight*: 383 pounds (TRX450R) / 390 pounds (TRX450ER)
*Includes all standard equipment, required fluids and full tank of fuel-ready to ride.
Consult owner's manual for optional HRC Racing Kit parts.
For highly experienced riders 16 years of age and older.

2009 Honda TRX450ER (Electric Start) – Canada Specifications
Canadian MSRP $10,199 CDN
Engine Type Liquid-cooled single-cylinder four-stroke

Displacement 449 cc

Bore & Stroke 96 mm x 62.1 mm

Compression Ratio 12:01

Valve Train Unicam SOHC, 4 valves

Fuel Delivery Single 40 mm flat-slide carb

Transmission Five-speed with manual clutch

Final Drive 2WD; O-ring-sealed chain; 13T/38T

Front Suspension Independent double-wishbone with fully adjustable Showa hydraulic shocks; 215 mm (8.5 in.) travel

Rear Suspension Cast-aluminum swingarm with fully adjustable single Showa hydraulic shock; 237 mm (9.3 in.) travel

Tires 21 x 7 – 10 radial front; 20 x 10 – 9 radial rear

Brakes Front dual hydraulic 174 mm discs; rear 190 mm hydraulic disc

Length 1,862 mm (73.3 inches)

Width 1,177 mm (46.3 inches)

Ground Clearance 111 mm (4.4 inches)

Seat Height 833 mm (32.8 inches)

Wheelbase 1,275 mm (50.2 inches)

Curb Weight 176 kg (388 lb) including required fluids and full tank of gas – ready to ride

Fuel Capacity 10.3 litres, including 2.9-litre reserve

Colour Red