Click photos to enlarge. They make great desktop wallpaper.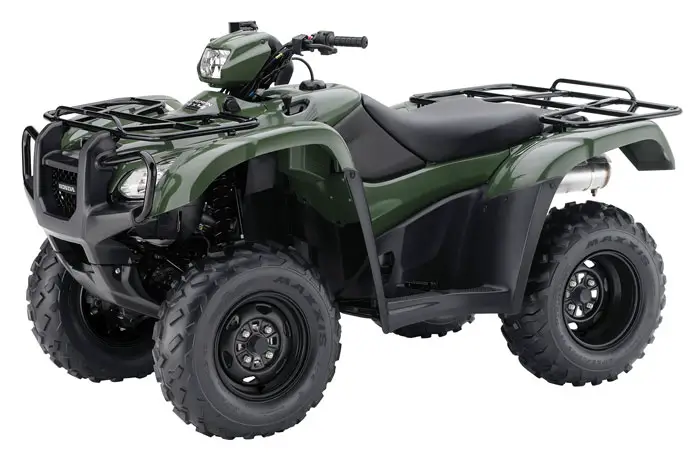 2013 Honda FourTrax Foreman 4×4 With Electric Power Steering TRX500FPM
– 2013 Honda FourTrax Foreman 4×4 With Electric Power Steering TRX500FPM Review

2013 Honda FourTrax Foreman 4×4 With Electric Power Steering TRX500FPM
Built to work — even harder…
All Foreman 4×4 features but adds Electric Power Steering.

Honda's Foreman all-terrain vehicles have always been the machines to count on when you need an ATV that's not afraid to take on the tough jobs. And this year is no different: they're just as strong. Just as rugged. And just as hard working, whether it's around the ranch, the factory, or on your favorite trail.
In addition to four-wheel drive and Honda's innovative Electric Power Steering, the Foreman line features Honda's Programmed Fuel Injection (PGM-FI). That means you get more efficient fuel delivery, easier starting in cold conditions and less maintenance. The Foreman looks the part, too, with aggressively styled bodywork, plush suspension, and a comfortable seat for all-day riding.

So if you've got some tough jobs lined up on the jobsite, make sure you put the Foreman in charge.
For riders who prefer a manual-shift transmission, the FourTrax® Foreman® 4×4 line of ATVs fulfills the role of a tough and seasoned workhorse, whether the day calls for a 10-hour shift at the ranch or a pleasant weekend ride to that special fishing spot. Equipped with a strong-pulling liquid-cooled 475cc single-cylinder OHV four-stroke engine, the Foreman also features a sophisticated Programmed Fuel Injection (PGM-FI) system for optimum throttle response, consistent performance at high altitude, and hassle-free cold-weather starting. The tough rear suspension system incorporates a high-quality shock for increased comfort, precision and work capabilities. Also, a short wheelbase aids agile handling and helps produce a tight turning radius. Add in crisp styling with a rugged and tough look and you'll see why the Foreman is the perfect way to lighten the day's work or whisk you away on an adventure.
High-Tech Industry.
Sure, they're rugged and reliable, but Honda Utility ATVs are also built to make your life easier, whether you're working the back 40 or your favorite trail, and we achieve this with some of the most revolutionary technology in the industry. Like Electric Power Steering, designed with torque and speed sensors to reduce steering effort (and rider fatigue) when the going gets tough. Independent Rear Suspension (IRS) that allows both rear wheels to move independently, helping you maintain traction and control even in rough terrain.
And there's a transmission for every type of use. Our continuously variable, fully automatic Hondamatic™ transmission (available on the Foreman Rubicon), is the smoothest ATV transmission you'll ever experience. The three-speed Honda Automatic transmission (an automotive-style torque converter) is available on our FourTrax Rincon. And the Rancher AT has the Honda automatic dual-clutch, five-speed transmission, which features one of the slickest- and quickest-shifting gearboxes on dirt.
And this is just for starters, as our feature-packed machines are all built with the same purpose in mind: to work and play hard so you don't have to.

To build a great workhorse ATV, we start with the heart.
The FourTrax Foreman 4×4 is built around our strong, single-cylinder, 475cc longitudinal engine. By orienting the crankshaft front-to-back in the chassis, we route the flow of power straight to the wheels without any right-angle detours, reducing power-train friction and putting more grunt to the ground. Hey, it's a Honda. You wouldn't expect anything less.

2013 Honda FourTrax Foreman 4×4 With Electric Power Steering TRX500FPM Key Features

•Programmed Fuel Injection (PGM-FI)

•475cc liquid-cooled single-cylinder four-stroke engine

•TraxLok selectable 2WD/4WD
•All Foreman 4×4 features

•Adds: Electric Power Steering



Important Safety Information – Recommended for riders 16 years of age and older. Honda recommends that all ATV riders take a training course and read their owner's manual thoroughly.
Fuel-Injected Performance. – Equipped with our Programmed Fuel Injection system, the Foreman works harder, provides better fuel management, and delivers plenty of power and torque for those tough jobs.

It looks tough. Because it is tough. – The Foreman's bodywork gives it a rugged appearance. But it does more than just look good. It's designed to last, despite the scrapes and dings of the job or woods; to help protect you from mud and other debris; and to keep looking good as long as you own it.

Tough on the job. Not on you. – The better your Foreman rides, the shorter your workday seems. That's why we gave our Foreman line plush suspension with comfortable ergonomics and a soft saddle. So you can tackle your chores or the trails in comfort, all day long.
2013 Honda FourTrax Foreman 4×4 With Electric Power Steering TRX500FPM Features and Benefits
Styling – The Foreman line's bodywork gives it a tough look. But it does more than just look good: It's designed to last, despite the scrapes and dings of the job or the woods, and to help protect you from mud and other debris.
Liquid Cooling – Our time-tested Honda engine is liquid-cooled, which provides more consistent operating temperatures and more power than a comparable air-cooled motor. This adds up to better performance and longer engine life.
Accessory Power Outlet – The Foreman comes with a 12-volt accessory outlet as standard equipment. That makes it easy to run or recharge your electronics (cell-phone charger, GPS, etc.) out in the woods or on the jobsite. An optional rear-mounted outlet is also available as a Honda Genuine Accessory.
Triple Headlights – The Foreman features three headlights, two mounted on the front fenders and one on the handlebar. The 45-watt handlebar light moves with the bar to illuminate the area you choose. All three use multi-reflector lenses for superior light distribution.
TraxLok – Our rock-solid reliable mechanical system lets you choose either 2WD or 4WD, giving you the freedom to choose between lighter steering (in 2WD) and maximizing available traction (4WD) when you need it most.
Semi-Dry-Sump Engine Design – Compact and lighter-weight, the Foreman's overhead-valve, semi-dry sump design creates an engine that's not only shorter from top to bottom, but one that enhances handling by lowering the center of gravity and increasing ground clearance.
Fuel Injection – The Foreman's fuel-injection system does more than just deliver crisp, seamless performance and ensure hassle-free operation in cold conditions and varying altitudes. It also improves throttle response and returns better fuel efficiency.
Comfortable Seat – A soft seat and open rider triangle (Bars/Seat/Pegs) teams up with the suspension to really treat you right. Superior ergonomics have always been a Honda priority, and the Foreman is no exception.
Towing Capacity – Got a tough job to tackle? No problem—the Foreman is up to the task. With a generous 850-pound towing capacity and rack capacity of 66 pounds up front and 133 pounds in the rear, the Foreman is ready to double as a pack mule when you need to carry a load. (Hitch ball shown sold separately.)
Adjustable Suspension – With a plush suspension front and rear, the Foreman absorbs bumps so you don't have to. That means you can work longer—without feeling like you have.
Longitudinal Engine Layout
Electric Shift Program (ESP) – Upshifting and downshift has never been this easy: With Honda's available exclusive ESP system, you get the ease of an automatic with the strength of a conventional transmission. To shift up or down all you have to do is push one of two handlebar-mounted buttons. Since there's no foot-shift lever, ESP is also a bonus when riding in heavy or mud/snow-covered boots.
Honda Genuine Accessories
– Soft Rack Bag (front and rear), Cargo Box (front and rear), Fender Bag, Winch Kit, Frame Skid Plate, Rear Swingarm Guard, A-Arm Guards, Outdoor Cover (XXL), Center Headlight Switch, Recoil Starter Kit

---
2013 Honda FourTrax Foreman 4×4 With Electric Power Steering TRX500FPM – North American Specifications / Technical Details
USA MSRP: See dealer for pricing
Canadian MSRP: See dealer for pricing
ENGINE
Engine Type 475cc liquid-cooled OHV longitudinally mounted single-cylinder four stroke
Bore And Stroke 92mm x 71.5mm
Induction Keihin® 36mm throttle body
Ignition Full-transistorized type with electronic advance
Starter Electric with optional auxiliary recoil
Compression Ratio 9.5:1

DRIVE TRAIN
Clutch Automatic
Transmission Five-speed with Reverse
Driveline Direct front and rear driveshafts with TraxLok® and torque-sensitive front differential

CHASSIS / SUSPENSION / BRAKES
Front Suspension Independent double-wishbone; 6.7 inches travel
Rear Suspension Swingarm with single shock; 6.9 inches travel
Front Brakes Dual hydraulic 196mm disc
Rear Brakes Sealed 180mm mechanical drum
Front Tires 25 x 8-12
Rear Tires 25 x 10-12

DIMENSIONS
Length 83.7 inches
Width 47.4 inches
Height 47.1 inches
Wheelbase 50.4 inches
Seat Height 34.7 inches
Ground Clearance 7.6 inches
Curb Weight 642 pounds (Includes all standard equipment, required fluids and a full tank of fuel-ready to ride)
Fuel Capacity 4.0 gallons, including 1.2-gallon reserve
Turning Radius 10.5 feet

OTHER
Model Id TRX500FPM (with EPS)
Emissions Meets current California Air Resources Board (CARB) and EPA off-road emissions standards.
Available Colors Red, Olive, NaturalGear™ Camouflage
Note Recommended for riders 16 years of age and older.

FACTORY WARRANTY INFORMATION
One Year Transferable limited warranty; extended coverage available with a Honda Protection Plan.
Specifications, appearance, and price of product are subject to change without notice.