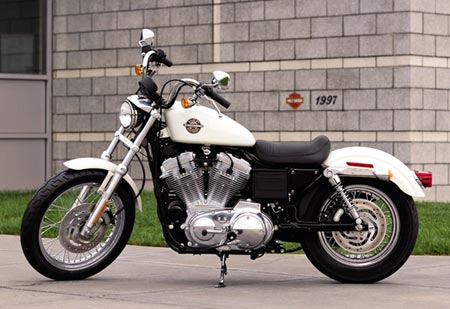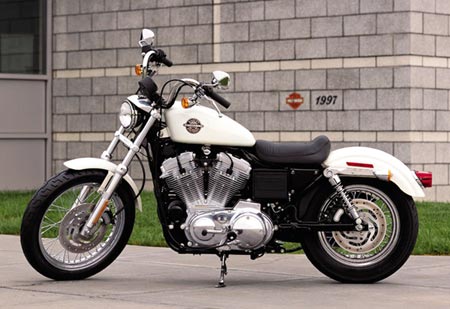 Hugger – 2002 XLH883H HD Sportster 883 Hugger
H.O.G.® – Harley Owners Group – Several meanings, as an acronym it stands for "Harley Owners Group," it also relates to the larger Harley models (also called "Big Twins").
Hack / Sidehack – A common slang term for a sidecar.
Hacker – A sidecar driver or enthusiast.
HairDryer – Turbocharger
Hairpin Turn – A decreasing radius turn. Turn that gets progressively tighter as it bends (often U-shaped corner). A "road hazard" that many motorcyclists fall prey to and end up going off the road on if not carefully watching for it. Usually decreasing radius turns are found on on/off highway ramps.
Hammer Down – Open the throttle fully or accelerate rapidly
Handgrip – The rubber grip on the handlebars to make a more comfortable hand control.

Hand Signals – Verbal communitcation is not always possible when riding a motorcycle so riders have come up with a method of communicating to other riders by use of universal hand signals. Motorcycle hand signals are important for all riders to know and understand but especially when riding in a group. (When riding in a group the signals should be relayed back through the group.) Images reprinted with permission of the Motorcycle Safety Foundation.
Left Turn – Left arm straight out from body. Palm Flat. Fingers together.



Right Turn – Left arm out and elbow bent. Hand straight up. Palm flat. Fingers together.


Stop – Left arm extended straight down, left palm facing back.


Single File – Left arm and left hand index finger extended straight up.


Double File – Left arm with left hand middle and index fingers extended straight up.


Fuel – Left arm out to side pointing to tank with finger extended.


Refreshment Stop – Left hand fingers closed, tumb out pointed at mouth.


Highbeam – Tap on top of helmet with left hand open palm down.


Comfort Stop – Left forarm extended, fist cleched with short up and down motion. Repeat.


Follow Me – Left arm extended straight up from shoulder, palm forward.


Pull Off – Left arm out, forarm swung toward shoulder or pull off area.


You Lead/Come – Left arm extended upwards 45°, palm forward pointing with index finger, swing in arc from back to front.


Speed Up – Left arm extended straight out at side 45°, palm facing up, move arm up. Swing in arc down and up. Repeat.


Hazzard in Roadway – Hazzard on right side, point with right foot at object. Hazzard on left side, point with left hand at object.


Turn Signal On – Open and close left hand with fingers and thumb extended.


Slow Down – Left arm extended straight out at 90°, left plam facing down. Move arm down. Swing in arc up to down. Repeat


Hungry – Pat stomach.

Cop Nearby – Pat the top of your helmet quickly.

Staggered or Side-by-Side Formation – Extend your left arm upward at a 45 degree angle with your index and pinkie finger extended. This indicate that it is safe to return to staggered formation.

Tighten Up – Raise your left arm and repeatedly move up and down in a pulling motion. This indicates the leader wants the group to close ranks.

Single File – Position your left hand over your helmet with your fingers extended upward. This indicates the leader wants the group in a single file formation. Usually this is done for safety reasons.

Start Engines -With your right or left arm extended, move your index finger in a circular motion.

Slippery Road -Point at ground, rub fingers together.

Major Hazzard Ahead – Flash brake lights very rapidly

Lost/Unsure of Route – Point forward, shrug shoulders

Indicate a Road/Highway Sign – Point at sign. If it's a highway sign with multiple exits listed, hold up the number of fingers corresponding to which exit you want (e.g. two fingers for the second exit listed)
Handle – Street name, club member's name
Handlebar fairing – A type of wind screen that is mounted directly to the forks.
Handlebar risers – See also Risers – Designed to correct the ergonomic short comings of your motorcycle, handlebar risers will raise your handlebars vertically to allow you to attain the posture needed for maximum control. Risers can simply extend the bar mounts toward you, or extend up and forward. Risers are designed to be mounted between your stock bar mount and triple clamp.
Hanging it Out – 1. Riding aggressively, increasing the possibility of injury 2. Continuing to ride when weather and traffic conditions are not safe. 3. Riding faster than kill level and/or without proper safety gear with the potential for losing control of the bike and crashing.
Hardbelly – Young girl with a tight flat belly
Hardley (also see Hardly Ableson), as in a slang name for a Harley in the sense that the speaker thinks of them as nothing more than an over-glorified chromey showoff piece rather than a real bike.
Hardly-Ableson – For Harley Motorcycles during the AMF era
Hardly-Ridable – Derogatory term for a Harley
Hardly-Davidson – Derogatory term for a Harley looking motorcycle that is not a Harley-Davidson brand motorcycle.
Harley-Davidson Motorcycle Engines – See Below
Buckboard Motor – 1905 to 1908, Harley-Davidson sold the "buckboard motor."

Evolution EVO Engine – 1984 to 1999 – In 1984, Harley-Davidson unveils the 1340cc V2 Evolution engine on five models, including the all new FXST Softail. The result of seven years of development, the Evolution engine produced more power at every speed. It also ran cooler, cleaner and oil tight. To date, over 1,000,000 Evolution engines have been built.

Evolution EVO Sporster Engine – 1986 to Present

F-head engine – The "F-head" engine becomes a workhorse of the Harley-Davidson motorcycle until 1929.

Flathead engine – 1952 to 1956 – The 45 cubic inch V-twin engine (later to be known as the "flathead") is introduced on the D model. The engine proves to be so reliable that variations of it are available on Harley-Davidson motorcycles as late as 1972. Sportster engine.

Ironhead – 1957 to 1985 – Sportster engine

Knucklehead – 1936 to 1947 – The "Knucklehead" engine was introduced in 1936 on the EL model motorcycle. Because of the shape of its rocker boxes, the engine earned the nickname "Knucklehead." The new engine included overhead valves, a circulating oil system and was the basis for all Harley-Davidson V-Twin engines that would follow.The 45 cubic inch, side-valve "Flathead" engine debuted in 1929 on the D model. The Flathead proves to be so reliable that variations of it are available on Harley-Davidson motorcycles until 1972.

Panhead – 1948 to 1965 – In 1948, the "Panhead" engine replaced the Knucklehead as the powerplant of Harley-Davidson big twins. The Panhead boasted aluminum heads and hydraulic valve lifters. Also new were the one-piece, chrome plated rocker covers shaped like cake pans–the nickname "Panhead" only seemed logical.

Revolution Engine – 2001 to Present – – The injection of contemporary technology such as liquid-cooling, dual overhead cams and downdraft intake are bold new steps for Harley-Davidson. However, the Revolution™ powertrain remains true to Harley-Davidson's heritage by retaining the values of style and durability, while delivering a dramatic increase in horsepower. The 1130cc, 60 degree V-Twin has adhered to its racing heritage while setting new benchmarks in terms of durability through Harley-Davidson's extensive testing regimen.

Shovelhead – 1966 to 1985 – In 1966, the "Shovelhead" engine was introduced on the Electra-Glide models, replacing the Panhead. The new engine had redesigned "power pac" aluminum heads, which generated 10 percent more horsepower. Because of the shape of the combustion chambers, these new heads earned the engine the nickname "Shovelhead." The Shovelhead was the big twin engine of Harley-Davidson motorcycles through 1983

Twin Cam 88 – 2000 to 2006 – After six years of development, the new Twin Cam 88 engine was introduced on 1999 Dyna and Touring models. The new engine boasted a displacement of 88 cubic inches, or 1450cc, making it the largest displacement engine Harley-Davidson had ever offered.

Twin Cam 88B – 2000 to 2006 – Powering 2000 to 2006 Softail motorcycles, the Twin Cam 88B engine was designed in a parallel program alongside the acclaimed Twin Cam 88 in 1999. The Twin Cam 88B carries over many key components and is built on the same assembly line. In fact, above the cylinder-base gasket, the two 88s are nearly identical. Below the base basket, however, the Twin Cam 88B features twin counter rotating balancers to fully cancel primary engine vibartion. The balancers, tightly packaged within the engine, dramatically improve the ride-ability of the rigid-mount Sotail models. The counter-balanced Twin Cam 88B allows for long disance riding comfot for Softail owners.

Twin Cam 96B – 2007 to Present – All 2007 and later Harley-Davidson Softail motorcycles offer the 1584cc Twin Cam 96B counter-balanced engine, 6-speed Cruise Drive transmission and Electronic Sequential Port Fuel Injection (ESPFI). The Twin Cam 96B engine is rigid-mounted in the frame as an integral element of the motorcycles' low-slung stance and the engine delivers increased overall performance. The Twin Cam 96B is designed to be rigid-mounted in Harley-Davidson Softail models, and is equipped with internal counter-balance shafts to provide a smooth and powerful ride.

Twin Cam 96 – 2007 to Present – An all-new Big Twin powertrain, the Twin Cam 96/B engine and 6-speed Cruise Drive transmission debuted together on all Touring, Softail and Dyna models in 2007. The new engine, available only with Electronic Sequential Port Fuel Injection (ESPFI), offers increased displacement and torque over the Twin Cam 88/B engines it replaces, and features a number of design enhancements making it more powerful, reliable and smoother. The Twin Cam 96 displaces 1584cc (96 cid) and remains the styling centerpiece of each Harley-Davidson Big Twin model. It retains the look, sound and feel that has always been part of the Big Twin character. Improvements such as: New Crankcase Design, Reduced Reciprocating Mass, Improved Camshaft Design, Improved Oil Pump, Improved EFI, New Primary Chain Tensioner, New Exhaust Tuning.
Harley Wrench – Hammer
Hard Core – Dedicated biker usually clubber but sometimes refers to a racer
Hard Tail – A rigid motorcycle frame with no shock absorbing device on the rear.
Haya-Bubba – Suzuki GSX-1300R Hayabusa
HBUBF – Hairy-Butt-Ugly-But-Fast (term for the Kawasaki Vulcan 750)
HD – Hardley Drivable
Head – Also called cylinder head. This piece covers the top of the cylinder and often houses valves, rockers and overhead cams.
Head Gasket – Gasket between the cylinder head and the block or piston cylinder.
Head shake – When the handlebars shake back and forth due to improper set-up or bumps.
Headers – The section of an exhaust system which attaches to the engine head.
Headlight Modulator – This device attaches to the headlight bulb inside the case and pulses the high beam quickly. The visual effect is the headlight is flashing. Improves visability of the motorcycle to other drivers/riders.

Heat – Law enforcement officer, also known as The Man.
Heat Race – A qualifying race that determines which riders will advance to the final race.

Heat Sink – A device to channel heat away from a heat source.
Helical gear – A gear with a spiral or semi-spiral meshing face.

Helmet – Skid Lid, Brain Bucket
Helmet Head – The condition of your hair after you remove your helmet. It will be partially matted and partially sticking out at odd angles.
Helmet-Jinx – The bad luck a biker (who chooses not to wear a helmet) gets when someone mentions that he should wear a helmet. If someone chooses not to wear a helmet don't jinx 'em.
High Siding – 1. Wrecking a bike by flipping it over. Usually caused by releasing the rear break during a skid. 2. Pitching a bike over and away from the direction you are turning. The dangerious kind of crash. 3. When a sliding rear tire suddenly regains traction while the motorcycle is leaned over, causing the motorcycle to violently snap from leaning side tot he other side (the high side).
Highway Bars – Thick, often chrome, tubes that connect to a motorcycle's frame. Designed to protect the engine in case of a collision, but popular for their appearance. Popular with cruiser-style motorcycles.
Highway Pegs – Foot pegs mounted to highway bars that allow the rider to stretch his or her legs further forward for a more relaxed riding position. using such pegs prevent the rider from having immediate access to the gear shfter and rear brake
Hippie Biker (AKA Citizen Bikers) – Soft core biker not 1%er. Predates RUB
Hit the pavement – The act of falling off a bike in a crash on the roadway.
Hit the road – Get on the bike and start riding.
HOG – Harley Owner's Group ( http://www.hog.com/) started in 1983
Hog – A nickname for a Harley-Davidson motorcycle.
Hogwagen – A custom-built trike in which a Harley-Davidson front end and frame is grafted to a Volkswagen drivetrain (subframe, engine and transaxle).
Holeshot – In racing, the drive from a standing start up to racing speed. Generally, the rider who makes the strongest start is said to have gotten the "holeshot."

Honda 750 Killer – Kawasaki 900 Z
Hondabago – Fully decked out Goldwing.
Hooligan – A motorcyclist known for his/her reckless disregard of public and personal safety in the name of going the fastest, cornering the hardest, and generally living life on the edge. They ride to have fun, regardless of the consequences.
Hooligan Bike – Type of motorcycle has been stripped of all unnecessary parts and accessories so that they can have a higher power-to-weight ratio. This gives them the appearance of being "naked". They have minimal bodywork, a racing-styled seat that typically only seats one person, no passenger pegs, an exposed frame, etc.
Hoon – Term for a rider that is riding hard and spiritedly.
Hoops – Tires.
Homologation – The approval process of the governing body that certifies that all manufacturers motorcycles meet all standards prior to race preparation.
Horizontally opposed – Type of engine layout in which the cylinders are placed at 180° to one another. It is also described as a flat twin/four etc. or a boxer engine.

Horsepower – 1. The power of the motorcycle engine. The higher, the better. Although with an engine tuned for power, it might be at the expense of power at low RPM. Horsepower is a unit of engine power equal to 0,746 kilowatt (kW). Originally developed by James Watt to compare the power of steam engines to the work done by a horse. 2. One horse power is the force necessary to lift 550 pounds one foot in one second. 3. A measure of an engines strength.
Hosed – Worn or broken beyond repair
Hugger – A mudguard which 'hugs' the wheel closely.
Hugger® – A type of Sportster®, so named because its lowered suspension and lowered seat make it appear to "hug" the road.
Huggermucker – General term referring to either an inanimate object with an unidentifiable purpose, or a human being fitting the same description(Credit – Big John at Humboldt County Choppers M/C in Eureka, California)
Hurt Report – 1981 study by University of Southern California of 3,600 motorcycle traffic accidents. Also known as the "Motorcycle Accident Cause Factors and Identification of Countermeasures", and consists of 55 conclusions pertaining to crashes, including the effect of motorcycle riders wearing helmets. See: https://www.totalmotorcycle.com/BBS/viewtopic.php?p=208468 for a summary of findings.
Husky – Husqvarna motorcycle.
Hybrid electric vehicle (HEV) – A hybrid electric vehicle integrates an internal combustion engine, an electric motor, a generator and a battery pack. The arrangement and integration of these components can be varied to maximize performance and efficiency and reduce emission levels.
Hydrocarbons – An organic compound comprising only hydrogen and carbon. For example, petroleum is a mixture of many different hydrocarbons. Hydrocarbons – and in particular methane – contribute to global warming.
Hydrometer – Device to measure the charge in a lead acid battery.
Hydroplane – 1. When your tires start to float on top of water, causing them to lose contact with the road surface. 2. A highly dangerous situation in which the tires lose contact with the road surface and actually life on top of a shallow film of water. 1″ of standing road water will generally hydroplane a motorcycle tire at speeds of 80 km/h or greater.
Hydrophobic treatment – A treatment which renders leather water-repellent. BMW uses the vat immersion technique under application of topquality 3M Scotchguard as the active agent. The best results are obtained when the leather fibres are encapsulated without affecting the natural state of the pore structure, so as to maintain the active breathing action.
Hype-sucker – Anyone who buys into the Harley Hype
Hypoid Gears – Paired beveled gears with spirally or nonradially cut teeth mated to that the pinion does not intersect the axis of the gear used in transmission and final drives.
---