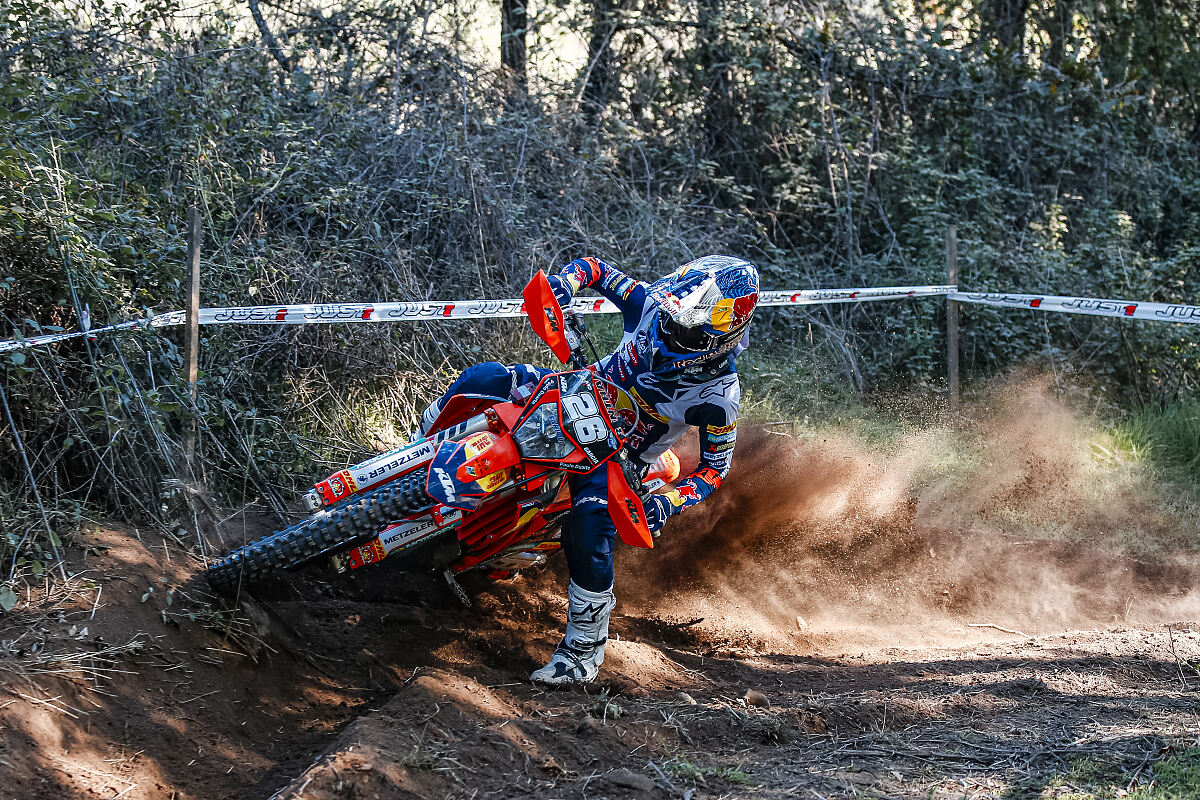 Red Bull KTM Factory Racing's Josep Garcia has secured a double EnduroGP class victory at the penultimate round of the 2023 FIM EnduroGP World Championship in Portugal. The Spaniard topped both the Enduro1 and overall timesheets to extend his E1 advantage and move up to third in the EnduroGP standings with one round left to race.
Marking the first of two back-to-back rounds to conclude the 2023 series, the GP of Portugal saw the series return to action following a long, three-month break. A Super Test on Friday night got proceedings underway, and it was Josep Garcia who blasted his way through the fast course under the floodlights to come out on top.
Josep carried that winning speed into Saturday where, after a three-way fight for victory, the KTM 250 EXC-F racer topped both the Enduro1 and EnduroGP categories. Times were tight through the entire day and at the end of lap three and close to an hour of racing against the clock, Garcia's advantage was just 0.70 seconds. With a final push, Josep took the win on the final enduro and cross tests to secure the overall victory for the day by over six seconds.
Day two started very much like the first with the three podium finishers from Saturday soon breaking away from the field. Once again, at the close of lap three, less than one second separated Garcia from his closest rival, Steve Holcombe. Second fastest on the enduro test, Josep pulled out all the stops for the final cross test of the day, posting a time over five seconds faster than the rest of the field and in turn, securing the EnduroGP win.
Josep Garcia: "It's been an amazing weekend for me. To take a double EnduroGP win is the perfect comeback. After my crash in Sweden, I wasn't riding so well in Slovakia but since then, I've been putting in so much hard work over the summer to build my strength and fitness back up again. I wasn't certain how things would go here in Portugal, but I definitely felt good coming into this penultimate round. It's been a huge fight all weekend with Steve (Holcombe) and Andrea (Verona) but despite a couple of small crashes, I was able to stay on top both days. My win in the Super Test makes it 1-1-1 for this round and I'm hoping to do the same next weekend and finish the season off on a high."
With one round of the 2023 championship remaining, Josep leads in the Enduro1 class with a 32-point advantage and currently sits third in EnduroGP, trailing the top position by 26 points.
Results – 2023 FIM Enduro World Championship – Round 6, Portugal
Day 1
Enduro1
1. Josep Garcia (ESP), KTM, 1:12:01.87
2. Zachary Pichon (FRA), Sherco, 1:13:29.06 +1:27.19
3. Jamie McCanney (GBR), Husqvarna, 1:13:48.49 +1:46.62
4. Theophile Espinasse (FRA), Beta, 1:14:12.04 +2:10.17
5. Matteo Pavoni (ITA), TM Racing, 1:15:06.38 +3:04.51
EnduroGP
1. Josep Garcia (ESP), KTM, 1:12:01.87
2. Andrea Verona (ITA), GASGAS, 1:12:08.24 +6.37
3. Steve Holcombe (GBR), Beta, 1:12:10.45 +8.58
4. Zachary Pichon (FRA), Sherco, 1:13:29.06 +1:27.19
5. Samuele Bernardini (ITA), Honda, 1:13:42.94 +1:41.07
Day 2
Enduro1
1. Josep Garcia (ESP), KTM, 1:11:51.62
2. Zachary Pichon (FRA), Sherco, 1:13:32.23 +1:40.61
3. Jamie McCanney (GBR), Husqvarna, 1:13:39.47 +1:47.85
4. Theophile Espinasse (FRA), Beta, 1:14:10.64 +2:19.02
5. Matteo Pavoni (ITA), TM Racing, 1:15:15.06 +3:23.44
EnduroGP
1. Josep Garcia (ESP), KTM, 1:11:51.62
2. Steve Holcombe (GBR), Beta, 1:11:53.52 +1.90
3. Andrea Verona (ITA), GASGAS, 1:12:50.45 +58.83
4. Nathan Watson (GBR), Honda, 1:13:16.32 +1:24.70
5. Hamish MacDonald (NZL), Sherco, 1:13:27.40 +1:35.78

Championship Standings (After Round 6)
Enduro1
1. Josep Garcia (ESP), KTM, 209 points
2. Theophile Espinasse (FRA), Beta, 177 pts
3. Zachary Pichon (FRA), Sherco, 167 pts
4. Jamie McCanney (GBR), Husqvarna, 166 pts
5. Matteo Pavoni (ITA), TM Racing, 143 pts
EnduroGP
1. Steve Holcombe (GBR), Beta, 196 points
2. Andrea Verona (ITA), GASGAS, 177 pts
3. Josep Garcia (ESP), KTM, 170 pts
4. Brad Freeman (GBR), Beta, 162 pts
5. Hamish MacDonald (NZL), Sherco, 127 pts