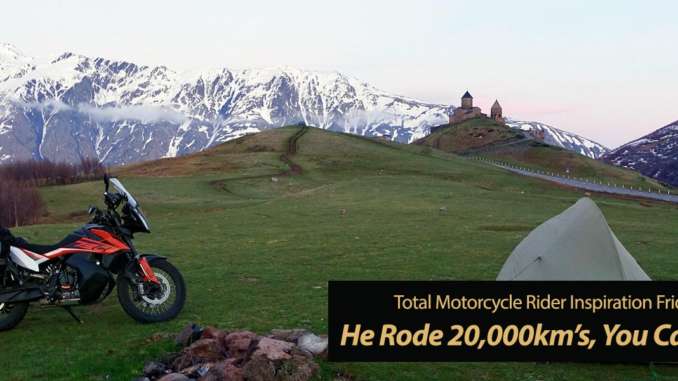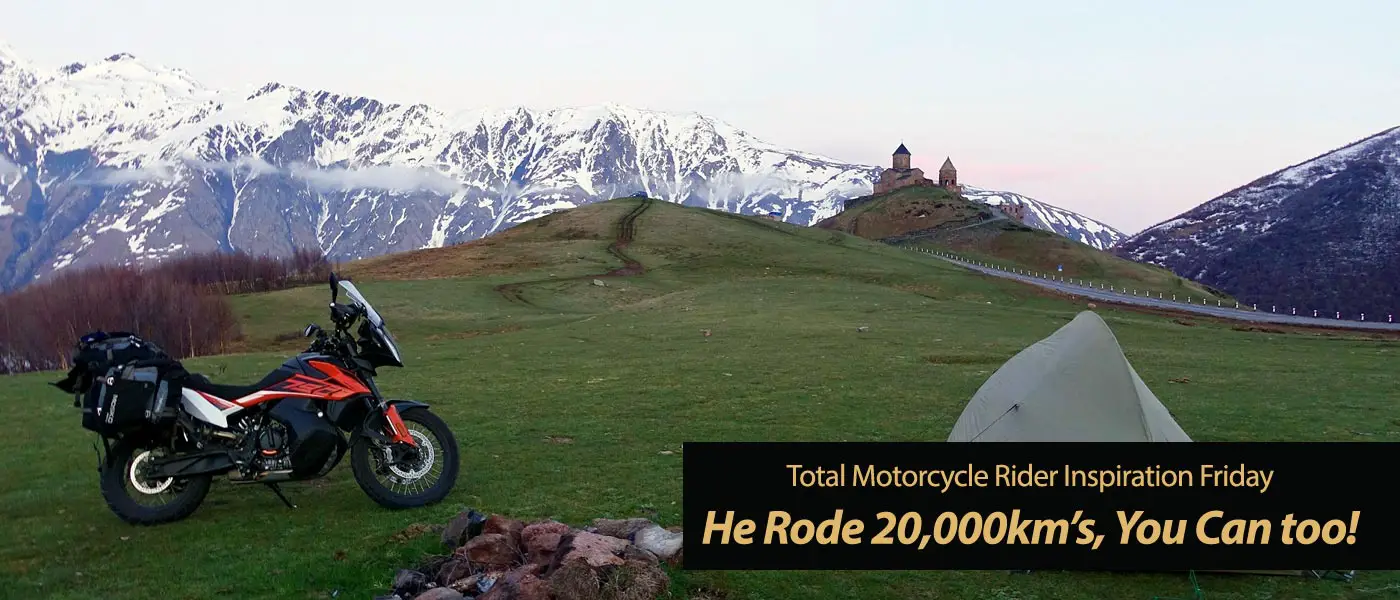 There is nothing quite like the smell of a new motorcycle, the sound when you first start it up and ride out. What is even better is sleeping under the stars in a foreign land you rode to with your gear, provisions, maps and if you are lucky, with your love at your side. Inspiration Friday: 20000km Madrid to Mongolia 790 Adventure is an inspiring story of one man, one machine, 2 continents, 12 countries and 20,000kms from Madrid, Spain to Mongolia. We hope you enjoy this week's Rider Inspiration and if Martin Lazaro can ride 20,000kms, you can too! What are you waiting for? The world is there, your bike is ready…Get out there.
Picking up a brand new KTM 790 ADVENTURE from Madrid and riding more than 20,000 kms to Mongolia, experienced motorcycle adventurer Martin Lazaro shares the highlights of an epic trip across 12 countries and two continents.
Sometime around the middle of April, Martin Lazaro boarded a flight from New York to Madrid, marking the start of a monumental riding adventure. Collecting his brand new KTM 790 ADVENTURE from a KTM dealer in the Spanish capital, Lazaro set off towards the heart of the vast Asian continent.
With more than a decade of experience crossing countries and continents aboard various adventure motorcycles, Martin had meticulously planned every bit of his long trip to Mongolia. During the course of the coming months, he would create some of those riding experiences that last for a lifetime.
Catching up with Martin via e-mail while he was travelling through Mongolia, the KTM 790 ADVENTURE mounted motorcyclist was kind enough to share with us the five absolute best highlights of this once in a lifetime overland journey.
The start of it all
"Departing straight from the dealer in Madrid on a brand new KTM, I felt a simultaneous rush of adrenaline and uncertainty as I drove off to a destination on the other side of the world. I had a simple plan on my mind. I would fly to Madrid from NYC, collect my KTM 790 ADVENTURE and spend the next three months travelling east with the goal to reach Mongolia. It was exhilarating to be on the road on a new motorcycle and covering the first of the many kilometers to come."
"From the first hundreds of kilometers on European soil, I immediately loved the on-road performance of the KTM 790 ADVENTURE. Throughout my whole three to four months of riding, I had many full days cruising smoothly along highways and twisting roads and that was just pure fun."
Going offroad
"Taking the ferry from Spain to Italy and then crossing Albania and Greece, I landed in that awesome part of the world that is the mountains of Cappadocia in Turkey. Riding through those mountains was like experiencing an out of this world riding experience. It was in these amazing landscapes that I also got to test the real offroad potential of my KTM 790 ADVENTURE."
"After thousands of kilometers on any kind of terrain, I feel this bike is deceptive in the best way possible – it has the appearance of a large adventure motorcycle but operates like a smaller dual sport vehicle. It makes you feel that you are cheating."
Entering a new world
"After days journeying through the desert in the border between Kazakhstan and Uzbekistan, I arrived at the fortress city of Khiva. It was my first glimpse of the Silk Road. Entering this world was like submerging into a dream."
"For this first part of the trip, I used the standard Avon tires my bike got delivered with. Even with these more street-oriented tires, I couldn't believe how capable the bike was in all kinds of conditions ranging from good to bad quality tarmac, gravel roads and even dusty paths with dirt so soft it felt like riding in sand."
Going offroad with friends
"Part of the reason I like motorcycle travel is meeting other riders along the way. I rode for a week through the Pamir Highway and Walkham Corridor with two fellow KTM 790 ADVENTURE R riders, Roman and Florian. We ripped through amazing dirt roads bordering with Afghanistan. It's always better to indulge in off-roading with companions."
"During the last few months, one thing I loved about my bike is its ability to sustain crashes. Probably the only silver lining to experiencing a crash at speed on dirt is the relief that the bike didn't suffer any damage whatsoever. Not to mention, my bike doesn't even have crash bars installed."
A spiritual end to a big adventure
"In the final days of my journey to Mongolia, I traversed the canyons and dunes of the Gobi Desert. It was a quasi-spiritual end of the adventure. I was all-alone on my bike, taking in the beautiful immensity of the far reaches of my adventure. I had achieved what I set out to do and I was immensely happy for that."
Total Motorcycle would like to thank KTM and Martin Lazaro for sharing his amazing Friday Rider Inspiration story for our readers this week! TMW wishes Martin Lazaro the very best on his continuing motorcycle adventures!