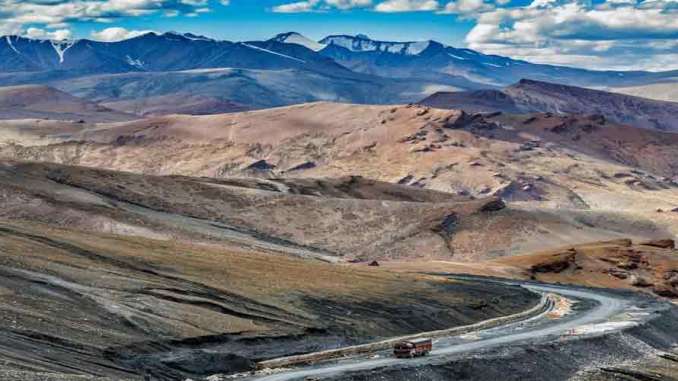 A life or death race against time.
Hitting the roof of the world, almost as high as a passenger jet, on a motorcycle means several things. Spectacular horizons, endless views and altitude sickness. FTR chatted to the people who have got pretty close to the motorcycling altitude record of 6,360 metres (20,869 feet), and were surprised to find that highest doesn't necessarily mean the most difficult…Okay, so the team of Triumph Tiger riders didn't quite reach the record set by three friends who tamed the world's highest volcano of Ojos del Salado in the Argentine-Chile Andes in 2012. But they picked up enough experience to know what not to do.
Kevin Sanders, from GlobeBusters, takes up the story: "Until recently the highest we'd been was Mount Everest North Base Camp in Tibet, but we'd always read about a pass called Khardung La in Ladakh, supposedly the world's highest rideable road so it was on the list."
On top of the world
Most map sites put it at 5,359m (17,582ft) but the signs and T-shirts you can buy in nearby Leh reckon it's 5,602m (18,379ft). Either way, it was higher than Tibet even if it left Kevin and his Triumph Tiger riding team feeling a little flat.
"Don't get me wrong, it's a stunning road with truly breathtaking views," he says: "You get to the top and you have the symptoms of altitude, you're breathless, and there's snow. But there are also Indian families in sedans and saloons, minibuses and tour vans because people go to Leh 25 miles from the summit and take a trip to the 'highest pass in the world'."
So does the fact that it's become a tourist destination that will be tarmac all the way in a few years detract from the magic of riding high? Kevin, a big Tiger XCA advocate, says: "It's still an incredible and challenging road to ride, but for me, in the context of what we've done, it wasn't as challenging as I'd expected it to be."
Go for the authentic experience
Part of the reason for that came on the road from Delhi when the party went through the Spiti Valley, a remote desert mountain valley high in the Himalayas on the Tibetan border. At 3,000 metres lower it's not the 'ceiling of the world', but its unmaintained roads and reliance on 4×4 tracks to get you through make it a more authentic experience.
"Everest base camp is so remote. We rode through China for eight days past settlements of a few shacks with corrugated iron roofs, travelling on roads fighting trucks and dust," says Kevin: "The Chinese haven't touched the dirt track that leads there, and it's becoming an incredibly hard ride. At the altitudes you're touching on the Tibetan Plateau, the amount of energy you need just to be able to ride roads like that is immense, so it did make the final bit up Khardung La quite easy in comparison."
A life or death race against time
A major hazard of riding at altitude is the sickness that can indiscriminately affect anyone regardless of age or fitness. Kevin says: "It kicks in around about 2,500 metres. Up to then most people should be fine but you simply cannot predict who will be affected, when and to what extent."
One trip riding and sleeping on the Tibetan Plateau almost ended in tragedy for one member of the group, a 30-year-old physically fit rider. He explains: "We'd been up there for two weeks, doing 4,600 metre rides but sleeping at 3,500. It wasn't that severe to begin with. Dehydration, headaches, nausea and breathlessness were the first signs, but he started to try to hide his symptoms knowing it could mean the end of his trip.
"The further we went the more severe it became and he developed 'altitude cough' with the dry air. The next stage can be fluid on the lungs or brain. We knew he needed to get back down towards sea level and get medical attention quickly. Easier said than done."
What followed was a race against time through hazardous 3,500-metre passes to reach civilization 1km below in a 4×4 with prayers that he would make it down in time. After a harrowing journey for him and the team they made it to Lhasa, but by then his condition was so severe he was flown straight back to the UK, the end of his trip, but thankfully not his life. He made a full recovery.
Fly high… safely. Five tips
Slow and steady – Climbing too high, too fast increases the risk of altitude sickness. The basic rule here is to go up slowly, in stages and if possible 'ride high, sleep low'.
Stay hydrated – Make sure you drink lots of water and avoid alcohol.
Take your time – Don't go rushing into the hotel with all your luggage or set up camp as quick as you can. You'll be out of breath and energy very quickly.
Take a pill – Diamox can help with acclimatisation to altitude, but side effects can be severe tingling in the fingers and riding a dirt road with less than full feeling in your hands isn't a great idea. Consult your GP before you go and be aware of what it might do to you.
Recognise the symptoms – If you or any of your party are experiencing dehydration, headaches, nausea and breathlessness, make a plan to get back down and seek medical attention as soon as possible.