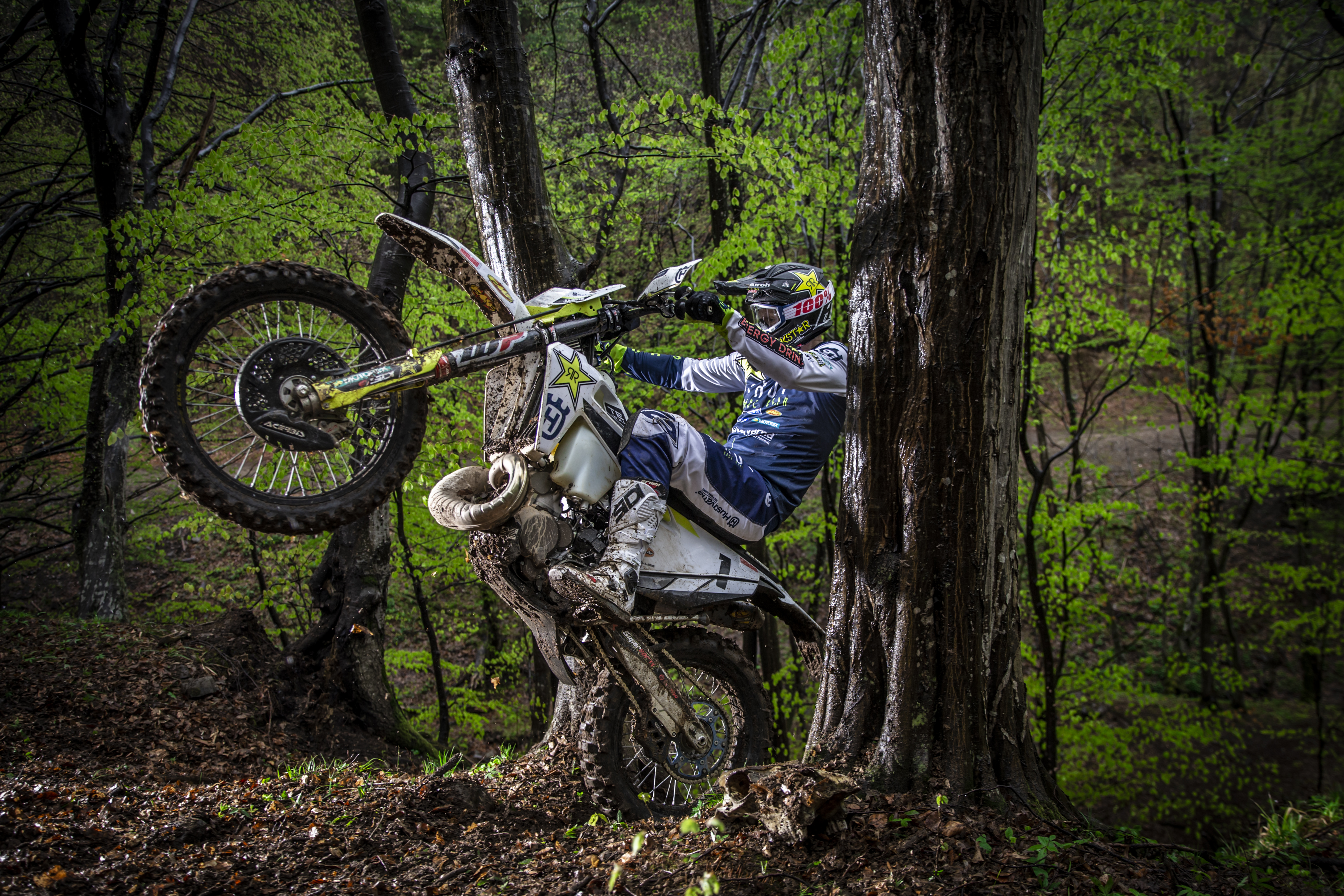 Rockstar Energy Husqvarna Factory Racing's Graham Jarvis heads into tomorrow's start of the infamous Romaniacs Hard Enduro Rallye as leader of the 2019 World Enduro Super Series. With two consecutive WESS wins under his belt, the on form British rider starts round five of the series confident of further success and is joined by teammates Billy Bolt and Alfredo Gomez.
Jarvis comes into the 16th edition of Romaniacs on a superb run of form having won both rounds three and four of WESS – the Erzbergrodeo Hare Scramble and the recent Hixpania Hard Enduro. Enjoying a 120-point advantage at the top of the current series rankings, the experienced 44-year-old will be aiming to claim a record-breaking seventh win in Romania and with it extend his championship lead.
2018 World Enduro Super Series winner Billy Bolt continues to regain both strength and form following his off-season injury sustained over the winter. Fifth in the championship, Bolt narrowly missed the podium at the Hixpania Hard Enduro, fighting through the pack after a tough start to claim an impressive fourth-place result. Approaching Romaniacs in his best form of the season so far, the young Brit is looking to make his mark on the 2019 event.
One place ahead of Bolt and in fourth in the WESS standings, Alfredo Gomez tied on points with teammate Jarvis at Hixpania after winning the first two days of racing. The Spaniard is unquestionably on form and hungry to claim his first ever WESS win.
Featuring five days of racing, with a Prologue on the streets on Sibiu followed by four days in the surrounding mountains the Romaniacs Hard Enduro Rallye looks set to be one of the toughest and most demanding events on the WESS calendar. The race will test the riders' skill, stamina and mental strength.
Round five of the World Enduro Super series takes place in Sibiu, Romania from July 30 to August 3.
Andi Hölzl – Rockstar Energy Husqvarna Factory Racing Team Manager: "Romaniacs is always a race that Rockstar Energy Husqvarna Factory Racing look forward to, but this year, following Graham's incredible result at Erzberg, we are even more motivated. The weather during the coming days will make a huge difference to the outcome of this year's event, but like always it will certainly be difficult. Graham likes it when the conditions are super challenging, so we're confident that he can again fight for a good result. Billy's been busy in recent weeks testing and riding. While he doesn't have the experience that Graham does, he's raced here enough to know what to expect and is looking forward to it. Alfredo has also been busy and is really ready for this race. Romaniacs is very special, very different to all other races, so we know everyone must take things one day at a time. You never know what's coming at Romaniacs, which is part of the reason why, as a team, that we like it so much."