Back to the Model History Timeline Review Page
---

1972 to 2012 – Honda Gold Wing Model History Guide

Honda Gold Wing: A Legend In Its Own Time
Page 1 of 7
<< Page Back – Page Forward >>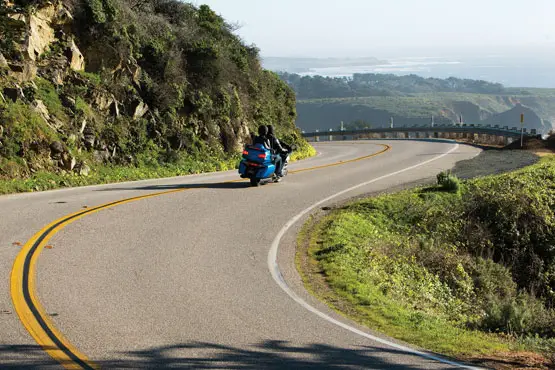 Pack up, hop on, and head out for somewhere you've never been before
Pack up, hop on, and head out for somewhere you've never been before.
The Honda Gold Wing will make getting there way more than half the fun. The
world's most luxurious touring motorcycle. – Honda
Honda Gold Wing Model History Guide
It's a beloved motorcycle that has earned many titles, awards and nicknames
over the decades: icon, legend, superstar, best-in-class, the definitive yardstick
among touring motorcycles-and so much more. Year in and year out, such acclaim
flows freely and rightly so; for more than 35 seasons, the Honda Gold Wing®
first defined, then re-defined over and over again just how much performance
and comfort a motorcycle can deliver to two people, whether the plan is a
weekend ride or a cross-country adventure. Three-and-a-half decades represents
an eternity for most motorized products, yet as the Gold Wing enters its 36th
year of production, it not only continues to lead all would-be challengers,
it also continues to evolve. And so we see that the 2012 Gold Wing once again
establishes a new and higher standard for what the good life should truly
be at the cutting edge of long-distance two-wheeled motoring.
When initially released to the public in 1975, the first Gold Wing literally
dazzled the motorcycling press and consumers alike. Never before had the two-wheeled
realm witnessed anything like this machine, one that simultaneously wielded
world-class power and incredible cross-country capabilities. In short, the
999cc Gold Wing immediately carved out an über-achiever niche all to
itself, and to this day no other name offers such a complete and well-balanced
blend of motorcycle touring qualities. As decade after decade rolled along,
the Honda Gold Wing maintained its supremacy by not remaining static; growth
and change have been constant by every criteria, be it displacement, number
of cylinders, chassis configuration, power, handling, comfort or innovation.
Such top-dog status has been repeatedly confirmed upon the Honda Gold Wing
by the most rigorous of all critics: the buying public. And the statistics
don't lie; having produced a total of more than 640,000 units over its lifespan,
the Gold Wing outstrips all would-be competitors by such a wide margin it
literally forms a class of one.
The first group of horizontally opposed four-cylinder Gold Wing engines steadily
grew from 999cc to 1182cc over a dozen years' time, and upon its 1988 debut,
the 1520cc Gold Wing introduced the then-radical notion of a six-cylinder
engine for a touring motorcycle. That powerplant configuration carried over
into 2000, when the next-generation six-cylinder Gold Wing grew in displacement
to 1832cc to gain a remarkable increase in performance throughout the powerband.
Better yet, it also took on a dramatically new athletic nature with regard
to handling, thanks in large part to its sportbike-like box-section aluminum
frame. To this day, the 1800 delivers impressive performance when it's put
to the spurs-more than enough to astonish riders who have never experienced
its capabilities first hand. Those in the know understand such capabilities
fully, since the 1800 Gold Wing design team was headed up by a long-time Honda
sportbike engineer who is also an avid sport-riding enthusiast.
Having eclipsed the realm of long-range mounts in terms of out-and-out performance,
the Gold Wing also extends the horizons of comfort and amenities for rider
and passenger alike. And because it's a Honda, the 2012 Gold Wing incorporates
innovative features that break new ground in the world of two wheels by offering
an unparalleled level of technical sophistication.
In short, when you mount up a Gold Wing, you're riding a living legend-and
reaping all the attendant rewards.
---
---