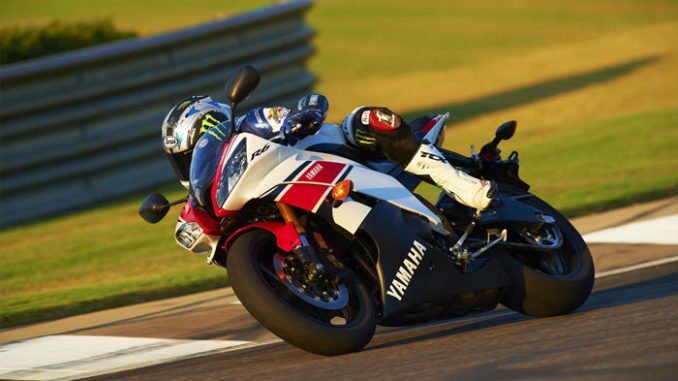 Click photos to enlarge.
They make great desktop images.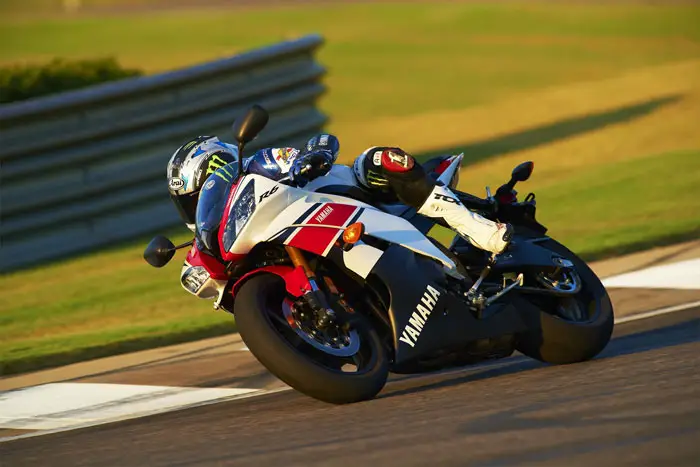 2012 Yamaha YZF-R6 WorldGP 50th Anniversary Edition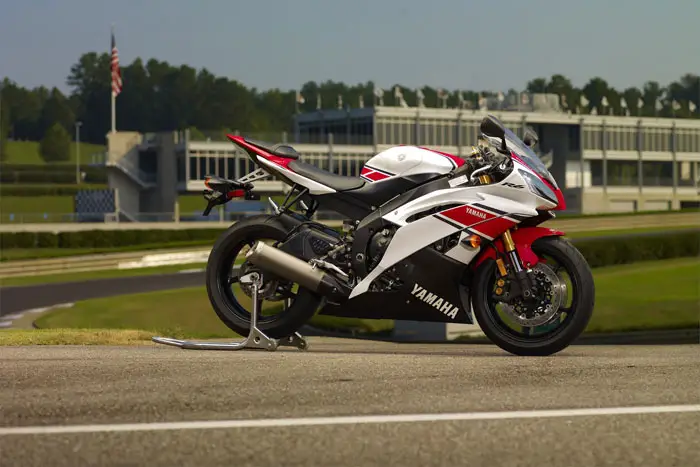 2012 Yamaha YZF-R6 WorldGP 50th Anniversary Edition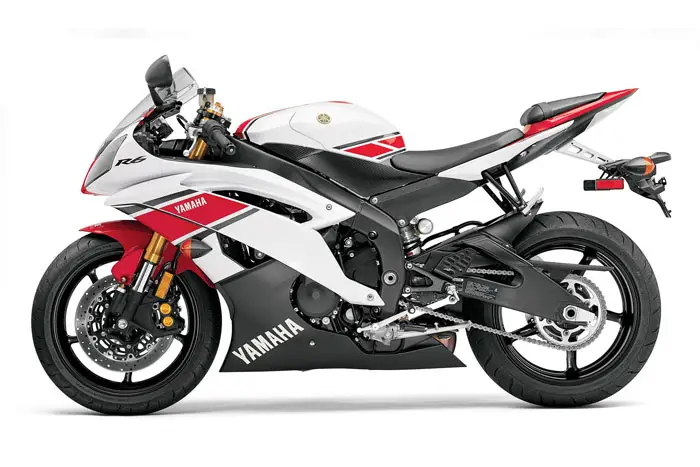 2012 Yamaha YZF-R6 WorldGP 50th Anniversary Edition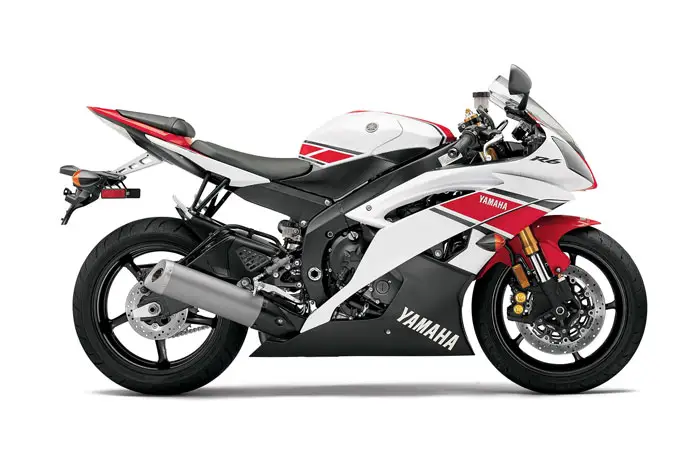 2012 Yamaha YZF-R6 WorldGP 50th Anniversary Edition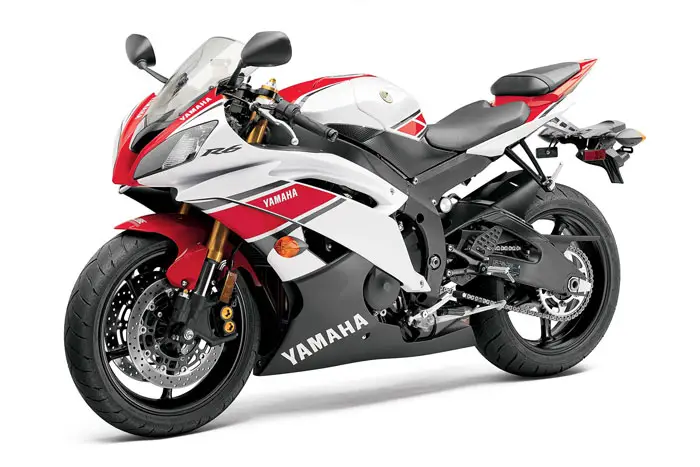 2012 Yamaha YZF-R6 WorldGP 50th Anniversary Edition


– 2012 Yamaha YZF-R6 WorldGP 50th Anniversary Edition

2012 Yamaha YZF-R6 WorldGP 50th Anniversary Edition Review
Confidence, agility, performance… maximum excitement for maximum fun.
This is the machine that's leading the way in the World Supersport Championship. And its highly advanced engine and chassis designs make it one of the most outstanding motorcycles in the class. Our compact 'mass-forward' body layout and lightweight aluminium die-cast Deltabox frame concentrate major components around the centre of gravity for super-agile handling. The R6's 599cc liquid-cooled, 4-stroke, DOHC, forward-inclined parallel 4-cylinder, 4-valve engine is equipped with a highly advanced electronic intake (YCC-I) and throttle (YCC-T) giving instant response and seamless power. And with its new 50th Anniversary colours, the R6 looks and feels like a born winner!
YAMAHA WGP 50TH ANNIVERSARY MODELS

Fifty years after Yamaha sent its first ever GP riders to compete in the World Championships, our newest factory rider Ben Spies helped to commemorate the occasion with his maiden MotoGP win at Assen in June 2011. Riding a YZR-M1 in Yamaha's specially-designed red and white WGP 50th Anniversary livery, Spies was continuing the strong tradition of winning that has enabled Yamaha to become one of the industry's most innovative and creative manufacturers.
Ever since it made its first motorcycle, Yamaha has believed that racing improves the breed. From winning our first ever Grand Prix points at the Isle of Man TT in June 1961 through to this year's MotoGP victories by Jorge Lorenzo and Ben Spies, every single success on the track allows our engineers and designers to develop and refine tomorrow's cutting-edge street-bikes.
Over the past fifty years Yamaha's racing programme has led to the development of some of the most innovative engine and chassis technologies -as well as the creation of the most ground-breaking race-developed models like the YZF-R1, whose crossplane crankshaft is a direct spin-off from the factory YZR-M1 racer.
To celebrate half a century of success in Grand Prix racing, Yamaha will produce a limited quantity of exclusive 'WGP 50th Anniversary' motorcycles and scooters. Based on the classic colour schemes debuted on the YZR-M1 by Jorge Lorenzo and Ben Spies in 2011, this very special timeless livery is inspired by the famous red and white 'speedblock' design featured on Yamaha's pioneering Grand Prix racing machines.
This desirable and exclusive WGP 50th Anniversary colour scheme will be available on limited quantities of YZF-R1, YZF-R6, YZF-R125, FZ8, Aerox and TZR50 for the 2012 model year. Owners of these exclusive new WGP 50th Anniversary models will receive a special certificate of authentication, and will also receive Yamaha's 'Insider' magazine which contains the latest news, interviews and new model information.

The 2012 Yamaha R6 was born on the racetrack. It's MotoGP bred technology is tuned to give you the kind of outstanding engine and chassis performance usually reserved for professional racers. The 2012 Yamaha YZF-R6 WorldGP 50th Anniversary Edition is full of innovations and technology, you just won't find on the competitor's machinery.
The R6 is a showcase of Yamaha's latest sport bike technologies.
From the YCC-T fly by wire throttle to the MotoGP inspired straight frame design, to Yamaha's exclusive electronically variable intake stacks, to a fully adjustable suspension package, the R6 is designed to take super sport riding to a whole new level.
Innovations and technology you won't find on any other middleweight Supersport. middleweight Supersport.
The 2012 Yamaha R6 is designed to do one thing extremely well: get around a race track in minimal time. Oh year: It's an incredible street bike too. The 2012 WorldGP Anniversary Edition celebrates Yamaha's racing heritage with Pearl White/Rapid Red livery. It includes a 50th Anniversary emblem on top of the fuel tank and a special numbered plate showing the production number of only 1500 units that will be produced worldwide.
2012 Yamaha YZF-R6 WorldGP 50th Anniversary Edition Highlights and Key Features:
Fuel Consumption ± 17kpl/48mpg(Imp)
Yamaha Chip Controlled Throttle (YCC-T)
Optimized straight frame design
Key Features:

•World GP 50th Anniversary Edition celebrates Yamaha's racing heritage with Pearl White/Rapid Red livery. Includes a 50th Anniversary emblem on top of the fuel tank and a special numbered plate showing the production number of only 1500 units that will be produced worldwide in these commemorative colors.

•Light, powerful, and bristling with knowledge gained from years of racing, the YZF-R6 WorldGP 50th Anniversary Edition is the most advanced production 600cc motorcycle Yamaha—or anybody else—has ever built.

•The YZF-R6 WorldGP 50th Anniversary Edition was the first production motorcycle with YCC-T®, Yamaha Chip Controlled Throttle system—for flawless response under all conditions.

•YCC-I®, Yamaha Chip Controlled Intake, is used on the R6 to vary intake tract length for excellent cylinder filling and a broader powerband.

•Back torque-limiting slipper-type clutch greatly facilitates braking/downshifting from high speed. Close-ratio 6-speed transmission delivers seamless power and maximum acceleration.

2012 Yamaha YZF-R6 WorldGP 50th Anniversary Edition Features and Benefits
ENGINE
Ultra-compact, lightweight, short stroke, 599cc, DOHC, 16-valve, liquid-cooled, in-line four-cylinder with lightweight titanium valves produces incredible horsepower. Redline is set at an amazing 16,000rpm.
67mm bore and 42.5mm stroke provide a fast revving powerplant. Engine width is minimized thanks to Yamaha's special casting technologies and "liner less" cylinder design.
Compact "pent roof" cylinder head design features ultra lightweight titanium valves for both intake and exhaust. The intake valve angle is 11.5 degrees and the exhaust is 12.25 degress. The intake valves are 27mm in diameter while the exhaust valves are 23mm.
Single intake valve springs reduce weight and "friction" for optimum high rpm performance. The valve retainers are made of lightweight aluminum.
High flow intake and exhaust ports allow more fuel in and more exhaust out for great power delivery at all rpms.
Lightweight magnesium cylinder head cover and case covers reduce weight.
Separate cylinder block (the cylinder is not part of the upper crankcase) design utilizes ceramic composite plated "liner less" cylinder bores. The ceramic coating is sprayed directly on the aluminum block. The benefits are greater heat dissipation for consistent power delivery, reduced frictional power loss, reduced oil consumption and since there are no heavy liners, reduced weight too.
Lightweight forged pistons feature thin top rings for great high rpm power. The pistons are secured by lightweight tapered type piston pins. The lightweight design means fast engine response.
Lightweight crankshaft features 31mm bearing journals. The inertial crank mass has been optimized for excellent throttle response and impressive acceleration. The crank journal bearings feature special oil holes that increase the supply of oil for excellent durability.
High lift / high performance, hollow, side-driven camshafts provide arm stretching power and strong acceleration.
Automatic semi-hydraulic type cam chain tensioner reduces mechanical noise and maintenance.
Mikuni fuel injection system with 41mm throttle bodies features twin injectors (primary & secondary). This type of twin injector system is also found on our MotoGP M1 machine and the latest generation R1. Each of the injectors utilizes 12 spray holes to maximize the atomization process. The secondary injectors, located inside the airbox, begin to function at mid rpms (6,000 to 7,000rpm) thru to redline. Special short intake tracts allow for higher rpms and improved power.
The F.I. system features separate TPS (throttle position sensor) and APS (accelerator position sensor) sensors.
Yamaha Chip Control Throttle (YCC-T) is another 1st for Yamaha. This system electronically controls the throttle valves for outstanding response and improved controllability at high rpms. The system features Throttle Position Sensor (TPS) and D.C. motor driven throttle valves. The YCC-T system electronically controls the throttle valves for outstanding response and improved controllability at all rpms. The YCC-T is used to provide even more control of the intake air volume for a smoother torque character. This ECU that controls the YCC-T is capable of responding to changes at a speed of 1000th of a second.
YCC-I or Yamaha's Chip Controlled Intake system means the intake funnels / stacks vary in length between 2 pre-set positions depending on engine rpms. The transition rpm is approximately 13,700 rpms. An electronic servo motor varies the funnels. The revolutionary YCC-I provides the best of both worlds …solid low rpm torque and power combined with an amazing high rpm rush. It takes only 0.3 of a second for the funnels to move from the tall to the short position.
Yamaha's exclusive YCC-I electric-control servo motor-driven variable intake funnel system is a world's 1st on a production motorcycle and works in conjunction with Yamaha's fly-by-wire technology and FI systems.
7.6 litre air box utilizes a high flow viscous paper type air filter.
Ram Air Induction System with centrally located intake duct delivers cool, high-pressure air "force-fed" into the intake tract for optimal combustion and greater horsepower at higher speeds. This design provides straight induction from the central fairing duct to the airbox without a lot of bends or turns.
Close ratio 6-speed transmission delivers seamless power delivery and maximum acceleration. Gear widths, splines and engagement dogs have been optimized to handle the R6's power. The shift drum and shifting mechanism are located on the right side of the cases for smooth shifting feel under power. The gears use flat contact-type engagement dogs for positive shifting and great durability.
The "Tri-Axis" or stacked transmission design creates a more compact engine front to back that allows for optimum engine placement in the "sweet spot" of the frame for optimized weight distribution and incredible handling.
Slipper or back limiter clutch assembly reduces rear wheel hop when making hard down shifts or under hard braking. Key benefit is reduced lap times and smoother control when participating in either a race or track day. This clutch uses 9 paper based friction plates and 8 steel plates, plus 6 coil-type clutch springs.
The oil lubrication system has been optimized to reduce frictional loses caused by "oil drag". It features a "two side" oil pump. There is a separate liquid-cooled oil cooler to ensure consistent engine temperatures for maximum performance and extended service life.
High capacity cooling system features a curved radiator with dual ring-type fans for excellent engine cooling efficiency. The ring-type fan offers more airflow than a conventional type fan.
Direct ignition coils, iridium dual electrode spark plugs and high-output magneto deliver reliable, super strong spark. With this system, the ignition coils are integrated into the plug caps, significantly reducing weight.
"Mid Ship" 4-into-2-into-1 exhaust maximizes engine performance. The header pipe diameter and length have been optimized for excellent flow. There are three, 3-way honeycomb catalyziers with an oxygen sensor in the system to reduce harmful HC & CO exhaust emissions. The oxygen sensor provides feedback to the ECU so it can adjust for the optimum fuel/air mixture. The "mid ship" MotoGP style, lightweight titanium muffler is located below the engine to central mass and lower the center of gravity for great handling.
The exhaust system also features Yamaha's EXUP System (Exhaust Ultimate Power Valve) utilizing a titanium body and butterfly valves that prevent the "blow back" phenomenon caused by "valve overlap". This design reduces weight and maximizes cornering clearance. The EXUP system eliminates "flat spots" in the power band and reduces emissions too. This is a 1st on a 600cc supersport machine.
High powered 32 bit electronic control unit actually contains three ECUs inside the main ECU to control the FI system, the YCC-T system and the ignition mapping system.
Air Injection System (AIS) injects fresh air into the exhaust ports to fully burn any unburnt fuel in order to reduce harmful CO & HC exhaust emissions

CHASSIS / SUSPENSION
Compact, lightweight aluminum Deltabox frame offers an optimized total rigidity balance for incredibly light and agile handling. This frame is a MotoGP inspired innovation that Yamaha calls a "straight frame concept". This means the top spars of the frame lie as close to possible to the frame's torsional axis (the line connecting the head pipe to the swingarm pivot point). The ram air duct passes through the frame at the head pipe for a straight ram air effect too. A mix of mold castings and pressed aluminum plates make up the frame. The engine is a fully stressed chassis member allowing for a super-light frame design.
Lightweight, detachable magnesium rear subframe. The detachable design allows rear shock access and is less costly if the unit is "looped out".
Lightweight, aluminum "gull wing" type swingarm uses a mix of castings and pressed plates for optimum rigidity. The swingarm pivot position has been optimized to reduce the "squat" tendencies caused by drive chain reaction to hard throttle openings.
Key chassis geometry figures include: 1380mm wheelbase, 24 degree caster angle, 97mm of trail and a 52.5% front and 47.5% rear weight balance. The maximum lean angle is a knee scraping 57 degrees.
Fully adjustable 41mm inverted front fork provides 115mm (4.5″) of wheel travel and offers incredible suspension performance with ultra-precise feedback. Adjustments include: 5-way spring preload, 4-way high speed compression damping, 20-way low speed compression damping and 25-way rebound damping. The inverted design not only reduces unsprung weight but also increases the rigidity of the fork. The range of adjustments allows the rider to tune suspension to match riding style and conditions.
Upper triple clamp features a 30mm offset for precise handing and great steering feel. The lightweight aluminum clip-ons are mounted below the triple clamp.
Fully adjustable Monocross link rear suspension utilizes a piggyback-style shock providing 120mm (4.7″) of wheel travel. Shock adjustments include: 9-steps of spring preload adjustability, 4-way high speed compression damping, 20-way low speed compression damping and 18-way rebound damping adjustability. The piggy back design helps to keep the shock oil cool for more consistent damping.
Radial mount, monoblock, 4-piston calipers squeeze large 310mm dual front discs. The radial mounting design helps to reduce caliper distortion for improved braking performance with excellent control and good lever feedback. The disc carriers are made from aluminium for reduced weight while the sinter metal pads provide incredible stopping power.
Brembo radial pump master cylinder features a 16mm piston. The radial design allows for more powerful braking and improved lever feedback. The lever is adjustable for various hand sizes.
Light weight 220mm rear disc brake is squeezed by a single-piston caliper
Lightweight five-spoke 17″ wheels reduce unsprung weight by making hub and spokes a single structural unit. A special casting technique makes the rim section substantially lighter and stronger.
Ultra-sleek "new edge form" bodywork features a sharp front profile with centrally located Ram Air duct, engine-revealing side cowlings and ultra-sleek tail section. There are special side fairing intake ducts to allow cool air to circulate around the engine, fuel tank and frame areas. "Minimalism" and "mass forward" movement are two words that best describe this design body.
17-litre fuel tank provides excellent rider ergonomics and an aggressive riding position. The reserve portion of the tank is 3.5 liters. The tank features a front tank cover like the R1 and an internal electric fuel pump.
Separate rider and passenger seats. An optional rear seat cowl is available.
Dual 55 watt H7 "cat eye" headlights. These lights not only cast a bright beam of light, but also feature a sleek profile for superb aerodynamics.
Compact race inspired multi-function digital and analog instrumentation with adjustable back lighting. Features: analog tach, digital speedometer, dual tripmeters, low fuel warning light, fuel tripmeter, and clock. There is also a programmable shift light and stop watch/lap timer that is controlled by the LHS handlebar mounted switch gear.
Single lens LED taillight provides excellent visibility, extended service life and uses less power than conventional bulbs.
Immobilizer ignition system is designed to reduce the possibility of "ride away" theft. This system must recognize the "coded ignition key" in order for the unit to start. If the immobilizer ignition does not recognize the key (or a theft's screwdriver or other type of "jimmy tool") the bike will not start even if the ignition is turned or forced into the on position. If the system does not recognize the correct coded ignition key, the ignition system and starter will not function.
ADDITIONAL DETAILS / FEATURES
Adjustable front brake lever
Special 525 lightweight O-ring chain is used to reduce weight
Steering lock
Lightweight aluminum side stand and chain adjusters
Lightweight low maintenance sealed gel-type battery
The YZF-R6 WorldGP 50th Anniversary Edition offers a significant level of power and performance. It is not intended for novice or inexperienced riders.
---
2012 Yamaha YZF-R6 WorldGP 50th Anniversary Edition – USA Specifications/Technical Details
MSRP* $11,390 (World GP 50th Anniversary Edition – Pearl White/Rapid Red) Available from January 2012


ENGINE
Type 599cc liquid-cooled inline 4-cylinder; DOHC, 16 titanium valves
Bore x Stroke 67.0 x 42.5mm
Compression Ratio 13.1:1
Fuel Delivery Fuel Injection with YCC-T and YCC-I
Ignition TCI: Transistor Controlled Ignition
Transmission 6-speed w/multiplate slipper clutch
Final Drive O-ring chain

CHASSIS
Suspension / Front 41mm inverted fork; 4-way adjustable, 4.5-in travel
Suspension / Rear Single shock; 4-way adjustable, 4.7-in travel
Brakes / Front Dual 310mm floating disc; radial-mount 4-piston calipers
Brakes / Rear 220mm disc; single-piston caliper
Tires / Front 120/70-ZR17
Tires / Rear 180/55-ZR17

DIMENSIONS
Length 80.3 in
Width 27.8 in
Height 43.1 in
Seat Height 33.5 in
Wheelbase 54.1 in
Rake (Caster Angle) 24°
Trail 3.8 in
Oil Capacity (with oil filter change) 2.75 qt
Fuel Capacity 4.5 gal
Fuel Economy** 40 mpg
Wet Weight*** 417 lb

OTHER
Primary Reduction Ratio 85/41 (2.073)
Secondary Reduction Ratio 45/16 (2.813)
Gear Ratio – 1st Gear 31/12 (2.583)
Gear Ratio – 2nd Gear 32/16 (2.000)
Gear Ratio – 3rd Gear 30/18 (1.667)
Gear Ratio – 4th Gear 26/18 (1.444)
Gear Ratio – 5th Gear 27/21 (1.286)
Gear Ratio – 6th Gear 23/20 (1.150)
Warranty 1 Year (Limited Factory Warranty)
---
2012 Yamaha YZF-R6 WorldGP 50th Anniversary Edition – Canadian Specifications/Technical Details
Canada MSRP Price: See dealer for pricing in CDN

Engine
Engine Liquid-cooled, DOHC, 16-valve (titanium), in-line four
Displacement 599 cc
Bore and Stroke 67 x 42.5 mm
Compression Ratio 13.1:1
Maximum Torque 6.6 kg-m (47.7 ft-lb) @ 11,500 rpm
Engine Management YCC-T & YCC-I
Fuel Delivery 41 mm Mikuni throttle body F.I.
Estimated Fuel Consumption* 17kpl / 48mpg (Imp.)
Lubrication Wet sump
Ignition / Starting TCI / Electric
Transmission 6-speed
Final Drive O-ring chain


Chassis
Suspension (Front) Fully adjustable 41mm inverted cartridge fork
Suspension (Rear) Fully adjustable link Monocross
Brakes (Front) Dual 310mm discs
Brakes (Rear) 220mm disc
Tires (Front) 120/70ZR17
Tires (Rear) 180/55ZR17


Dimensions / Technical Details
Length 2,040mm (80.3")
Width 705mm (27.8")
Height 1,095mm (43.1")
Wheelbase 1,375mm (54.1″)
Rake / Trail 24° / 97mm (3.8″)
Ground Clearance 130mm (5.1″)
Seat Height 850mm (33.5")
Fuel Capacity 17 litres (3.7 imp.gallons)
Wet Weight 189 kg (417 lbs.)
Colour(s) 50th Anniversary Edition
± Fuel economy estimates are based on US EPA exhaust emission certification data obtained by Yamaha and converted into Canadian measurements. Your actual mileage will vary depending on road condition, how you ride, maintain your vehicle, accessories, cargo and operator/passenger weight.

Specifications, appearance, and price of product are subject to change without notice.
* MSRP does not include freight, PDI (Pre Delivery Inspection), pre-rigging (boats), or taxes. Dealer may sell for less. See your local dealer for out the door pricing.
---
2012 Yamaha YZF-R6 WorldGP 50th Anniversary Edition – European Specifications/Technical Details
European MSRP Price: See dealer for pricing.

Engine
Engine type liquid-cooled, 4-stroke, DOHC, forward-inclined parallel 4-cylinder, 4-valve
Displacement 599cc
Bore x stroke 67.0 mm x 42.5 mm
Compression ratio 13.1 : 1
Maximum Power 91.0 kW (123.8PS) @ 14,500 rpm
Maximum Torque 65.7 Nm (6.7 kg-m) @ 10,500 rpm
Lubrication system Wet sump
Carburettor Fuel Injection
Clutch Type Wet, multiple-disc coil spring
Ignition system TCI
Starter system Electric
Transmission system Constant Mesh, 6-speed
Final transmission Chain

Chassis
Frame Aluminimum die-cast Deltabox
Front suspension system Upside-down telescopic fork, Ø 41 mm
Front travel 115 mm
Caster Angle 24º
Trail 97 mm
Rear suspension system Swingarm, (link suspension)
Rear Travel 120 mm
Front brake Dual Discs, Ø 310 mm
Rear brake Single Disc, Ø 220 mm
Front tyre 120/70 ZR17M/C (58W)
Rear tyre 180/55 ZR17M/C (73W)

Dimensions
Overall length 2,040 mm
Overall width 705 mm
Overall height 1,100 mm
Seat height 850 mm
Wheel base 1,380 mm
Minimum ground clearance 130 mm
Wet weight (including full oil and fuel tank) 189 kg
Fuel tank capacity 17.0 litres
Oil tank capacity 3.4 litres