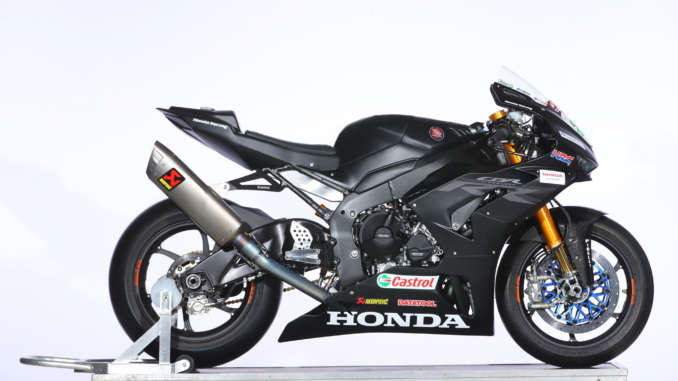 2020 Honda CBR1000RR-R Fireblade SP BSB : THE BRITISH SUPERBIKE.
Introducing the 2020 Honda CBR1000RR-R Fireblade SP BSB:
Honda Racing is pleased to unveil the CBR1000RR-R Fireblade SP that Andrew and Glenn Irwin will race in the 2020 Bennetts British Superbike Championship, as well as Tom Neave and Davey Todd in the Pirelli National Superstock 1000 Championship.
Keeping close to its road going sibling, the race livery is based on the Pearl Black colour, which is available across Honda's UK dealer network on the CBR1000RR-R Fireblade SP.
The Honda team is happy to confirm that its long-standing relationship with Castrol and Akrapovič will continue into another season, as well as Close Brothers and Nova gearboxes. A new sponsor to the team for 2020 is Datatool, who have come aboard through their association with Honda UK.
2020 Honda CBR1000RR-R Fireblade SP BSB Totalmotorcycle.com Key Features
2020 Honda CBR1000RR-R Fireblade SP BSB Totalmotorcycle.com Features and Benefits
From the normal CBR1000RR-R Fireblade SP:
Focusing on outright track performance, engineers have developed the CBR1000RR-R Fireblade SP with engine and chassis technology from MotoGP, the all-new model drawing heavily on the RCV combustion efficiency and low-friction solutions. The engine is more compact than the inline four-cylinder powerplant it replaces and benefits from the use of high-end technologies like titanium connecting rods, forged aluminum pistons and finger-follower rocker arms.
The CBR1000RR-R Fireblade SP uses an all-new aluminum diamond frame with increased vertical and torsional rigidity, but decreased horizontal rigidity, for maximum levels of grip and feel. A longer swingarm—stamped from aluminum of 18 individual thicknesses—is developed with lessons learned through Honda's Grand Prix efforts, further highlighting the connection between the all-new model and Honda's championship-winning race bikes.
Honda Selectable Torque Control (HSTC) has been optimized and an adjustable Start Mode joins Power, Engine Brake and Wheelie Control; a quick shifter is standard. The CBR1000RR-R Fireblade SP is outfitted with a six-axis Inertial Measurement Unit (IMU), three-level Honda Electronic Steering Damper (HESD) and second-generation Öhlins Smart Electronic Control (S-EC) suspension and user interface. New Brembo Stylema brake calipers bite 330mm rotors through two-level ABS. The bodywork and riding position have an uncompromising focus on aerodynamic performance, and the fairing features MotoGP-derived winglets to generate downforce. A full-color TFT screen and Honda Smart Key are the finishing touches.
EVERYTHING BUT THE FACTORY CONTRACT
What you see here is the best of the best, the most exclusive, feature-rich open-class sportbike Honda has ever built under the CBR banner. Introducing the limited edition CBR1000RR-R Fireblade SP. Street legal, but track ready. Offering a degree of performance and refinement you've likely never experienced—unless you've had a factory ride. Available to only a handful of lucky riders. And it still offers Honda's famous CBR refinement, build quality, and rideability. Get ready to find out why world champions like Marc Márquez ride red. And why you should too.
HISTORY
The CBR1000RR-R SP descends from a magnificent racing pedigree that has played a key role in the advancement of the sport bike genre. The bloodline starts with the 1959 Honda CB92 Benly Super Sport, a race-worthy performance model that competed at the highest levels on the track while being equally at home when ridden on the road, establishing a protocol that Honda sport bikes have championed ever since. The steadfast pursuit of technological improvement while competing on the World Championship stage cultivated a number of seminal models in the successive decades, including the groundbreaking 1969 CB750, which introduced the world's first modern inline four-cylinder sport bike engine—an architecture quickly imitated by the competition.
The pace-setting development continued as the CBR family shifted the paradigm yet again. In the 1990s, the CBR400RR and CBR900RR ushered in the concept of "Total Control," an ideal blend of harmonious engine performance, light weight and nimble handling that dramatically enhances the connection between rider and machine. Introduced in 2004, the CBR1000RR has continued to refine this well-proven theory by incorporating lessons learned from Honda's MotoGP championship-winning RC models on racing circuits around the globe. The CBR1000RR has continuously raised the bar in the 1000cc sport bike category. Drawing heavily from Honda's dominant RCV MotoGP platform, the 2021 CBR1000RR-R Fireblade SP will definitely reset it again.
2020 Honda CBR1000RR-R Fireblade SP BSB – Totalmotorcycle.com USA Specifications/Technical Details
US MSRP Price: $NA USD
Canada MSRP Price: $NA CDN
Europe/UK MSRP Price: £NA GBP (On The Road inc 20% Vat)
NA
2020 Honda CBR1000RR-R Fireblade SP BSB – Totalmotorcycle.com Canada Specifications/Technical Details
NA
2020 Honda CBR1000RR-R Fireblade SP BSB – Totalmotorcycle.com European Specifications/Technical Details
NA
Manufacturer Specifications and appearance are subject to change without prior notice on Total Motorcycle (TMW).