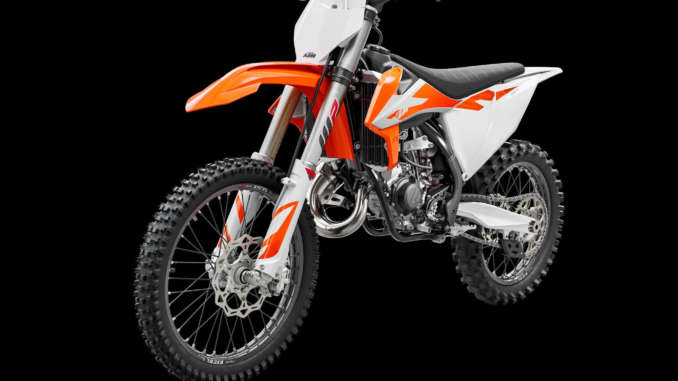 STEP INTO THE BIG LEAGUES.
2020 KTM 85 SX 19/16:
With the pro ranks within reach, the KTM 85 SX offers a real taste of the big league of motocross. Following in the footsteps of champions, every inch of this motorcycle mimics the proven design of the big bike range. A lightweight, high-quality frame houses its compact "rocket ship" of an engine, which delivers unrivaled performance and rideability. This mini warrior is the ultimate race weapon and is ready to go out and conquer all in the fight for the top step of the podium.
The riders of the junior class are not beginners. These are future champions fighting for victory, no matter if it is the AMA Amateur National Title or Junior Motocross World Championship. There is no 85 cc machine that is more READY TO RACE than the 2020 KTM 85 SX. This is no surprise really, as it boasts a state-of-the-art engine developed by KTM, combined with a high-end WP suspension and a super lightweight, rugged chassis to make up a perfect overall package.
s
▪ NEW graphics to match the full-sized SX range and give a READY TO RACE appearance.
▪ NEW 19"/16" wheel combination for advancing racers.
▪ Reworked silencer with improved wool packing reduces weight by 40 g.
▪ With an extremely compact engine mated to a precise 6-speed transmission, the KTM 85 SX
is an absolute knock-out, delivering first-rate power and torque over the entire rev range.
▪ Cylinder is designed around an innovative power valve system that is adjustable and
increases torque and controllability.
▪ Crankshaft is light while offering precise inertia for peak torque. Optimized balancing
reduces vibrations.
▪ DS (Diaphragm Spring) clutch is more compact with better performance than a conventional
coil spring design.
▪ Crankcases are compact with a shaft arrangement that is as close as possible to the center
of gravity.
▪ The frame is a genuine high-tech product designed for maximum performance and is made
of hydro formed chromium molybdenum steel tubes that have been specifically tailored for
unrivaled handling and comfort.
▪ WP XACT 43 mm front fork with a sophisticated air spring design and separate damping
provide easy adjustment to any track condition, rider weight or skill level.
▪ WP XACT rear shock with PDS (Progressive Damping System) technology provides
excellent bump absorption and stability.
▪ Aluminum subframe is light and compact for better mass centralization.
▪ Cooling system features integrated crankcase cooling and two radiators for high
performance and uses specially designed shrouds to protect the radiator in an impact.
▪ Sharp bodywork that is based on the full-sized SX models with the same contact points and
overall feel for perfect ergonomics.
▪ Airbox similar to the larger SX models allows for air filter changes in seconds without tools.
▪ Black coated high-end Excel rims, lightweight, CNC machined hubs and black spokes with
lightweight aluminum nipples ensure the highest stability at minimum weight on the KTM 85
SX.
THE NEW KTM SX RANGE IS OUT NOW!
After the race is before the race and when it comes to competing in the most prestigious championships around the world, this mantra is an important one to live by. KTM's desire to win in AMA Supercross and the FIM Motocross World Championship continues to be demonstrated with outstanding performances in each series thanks to KTM's focus on creating the sharpest weapons for the toughest battles. This READY TO RACE mindset and development in the most challenging arenas is translated directly into our serial production models.
Following on from last year's ground-breaking introduction of a new KTM SX generation, for model year 2020 the 2-stroke KTM 125 SX, KTM 150 SX and KTM 250 SX, and the 4-stroke KTM 250 SX-F, KTM 350 SX-F and KTM 450 SX-F have received performance enhancing engine updates to ensure they remain at the fore and as battle-ready as ever. These detailed refinements, that have been developed with KTM´s test riders in Europe and the USA along with factory racers around the globe, complement the high-quality serial components that the KTM SX range already boasts.
New graphics and colors give the range a fresh look for the new season, while an E-starter and a map select switch with integrated traction control and launch control on 4-stroke machines, premium brakes supplied by Brembo, No-Dirt footpegs are fitted as standard to KTM's class-leading line-up. High quality exhaust systems, plastics and seats join the reworked WP XACT suspension with the proven AER technology, which offers enhanced handling for model year 2020.
Designed by the very same engineers that are responsible for the bikes raced by the likes of Jeffrey Herlings, Antonio Cairoli and Cooper Webb, the KTM sportminicycle line-up continues to set the benchmark in out-of-the-crate performance for junior riders. For MY2020 the KTM 50 SX, KTM 65 SX and KTM 85 SX have a new look and feature the WP XACT suspension for precise handling and stability in the toughest motocross terrain.
All of the junior models boast premium components such as high-quality Formula brakes, a high-strength steel frame, ergonomically designed bodywork and high-performance engines. For model year 2020 the KTM 65 SX has a reworked ignition curve for improved performance, while the carburetor has been optimized for better power delivery. Its bigger brother, the KTM 85 SX, has a new transmission drive shaft fixing for safer sprocket fixation. The KTM 85 SX also has a reworked muffler with improved packing wool, which saves weight.
In addition, the KTM SX-E 5 will join the sportminicycles as another competitive option for junior riders. Based on the KTM 50 SX with its high-end chassis, but powered by an electric motor, the KTM SX-E 5 is easy to ride, has zero emissions, low noise and requires minimal maintenance – giving riders more options for places to ride, whilst being easy to use. The height of the bike is also completely adjustable, and it is aimed at riders aged from 4 to 10 years old, making it an exciting new model in the KTM line-up. The KTM SX-E 5 will be launched this summer.
"To be the consistent performer at any level of racing, you have to continue to progress in development. The work never stops – whether that's here in Mattighofen, or with our engineers in the USA. The KTM SX range model year 2020 has received a number of updates to complement last year's groundbreaking new generation models, and we can see that our continued efforts in development are paying off – our athletes both in Supercross and Motocross have enjoyed some fantastic results so far this season. Utilizing the same R&D team as their bigger brothers, the KTM sportminicycle models remain at the very forefront of junior racing competition with detailed refinements for MY2020. In addition, we are excited for the highly anticipated launch of the all-new KTM SX-E 5 electric minicycle, which will arrive this summer," said KTM´s Senior Product Manager Offroad, Joachim Sauer.
2020 KTM 85 SX 19/16 Totalmotorcycle.com Features and Benefits
ENGINE & EXHAUST
KTM 2-strokes have been tearing up MX tracks for decades and are undoubtedly the fastest on the track today. Thanks to years of ongoing development, these engines are the benchmark in performance and technology, with the perfect combination of power, weight and control. Through melodic high-RPM screams, KTM 2-strokes continue to deliver thrilling high-performance harmonics.
CHASSIS
For the 85 cc, KTM has successfully developed a chassis that not only handles the hard-charging brutality of a 15-year-old, but also effectively accommodates a lightweight newcomer to the class. This is achieved through its lightweight, high-tech steel frame. Its optimized flex characteristics provide a great feeling for the rider and help to soak up those big hits, while also delivering excellent agility and high-speed stability. Every element is designed to work in perfect harmony and contributes to an intuitive ride like no other.
ERGONOMICS & COMFORT
85 cc riders come in all shapes and sizes, which requires intelligent motorcycle design to cater for these dynamics. For optimal high-performance ergonomics, KTM used the proven design of the big bike range on the KTM 85 SX. The goal was to provide a neutral riding position that, together with perfectly shaped bodywork, offers the best rider comfort and maneuverability. A rider's main interaction with the motorcycle comes through the seat, footpegs and handlebars, which is why KTM has used the best quality parts in these areas. The placement of these crucial contact points is also vitally important for balance and control and, through various handlebar position options, can be adjusted to suit a rider's preference. This ensures the optimal riding position for race-winning performance.
BODYWORK & GRAPHICS
The bodywork on the 2020 KTM 85 SX is carried over from its predecessor and was designed to have the same touch points and overall feeling as the full size SX range. This similarity in bodywork is great preparation for an 85 cc rider's imminent move to the bigger bikes of pro-level motocross, making the transition as seamless as possible. KTM factory riders, KTM R&D and Kiska Design all contributed to achieving the goal of complete harmony between rider and bike. These contact points allow maximum freedom of movement and improved agility. The front and rear fenders have an I-beam structure, which are prime examples of the intelligent design that produces maximum stability with the lowest possible weight.
SOFTWARE & ELECTRONICS
Absolute performance purity is the name of the game when it comes to the KTM 85 SX. Undiluted 2-stroke simplicity with an hour meter to keep a check on how long you've been shredding and an optional rev counter to assist with perfect setup.
2020 KTM 85 SX 19/16 – Totalmotorcycle.com International Specifications/Technical Details
US MSRP Price: $6,199 USD
Canada MSRP Price: $ See Dealer for Pricing in CDN
Europe/UK MSRP Price: £ See Dealer for Pricing in GBP (On The Road inc 20% Vat)
Australia MSRP Price: See Dealer for Pricing in AU
ENGINE
DISPLACEMENT
84.9 cm³
DESIGN
1-cylinder, 2-stroke engine
BORE
47 mm
STROKE
48.95 mm
STARTER
Kickstarter
TRANSMISSION
6-speed
CLUTCH
Wet, multi-disc clutch, Formula hydraulics
EMS
MEDJ digital
CHASSIS
FRAME DESIGN
Central-tube frame with double-cradle
REAR SUSPENSION
XACT WP PDS mono shock
FRONT BRAKE
Disc brake
REAR BRAKE
Disc brake
FRONT BRAKE DISC DIAMETER
240 mm
REAR BRAKE DISC DIAMETER
210 mm
CHAIN
1/2 x 5/16″
STEERING HEAD ANGLE
66 °
Manufacturer Specifications and appearance are subject to change without prior notice on Total Motorcycle (TMW).