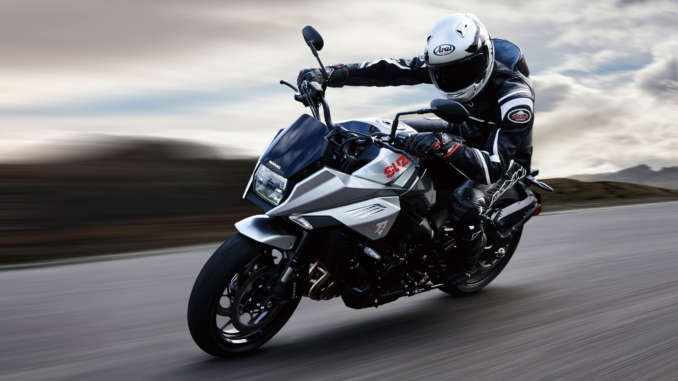 A CUT ABOVE.
2020 Suzuki Katana:
Through its products, Suzuki has embraced Japanese culture and has found opportunities to celebrate beautiful, unique portions of its society and nature. The new KATANA faithfully honors that commitment while finding a bold new expression for Suzuki technology and styling. This new motorcycle was inspired by the original 1982 Suzuki Katana that created a sensation with the motorcycling world when it debuted. Both motorcycles blend a powerful Suzuki engine with radical styling and spirit of the traditional Japanese sword of the samurai.
The original Katana had a connection with the GS1100E while this new KATANA is built upon the proven, extraordinary performance of the long-stroke GSX-R1000 engine and the solid stability of the GSX-S1000 chassis. The KATANA's chassis provides easy control over the GSX-R-based engine and adds a comfortable riding position. The KATANA's dramatic bodywork rests upon a twin-spar, aluminum alloy frame, and Superbike-type braced swingarm that provides great road holding performance.
The stunning styling and performance features of the new KATANA will attract a variety of riders, especially those who value owning a unique motorcycle. Experienced riders fondly remember the original Katana and will want to own the new KATANA so their ride is linked to history. Some potential KATANA riders are seeking out a motorcycle with a distinctive appearance with quality fit and finish that will also deliver an exciting riding experience. Some riders will be drawn to the modern KATANA because of its stimulating styling regardless of its historical connection.
Unlike competitors' retrospective models that are styled and equipped with throwback technology and looks, the new KATANA is a sportbike that has elements of the original but blends in thoroughly modern styling and performance. Like a craftsman folding the steel of a samurai's sword, the KATANA reflects Suzuki's ongoing commitment to fine craftsmanship and dedication to make sure every detail of the motorcycles is executed properly.
A CUT ABOVE
Forged to perfection and polished to a magnificent radiance. Engineered to provide maximum control and optimum performance. Finely crafted to take riding pleasure to a new level. The Suzuki KATANA is destined to create a new legend.
From the sharp lines and highlights defining the length of its body to the rider-friendly performance of its 110kW (150PS) engine, every detail of the Suzuki KATANA speaks of distinctive beauty.
While its design cues pay due homage to the iconic GSX1100S KATANA, which stole the hearts of riders around the world
in 1981, the KATANA is a thoroughly modern machine that is breathtaking to behold and inspiring to ride.
It's beautiful to gaze upon and unbelievably exciting to wield. It combines the epitome of fine craftsmanship, sophisticated Japanese aesthetics and pure beauty in a sharp design.
Powerful performance optimally balanced with controllability, riding ease and comfort deliver pure delight for the soul. No matter how you cut it the Suzuki KATANA feels just right, like a natural extension of the rider's intention and spirit.
THE FEELING
YOU CAN'T DEFINE IT. BUT YOU CAN FEEL IT.
In the end, it's ultimately about the feeling. And riding the Suzuki KATANA just feels so good.
The KATANA puts you in full control as you enjoy the exhilaration and excitement of an outstanding riding experience. Heading out on the road, you will immediately appreciate the KATANA's impressive agility and rider-friendly nature. Maneuvering its compact, lightweight chassis around bends and twisting corners instills confidence and delivers pure, unrelenting pleasure. The seat and optimized riding position are designed to enhance controllability and keep you riding comfortably on longer outings. And since you'll look and feel so good, you will likely want to ride the KATANA again. And again. And again.
FORGING A NEW STREET LEGEND
From the sharp lines defining the length of its body to the performance of its 150PS engine, every detail of the Suzuki KATANA speaks of distinctive beauty. While its design cues pay due homage to the 1981 iconic GSX1100S KATANA, which stole the hearts of riders around the world, the KATANA is a thoroughly modern machine that is breathtaking to behold and inspiring to ride.
FORGED PERFECTION
At the heart of the KATANA's powerful performance is a custom long-stroke version of the legendary fuel-injected 999cc inline-four engine that first proved itself on the GSX-R1000K5. Its broad torque output range combines with a new throttle control that delivers this power smoothly. Both the induction roar and exhaust note are tuned to heighten the visceral sense of riding pleasure, while also contributing to performance and combustion efficiency.
OPTIMAL PERFORMANCE
Japanese swordsmiths devote countless hours to repeatedly forge, hammer, fold the raw steel to achieve the right balance needed for the blade to perform optimally. Fired by the same spirit, Suzuki's development team tested and tuned each component to create a compact, lightweight chassis that is engineered to provide agility, ease of control and a fun-to-ride character.
GREAT ROAD HOLDING PERFORMANCE
The twin-spar aluminium alloy frame is engineered to provide nimble handling and great road holding performance. The frame's main tubes are designed to run straight from the steering head to the swingarm pivot. This is ideal for achieving both high rigidity and low weight. Designed using the latest FEM analysis technology, the frame weighs about the same as the current GSX-R1000.
COMFORTABLE SEAT AND SLIM BODYWORK
The sleek two-tone seat is comfortable, and the seat strap provides the passenger with a good grip. The seat height of 825mm provides comfort and allows riders to plant their feet on the ground when stopped. The slim design where the seat meets the fuel tank also helps make it easy for the rider's feet to reach the ground.
FULLY ADJUSTABLE FORKS
The Ø43mm KYB inverted front forks provide 120mm of stroke for a sporty yet plush ride. The forks feature fully adjustable damping, rebound, compression and spring pre-load. The 63mm stroke of the link-type rear suspension is tuned for a superb progressive feel and to react efficiently to road surface conditions, delivering an agile and stable feel. The rear suspension offers adjustable rebound damping and spring pre-load.
BREMBO RADIAL BRAKES
Brembo radial mount monobloc front brake calipers are mated with Ø310mm floating-mount dual discs to provide powerful braking performance. Each caliper has four opposing Ø32mm pistons. The front brake calipers are same type used on the current GSX-R1000. The Antilock Brake System monitors wheel speed 50 times per wheel rotation, and matches stopping power to available traction. The ABS control unit, produced by BOSCH is compact and light weight.
THE HEIGHT OF EXCELLENCE
The KATANA symbolises Suzuki's uncompromising commitment to craftsmanship. Suzuki's dedication to creating distinctive beauty includes paying due respect to tradition while at the same time aiming to incorporate the latest advances in technology.
The Decisive Cut
The sharp, cutting-edge style of the Suzuki KATANA. The Japanese KATANA is beautiful to gaze upon and unbelievably exciting to wield. The epitome of fine craftsmanship, the famed KATANA combines sophisticated Japanese aesthetics and pure beauty into a sharp design. The KATANA was developed to be a sporty styled street motorcycle that takes lean, mean retro flair and evolves it to offer thoroughly modern styling and performance.
2020 Suzuki Katana Totalmotorcycle.com Features and Benefits
The KATANA's iconic style lives in a new sportbike with modern style, stellar engine performance, nimble handling, and great ergonomics.
Fuel-injected, 999cc, GSX-R-based engine features a throttle control mechanism that smooths the power delivery for a stimulating sportbike experience.
Using a design similar to the GSX-R1000R, the KATANA's Suzuki Clutch Assist System (SCAS) drive line smooths shifting and engine braking.
Suzuki Advanced Traction Control* lets the rider select sensitivity on the fly so engine power to the rear wheel matches road conditions.
Twin-spar aluminum frame and fully adjustable KYB-supplied suspension deliver controlled handling.
Dual floating front brake rotors and Brembo Monobloc brake calipers, plus an Anti-lock Brake System (ABS)*, deliver controlled stopping power. Recent refinements, such as new front brake hoses, yield improved stopping performance with better feel at the lever.
Engine Features
The KATANA is powered by a 147-horsepower (110-kilowat) powerplant developed from the legendary 2005-2008 GSX-R1000 engine architecture.
This long-stroke engine provides smooth throttle response and immediate, controlled acceleration. The result is exciting and has a satisfying performance with characteristics that make it easy for the rider to control.
The liquid-cooled, DOHC, 999cc, inline-four engine has ventilation holes between the cylinders to reduce pumping loss within the crankcase so the engine can deliver more power and torque.
The profiles of the dual overhead camshafts were designed to enhance street performance while preserving peak racetrack-capable power.
Aluminum pistons, engineered with use of Finite Element Method (FEM) analysis, are cast for optimal rigidity and low weight. The piston and rings weigh 3 percent less than the similar parts in a 2007 GSX-R1000.
Suzuki Composite Electrochemical Material (SCEM)–plated cylinders integrated into the upper crankcase reduce friction and improve heat transfer and durability.
The KATANA's EFI system uses Suzuki's proprietary Suzuki Dual Throttle Valve (SDTV) throttle bodies, where the secondary throttle valves are controlled by a servo motor for smooth power delivery. A special throttle control mechanism was developed so engine response is smooth and controlled during spirited riding or cruising.
The 44mm throttle bodies are the same size as the GSX-R1000R and use four long-tip, 10-hole fuel injectors to improve fuel atomization while the automatic Idle Speed Control (ISC) improves cold starting and stabilizes the engine idle.
The digital ignition fires iridium-type spark plugs for high spark strength and combustion efficiency that results in higher peak power, more linear throttle response, easier engine start-up, and a stable idle. These quality components also last longer than conventional spark plugs.
The blacked-out, stainless steel 4-2-1 exhaust system helps the engine deliver a strong low- to mid-range punch with an exciting rush to redline.
The header portion of the KATANA's exhaust includes equalizer pipes between the two outer and the two inner head pipes to fine-tune the exhaust pressure wave that results in stronger engine power.
Located in the mid-pipe, the Suzuki Exhaust Tuning (SET) valve controls flow into the catalyzer and exhaust chamber to balance performance and emissions control. The exhaust chamber location aids in mass centralization for excellent chassis balance.
The sculpted under-chassis muffler complements the KATANA's unique styling and emits an exciting, distinctive sound.
Suzuki's Advanced Traction Control System* helps the KATANA rider control the throttle with more confidence in various riding conditions. As a result, the rider can enjoy riding with less anxiety. There are four traction control modes (1, 2, 3, and OFF) that can be easily adjusted when stopped or on the fly via a handlebar-mounted control. The difference between the modes is their sensitivity to road conditions.

• Mode 1 is the lowest sensitivity level – most suitable for skilled riders or in conditions that have good road surface grip (sport riding on good, smooth roads).

• Mode 2 is a moderate sensitivity level – suitable for most riders or in conditions that have varied road surface grip (city riding, regular road conditions).

• Mode 3 is the highest sensitivity level – suitable for road conditions where the grip may be limited (wet or cold surfaces).

• OFF disengages all traction control features. The rider is fully responsible for the engine's output to the rear wheel.

The KATANA's bodywork allows cooling air to flow directly into the high-capacity curved radiator. Additional heat is removed from the engine via the use of a lightweight and compact liquid-cooled oil cooler (like those used on the GSX-R models).
Transmission Features
The KATANA's race-proven six-speed close-ratio transmission features vertically staggered shafts to reduce overall engine length. This permits the use of a GSX-R-style twin-spar frame.
Similar to the components in a GSX-R1000R, the KATANA's SCAS-style clutch increases plate pressure under acceleration, yet acts as a slipper clutch to smooth the engine response during engine braking and corner entry.
This large-diameter, wet multi-plate clutch uses a precise cable-activated release, providing the rider with superb friction-point feel.
The transmission's shift linkage helps the rider easily and quickly select the best gear for the riding conditions.
The strong, RK-supplied drive chain uses O-rings to preserve internal lubrication so power is transmitted smoothly and quietly.
Chassis Features
The reasonable seat height of 32.5 inches (825mm) plus the shape of the seat and how it blends into the fuel tank allow the rider to plant their feet firmly on the ground at stops.
The rear portion of the seat provides good passenger accommodations with its large base, ample foam, grab strap, and height, which offers a good view over the rider's shoulder.
The black finish on the shifter, rear brake, and both hand levers matches the performance nature of the KATANA.
The KATANA's monocoque-style bodywork has design cues from the legendary 1982 Katana and boasts a modern look that highlights the bike's chassis and running gear.
Engineered to be agile and fun to ride, the KATANA's lightweight and compact chassis has an ergonomically comfortable and sporty riding position.
The KATANA's nimble handling ability begins with its lightweight and rigid twin-spar aluminum main frame coupled with Superbike-style braced aluminum swingarm from the 2016 GSX-R1000.
Extending from the swingarm is a satellite rear fender that hugs the tire and holds the license plate mount and light and turn signals. The KATANA's satellite rear fender is first on a Suzuki sportbike as it eliminates parts that normally extend from under the seat to give the tail section cleaner lines and a tough, lighter new look.
The 43mm inverted KYB forks have adjustable compression and rebound damping, and spring preload with a generous 120 mm (4.7 inch) of front wheel travel.
Link-type rear suspension, with arched aluminum swingarm and a single shock absorber, features spring preload that is seven-way adjustable, with rebound damping force adjustment.
Dual front brakes with fully floating 310mm discs and Brembo Monobloc calipers with four 32mm opposed pistons provide strong and consistent stopping power. The master cylinder and brake hoses were designed to improve stopping performance while proving better feel at the lever.
The front brakes are complemented by a 240mm rear disc brake with a Nissin single-piston caliper to help make sure the rider can have controlled stops.
Both the front and rear brakes can be modulated by a compact Anti-lock Brake System (ABS)** controller to match stopping force to the available traction.
Similar to the wheels on a GSX-S1000 model, the TRP six-spoke lightweight cast aluminum wheels are shod with Dunlop Roadsport 2 radial tires (120/70ZR17 front and 180/50ZR17 rear).
The large diameter, matte black, tapered aluminum handlebar has a special rise and bend that is unique to the KATANA and helps contribute to the exceptional riding ergonomics. The handlebar construction damps vibration well, so the ride feels smooth at the rider's hands.
The KATANA's reasonable sport riding position is set by the rider's reach to the handlebars plus the distance between the seat and footrests, which is comfortably more than other motorcycles in its class.
Electrical Features
The KATANA's satellite rear fender houses the LED license plate illumination lamp and the rear LED turn signals.
The LCD multifunction instrument panel has a distinctive appearance and display format that is exclusive to the KATANA. The panel's LED backlighting is adjustable so the rider can set the brightness of white lettering and graphics against the display's black background.
The panel includes a digital speedometer, bar-style tachometer, odometer, dual trip meters, gear position, coolant temperatures, driving range, average fuel consumption, instantaneous fuel consumption, riding range, traction control level, plus lap-timer and clock functions.
The bar-type tachometer features a "peak-hold" function, which indicates what the peak rpm was before the engine speed began to drop. This feature helps the rider recognize the peak rpm at the last moment before downshifting. The education will help the rider develop throttle and transmission operation, which can increase motorcycle performance.
The panel has LED indicators for the turn signals, high beam, neutral position, shift alert lights, EFI alert, traction control, and ABS alert icons, plus coolant temperature and oil pressure alerts.
The KATANA is equipped with Suzuki's Easy Start System that requires just a simple touch of the starter button to fire up the engine (without pulling the clutch lever if the transmission is in neutral).
The fairing houses a vertically stacked LED headlight that has a unique, rectangular shape. To the sides of the headlight are LED position lights to improve the KATANA's visibility to other traffic while accentuating the angular styling.
Mounted outboard of the radiator are the front LED turn signals that have clear lenses with amber illumination. The KATANA is the first US specification Suzuki motorcycle to be equipped with LED turn signals. The new turn signals were specifically designed to comply with DOT regulations while contributing to the KATANA's unique appearance.
The LED tail light is mounted high at the back of the seat for excellent visibility and in key with the bike's clean, trim tail section.
Additional Features
A variety of Genuine Suzuki Accessories are available for the KATANA, such as a Meter Visor (that functions as a fly screen), Fuel Tank Pad, wheel rim decals, and more are available, plus a large selection of logo apparel.
12-month unlimited mileage limited warranty. Longer coverage periods with other benefits available through Suzuki Extended Protection (SEP).
*The Traction Control System is not a substitute for the rider's throttle control. It cannot prevent loss of traction due to excessive speed when the rider enters a turn and/or applies the brakes. Neither can it prevent the front wheel from losing grip.
**Depending on road surface conditions, such as wet, loose, or uneven roads, braking distance for an ABS-equipped vehicle may be longer than for a vehicle not equipped with ABS. ABS cannot prevent wheel skidding caused by braking while cornering. Please drive carefully and do not overly rely on ABS.
2020 Suzuki Katana – Totalmotorcycle.com USA Specifications/Technical Details
US MSRP Price: $13,499 USD
Canada MSRP Price: $ CDN
Europe/UK MSRP Price: £11,399 GBP (On The Road inc 20% Vat)
| | |
| --- | --- |
| Engine | |
| Engine | 999cc, 4-stroke, liquid-cooled, 4-cylinder, DOHC |
| Bore x Stroke | 73.4 mm x 59.0 mm (2.890 in. x 2.323 in.) |
| Compression Ratio | 12.2:1 |
| Fuel System | Fuel injection with SDTV |
| Starter | Electric |
| Lubrication | Wet sump |
| Drivetrain | |
| Clutch | Wet, multi-plate type |
| Transmission | 6-speed constant mesh |
| Final Drive | Chain, RK525GSH, 116 links |
| Chassis | |
| Suspension Front | Inverted telescopic, coil spring, oil damped |
| Suspension Rear | Link type, single shock, coil spring, oil damped |
| Brakes Front | Brembo, 4-piston, twin disc |
| Brakes Rear | Nissin, 1-piston, single disc |
| Tires Front | 120/70ZR17M/C (58W), tubeless |
| Tires Rear | 190/50ZR17M/C (73W), tubeless |
| Fuel Tank Capacity | 12.0 L (3.2 US gal.) |
| Color | Metallic Mystic Silver or Solid Black |
| Electrical | |
| Ignition | Electronic ignition (transistorized) |
| Spark Plugs | NGK CR9EIA-9 or DENSO IU27D |
| Headlight | LED |
| Tail Light | LED |
| Dimensions | |
| Overall Length | 2130 mm (83.9 in.) |
| Overall Width | 835 mm (32.9 in.) |
| Overall Height | 1110 mm (43.7 in.) |
| Wheelbase | 1460 mm (57.6 in.) |
| Ground Clearance | 140 mm (5.5 in.) |
| Seat Height | 825 mm (32.5 in.) |
| Curb Weight | 215 kg (474 lb.) |
| Warranty | |
| Warranty | 12-month unlimited mileage limited warranty |
| Extension | Longer coverage periods with other benefits available through Suzuki Extended Protection (SEP). |
2020 Suzuki Katana – Totalmotorcycle.com Canada Specifications/Technical Details
Engine
Type
four-stroke, liquid-cooled, DOHC, inline-four
Displacement
999cc
Bore x Stroke
73.4 mm x 59.0mm (2.9 in x 2.3 in)
Compression Ratio
12.2 : 1
Transmission
6-speed constant mesh
Final Drive
O-ring type, sealed drive chain
Chassis
Overall Length
2130 mm (83.9 in)
Overall Width
835 mm (32.9 in)
Overall Height
1,110 mm (43.7 in)
Wheelbase
1460 mm (57.5 in)
Ground Clearance
140 mm (5.5 in)
Seat Height
825 mm (32.5 in)
Curb Mass
215 kg (474 lb)
Suspension Front
Inverted telescopic, coil spring, oil damped
Suspension Rear
Link type, coil spring, oil damped
Brakes Front
Brembo, disc brake, twin rotor
Brakes Rear
Disc brake, single rotor
Tires Front
120/70ZR17M/C (58W) tubeless
Tires Rear
190/50ZR17M/C (73W) tubeless
Ignition Type
Electronic ignition (Transistorized)
Fuel Tank
12.0 L
Warranty
Standard Warranty
12 Month unlimited mileage limited warranty
2020 Suzuki Katana – Totalmotorcycle.com European Specifications/Technical Details
Dimensions and Weights
Overall length 2130 mm (83.9 in) Overall width 835 mm (32.9 in)
Overall height 1110 mm (43.7 in) Wheelbase 1460 mm (57.5 in)
Ground clearance 140 mm (5.5 in) Seat height 825 mm (32.5 in)
Kerb mass 215 kg (474 lbs) Fuel capacity 12.0 L (2.6 UK gallons)
Engine Specifications
Engine capacity 999 cc Engine 4-stroke, 4-cylinder, liquid-cooled, DOHC
Bore 73.4 x 59.0 (2.89 in x 2.32 in) Compression ratio 12.2 : 1
Lubrication Wet Sump Ignition Electronic ignition (transistorised)
Fuel system Fuel Injection Transmission 6-speed constant mesh
Drive chain Starter Electric
MPG* 53.30 CO2 122g/km
Power 110 kW @ 10,000 rpm (150 PS) Torque 108.0 Nm @ 9,500rpm (79.66 lb. ft)†
Chassis Specification
Front suspension Inverted telescopic, coil spring, oil damped Rear suspension Link type, coil spring, oil damped
Front brakes Disc, twin Rear brakes Disc
Front tyres 120/70ZR17M/C (58W) Rear tyres 190/50ZR17M/C (73W)
Manufacturer Specifications and appearance are subject to change without prior notice on Total Motorcycle (TMW).