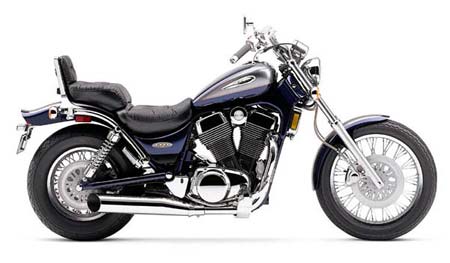 Back to 2001 Suzuki Motorcycle Index Page
Click photo to enlarge.
It makes a great desktop image.


2001 Suzuki VS 1400 GLP Intruder

 
– 2001 Suzuki VS 1400 GLP Intruder

2001 SUZUKI CRUISERS: A WIDE RANGE OF MODELS
Suzuki's commitment to all kinds of motorcyclists is nowhere more obvious than in its lineup of cruisers. Suzuki builds a wide selection of models that appeal to people of all ages and experience levels. Classically-styled motorcycles with upright handlebars, plush seats and comfortable riding positions. But don't let the familiar lines fool you. Each one of these bikes comes standard with up-to-date technology, as seen on the all-new Intruder Volusia 800. With seven bikes ranging from 250cc all the way to 1500cc, there's plenty to choose from.

VS1400GLP Intruder
A big brother to the 800 Intruder described above, the 1400 shares the same basic cruiser design, complete with classic "chopper" lines, rich paint and lots of chrome. While the styling is similar to the 800 Intruder, the 1400 has a larger air/oil-cooled engine with three valves per-cylinder, overhead cams and a maintenance-reducing shaft final drive system. The Intruder's big 45o V-Twin engine pumps out plenty of low-rpm torque and a low, rumbling exhaust note that adds to the fun of riding a great cruiser. For 2001, the Intruder 1400 will be available in black/grey or blue/silver paint schemes.
VS1400GLP INTRUDER AT A GLANCE
Suggested Retail: $8,349
Engine Type: Four stroke, air/oil cooled V-twin
Bore and Stroke: 94.0 mm x 98.0 mm
Front Brake: Single Hydraulic Disc
Rear Brake: Single Hydraulic Disc
Wheelbase: 1,620mm (63.5 in)
Dry Weight: 243 kg (535 lbs)
*Suggested Retail Prices (MSRP) shown do not include freight/ destination or other dealer charges.
Specifications:
Overall Length: 2,330 mm (91.7 in)
Overall Width: 770 mm (30.3 in)
Seat Height: 735 mm (28.9 in)
Wheelbase: 1,620mm (63.5 in)
Dry Weight: 243 kg (535 lbs)
Engine type: Air-cooled 1360 cc V-twin, SOHC, 6 valves. 60 hp (44 kW)/ 5,000 rpm, 105 Nm/ 2.800 rpm.

Specifications are subject to change without notice, in accordance with national regulation and legislations.