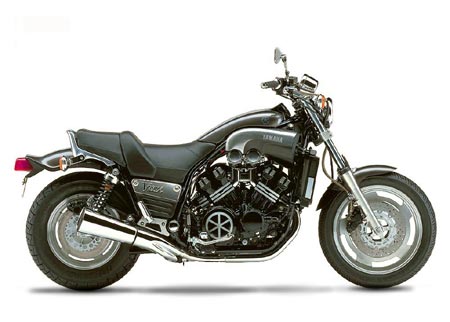 You are here: Home — 2000 Motorcycle Models — 2000 Yamaha V-Max Review
2000 Yamaha V-Max
Back to 2000 Yamaha Motorcycle Index Page
Click photo to enlarge.
It makes a great desktop image.

 
– 2000 Yamaha V-Max
Power/Torque output*:

Power/Torque output from stock V-boosted Full power Vmax.
There is a lot of arguing about Full power / non-Full power Vmaxes.
The only difference is that torque decreases quicker beyond 6.000rpm on NON-Full power Vmaxes, and therefore HP only reaches about 85 rear wheel HP. And why is that? Because of a little tiny system called V-boost, that Full power Maxes have, and non-Full power don't. And what the heck is a V-boost and how does it work?
"A small manifold-type connecting passage links each pair of left and right carburetors. A butterfly valve in the center of the passage remains closed below 6.000rpm, and each cylinder fills normally through a single 35mm carb. The magic begins at 6.000rpm, when the microprocessor-controlled servomotor (that's why when you turn on the key, you hear this bzzzz-bzzzz sound) begins to open the butterfly valve until its fully open at 8.000rpm. V-boost simply forces one cylinder to fill with a mix from 2 carbs. This simple supercharging effect is seen clearly on the dyno, where the Vmax power curve literally gets a second wind. It catches the motor right at its torque peak and carries it all the way to its 113.5 rearwheel hp peak."
To see the visual diferences between 145HP and 100HP V-Maxes click below.
And remember: HP at the crank (usually figures claimed by the factory) is NOT the same as HP at the rear wheel. HP at the wheel is less than HP at the crank. The transmission always eats up some HP, and even more in the case of drive shafts.
Specifications:
ENGINE:

Type 4-stroke, liquid-cooled, DOHC, 16-valve, 70-degree V-four
Displacement 1198 cc
Bore/Stroke (mm) 76.0 x 66.0
Compression ratio 10.5 : 1
Carburetor 4 x 35 mm Mikuni CV with V-boost system.
Power (HP @ the crank)
145hp @ 9.000rpm
Torque (Kg-m / ft-lbs)
12.4kg-m / 80+ ft-lbs @ 6.000rpm – Redline 9.500rpm
1 / 4 mile 10.94 sec. at 196.3 km/h
0-100 km/h 3.1 sec.
Top speed 239+ km/h


Transmission
5-speed operated by hydraulic clutch, Shaft drive
Battery 12 V, 16 AH
Fuel tank 15litres (including 3litres reserve)
Average fuel economy 8litres per 100km


CHASSIS:

Front suspension
43 mm Kayaba forks. Preload adjustment (By air pressure).

Rear suspension
Dual Kayaba dampers Preload and damping adjustment.

Front brake
Two 298mm rotors with 4-pot calipers


WHEELS/TIRES:

Front wheel/tire
18″ x 2.15″ with 110/90 V18

Rear wheel/tire
15″ x 3.50″ with 150/90 V15


WEIGHT:
Dry / full
262 kg / 280+ kg

Specifications are subject to change without notice, in accordance with national regulation and legislations.