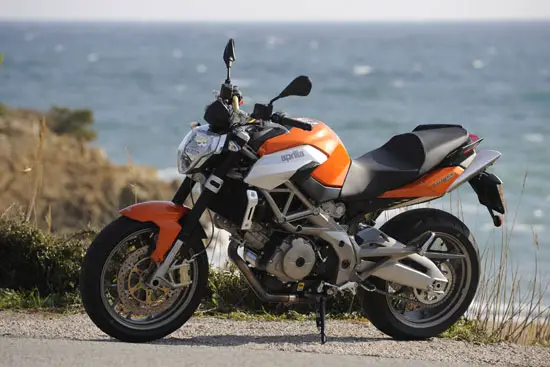 You are here: Home — 2009 Models — 2009 Aprilia Motorcycle Models
2009 Aprilia Shiver 750
Back to 2009 Aprilia Motorcycle Index Page
Click photos to enlarge.
They make great desktop images.
– 2009 Aprilia Shiver 750

2009 Aprilia Shiver 750
WITH ITS EASY RIDE, AGILITY AND ADVANCED TECHNOLOGY, THE 2009 APRILIA SHIVER 750 HAS CONFIRMED ITS REPUTATION AS THE BEST EQUIPPED MOTORCYCLE IN ITS CLASS. NOW WITH ABS, THIS NAKED IS CAPABLE OF DELIVERING AN EXCITING RIDE FEW OTHER BIKES CAN RIVAL.
APRILIA SHIVER 750
Introduced in 2007, the Aprilia Shiver 750 gained instant acclaim from the media and the motorcycling public for its unique characteristics. Here was the naked we had all been waiting for.

From everyday use to a trip along mountain passes or use on the racetrack, the Aprilia Shiver 750 is completely at home in any situation, guaranteeing pure riding pleasure at all times.

Light, agile and powerful, it has a latest generation engine and the most advanced technical features in its class. The 90° V2 produced entirely in-house by Aprilia is extremely compact. Above all, thanks to the advanced electronic management, it can deliver a level of power comparable to four cylinder engines in the same class, but with much more favourable torque at low revs for an efficient and pleasing ride even on everyday routes. True to the Aprilia tradition, the chassis simply has no rivals in its class. The mixed steel trellis and aluminium side plate frame provides standard setting rigidity. All this makes the bike extremely compact and the perfect ride for beginner and expert alike.
The lightness of the Aprilia Shiver 750 also satisfies the most canny motorcyclist. Its manoeuvrability and engine performance enable the bike to accompany its owner from his first few metres on two wheels up to his complete motorcycling maturity.

The main characteristics of the Aprilia Shiver 750 are:
" 90° V2 engine with four valves per cylinder, double overhead camshaft and liquid cooling
" Ride-by-wire electronic throttle technology with 3 different mappings (Sport, Touring and Rain);
" Electronic fuel injection with latest generation injectors;
" Mixed gear and chain valve timing;
" Modular steel trellis and aluminium side plate frame for high torsional rigidity;
" Aluminium swingarm with reinforcement truss and lateral shock absorber;
" 43 mm upside down fork;
" Racing brakes with radial caliper at front;
" Latest generation two channel ABS (ABS version only)
THE DESIGN: SHAPE AT THE SERVICE OF POWER
As with every Aprilia product, the Shiver 750 has a highly innovative design where form and function come together to create an almost perfect object. The Aprilia Shiver 750 is pure technology as is evident from its mean, aggressive lines.
Each element has been designed to be not just beautiful but functional too. The design is refined, but at the same time clean-cut, without too many frills for the maximum possible functionality. On the Aprilia Shiver 750, the technical component becomes a design element at the same time, creating a bike both aggressive and at the same time elegant. The new colour schemes for 2009 are the icing on the cake.
The tank-seat-tail assembly further emphasises the compactness of the bike. The rider becomes one with the machine, perfectly integrated in the short, agile, and sporty bike. The strongly tapering tail also incorporates the twin exhaust with triangular silencers, a feature which makes the design even more aggressive, while keeping weight distribution highly symmetrical.
The adoption of a side shock absorber not only adds a further distinctive feature to the look of the bike, but also enables a rational, compact and effective exhaust system to be fitted.
THE V90 ENGINE: TECHNOLOGY IN THE PURE STATE
The V90 engine inherits all Aprilia's experience in high performance mechanics. Thanks to its particular technical characteristics, the Aprilia V90 combines high specific power with maximum usability and easy riding.
This generous twin cylinder powerplant is destined to set new standards in performance and technology for medium powered bikes.

The quest for performance at the top of its class led to the adoption of a number of advanced and innovative technical features:
" 90° V engine layout;
" Ride-by-wire technology with 3 mappings (Sport, Touring e Rain);
" Highly over-square bore and stroke ratio;
" Four valves per cylinder;
" Double overhead camshaft with mixed chain and gear drive;
" Electronic fuel injection with two throttle bodies;
" Plug caps with integrated stick-coils;
" Three way catalytic converter and Lambda probe oxygen sensor;
" Hydraulically operated clutch;
For this type of bike, the 90° V arrangement of the cylinders was found to be the best solution in terms of performance and size. With consistently generous torque available across a wide range of revs and negligible vibrations, the Aprilia V2 750 is full and powerful at the top of its class.
The Aprilia Shiver 750 is the first ever production motorcycle equipped with integral ride-by-wire electronic throttle control. Thanks to this advanced system, the Aprilia V90 engine delivers an exceptional power output for its size and configuration. Maximum power of 95 HP at 9,000 rpm and maximum torque of 81 Nm at 7,000 rpm are incredible figures for an engine of this displacement.

Impressive torque, already available at low revs, makes riding the Shiver 750 on country roads an amazing experience. And this is precisely where ride-by-wire comes into play. Trust Aprilia's engineers to be the first to apply this technology to a naked! Ride-by-wire filters the exuberant power and torque of the V twin engine to deliver the best possible performance and control for all riders and all road conditions. The Sport mapping gives you all the sporty, aggressive power of this Aprilia V twin. Touring offers a smoother and more relaxing ride for those moments when maximum power can be abandoned in favour of a pleasant journey or a ride with a passenger. Finally, Rain reduces torque by 25% to avoid the risk of wheel slip on slippery surfaces.

THE FRAME: RATIONALITY AND EFFICIENCY
Experts have always acknowledged that Aprilia bikes have the best chassis in their class. The Aprilia Shiver 750 is concrete confirmation that once again Aprilia has managed to create a chassis which is both extremely easy and intuitive and incredibly high performance.
The design solutions associated with the 90° V twin led to the development of a rational and reliable mixed steel trellis and aluminium side plate frame.

The reduced longitudinal dimensions of the engine made it possible to obtain a short, agile bike, helped by the particular side positioning of the shock absorber. This was not a simple cosmetic mannerism, but a precise technical decision, made to free up the space needed to give the exhaust its optimal dimensions.
The aluminium swingarm with reinforcement truss has been sized specifically to support the asymmetrical stresses caused by lateral positioning of the shock absorber. The rigidity of the swingarm sets new standards for the class.
SUSPENSION
The 43 mm upside down fork with forged feet to support the radial calipers provides benchmark smoothness. The 120 mm wheel travel makes the bike equally at home on about town trips and mountain routes. The bottom steering yoke is made from forged aluminium, as is the top steering yoke too.
The side shock absorber rests directly on the swingarm, according to the cantilever principle, and provides adjustments for spring preload and hydraulic rebound. Rear wheel travel is 130 mm.
THE BRAKES
The best technology currently available is incorporated in the Aprilia Shiver 750, the first medium powered naked with a radial caliper system, a feature emphasising even further (as if it were needed) the sporty personality of the design. The 320 mm front discs are the same as used in the racing flagships, the RSV 1000 R and Tuono 1000 R.
At the back, a 245 mm disc with single piston caliper provides adequate backup for the front circuit.
The front and rear braking circuits both use aeronautical metal braid hoses to eliminate the pressure variations associated with conventional rubber brake lines, guaranteeing maximum braking precision for a top level system.

A sophisticated two channel ABS system maximises the Shiver 750 ABS' s already impressive levels of active and passive safety by preventing wheel lock on slippery surfaces and improving braking performance. On the Shiver 750 ABS, all riders can confidently use the full power of the generous braking system, improving safety over difficult surfaces not only in a straight line but on bends too.

2009 Aprilia Shiver 750 – Press Release Specifications

Engine
Aprilia V90 Four stroke longitudinal 90° V twin. Liquid cooling. Double overhead camshaft with mixed gear/chain drive; four valves per cylinder.
Fuel Unleaded petrol.
Bore x stroke 92 x 56.4 mm
Total displacement 749.9 cc
Compression ratio 11 : 1
Maximum power at the crank 95 HP at 9000 rpm.
Maximum torque at the crank 8.25 kgm at 7000 rpm.
Fuel system Integrated engine management system. Injection with Ride by Wire technology control of the throttle bodies

Ignition
Digital electronic, integrated with the injection
Starting Electric

Exhaust
Two in one system in 100% stainless steel with three-way catalytic converter and Lambda probe
Generator 450 W at 6000 rpm.
Lubrication Wet sump

Gearbox six speed, transmission ratio:
1st 36/14 (2.57)
2nd 32/17 (1.88)
3rd 30/20 (1.5)
4th 28/22 (1.27)
5th 23/26 (0.88)
6th 24/25 (0.96)
Clutch Multi-plate in oil bath, hydraulically operated.
Primary drive Spur gears, transmission ratio: 60/31 (1.75)
Final drive Chain
Transmission ratio: 16/44

Frame
Modular steel trellis connected with high strength bolts to aluminium side plates. Detachable rear frame.
Front suspension 43 mm upside-down fork. 120 mm wheel travel.
Rear suspension Aluminium alloy swingarm with reinforcement truss.
Hydraulic shock absorber adjustable in spring preload and rebound damping. Wheel travel: 130 mm.

Brakes
Front: Double stainless steel floating disc (Ø 320 mm ). Four piston radial calipers.
Metal braided brake line.
Continental two channel ABS (ABS version).
Rear: Stainless steel disc ( 245 mm) with single piston caliper. Metal braided brake line.

Wheels In aluminium alloy
Front: 3.50 X 17″ Rear: 6.00 X 17″
Tyres Radial tubeless;
front: 120/70 ZR 17
rear: 180/55 ZR 17

Dimensions
Overall length 2065 mm
Overall width: 800 mm (at handlebars)
Overall height: 1135 mm (at instruments)
Seat height: 810 mm
Wheelbase: 1440 mm
Trail: 109 mm
Rake angle: 25.7°
Tank capacity 15 litres


2009 Aprilia Shiver 750 – USA Specifications
MSRP: $TBD USD

TBA


2009 Aprilia Shiver 750 – Canada Specifications
MSRP $TBD CDN
TBA
2009 Aprilia Shiver 750 – UK Specifications
MSRP: £TBD
TBA