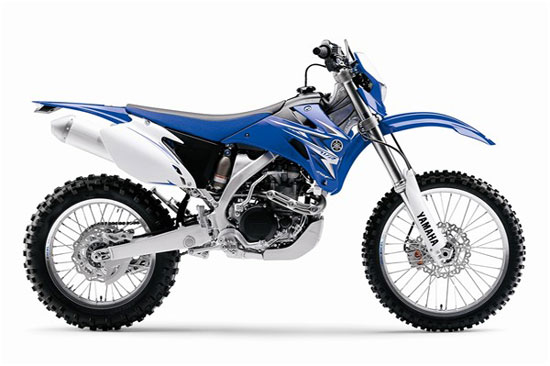 You are here: Index — 2009 Models — 2009 Yamaha Motorcycle Models
2009 Yamaha WR450F
Back to 2009 Yamaha Motorcycle Index Page
Click photos to enlarge.
They make great desktop images.
• 2009 Yamaha WR450F

2009 Yamaha WR450F
The most powerful, sharp handling, nimble WR ever.
The 2009 Yamaha WR450F features a lightweight aluminum frame and swingarm, slim line bodywork and the potential for full YZ performance. Amazing numbleness and manoeuvrability make the 2009 Yamaha WR450F a great choice for riders of all skill levels.
The tougher the trail the better. WR450F features a powerful and reliable highly evolved high-revving five-titanium-valved engine, YZ-bred advanced aluminum frame, push button start, and a digital enduro rance computer with speedometer, clock and tripmeter. The WR250F is also green sticker approved for California.
Based on the latest version of our YZ-F four stroke motocrosser, the WR450F features a lightweight aluminum frame and stylish "slim line" bodywork specially designed to provide excellent rider maneuverability.
The WR450F utilizes YZ based adjustable suspension front and back and YZ brakes featuring the latest wave style rotors and compact calipers. It's got the power to tame any trail. The 2009 WR450F is the most powerful, sharpest most focused big bore WR we have ever built.
Highlights:
– Lightweight aluminum frame
– Slim line bodywork


Key Features:
Engine:

Liquid-cooled, 449cc, 5-valve, DOHC, 4-stroke powerplant with super light titanium valves is based on the current YZ450F engine design. The WR450F engine features cam shafts, ECU, and exhaust which vary slightly from the YZ450F for improved low to mid range power better suited to enduro usage.
Super convenient electric starting means fast, sure starts. The electric starter is also backed up by a manual kick starter.
Hassle free automatic decompression system ensures fast restarts in any gear.
Convenient, handlebar-mounted hot start lever for easy restarts when the engine is hot.
Magnesium cylinder head cover helps reduce weight.
Optimized cylinder inclination angle (4.5 degrees) to centralize mass and bring the center of gravity closer to the rider for great weight distribution and light handling.
Optimized intake port shape increases the velocity of the incoming charge for more complete cylinder filling and more power.
Titanium valves and load-reduced springs decrease weight by more than 40% over a conventional steel valve train and reduces reciprocating mass for faster-revving, smoother-hitting power delivery across the rev range.
Special cylinder design features cutaways that allow the air trapped under the piston to enter a side chamber (or cutaway) to reduce horsepower-robbing "pumping losses."
The crankcase also utilizes cutaways to reduce "pumping losses." The crankcase cutaways match the cutaways in the cylinder.
Crankcase design based on the YZ450F features an integrated dry sump oil tank inside the front area of the engine cases. This design centralizes mass and reduces the centre of gravity for improved handing and a lighter feel. The use of exterior oil lines and tank have been eliminated
The crankcases features a "tri-axis" design layout for the crankshaft, main and drive axles. This tri-axis design keeps the crankcases more compact while also centralizing mass for better handling. All of the shafts are positioned low in the cases to maintain a low centre of gravity.
Special cam shaft profiles (different from YZ450F) provide outstanding low to mid range power well suited to enduro style riding. The WR450F offers a wide spread of linear torque from low to peak rpms.
Lightweight crankshaft means fast throttle response.
Balancer shaft reduces vibration for improved rider comfort and reduced fatigue during long rides.
Lightweight, short-skirt, forged piston offers great durability and reduced weight.
Piston oil cooler utilizes a pinpoint nozzle that directs oil to the desired portion of the cylinder and piston, to reduce piston, cylinder and rod temperatures for improved durability.
Oil volume in engine has been optimized to reduce weight and oil "drag" related power losses.
Compact design automatic cam chain tensioner reduces maintenance and mechanical engine noise.
Keihin FCR-MX39 flat-slide carburetor with throttle position sensor (TPS) ensures ultra-precise fuel/air mixing and fast throttle response.
Lightweight compact, high mounted ECU. The ECU provides optimal timing at all rpms for strong, fast engine response.
Lightweight direct ignition coil is integrated into the plug cap to reduce weight and complexity
Wide ratio 5-speed transmission features gear ratios designed for enduro type riding and that match the torquey engine power characteristics of the 450F engine.
Heavy-duty clutch matches engine output and offers a light, progressive clutch feel with less lever effort for smoother shifting.
Quick-access, lightweight magnesium outer clutch cover allows fast, easy access to the clutch.
Stylish mat black finish on left & right side crankcase covers, oil filter cover and sprocket cover for improved appearance.
YZ-F based, compact lightweight dual radiators feature reinforcing bars to provide extra strength in the event of a tip over. Special design louvers direct cooling air in the rads for maximum cooling efficiency.
Washable, dual-stage, foam air filter can be accessed without tools via "Dzus-type" fasteners. The air box is secured to the frame with only one bolt for fast removal.
Lightweight exhaust system features a stainless steel header pipe with titanium heat shield, aluminum muffler and titanium rear cone. This system maximizes engine power and allows hassle-free replacement of the oil filter.
Lightweight aluminum wrapped muffler offers an 82 dba noise level (stock settings). This muffler features a "serviceable", screen-type spark arrestor which prevents sparks from exiting the exhaust.
Oversize race-type "barrel adjuster" for easy, on-the-fly adjustability of clutch lever free play.





Chassis/Suspension:

Lightweight, compact aluminum semi-double-cradle frame, features a cast steering head while the remainder of the frame uses forged, pipe stock and extruded components. Yamaha has maintained the semi double cradle design to allow for "controlled flex" to optimize suspension action. This frame design provides a low centre of gravity for a light feel and razor sharp handling, plus less rider fatigue, and excellent stability.
Removable, aluminum rear sub frame constructed of square-section pipe reduces weight and provides easy rear suspension access.
Lightweight, tapered, aluminum swingarm is produced using "hydro forming"; a special forming method that uses high pressure water to form shapes.
48mm, adjustable inverted, Kayaba cartridge fork provide excellent suspension performance. Front wheel travel is 300mm (11.8″).
Front fork adjustments include: 20-way compression damping and 20-way rebound damping. Optional fork springs are available through Genuine Yamaha parts.
Large plastic fork protectors wrap around the fork tubes for increased protection against dirt, mud and stone chips. These fork protectors are self-supporting to reduce friction for smoother fork operation.
Forged aluminum upper and lower triples clamp reduce weight and provide increased strength.
Adjustable forged handlebar mounts allow the handlebars to be moved 10mm rearward if desired.
High tech, lightweight, Pro-Taper aluminum handlebar with reinforcing crossbar and foam pad.
Monocross rear suspension system features a fully adjustable, Kayaba piggy back style shock with separate adjusters for high- and low-speed compression damping.
Shock adjustments include: spring preload, 20 clicks of low-speed compression damping, 2 turns of high-speed compression damping and 20 clicks of rebound damping. Rear wheel travel is 310mm (12.2″).
Link-type rear suspension provides a rising rate (progressive) suspension function. The linkage design is virtually the same as YZ-f series of MX bikes.
250mm fully floating front disc brake with "wave style" rotor is squeezed by a twin piston Nissin caliper fitted with lightweight, aluminum pistons provides excellent braking performance. The pins that the disc floats on have been shortened to reduce weight.
"Shorty style" adjustable front brake lever
245mm rear disc brake with lightweight wave style rotor is squeezed by a compact single piston Nissin caliper. The rear master cylinder is an integrated design (fluid reservoir is integrated into the top of the master cylinder to reduce weight) and delivers strong, progressive stopping power with excellent control and feel.
Rugged, Excel 21″ front and 18″ rear rims provide exceptional durability and help reduce unsprung weight for optimal suspension performance.
High tech, lightweight digital meter assembly. This compact meter features: speedometer, dual tripmeters, odometer and a clock in the basic mode. Or in the "race mode", pace management functions such as timer, and distance compensating tripmeter.
Rugged "slim-line" bodywork is very similar to the YZ-F counterparts. This "slim line" bodywork allows fast, easy rider movements and a lighter overall machine feel.
Seat is based on YZ-F style but is wider with more padding for improved rider comfort during a long ride.
Stylish slim design front headlight is compact and offers 35 watts of lighting power. The headlight beam is adjustable up and down.
Slim design compact LED taillight is tucked out of the way to prevent damage
8 liter black plastic fuel tank is designed to allow easy rider movements. The tank features a special "fluorination surface treatment" which reduces fuel permeation for improved environmental protection. The fuel line and tank vent hose are made of "fluororubber" to also reduce the escape of fuel vapors into the atmosphere.
Lightweight aluminum kickstand is designed to allow lots of ground clearance.
Heavy duty one piece resin plastic engine guard. Only 3 bolts hold it in place for easy removal when washing the bike.
Extra wide 55mm stainless steel foot pegs provide excellent grip.

Additional Features:

Premium Dunlop knobby tires
Tapered steering head bearings for durability
8-litre fuel tank with convenient on/off/reserve petcock for peace of mind
Serrated rear brake lever and folding shift lever tip
Rugged, plastic, lower rear disc and rear caliper protectors
Sealed, low-maintenance 6 amp hour battery is gel-filled type to prevent leaks in the event of a tip-over.
Waterproof starter button and engine kill switch are handlebar-mounted.
Lightweight chain guide / support helps reduce chance of chain derailment. Also helps protect rear sprocket damage too.
Heavy duty rubber swingarm protector
Heavy duty "O" ring chain for durability


2009 Yamaha WR450F – USA Specifications
MSRP* $7,499 (Team Yamaha Blue/White) Available from August 2008


Engine
Type 449cc liquid-cooled DOHC 4-stroke; 5 titanium valves

Bore x Stroke 95.0mm x 63.4mm

Compression Ratio 12.3:1

Carburetion Keihin® FCR 39

Ignition CDI

Transmission Constant-mesh 5-speed; multiplate wet clutch

Final Drive Chain Drive


Chassis
Suspension/Front Inverted fork; fully adjustable, 11.8-in travel

Suspension/Rear Single shock; fully adjustable, 12-in travel

Brakes/Front Hydraulic single disc brake, 250mm

Brakes/Rear Hydraulic single disc brake, 245mm

Tires/Front 80/100-21 51M

Tires/Rear 110/100-18 64M


Dimensions
Length 85.6 in

Width 32.5 in

Height 51.0 in

Seat Height 38.6 in

Wheelbase 58.5 in

Ground Clearance 14.4 in

Fuel Capacity 2.1 gal

Wet Weight 271 lb


Other
Warranty 30 Day (Limited Factory Warranty)


2009 Yamaha WR450F – Canada Specifications
MSRP: $8,999 CDN
Engine 4-stroke, liquid-cooled, DOHC, 5-valve (titanium)
Displacement 449 cc
Bore and Stroke 95 x 63.4 mm
Compression Ratio 12.3:1
Maximum Torque TBA
Fuel Delivery Keihin FCR-MX39, flat-slide w/throttle position sensor
Lubrication Dry sump
Ignition Digital CDI
Transmission Wide-ratio, 5-speed
Drive Train Chain

Suspension (Front) Adjustable 48 mm inverted fork; 300 mm (11.8″) travel
Suspension (Rear) Adjustable link Monocross; 305 mm (12″) travel
Brakes (Front) 250 mm floating disc
Brakes (Rear) 245 mm disc
Tires (Front) 80/100-21
Tires (Rear) 110/100-18

Length 2,175 mm (85.6″)
Width 825 mm (32.5″)
Height 1,295 mm (51″)
Wheelbase 1,485 mm (58.5″)
Ground Clearance 365 mm (14.3″)
Seat Height 980 mm (38.6″)
Dry Weight 112.5kg (247.5 lb)
Fuel Capacity 8 litres (1.8 imp. gallons)
Colour(s) Yamaha Blue

*Prices and specifications subject to change without notice.