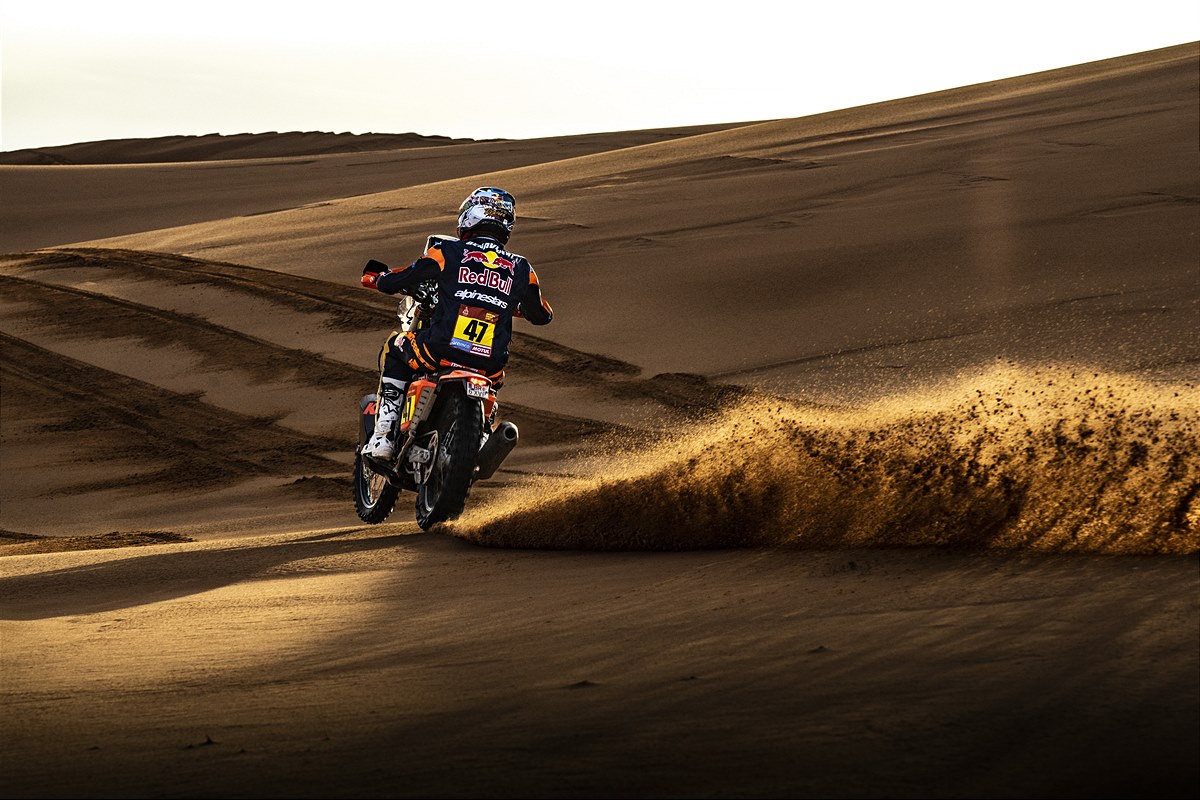 Red Bull KTM Factory Racing's Toby Price has posted the second quickest time on today's stage nine at the 2023 Dakar Rally, moving up to second overall in the provisional standings, just three seconds from the lead. Kevin Benavides also delivered a strong stage, completing the special as fifth fastest, he now lies third overall. Matthias Walkner sits 11th overall following a tough day in the Saudi desert.
Fresh from their rest day, Red Bull KTM Factory Racing riders came into the 686-kilometer stage nine looking to secure strong results on the long, 358-kilometer timed special. With the first half of the stage made up of riverbeds and canyons, navigating cleanly proved difficult for a lot of riders. The second half of the special opened into a wide expanse of dunes on the way to the bivouac at Haradh.
Racing inside the top two on time for the entire stage today, Toby Price put in an excellent ride that saw him finish the stage as runner-up. Coming in just over one minute behind the winner, Price's performance saw him move up to second overall in the provisional standings, just three seconds back. The two-time Dakar champion will now follow today's winner into Wednesday's stage 10, aiming to minimize the time lost to the chasing pack.
Toby Price: "Yeah, it's been a good day for me. It looks like the boys in front got lost just before the refuel. I navigated through there really good, so that meant I was able to make up some minutes. I just tried to push on a bit today, I was trying really hard to keep up a fast pace but not make any big mistakes. All in all, I felt really good today, it's nice to feel fresh after the rest day. It looks like tomorrow will be mostly all sand, so we'll try our best there and see where we end up."
Also producing a solid result on day nine, despite a small navigational error early on, Kevin Benavides celebrated his recent birthday in style by placing fifth on today's stage. The 34-year-old had moved into third place by kilometer 85, but then lost several minutes trying to find one particularly tricky-to-navigate waypoint. Although Kevin lost his second-place overall position to teammate Price, he still lies in third, just over five minutes behind the leader.
Kevin Benavides: "Today was a really hard stage with a lot of navigation. I tried my best to make a good pace and focus on my road book. I pushed really hard right from the beginning but then lost a bit of time with a really complicated note in the road book – thankfully not as much as some of the riders ahead of me. After that I pushed on towards the finish and had a good, trouble-free ride. I'm pleased with my result today, so we'll see how things go tomorrow."
Falling foul of the same complicated note on the road book as Benavides, Matthias Walkner struggled for longer as he tried to find the waypoint and as such dropped around 20 minutes on his rivals. Pushing hard for the remainder of the special, Walkner was able to regain a number of places to ultimately complete the stage in 27th. He now lies 11th in the overall standings.
Matthias Walkner: "It was a really hard stage for me today. Although I tried to give it my all, I got lost at one point and that cost me a lot of time. Not the best day for me at all. I spent most of the day riding on my own, so it was difficult to judge my pace, too. It's frustrating because I feel stronger with my wrist, but it was just that one small mistake that has cost me some minutes. I'll try my best tomorrow and keep on pushing to the finish."
Wednesday's stage 10 from Haradh to Shaybah will see riders cover a total distance of 624 kilometers, with a relatively short 114-kilometer timed special raced against the clock.
Provisional Results – 2023 Dakar Rally, Stage 9
1. Luciano Benavides (ARG), Husqvarna, 3:18:44
2. Toby Price (AUS), KTM, 3:19:46 +1:02
3. Skyler Howes (USA), Husqvarna, 3:21:41 +2:57
4. Jose Ignacio Cornejo (CHI), Honda, 3:24:56 +6:12
5. Kevin Benavides (ARG), KTM, 3:26:37 +7:53
Other KTM
27. Matthias Walkner (AUT), KTM, 3:43:42 +24:58
Provisional Standings – 2023 Dakar Rally (after 9 of 14 stages)
1. Skyler Howes (USA), Husqvarna, 33:55:57
2. Toby Price (AUS), KTM, 33:56:00 +0:03
3. Kevin Benavides (ARG), KTM, 34:01:06 +5:09
4. Adrien Van Beveren (FRA), Honda, 34:11:37 +15:40
5. Pablo Quintanilla (CHI), Honda, 34:14:21 +18:24
Other KTM
11. Matthias Walkner (AUT), KTM, 34:40:33 +44:36