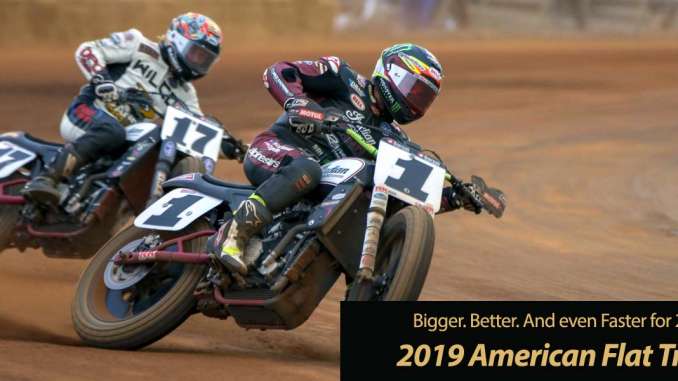 American Flat Track 101.
American Flat Track is America's original extreme sport as well as the guardian of the Grand National Championship series, formally established in 1954 but with roots reaching back to the original speed demons of the early 1900s.
At its core, professional flat track racing is a highly competitive, adrenaline-fueled American motorcycle sport featuring customized and production-based motorcycles reaching top speeds of 140 mph on the straights and 90 mph in the corners, all piloted by young, athletic and marketable world-class athletes.
American Flat Track is widely regarded as the most prestigious and competitive form of dirt track motorcycle racing in the world. Much has changed over 100 years, but the sport remains perhaps the truest and purest test of man and machine.
Over the decades, many of the world's best motorcycle racers emerged from America's dirt track venues. Guys like original Indian Wrecking Crew members Bill Tuman, Bobby Hill and Ernie Beckman during the 1950s. Or Gary Nixon and Dick Mann in the 1960s. Or Kenny Roberts and Eddie Lawson during the '70s and '80s. Or Nicky Hayden in the '90s and 2000s. All were superb flat track racers, and many applied their dirt skills toward National, Grand Prix and MotoGP success.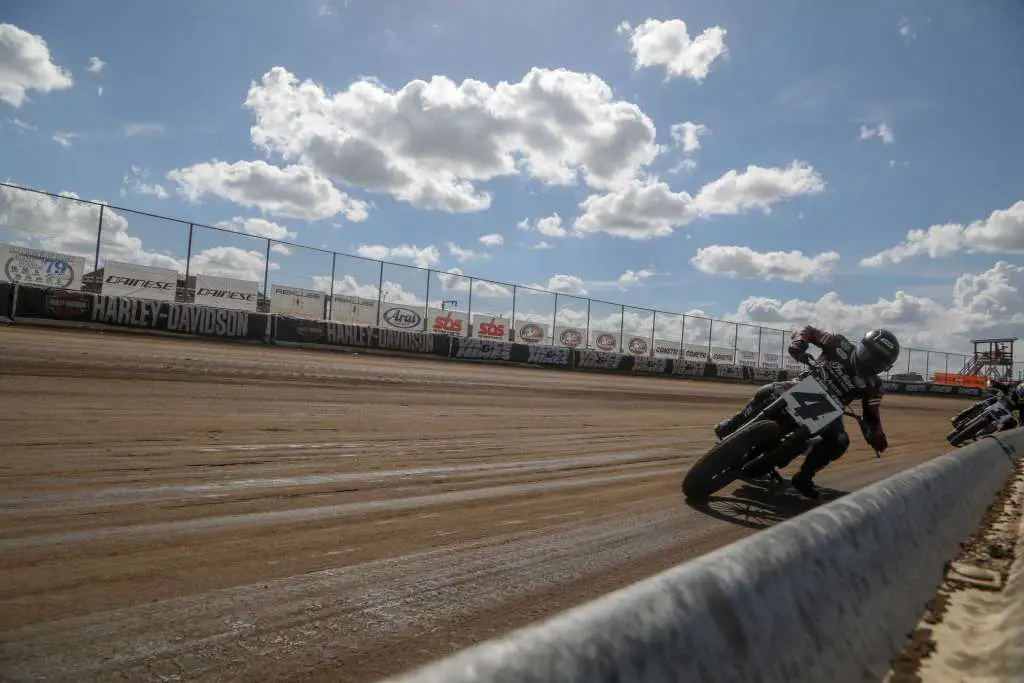 Today's series is comprised of three classes – AFT Twins, AFT Singles and, at 11 events this year, AFT Production Twins – with riders competing in 18 races featuring four distinct track formats: Mile ovals, Half-Mile ovals, Short Track ovals and TTs, which incorporate a right-hand turn and a jump. A series of Heat and Semi races for each class selects the 16 fastest riders for the Main Event.
The AFT Twins presented by Vance & Hines class consists of custom-framed twin-cylinder motorcycles displacing no more than 900cc, all piloted by the world's most talented motorcycle racing athletes on dirt. The AFT Singles class consists of production-based 450cc off-road machines specially prepped for flat track competition and ridden by the sport's rising stars. The AFT Production Twins class features production-based, twin-cylinder motorcycle engines from BMW, Ducati, Harley-Davidson, Honda, Kawasaki, Suzuki and Yamaha street bikes with displacements between 649-800cc. Race-only engines from machines such as the Harley-Davidson XR750, Honda RS750 and Indian Scout FTR750 are not eligible.
Professional flat track racing is currently experiencing a significant rebirth, much of which can be credited to changes instituted in 2017: a name change to American Flat Track, a simpler class structure, a significant TV deal with NBCSN and millions of new viewers all around the world.
It worked. Total viewership via AFT's NBCSN telecasts, FansChoice.tv live streaming and event ticket sales surpassed 3 million for the 2018 season, and viewership growth is certain to expand in 2019. AFT has also attracted significant series sponsors, including Harley-Davidson, Indian Motorcycle, Husqvarna Motorcycles, Arai Helmets and Dainese, with significant others on the way for 2019.
America's oldest and purest form of motorcycle sport is back on the radar, and making that thunderous noise we all love.
That trend is certain to continue in 2019. The momentum created in the past two years, coupled with a host of refinements, rule changes and additions, will certainly make the American Flat Track experience even more compelling this season.
One of those tweaks is a move to two new venues, a wild TT circuit near Phoenix, Arizona, and an exciting new Short Track located at New Hampshire Motor Speedway during the famed Laconia Bike Week event in June. Another is the addition of AFT Production Twins class at 11 events in 2019. Main events in all three classes will now feature the top 16 riders from the field in a new grid layout, which will reduce early-race congestion, improve safety and ensure the racing is fast-paced and exciting.
Another successful addition to AFT events in 2018 was a two-day format at select events that often featured a night-before Kickoff Pre-Party, where fans could mingle with – and get autographs from – the AFT stars. AFT also added more festival-like attractions to its events, including Fan Zones that incorporate classic and custom bike displays, live music, kids' areas, vendors, motorcycle history and legends elements, a wider selection of food and drink options, and much more. Combine all that with open-paddock walks, autograph sessions with our amazing riders and barn-burner flat track racing in the evening, and you can bet that fans and families will have plenty of exciting stuff to do on race days this season.
As in 2018, the American Flat Track series will once again be the battleground for one of the oldest rivalries in motorcycle racing – Harley-Davidson and Indian Motorcycle. Indian came out of the gate swinging in 2017 with a purpose-built and functionally excellent motorcycle in the FTR750, then signed three of the AFT's top riders to ride them. Riders on FTR750s won all but one of the 2018 AFT Twins races in 2018, making it the most formidable machine in the AFT Twins class.
Harley-Davidson made big strides in 2018 with its street-based XG750R as a replacement for its legendary XR750, and the Vance & Hines team is certain to continue that trend into 2019 with its cadre of top-level factory riders. Another interesting addition to the AFT Twins paddock in 2019 is the Crosley/Howerton team featuring 'Mile Master' Bryan Smith – who won three of the four final races of the 2018 season, all Miles. The trio won the 2016 AFT Twins title and hopes to repeat the magic on Kawasaki equipment in 2019. Yamaha will also be well-represented in AFT Twins in 2019, primarily with the top-shelf Estenson Racing team. The degree of machinery diversity in American Flat Track is astounding, and it's bound to improve even more in the coming years.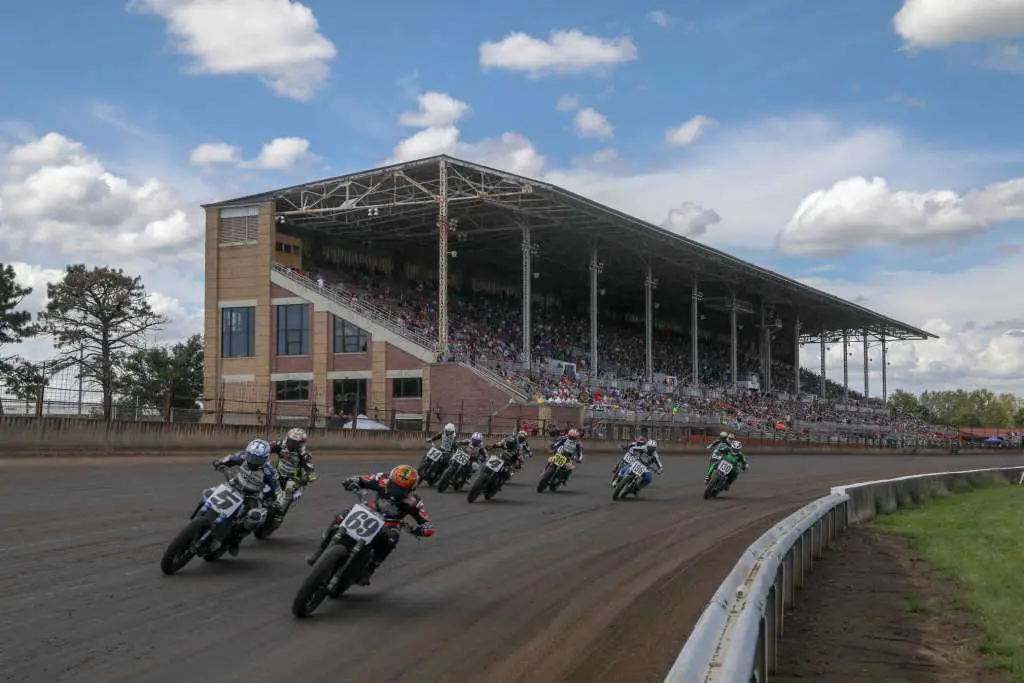 The action will be hot and heavy in the AFT Singles class, as well, with 2018 Series champion Dan Bromley defending his title against a cadre of seasoned pros and aggressive young lions – including Shayna Texter (who is hungry for a win after a third-place finish in 2018) and Ryan Wells (a former GNC2 champion and 2017 AFT Twins Rookie of the Year). There will be fierce competition between Japanese and European manufacturers in the AFT Singles division, with KTM coming off a championship and Honda, Husqvarna, Kawasaki, Suzuki and Yamaha all battling for a 2019 win.
Boil it all down and you're left with this single undeniable fact: There really is nothing like American Flat Track. Anywhere.
Like we said: Bigger. Better. And even faster for 2019.
American Flat Track Twins
American Flat Track Twins is the pinnacle of dirt track motorcycle racing globally, and has been since the professional ranks were formalized as the Grand National Championship in 1954. On Mile and Half-Mile tracks, custom-built twin-cylinder motorcycles generating 90+ horsepower race bar-to-bar at speeds in excess of 140 mph, often drafting to the finish line and requiring a photo finish to determine the race winner. On Short Tracks and TTs, the spirited nature of single-cylinder production-based 450cc motorcycles makes for races filled with exciting passing.
American Flat Track Singles
The American Flat Track Singles class is geared for cultivating young dirt track talent as riders hone their skills en route to the AFT Twins ranks. Up-and-coming competitors make their mark in racing aboard production-based 450cc motorcycles offering upwards of 60 horsepower. Racing at speeds faster than 100 mph, AFT Singles riders compete aboard singles at all Short Track, TT and Half-Mile courses. The stars of tomorrow battle it out on motorcycles produced by Honda, Kawasaki, KTM, Suzuki, and Yamaha, to name just a few.
2019 American Flat Track Schedule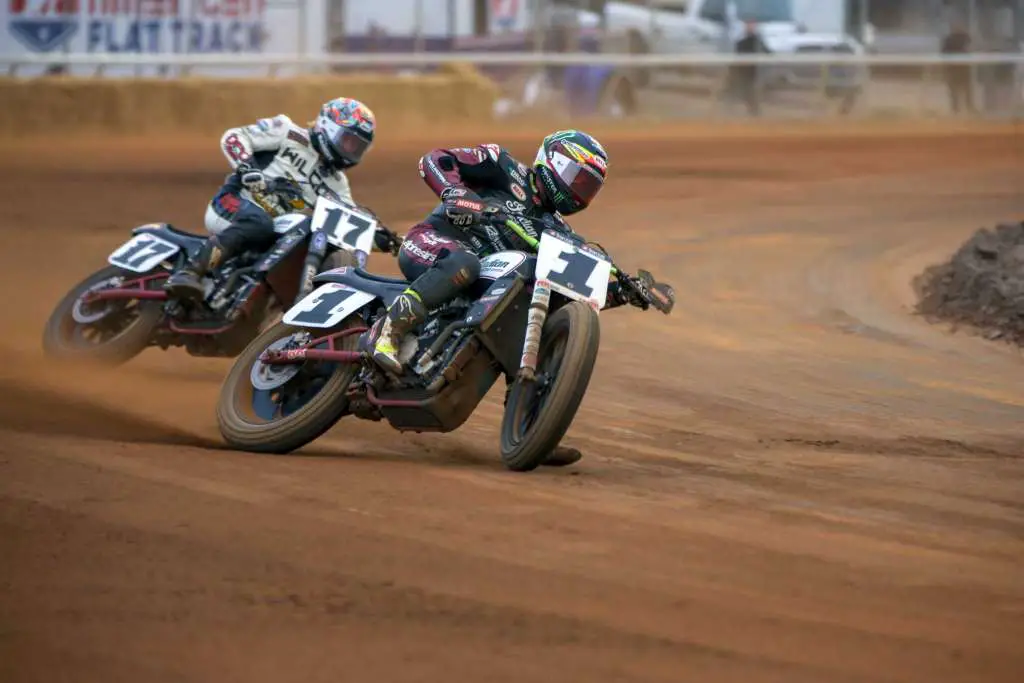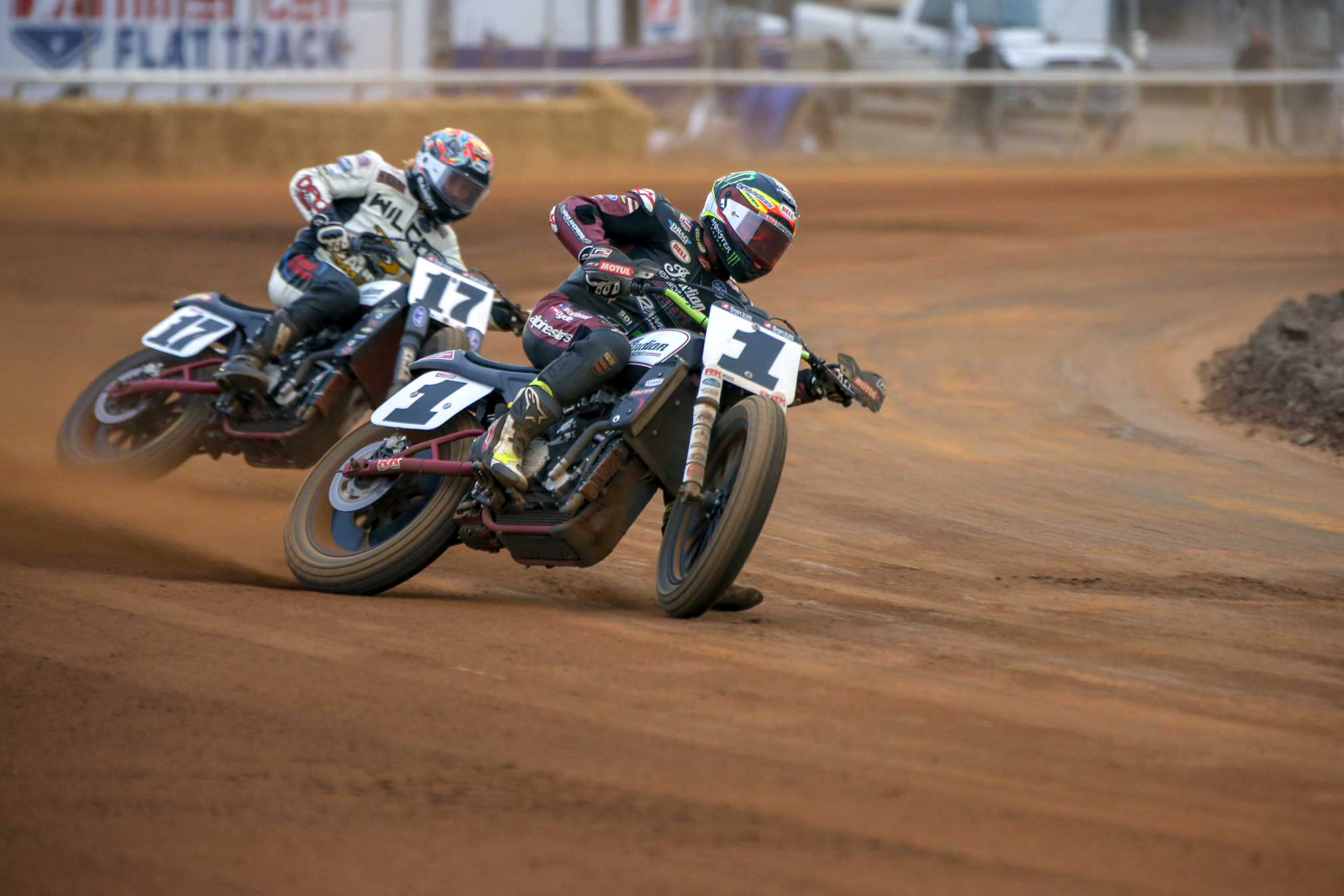 DAYTONA TT
DAYTONA TT – Daytona Beach, FL
23 Mar
Atlanta Short Track
Dixie Speedway – Woodstock, GA
20 Apr
Texas Half-Mile
Texas Motor Speedway – Fort Worth, TX
27 Apr
Arizona Super TT
Wild Horse Pass Motorsports Park – Chandler, AZ
11 May
So-Cal Half-Mile
Perris Auto Speedway – Perris, CA
18 May
Sacramento Mile
Cal Expo Fair – Sacramento, CA
26 May
Springfield Mile I
Illinois State Fairgrounds – Springfield, IL
01 Jun
Red Mile
The Red Mile – Lexington, KY
15 Jun
Laconia Short Track
The Flat Track at New Hampshire Motor Speedway – Loudon, NH
29 Jun
Lima Half-Mile
Allen County Fairgrounds – Lima, OH
13 Jul
New York Short Track
Weedsport Speedway – Weedsport, NY
04 Aug
Buffalo Chip TT
Buffalo Chip – Sturgis, SD
06 Aug
Black Hills Half-Mile
Black Hills Speedway – Rapid City, SD
17 Aug
Peoria TT
Peoria Motorcycle Club – Peoria, IL
01 Sep
Springfield Mile II
Illinois State Fairgrounds – Springfield, IL
07 Sep
Williams Grove Half-Mile
Williams Grove Speedway – Mechanicsburg, PA
21 Sep
Minnesota Mile
Canterbury Park – Minneapolis, MN
28 Sep
Meadowlands Mile
Meadowlands – East Rutherford, NJ