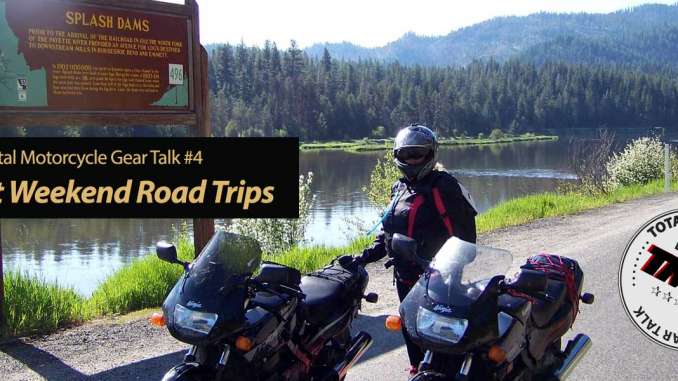 Gear Talk Episode 4 is focused on how to plan rides that anybody could fit into their busy schedule on a budget. Having the budget and freedom to reach a destination away from home on a motorcycle is something every rider should experience. It brings us back to our roots and the adventure of the open road is why we ride. Total Motorcycle puts together 3 different tiers of budget plans to choose from. Read the advice, take it into consideration and make it your own and plan to get away.
You know that feeling? The one where you pull your chrome steed aside a gas pump in a town far from home. As you wait for your tank to fill you remember the curves, the wind and scenery. You witnessed it all on two wheels.
Most of us riders would love to put more time in the saddle but just don't get the opportunity. Folks ride back and forth to work when the weather is nice. They do some day trips on weekends when their work schedule allows. Some sporadically participate in group or charity rides throughout the season. Others save their paid vacation time and put money in a jar to save up a budget for one big road trip per year.
"My favorite way of ending a good day of riding is to take a long soak before bed."
Gear Talk 4 – Low Budget Plans for a Weekend Road Trip on 2 wheels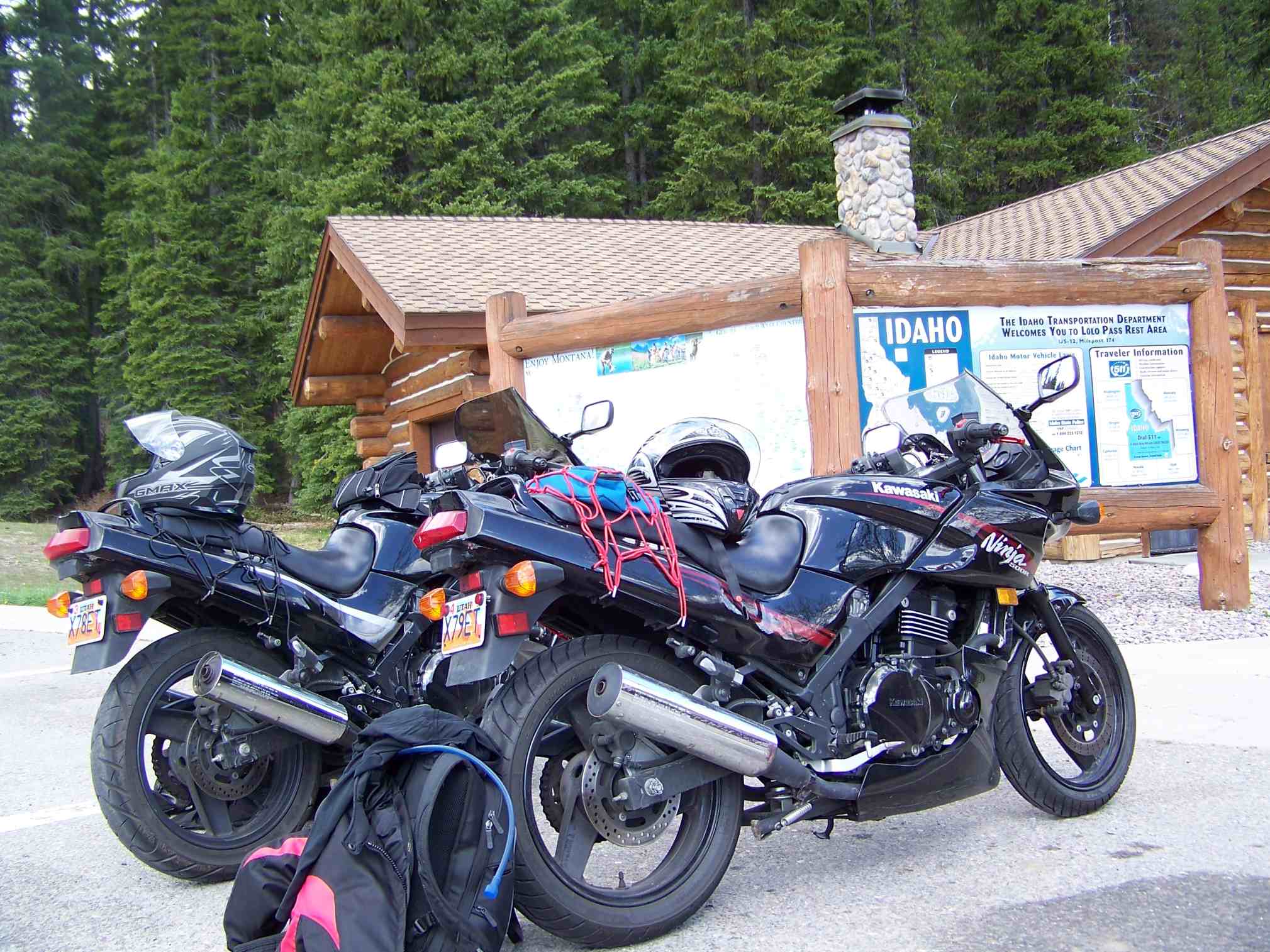 Where do you want to go?
When I was growing up, my family always had an adventure planned. Whether it be a big event or small, we always had an upcoming venture to look forward to.
We loaded up the dirt bikes and 4-wheelers and camped a lot. We participated in bike race events and went snowmobiling in the winter. Every year on the weekend after New Years, our family took the snowmobiles to West Yellowstone, Montana. We'd do trail rides and travel through frozen Yellowstone National Park. Our tradition was to always stay at the same hotel with an indoor pool and 2 big hot-tubs on a covered outdoor patio. We'd play hard and push our bodies to the limits all day, wielding those machines through deep powder by day before turning in at our hotel to relax for hours in hot tubs by night. The opportunity to soak and rejuvenate our muscles and minds for another day of play was incredible.
Now that I'm an adult, I can only imagine how invigorating that process was for my parents with adult body aches and pains vs. my energetic youth.
My favorite way of ending a good day of riding is to take a long soak before bed.  Thus, I planned a Friday through Sunday weekend escapade for my husband and I to visit some mineral water hot spring locations. Natural delights such as these can be found worldwide and they are an epic experience indeed! Eric and I just so happen to have one located within an hour of our home town and are close enough to visit two other world famous natural hot pool locations in the span of one weekend. So here, we have the reason for the trip, other than the obvious.
How to Plan
First decide your realistic destination and do some online research. Then make an itinerary using online mapping programs such as Google Maps or Mapquest to map out your route. They offer alternate routes in case you prefer to freeway slab it to get there fast or to take your time with the scenic route. Also, you can provide your bike's average miles per gallon and save it to your maps profile. The site will give you an estimate of what your fuel costs will be based on your route. Since we all ride different bikes, I won't include fuel costs in my expense breakdown. After the sample Travel Itinerary below I'll explain the 3 different low budget methods to handle your accommodations. Then at the end of the episode I'll list an expense breakdown comparison.
I'm not one to travel without prior arrangements and I like the idea of having a safe reserved place to stay waiting for me when I get there. If you are the "ride until you're tired camp on the side of the road on a whim type" perhaps we'll agree to disagree. Whatever your plans are, don't forget to check out our previous Gear Talk Episode #3 – Long Distance Riding 10 Tips for Success.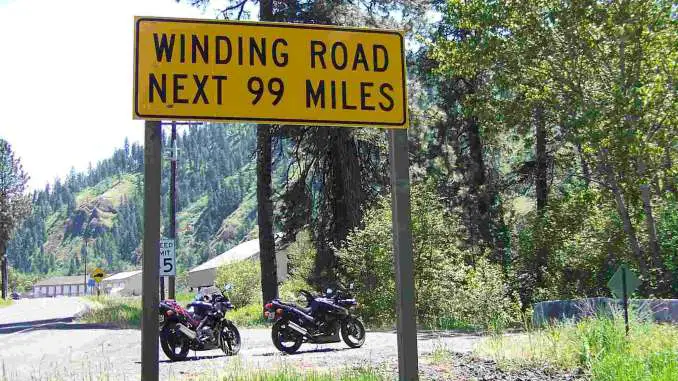 Our Travel Itinerary
Day 1 Friday May 10, 2019
Sleep in Friday Morning, have breakfast at home, gas up the bikes and ride to:
Crystal Hot Springs, In Honeyville, Utah. Admission is $9 per adult
As stated above, this is close to our home town so we'll figure mileage starting here.
Crystal Hot Springs opens at noon and the first leg of our trip this afternoon will be short. So we're not really on a time thing. We'll arrive and soak until we're ready to roll anytime that afternoon and head to:
Lava Hot Springs, Idaho
Maps says 86.1 miles, ETA 1 hour 24 mins. No gas stops required.
Admission at the State Foundation is $8 per adult on weekends. They're open late so we can check in, soak awhile then get dinner, or vice versa.
Day 2 Saturday May 11, 2019
Wake up have breakfast and be ready to roll at sun up, destination is:
Thermopolis, Wyoming
Maps says 354 miles, ETA 6 hours 48 minutes.
We're planning for 2 – 3 gas stops depending on our gas tank capacity.
We'll have lunch at any of these stops.
Check in then head to the Hot Springs State Park Bath House (FREE).
We've got the rest of the afternoon and evening to soak, relax and have dinner.
Day 3 Sunday May 12, 2019
Wake up and have breakfast. We're not in too big of a rush this morning as it's our last leg of the trip, heading home near:
Crystal Hot Springs in Honeyville, UT
Maps says 400 Miles, ETA 6 hours 28 minutes.
We're planning on 2 – 4 gas stops.
We'll have lunch at one of these stops.
We will arrive home in time to make dinner, unload our baggage, do a load of laundry and get to bed on time to head to work Monday morning.
"In my humble opinion you haven't lived on a motorcycle if you haven't applied lipstick/mascara or washed your face/shaved your beard stubble with the use of your own rear view mirror."
3 Low Budget plans for Road-Trip Accommodations
Budget Option A – Nomad
This is the lowest budget option and weather permitting my personal favorite when traveling on two wheels. Make a one-time investment of about $130 to purchase everything you'll need to make your own personal compact Nomad Travel package. You can obtain your collection online or at your local big box retail store.
Nomad Kit Contents: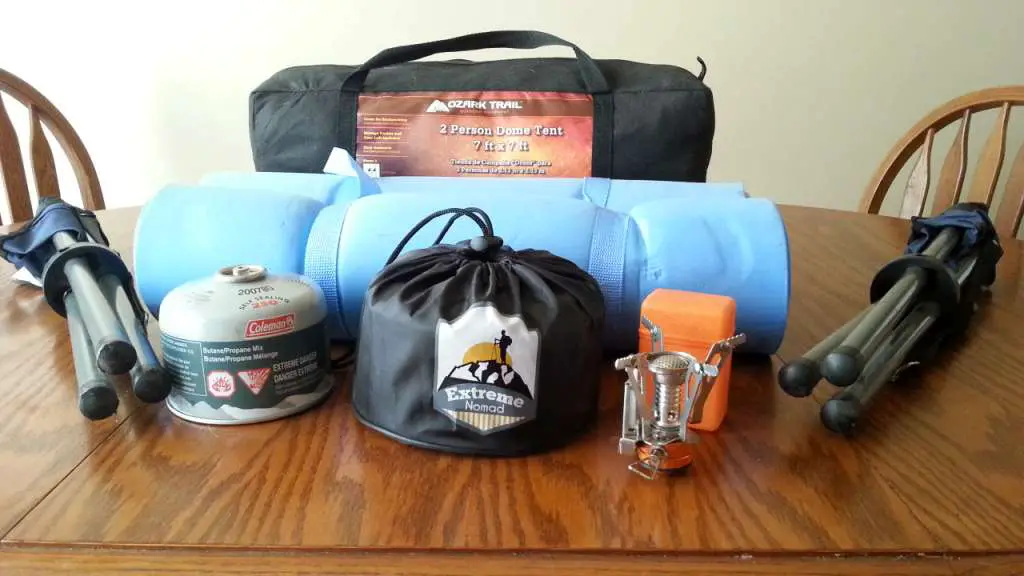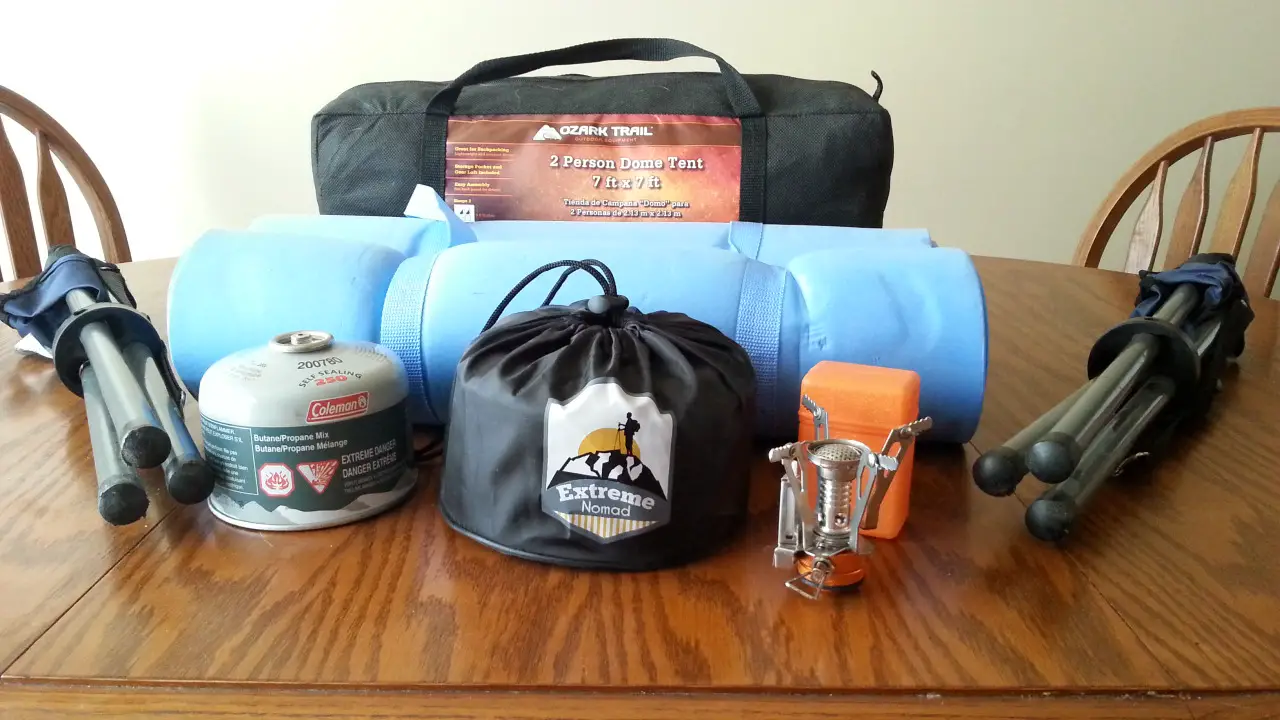 Butane Hiking Stove and Hiking Mess kit set $23
Isobutane/propane fuel bottle (small) $6
A mini pillow <$10 & thin or self inflating bed roll <$38 OR a bed roll that has a pillow built in (consider compact size when traveling)
A smaller than briefcase size compact 2 – 4 person summer tent (dome tents are easier to set up and weigh less) <$20
Fold up tripod camp chair  (if you're the type that likes to sit around the campfire) <$9
A compact sleeping bag or fleece bedroll <$15
A waterproof rucksack rain/dustcover for your bedroll or backpack <$9
Save old plastic containers or purchase bottled water and keep a couple with you. Hydrate and refill at stops. It's always a good idea to travel with bottled water anytime you ride.
Total $130
You'll travel with your compact kit and have every provision you'll need. The idea is to make reservations at city tent campgrounds ahead of time to set up your compact tent and camp on grass. Prices vary depending on the destination and time of year. The sooner you can lock in a good price the better. City campgrounds are more like a KOA. (Kampgrounds of America – a national chain that offers campsites, cabins and RV hookups, sort of like camping at a hotel) than a backwoods 'put your money in the box' campground.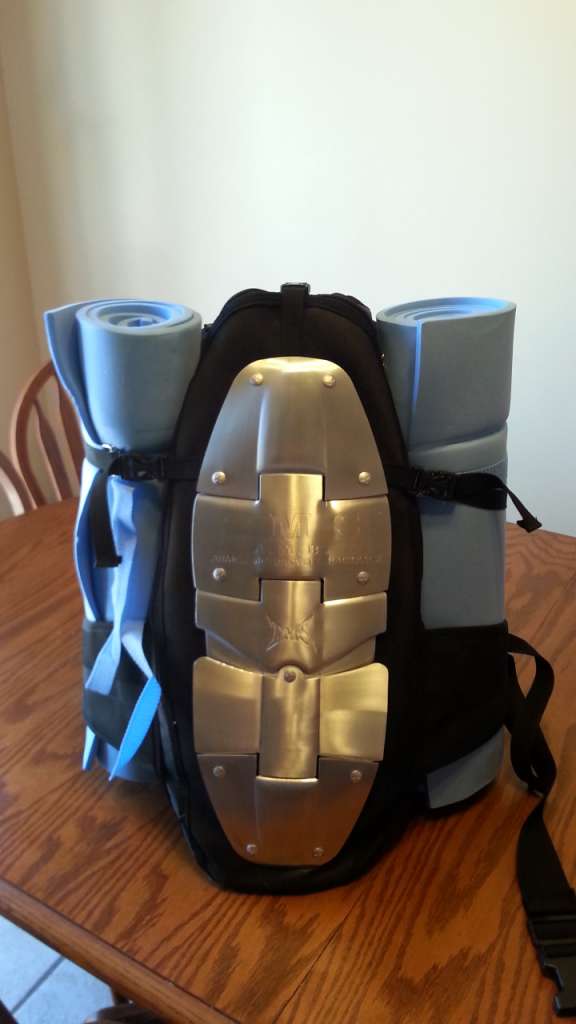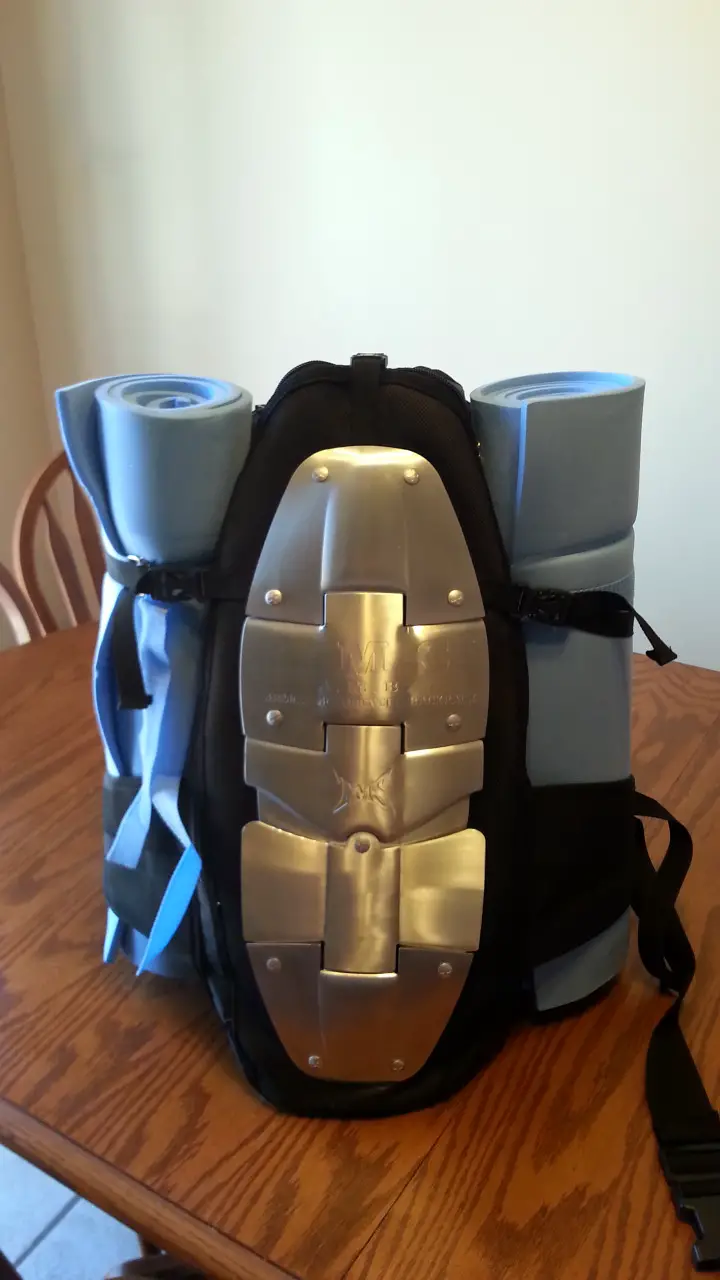 KOA guests have access to running water, restrooms and showers. (In my humble opinion you haven't lived on a motorcycle if you haven't applied lipstick/mascara or washed your face/shaved your beard stubble with the use of your own rear view mirror) but if you prefer an actual bathroom sink you'll have facilities available.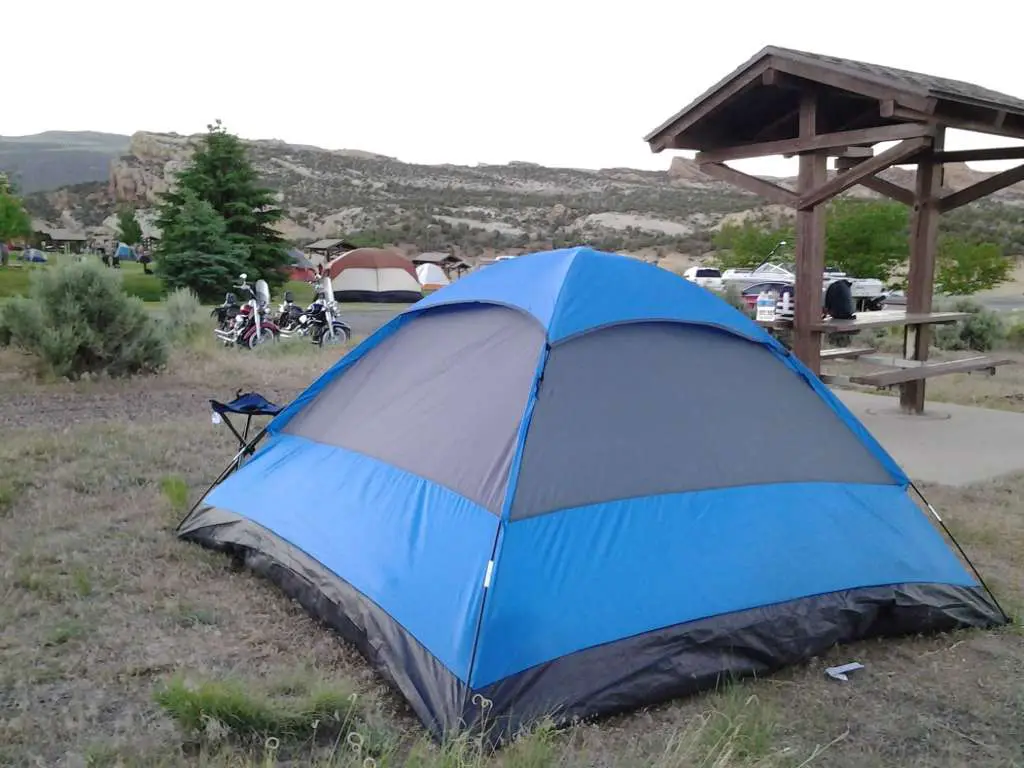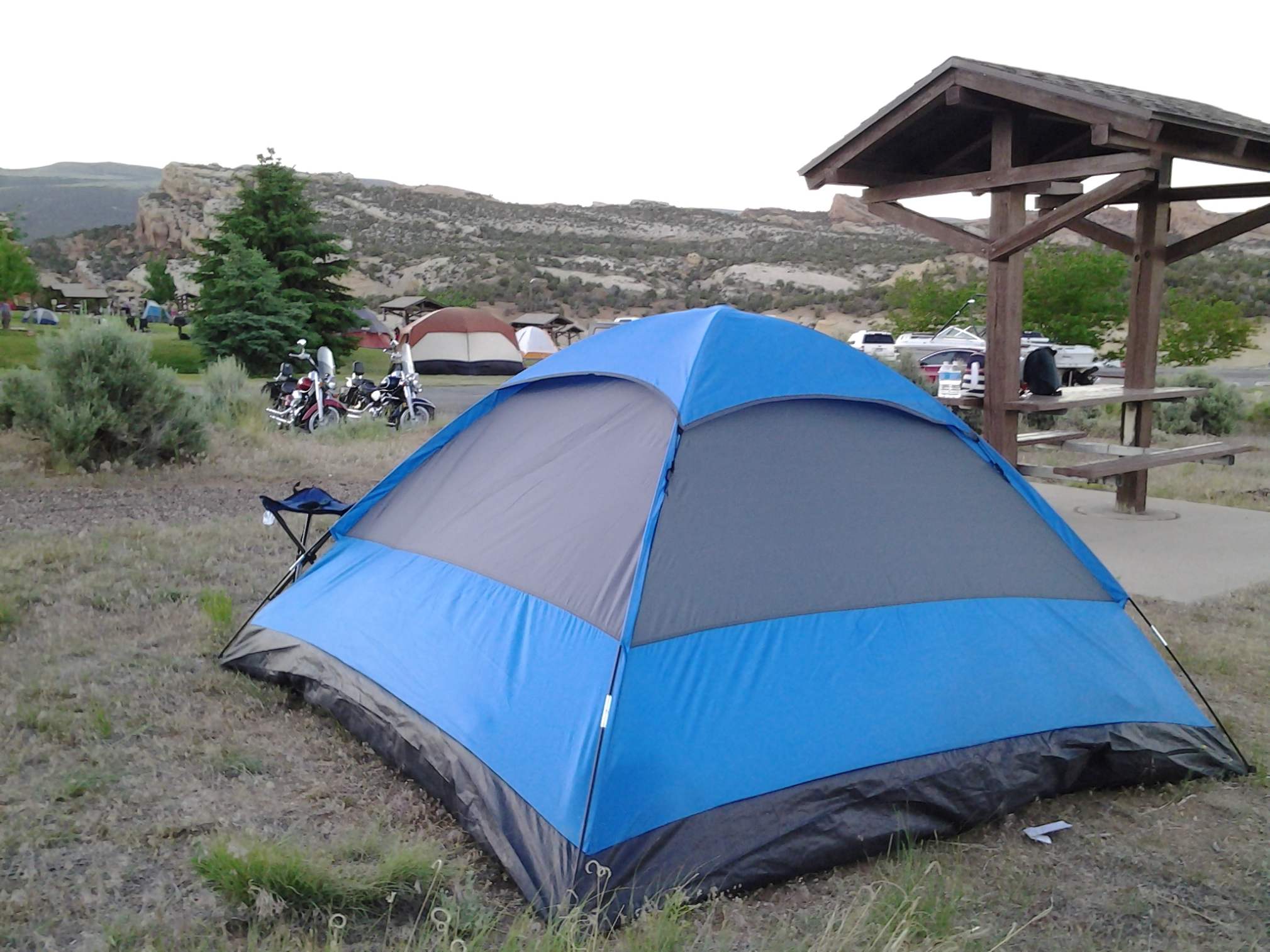 Campground Facilities
Campgrounds usually have a comfy clubhouse, and sometimes tent sites have electricity to plug in your phone while you sleep. Clubhouses don't usually provide a continental breakfast but they always run a small convenience store during regular business hours. They offer soda, bottled water, snacks, toothbrushes, sunscreen, lighters, mini bar bottles (unless you're in Utah!), aspirin, tobacco products, souvenirs and bundles of firewood.
Expect to pay top dollar for your shopping convenience. Some clubhouses will provide complimentary coffee/tea to guests and keep plastic utensils and napkins on hand. You can also expect to meet a friendly onsite staff that keep the camp relatively quiet at night so you can rest.
Meal Ideas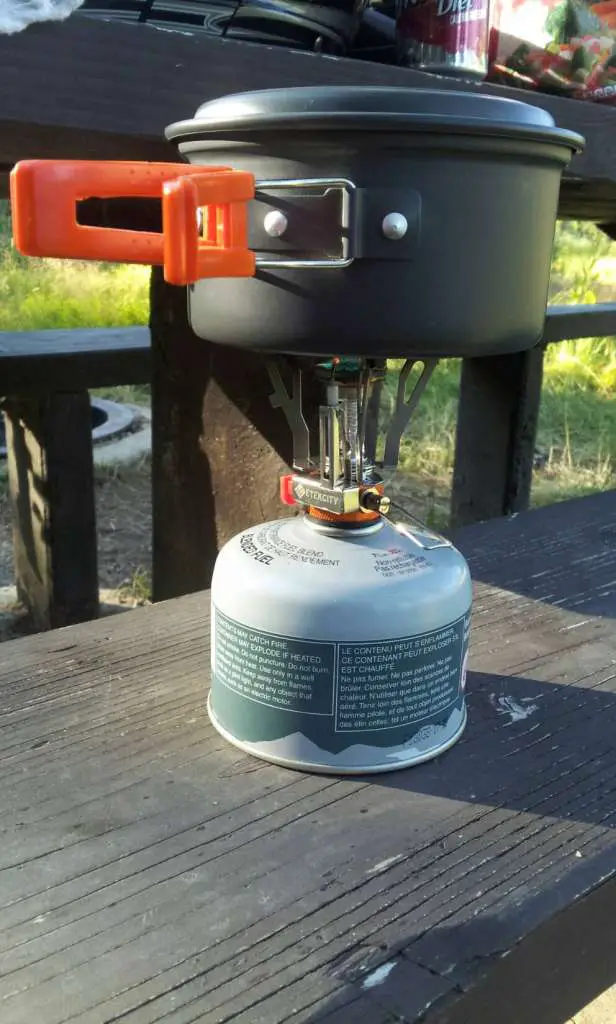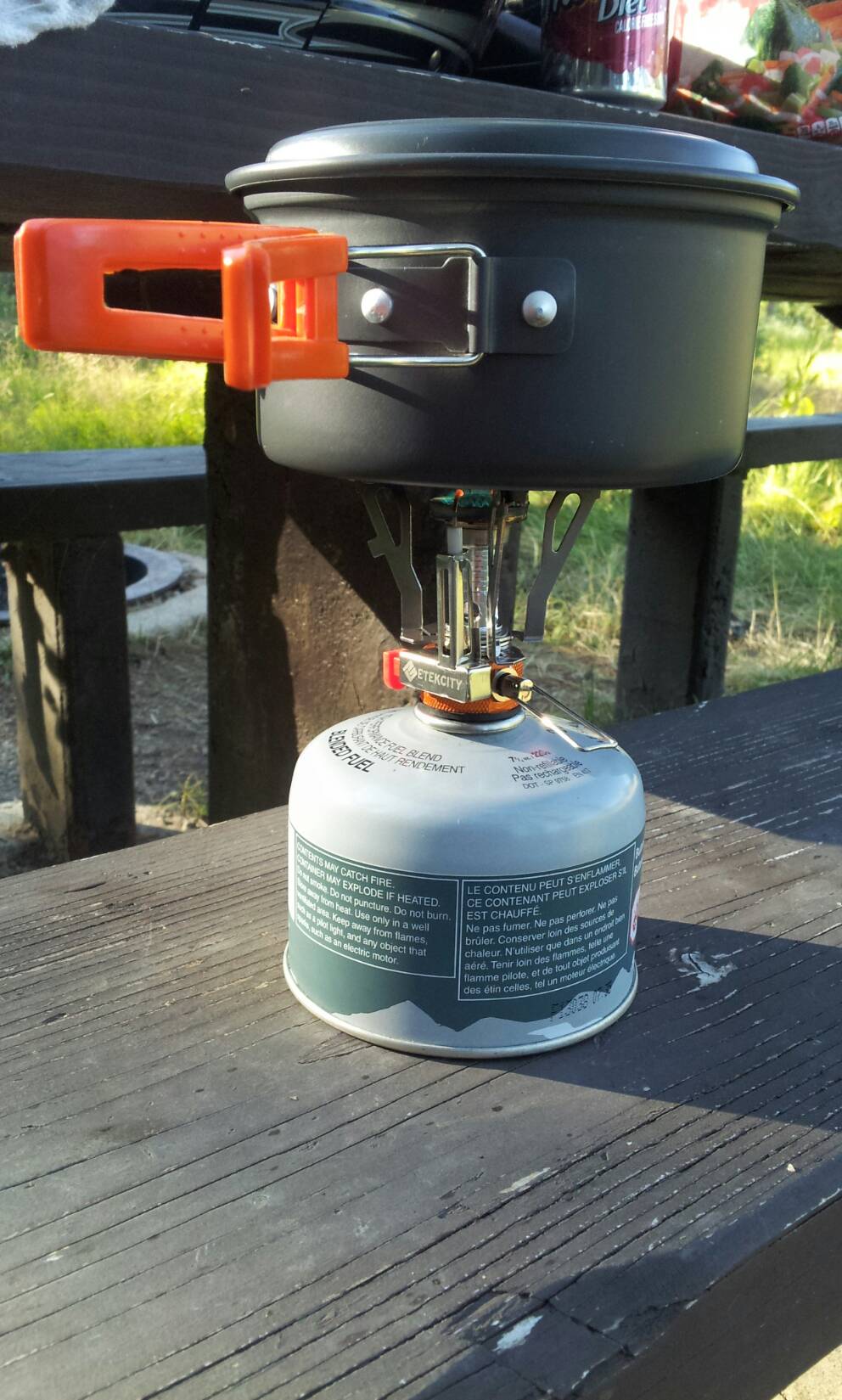 You can pack MRE pouches for meals. They're surprisingly tasty, come in a large variety and are affordable at less than $9 a meal. Just boil bottled water in your new hiker's butane cooking kit, pour it into the pouch and wait a few minutes for the magic to happen. You can use plastic utensils and eat it right out of the bag. Throw the bag in the fire or on-site trash receptacle and be relieved you don't have any dirty dishes to wash.
If you'd rather have some home cooking after a long day on the road you can always make a run to the local grocery store after you set up camp and pick up a few things. Eric makes a mean garlic beef and broccolli stir fry in our little butane camp kit. Spend $7 for a package of thinly sliced sirloin, $3 for a tiny jar of crushed garlic and a steamer bag or 2 of broccoli or your choice of veggie for less than $2 a piece. That's less than $20 for dinner for two.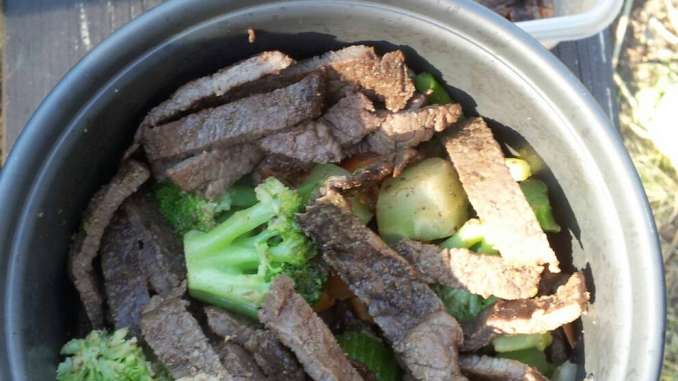 Now that your tent is out of your backpack/saddlebags you'll also have room for a 6 pack of whatever you'd like to drink, just make sure you're in for the night if you choose something with alcohol. Boil some of your bottled water in the mess kit pan and wipe it out with a couple napkins. You can worry about soap and water when you get home.
Benefits
The benefit of the Nomad budget is once you purchase the compact kit ($130) you can load it up anytime anywhere and have instant adventures at a low cost. We keep our nomad kit in a separate backpack so it's ready to go on a whim and we always have everything we need. It's like Christmas using all that stuff we forgot we have until we need it.
The downside is that it takes some time at the end of the days ride to set up camp and some time in the morning to pack up. You'll have to carry gear and plan for inclement weather (hence the waterproof backpack cover in the Nomad kit suggestion). My guess is, you're the outdoors type and already have most of this stuff in your garage anyway.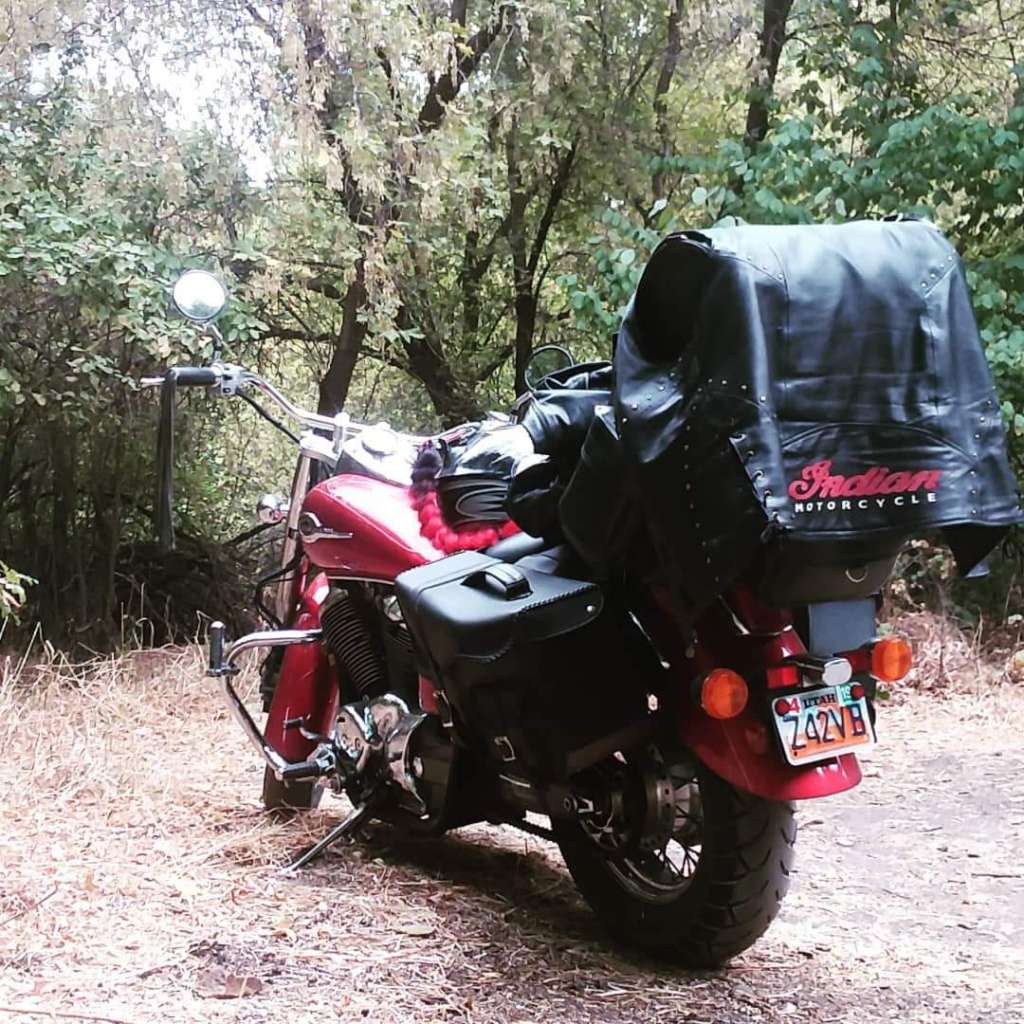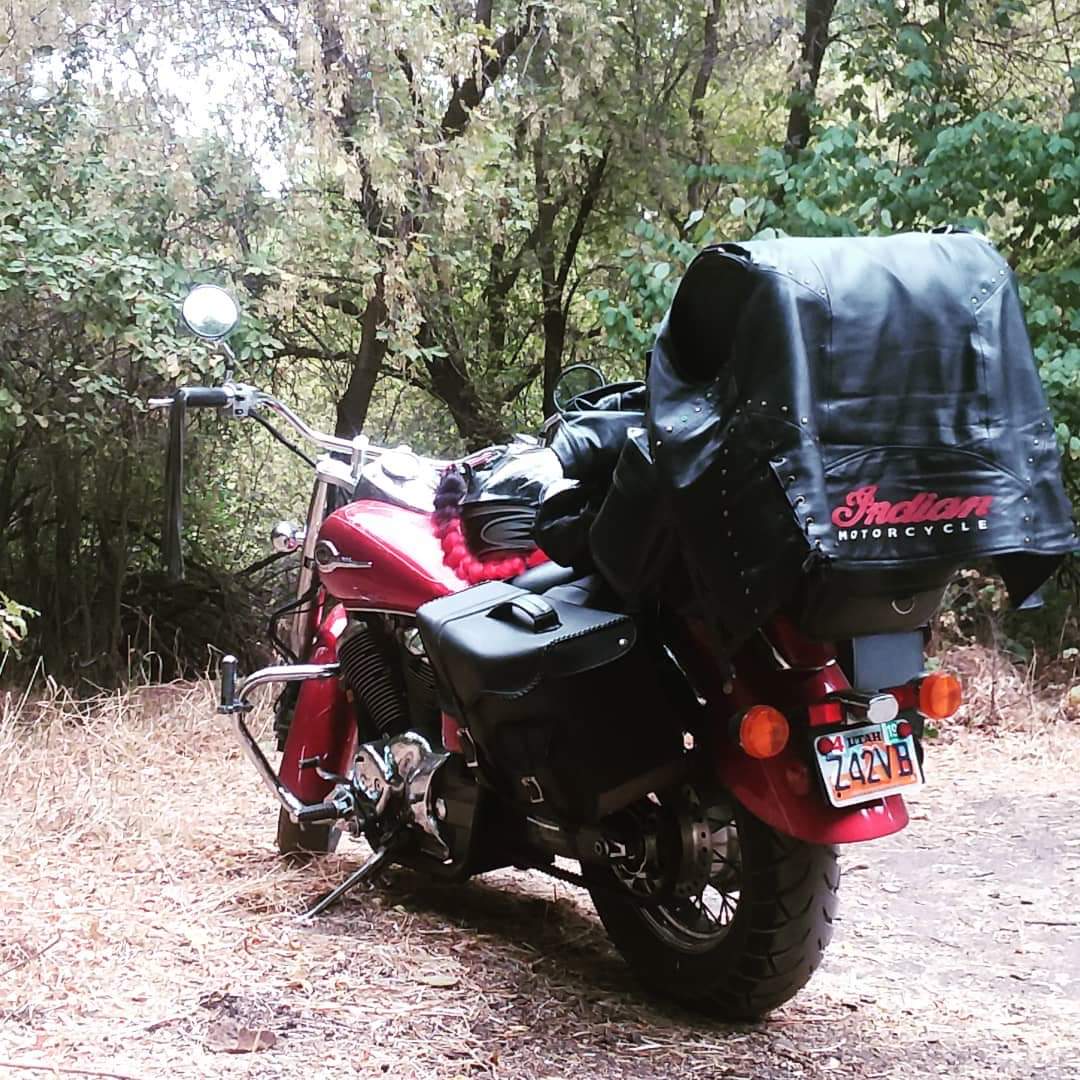 I have to admit, when Eric and I made our maiden Nomad voyage I thought I would hate tent camping after being on a bike all day. Truth is, I was so tired I slept like a rock with only the bare minimum bedroll under our combined sleeping bags. Camp set up and take down was all done in a matter of minutes. One night years later we stayed at a primitive campsite high in the Uintah Mountains near the Utah/Wyoming border just after the snow melted in the Spring. I got cold. I got up and put on my chaps and leather jacket and got back in bed and managed to sleep through the night. We boiled instant coffee inside the tent that morning and waited for the sun to come up and it sure felt good. That ended up being one of our favorite adventures on two wheels.
Budget Option B – No Frills
You'll spend a little more on this low budget option in exchange for less items to pack and less set up/clean up. You won't require all the things listed in the Nomad kit listed above but you'll need a few provisions for comfort.
The No Frills option is to book a small cabin at establishments such as KOA's etc. They're cheaper than hotel rooms and you can expect total privacy. Depending on where you go you can find cabins with all different types of amenities but you can expect to pay for upgrades. The cabins we prefer are super cute, made of all wood and very primitive. You can rent a larger cabin to accommodate a larger group and split the cost or just get a tiny one for you and a companion.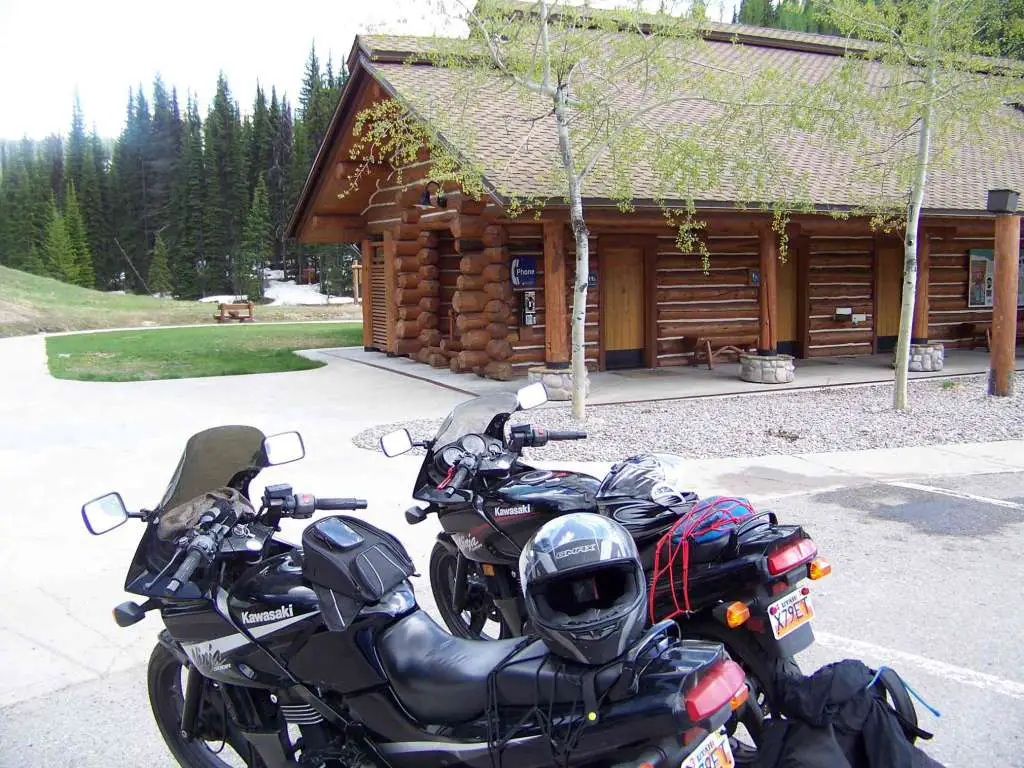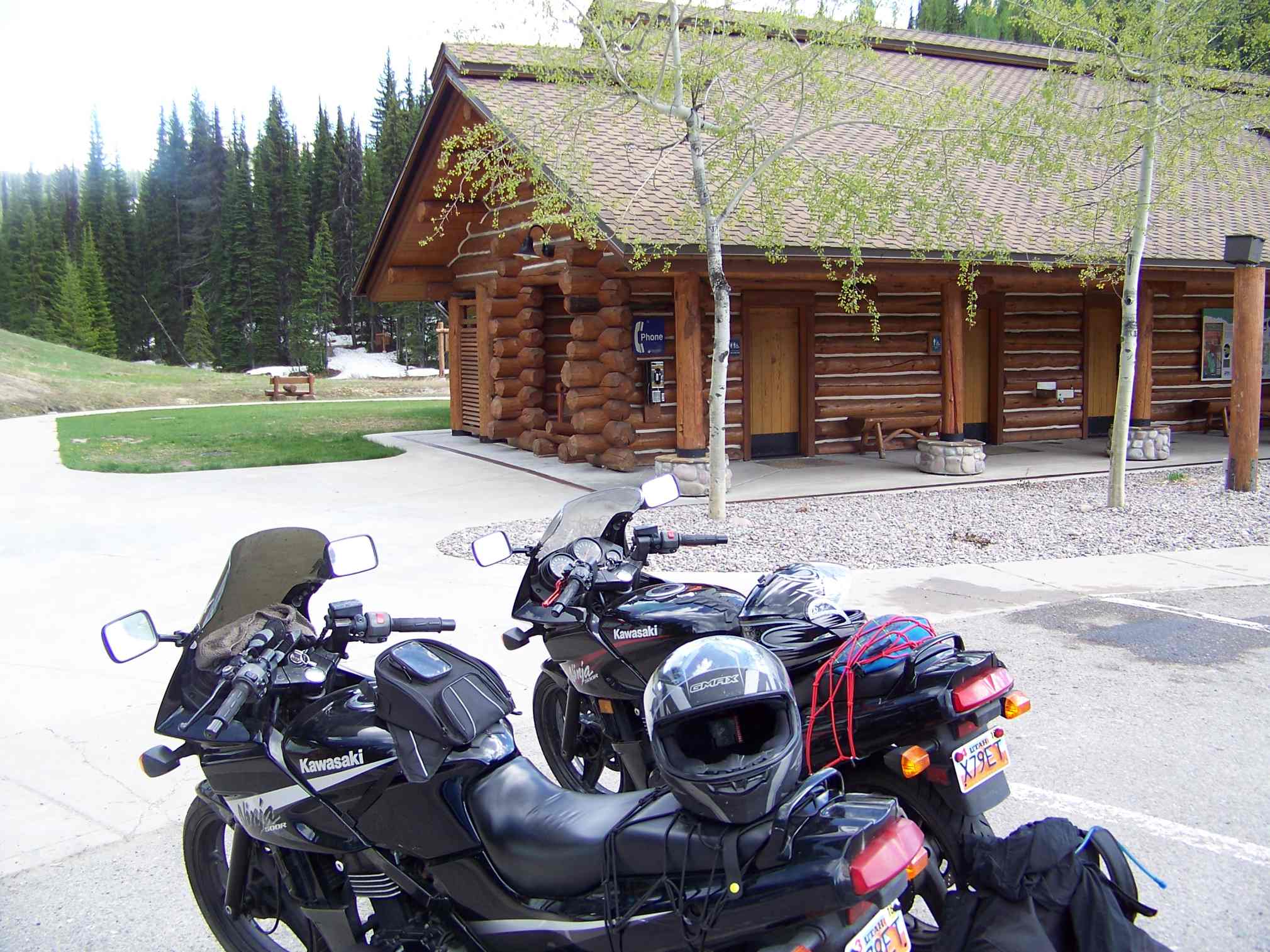 Simple Cabin Amenities
The cabins have a locking front door, windows with curtains, usually a table and two chairs and a full to queen size bed (made of wood). Sometimes they're equipped with a  couple bunk or twin beds (also wood). All the beds have thick foam egg crate style mattress pads in lieu of mattresses. They're super comfy but you'll need your own sleeping bag and a mini pillow. The cabins are very clean but when we stay I bring an aerosol bottle of Lysol for the mattress pads just because. They usually don't have running water so you'll need to plan to use the clubhouse facilities and bring a towel and toiletries. Your cabin may or may not have air conditioning, depending on time of year and location.
Make a mental note to check into little things like that when you're making reservations. These cabins usually have a little front porch with a 2 – 3 person porch swing or patio chairs, and a propane grill. Who needs a kitchen when you have a propane grill? Most of the grills have a single burner for your convenience.
A Few Perks
Along with the clubhouse, most campgrounds that offer cabin rentals are a little more upscale and offer wi-fi, laundry amenities, microwaves, and access to activities such as pool tables, hot tubs and swimming pools. We've even seen mini golf and paperback book exchange shelves. It's especially fun to stay at places like this if you enjoy people watching and meeting other adventurers. Last time we stayed, the city was hosting an upscale dog show near the campground that weekend. We met some fun, unique people and some fancy dogs as well. They were quiet fancy dogs thank goodness. We rested very well that night.
Mealtime Options
With the No Frills Option you have several choices for mealtime. You could always go out to eat. Use the Groupon app to find local deals but be sure to read the fine print. You can't go wrong with small town mom and pop style café's or old fashioned burger joints.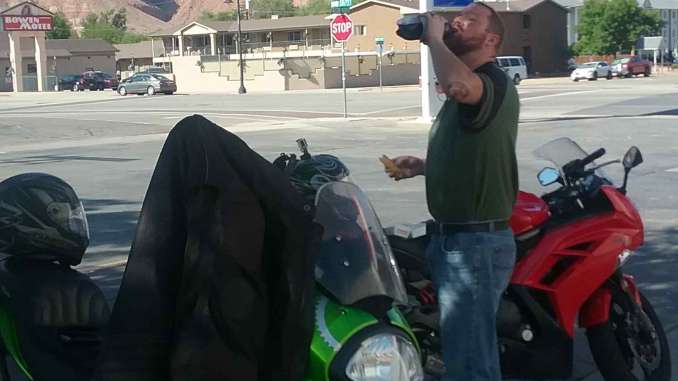 Or you can always consider delivery. With app services such as 'DoorDash', 'Grub Hub' and 'Uber Eats' your delivery options are endless, some with very small delivery fees plus a tips. (While getting more popular, these app services are not offered everywhere, so do your homework.) Remember, pizza boxes, fountain drinks and Styrofoam containers and saddle bags don't mix.
But usually, Eric and I just wanna crash, mitigate our monkey butts and eat in after a long day of riding. Our personal favorite is using the grill of course. We offload all gear in the cabin, lock up and head to the grocery store for some steaks and some easy sides. You can use the microwaves in the clubhouse if you don't wanna mess with the burner or get some pre-made sub sandwiches.
Benefits
The upside of No Frills traveling is easy come easy go with amenities. You'll get and a reserved place to sleep and some extras. The downside is well, No Frills. Nothing fancy, but we're bikers. The ride is the point.
Budget Option C – Comfort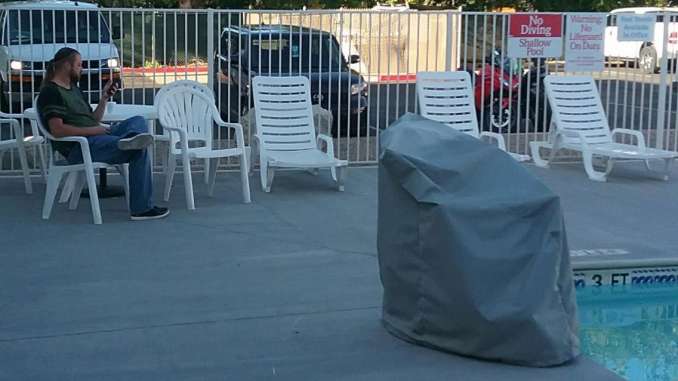 Sometimes staying in a hotel after a long day on the bike is just the thing. A bed with fresh sheets, clean towels, soap and hot water can rejuvenate your body and mind to prepare you for another day on the road. That said, you don't need a top dollar motel to accommodate all of that.
Know Before You Go
Online reviews play an important role in picking the perfect place to crash without breaking your budget. Read a good variety of the 5 stars, 3 stars and 1 star ratings for the establishment you're considering and read them on multiple sites. For instance, read about the Best Western on both Travelocity's and Best Western's sites. Weed out things that aren't so important like old tv's or ugly carpet /mismatched furniture and look for important things. If anybody says bedbugs, I move on to the next place in line. Chains are good, but remember that not all chain locations are equal.
I look for things like cleanliness, comfortable beds, and amenities. Did they have to ask for towels or toilet paper? Eric and I have slept just as good in a clean $39.99 a night room as we have in a $399.99 per night room and we don't need much space for our gear. Low cost establishments usually don't offer complimentary breakfast or have coffee pots, ironing boards or hair dryers in the rooms, but they usually have free coffee in the lobby. Most have toiletries and hygiene supplies on request, just ask at the desk.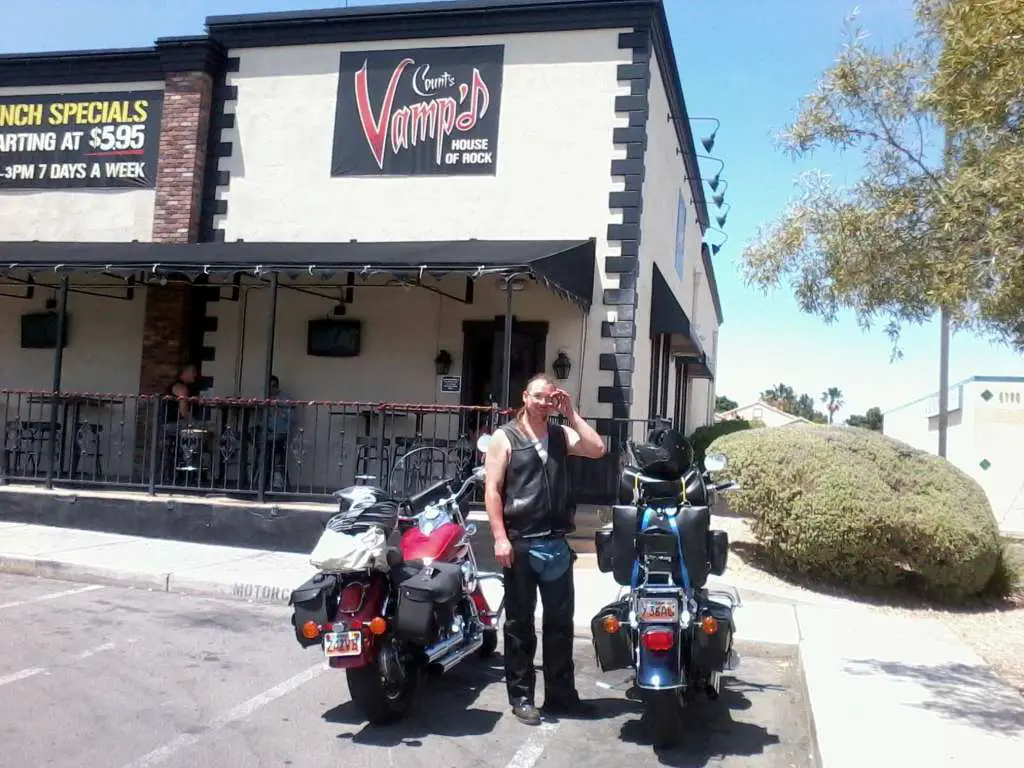 "Consider the price difference when a continental breakfast is offered."
Learn From Our Experiences
One thing we've learned about staying at hotels, especially when traveling with our children, is this. Consider the price difference when a continental breakfast is offered. If we go out to breakfast at a mom and pop café we'd probably spend $25 for the two of us, factoring in the tip. So it would make sense to book the hotel that offers breakfast, even if it's $15 more per night than the one that only offers lobby coffee. If you're traveling in a group you can consider splitting the cost of a room. Keep in mind some establishments will offer a rollaway bed at extra cost (usually $5-10 per night).  Smaller rooms may not allow them due to fire codes.
It's always a good idea to secure your room reservations with a credit card, even if you plan on paying for the room with cash. Some establishments will allow you to make reservations with a 'pay cash on site' option but they'll want a $200 cash deposit (refundable on check out). That's certainly no fun since you'll probably have that extra cash earmarked for something else. Last time we stayed in a hotel, a desk clerk called days later to let me know she'd be charging my card $47.99 for red hair dye damage done to my pillow. It was a small price to pay for getting to have hair that matches my shiny red Ninja. Next time I'll pack my own pillowcase.
Hotel Parking Lot Security for your Bikes
When checking in, ask for a room that is near the stall where you can park your bikes so you can keep on eye on them. Eric and I like to park our bikes cuddled up together in reversed directions with the handlebars turned towards each other and the forks locked. If a professional thief decides to steal your bike there isn't much you can do about it if you want to have a good night's sleep. That's what insurance is for. Simple tactics like parking multiple bikes together, or aside a fence or wall with locked forks will deter an amateur thief though.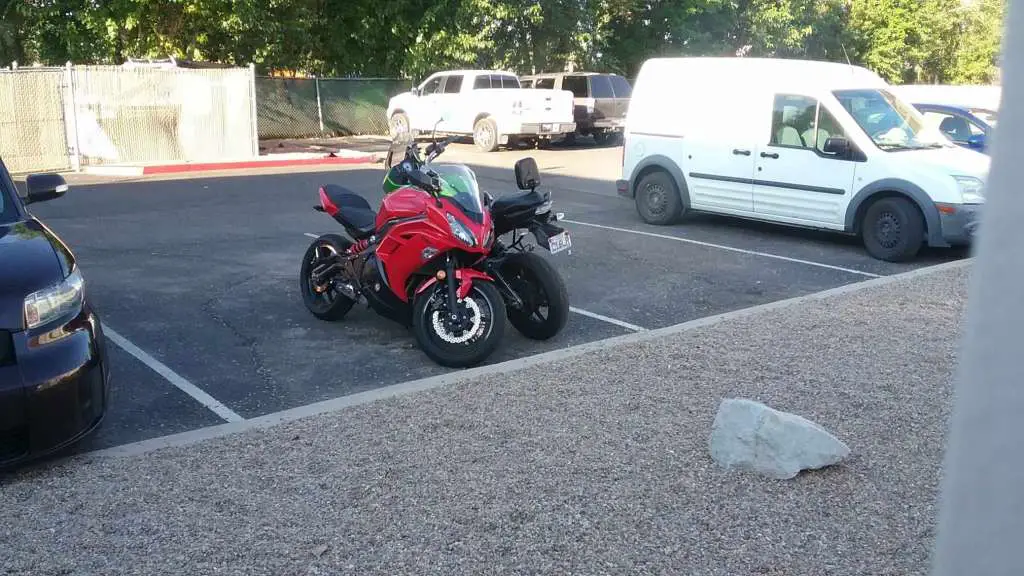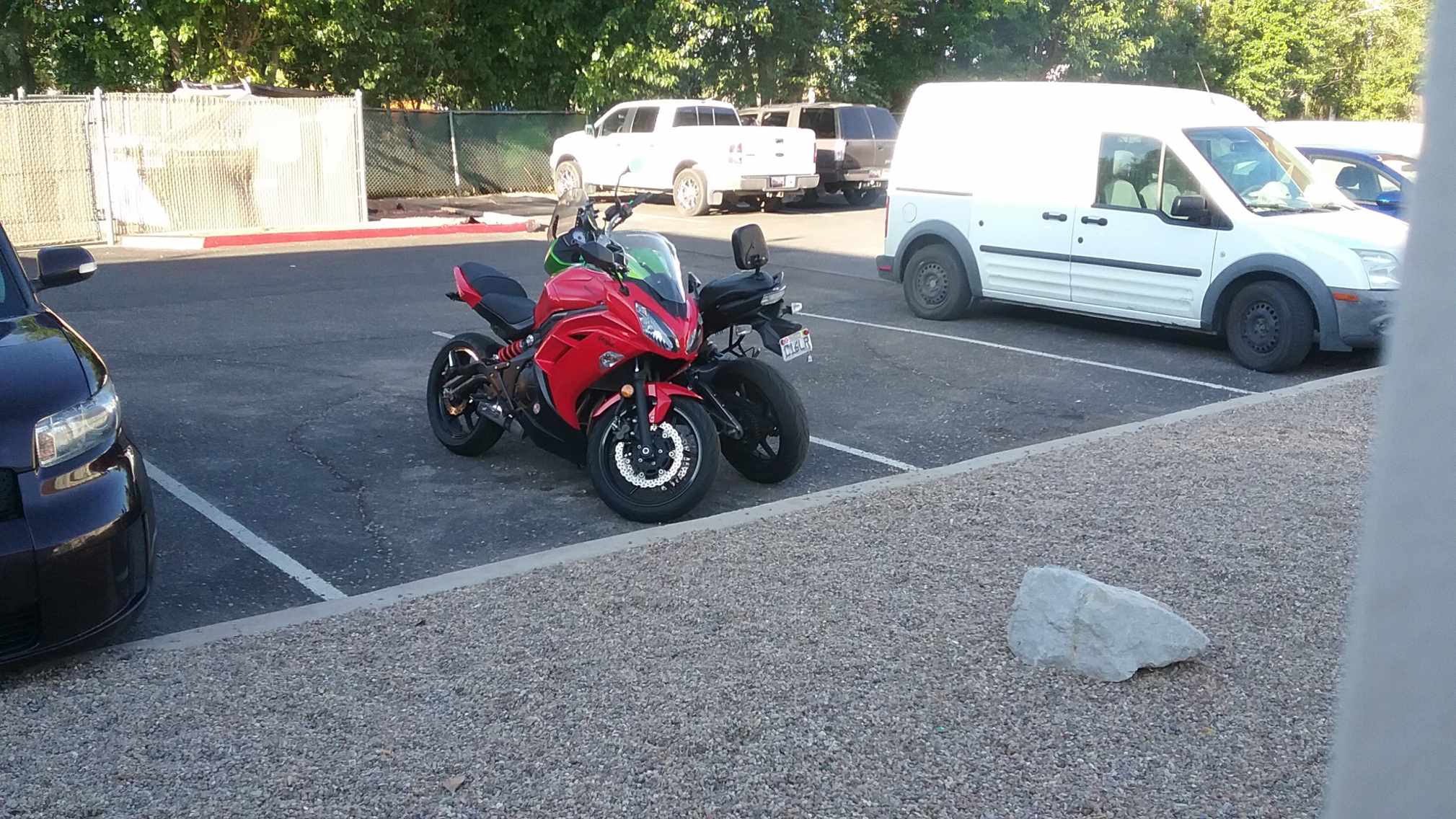 Consider purchasing an anti-theft device or a cable lock to run through your spokes or mags if you plan to spend the night in a crowded parking lot or high crime location. Don't forget to empty, lock, close up or remove your saddlebags as well. Parking lot birds are intelligent creatures. I've seen ravens work the mechanisms to get inside baggage for Doritos and sandwiches.
Alternative Options
Consider friends, family, distant relatives and trusted friends on Social Media and where they live. Call your cousin, tell him you're gonna be in town a certain weekend and you're gonna bring the bike. See if they don't just offer you their couch for the night and show you their favorite local haunts. Road-trip and no frills family get together extraordinaire! Eric and I have planned entire trips around where a crash pad is offered and made available to us for a night and it sure helps with the budget. In return, we've given our hosts a list of groceries to pre-purchase and we'll cook for them or we go to dinner and cover or split the check.
We've met some pretty incredible people via the Total Motorcycle Forums and in motorcycle groups on social media. We've made friends (social media pen pals if you will!) had chats and got to know them well. On several occasions we made arrangements to meet up with them when we happen to be headed towards their necks of the woods. Every time has been a delightful experience and we can't wait to see our new friends again. I know we have a spot on their couch anytime we need to crash as they have a spot on ours as well (with the bonus of a group ride in the makings.)
"Get what you need and splurge a bit if you gotta have dessert."
Safety Considerations
As always, when preparing to ride with a load, figure your total load weight and check your owners manual to make sure you have not exceeded weight capacity. Keep your loads low. Pack heavy stuff either on your tank bag or in front of /over the chassis. Put lighter weight items like your sleeping bag on the luggage rack. Secure your load and make sure to pack extra straps just in case. Make sure your saddlebags aren't sagging onto your pipes. Look for loose straps or bungees. Take a couple practice laps around your neighborhood before you start your trip, and make any necessary adjustments.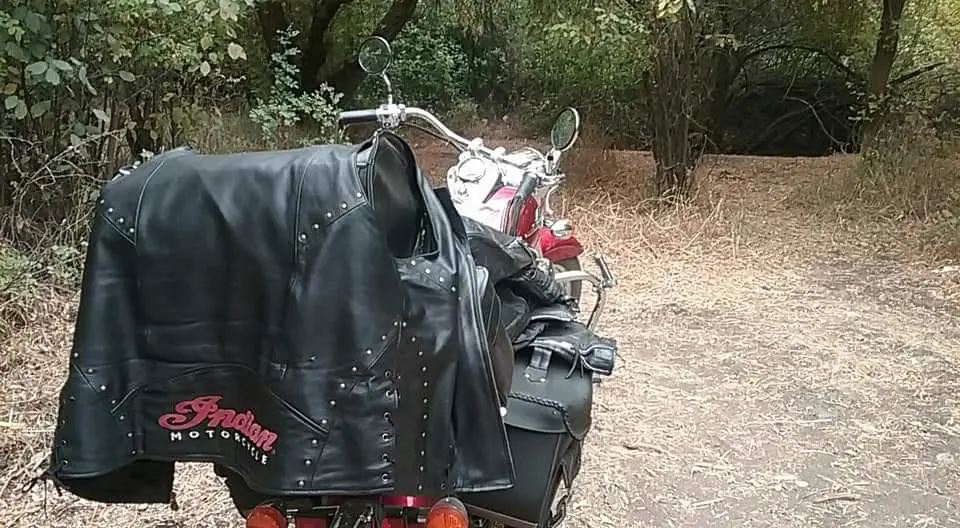 Agenda with Cost Breakdown for 2 adults (not including costs for gas and misc. items)
Nomad
Day 1 = $85
Mary's Campground, tent site $45
Dinner – Groceries for Camp Stove Beef and Broccoli and drinks and $23
Spa Admissions $17
Day 2 = $81
Breakfast – Campfire Instant Coffee or tea from Nomad Kit & MRE camp breakfasts $12
Lunch – Gas Station Deli sandwiches chips and drinks $10
Spa Admission Free
Dinner – Groceries for Camp Stove Shrimp and Veggie Stir Fry drinks and Dessert $25
Air BnB single room, shared bathroom $34
Day 3 = $26
Breakfast – Coffee Shop coffee shop and baked good $6
Lunch – Fast Food Dine in $20
No Frills
Day 1 = $111
KOA Basic Cabin Rental $66
Pizza Delivery (3 Topping 16 inch) with delivery and tip and drinks $28.00
Spa Admissions $17
Day 2 = $135
Breakfast – Fast Food dine in $14
Lunch – Fast Food dine in $20
Spa Admission Free
Dinner – Black Bear Cafe Big Bear Burger and Fries & Chicken Strips Basket and fries $30
Quality Inn $71 (includes continental breakfast)
Day 3 = $20
Breakfast Free
Lunch – Fast Food Dine in $ 20
Comfort
Day 1 = $142
Hotel Suites of Lava Hot Springs (booked on booking.com + boarding tax) $88
Comfort Food at The Chuck Wagon Restaurant (Spicy Chicken Dinner, House Breakfast Skillet, drinks, pie and tip $37
Spa Admissions $17
Day 2 = $181
Breakfast – any family diner $20
Lunch – Fast Food dine in $20
Spa Admission Free
Dinner – Las Fuentes Chicken Fajitas and a Combo Plate with an enchilada, taco & tostada = drinks and fried ice cream & tip $39
Days Inn $102 (includes continental breakfast
Day 3 = $20
Breakfast Free
Lunch – Fast Food Dine in $ 20
Totals
Nomad $192
No Frills $266
Comfort $343
In Conclusion
I gotta say I'm pretty proud of the averages here. I did the math and the average trip works out to $267 per trip, which just so happens to be a dollar off from our estimates for the Mid grade Trip plan, No Frills. Magic? I think not. The difference is my estimate of how far to let my hair down depending on which trip I was planning for. Nomad, plan ahead live on the cheap. No Frills? That's what I said. Get what you need and splurge a bit if you gotta have dessert. Comfort, not fancy living by far but less work and prep than the lower 2 budgets.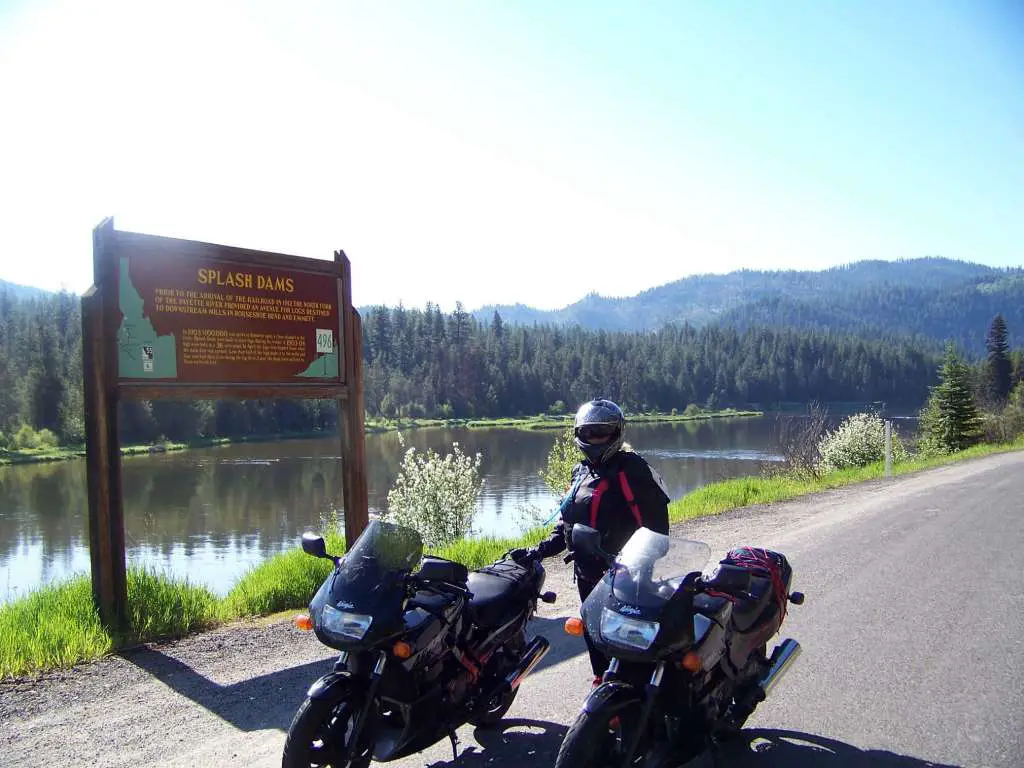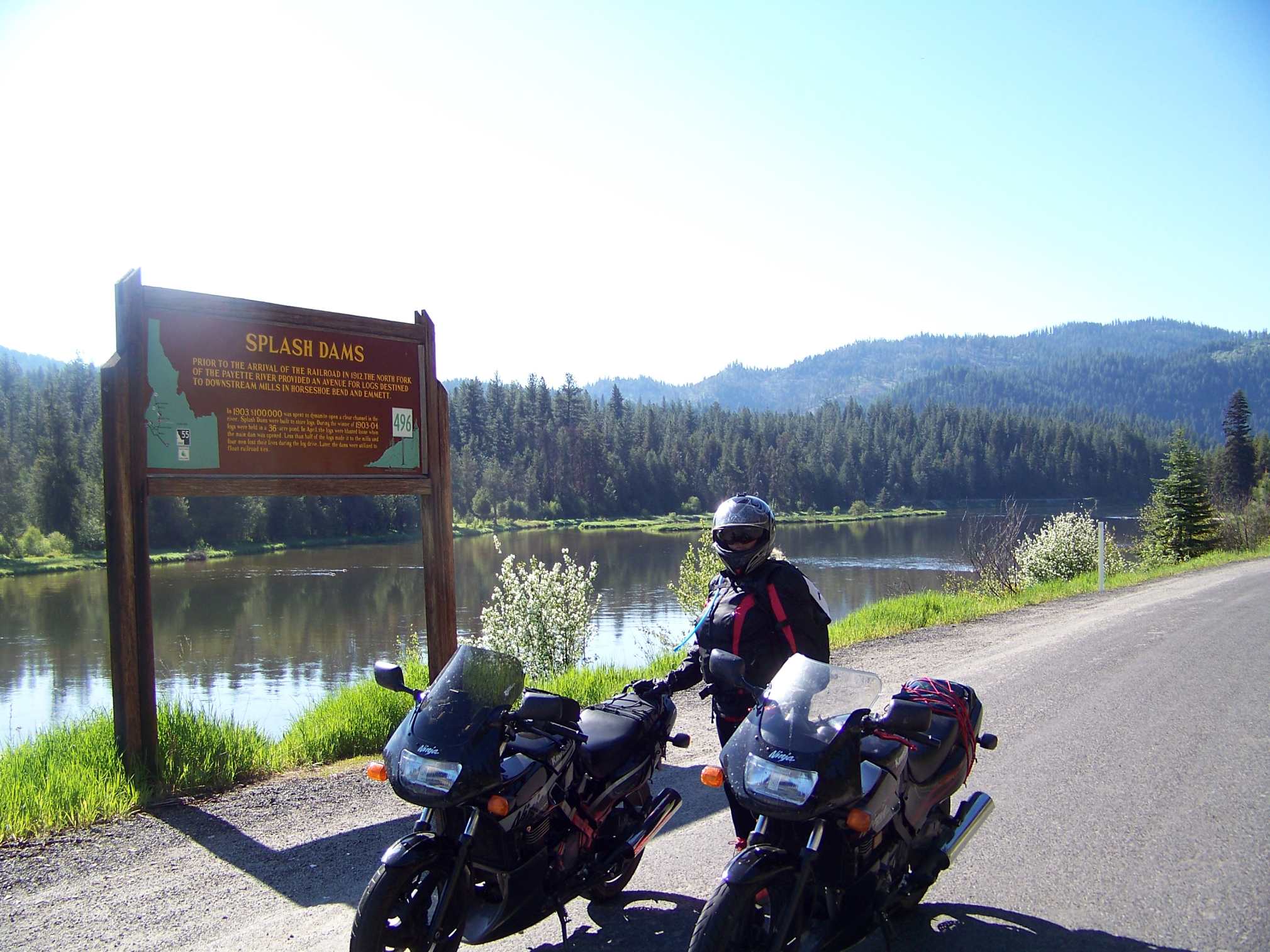 Gear Talk Episodes
We hope this episode of Gear Talk inspired you to plan a low budget weekend adventure on two wheels of your own. Tweak one of our suggestions to make it your own. Ride safe, have fun and stop by the Total Motorcycle Forums to let us know what you're planning. Tell us how much fun you had after you return. Inspire others to do the same, they'll thank you.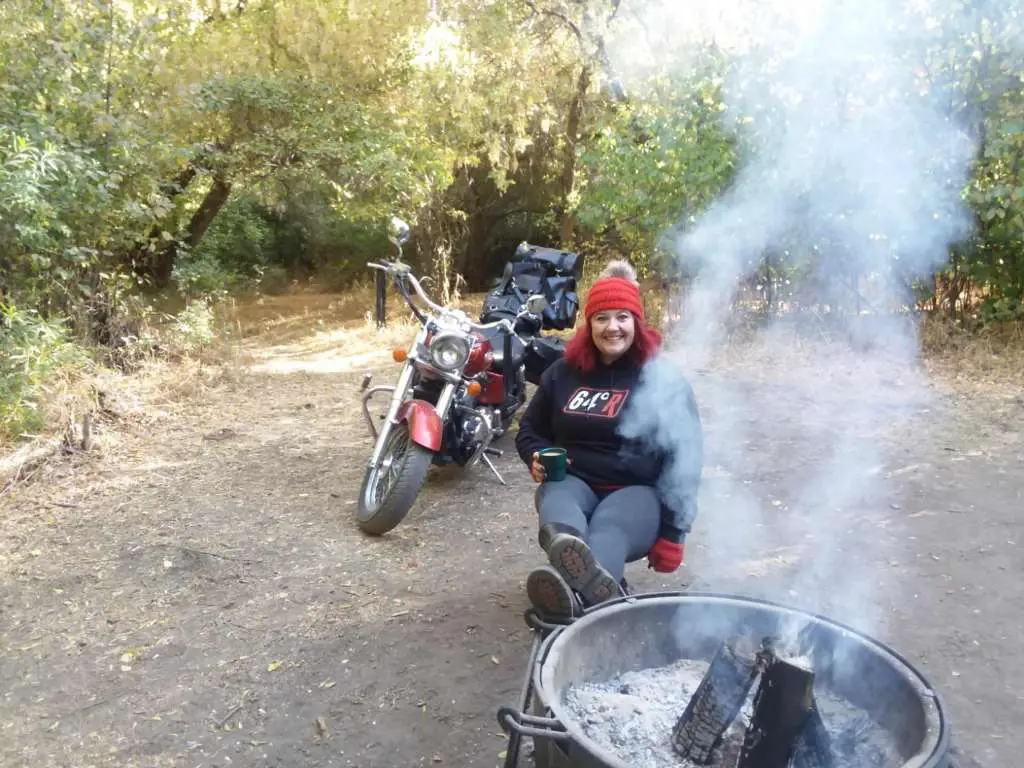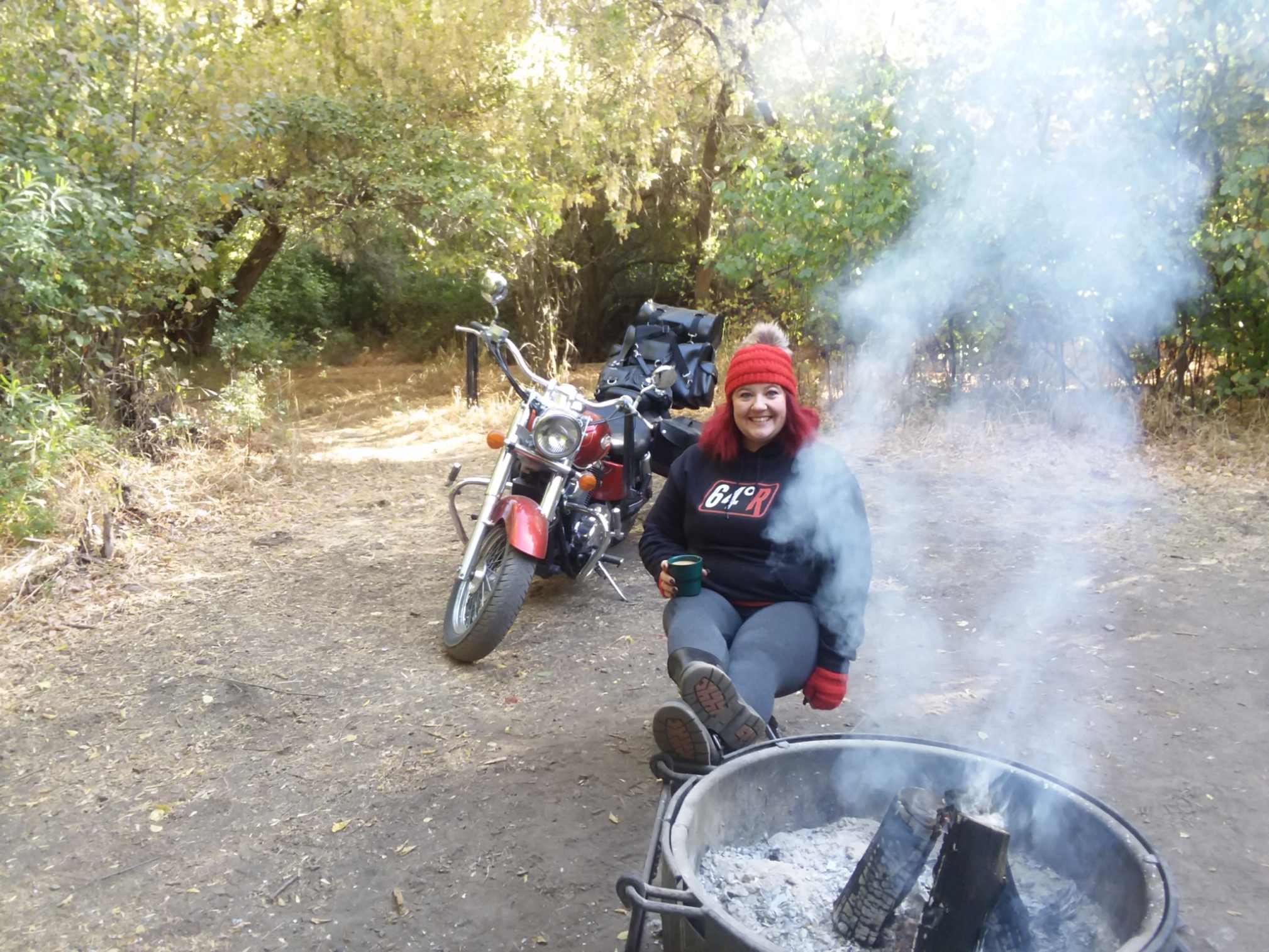 Special thanks to 64 Degrees Racing for providing me with my awesome hoodie. In case you were wondering, 64 degrees is the maximum lean angle for a moto-gp bike! Get yours at 64DegreeRacing.com.
Did you like this article? We really hope so. We strive to bring you informative, interesting, useful content so you, our reader, can make informed decisions. I know this all sounds like a pretty sweet gig. Free gear, travel, fame and accolades. Right? In actuality though, it's a pretty expensive endeavor. Hotel stays, fuel, and other travel expenses add up fast. There's also video and photography equipment to buy and maintain, software subscriptions, hardware maintenance and internet bandwidth to pay for. Not that we mind, it's our pleasure. But if you enjoy our content and find it useful, please consider subscribing to help improve and amplify our impact. Subscriptions start at only $1 a month, and you'll have the pleasure of knowing that 100% of your donation is going to generate content for you and your fellow riders. And we will never sell your information or charge a fee for our services. Sign up HERE.