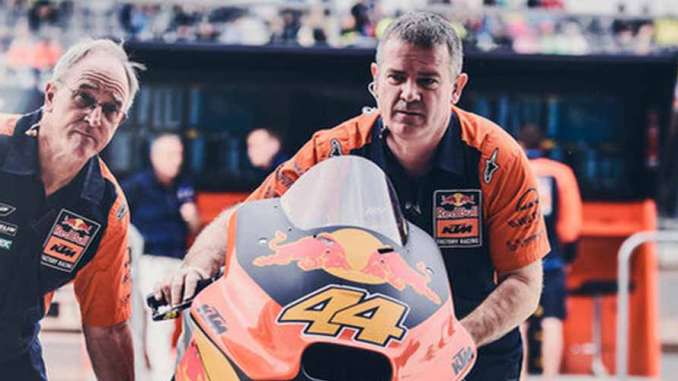 We've come to learn a lot about the demands of MotoGP thanks to Red Bull KTM's exploits through a 2016 of testing and now a maiden season in the Grand Prix paddock but we decided to ask Pol Espargaró's Chief Mechanic Christophe Leonce a bit more about having a job in the orange and blue shirt …
KTM´s MotoGP team manager Mike Leitner told us recently on the Blog about the challenge of constructing a race team to slide directly into the competitive maelstrom of MotoGP where the greatest expense goes into the smallest detail to make the tiniest bit of difference per lap.
Venturing deeper in the Red Bull KTM garage, we wanted to find out a bit more about the toil and hours put into the racing effort on a MotoGP weekend. We find the smiley and gregarious Christophe Leonce willing to chat in a break between Free Practice 1 and 2 at MotorLand for the Grand Prix of Aragon before the teams and paddock move to a three weeks existence living and working out of freight cases for the 'triple' in Japan, Australia and Malaysia. "Looking on TV it seems super-exciting but we are often in a loop of 'hotel-track-bike'," the 47 year old smiles. "It's a routine, and almost like a normal job in the end. You can only stay in this world for a long time if you have the passion for it and if you enjoy it. It's tough and you need a lot of patience to do many years in racing."
Leonce has been wielding the spanners for teams in Grand Prix for thirty years and through a variety of motorcycles and technology. The KTM RC16 is his first Austrian charge and the progress through the bike's refinement in the hands of Catalan Espargaró has been nothing short of impressive: KTM cutting down a deficit per lap of more than two seconds at Qatar for the opening round and are now top ten runners and semi-regular runners in Q2 on Saturdays.
"The KTM is different because of that steel tubular frame chassis compared to the aluminum used by the Japanese," he says of the distinction of the fetching orange motorcycle. "At this stage we are constantly developing so it means a lot of new parts and chassis' and the bike can be tricky to work on. As soon as we have the settled base for 2018 we can then take care of the tiny details and it will be easier. You have to be able to work fast on a GP bike, and everything is assembled the same way. In the end it is a bike: chassis, engine and two wheels."
In between engines being started – the KTM RC16's rasping howl meaning we have to exit the pit box and continue our talk outside where we're flanked by staff moving in and out of race trucks and into the generous garage space – we probe more into Christophe's day-to-day role and that of the 30-40 crew around him …
OK, describe a typical Grand Prix schedule and workload …
"So, we arrive at the circuit Wednesday morning around 8-9am and start to build up the pit box and we're usually done before lunchtime. In the afternoon, we start on the bikes. It is then a day-and-a-half of work doing maintenance. One of the two bikes will be completely stripped, cleaned, checked and updated with new parts. We follow a spec sheet for the build and before we start the bike on Thursday Jenny, our data engineer, checks everything and all the sensors. After firing up the bike we check everything again. Always checking. On Friday, Saturday and Sunday we go through the same process: arrival at the circuit, starting and checking the bikes – things like the sensors and electronic parts and bleeding the brakes and clutch every day – then jobs like emptying and weighing the gas tank for consumption. Thirty minutes before practice we will start the bikes again with race fuel but still with 'transport' tires, which is rubber we use to move them around; the race tires stay in the back of the garage under the tire warmers. That last check also involves the computer system. Finally, we change the tires to race spec and then the bike is ready to go."
Which day tends to be busier or more frantic? The build? The stress of Qualifying? Or the nerves of the race?
"Qualifying and practice can be a bit more stressful because you don't want to make a mistake and you have to be smart and alert to what could happen. You almost have to be ready for things before they happen! Wednesday and Thursday are busier days and after that it is a matter of maintenance and small improvements. When you send the guys onto the track you should have eliminated any problems because of the checks but you can never reduce that risk to zero; you can never have everything under full control in motorsport."
What about breaking the whole structure down and packing the bikes? Are they transported in their entirety or are they dismantled?
"The bike is transported as it is. We don't break it down but we have to be careful because the engine uses a pneumatic valve system so we have to use a transport 'bottle' which is a tank with some air inside at low pressure to keep the valves in position. If you don't put the pressure then maybe you drop the valves. That's basically the only measure we take. There is no fuel in the bike but the water stays. Breakdown is just a process. You assemble it one way and disassemble it another. We usually do it all together as a team, and that's nice and quicker."
How is the relationship with Pol? Do you have much interaction with him?
"Pol is a young rider but he looks like he doesn't carry a lot of pressure. He seems to eliminate it with little jokes and laughing and it's pretty cool to have that. I've had riders that will come into the garage completely serious and not talk to anybody. It is a big difference for me. Pol is already very experienced so he makes suggestions. It's good to work with him."
The enormous Red Bull Energy Station is also new for 2017. It seems like the ideal place – it's certainly big enough – to take a suitable break from the garage …
"It is fantastic because you can go there and see different people who are not stressed by the racing and the crew there take great care of us. It's a nice place to go and relax when you have finished the job."
Lastly, Red Bull KTM is a new team so did it take some time to gel with the people around you? To find those processes?
"I'm happy about this because people have been in place a short time and many are new to KTM but have been busy testing and developing the bikes. Everybody kind of knows what he or she has to do and there is a good ambience. The team is young … but the people in the race team have many years of experience so they know the job. It is easier to take staff that know this world. New people can bring a lot of energy in the beginning but they also get to a point where they are like 'whoah', maybe because the results are not coming or the quantity of work but like I said the most important thing is to have passion for motorcycle racing."