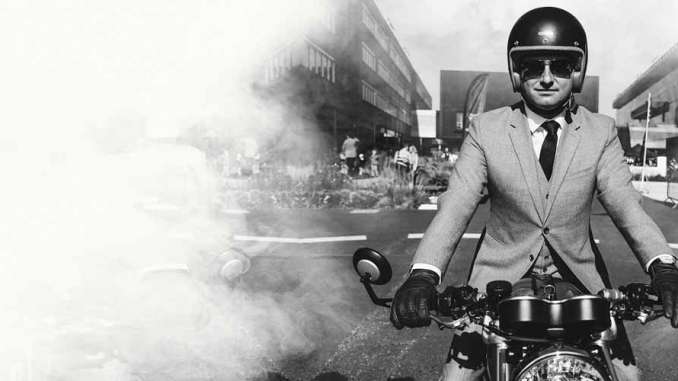 Fine lines and aesthetics are recurring themes in the TV architect's life away from the small screen as he customizes a growing collection of bikes, including his 'game-changing' Thruxton R. "Look and design are everything to me. I'd even compromise on performance for aesthetics," he jokes, before adding: "…depending on what the bike is for, obviously."
He's turned abandoned railway carriages, buses and even helicopters into the most desirable of homes, so it's no surprise that restoration and design are everything to George Clarke when it comes to motorcycles too.
George Clarke: TV Architect to Passionate Motorcycle Collector
"I love speed and off-road but sometimes just riding back from somewhere at a gentle pace and taking it easy is important because we live in an age where people are starting to appreciate style and build quality more."
Clarke, who grew up in a council house in 1970s Washington in north-east England, says his passion for house and interior design perfection has also been a millstone around his neck when it comes to finding the perfect ride.
"I've been obsessed with how things look all my life. To be honest it's one of the downfalls of being a designer that it has to be absolutely right or I won't buy it," he says. Impressive then that after a student youth spent dabbling with Vespas in a bid to follow in the tyre tracks of Jam legend singer Paul Weller, he's now an almost evangelical Triumph advocate.
So when and where did your love of motorcycles begin?
It was in Washington when I was 12. This bloke called Steve two doors up from me was 17 and had a garage 30 yards from my front door. He just loved bikes, building them and messing about with them, and I used to hang around and watch him all the time. I used to sit there at night with the lights on and watch this absolute bike nut tinkering.
I suppose I learned a lot from him without realising it at the time. Steve used to give me bike helmets and we would snip them and put stickers on them to make them look like something out of Mad Max… early customisation I guess. There was always a bit of the individual, the customiser in me, it seems.
Your earliest riding memories?
I used to ride a lot off road as a kid because you didn't need a licence. I had a very basic bike that I didn't mind smashing up and my mate had a 125… we spent endless carefree days messing around on those.
When I moved to London for my architectural degree I got into Vespas and mopeds, basically any second hand bike that allowed you to fly round the city for a few quid's worth of petrol. It was all about wanting to get around but look cool at the same time.
They were the days of Oasis and Britpop and there were mopeds all over the place. We looked good but the bikes were cheap as chips, easy to run and I was in debt up to my eyeballs thanks to a seven-year degree so anything I could just twist and go was perfect.
George Clarke: TV Architect to Passionate Motorcycle Collector
What was your first bike?
Once the love affair with riding began I had to have a bike and I saved to get a Honda Superdream which was absolutely immaculate… I look at it now and it looks a bit crap.
Then my dad's mate had a few big 1200s. He'd been in the army so that just added to the allure as I realised power was quite an important factor too.
Some of the bikes I had to start with were rubbish compared to what a lot of my mates are riding now. But as a kid anything I could swing my leg over was awesome.
My first grown up bike was a Ducati S2R 800cc, a proper bike. It was black with a red stripe down the tank, chunky and angry with that sporty edge perfect for cafe racing.
What was your ultimate dream bike though?
I always craved a classic Triumph Bonneville to ride around London, but I wanted a classic 1969 model… something really beautiful that I could bring back to life with a little bit of work. There's something about restoring a classic Triumph to its original glory and then making it even better, that's truly unique. Even if it's a classic bike rattling along, the look, feel and sound of it will still put a smile on my face.
George Clarke: TV Architect to Passionate Motorcycle Collector
What are you riding now?
I've got a Thruxton R and to tell you the truth it was a game changer for me, because I'd always wanted a bike that was more café racer with better build quality. I've changed the exhaust, tail tidy and made it look tighter. It's got a 1200 engine, small gearbox but it still looks tight and is super nimble around London.
If I pull up at a pub to meet my mates on it people come out and stand looking at it for ages. They're not interested in me, they just want to admire the bike, and that suits me fine. I recently went to a promo event in Piccadilly and turned up on it. The photographers were taking more pictures of the bike than they were of me. I've also got a Tiger Explorer XCA which I love to set free in the country. I've just got back from the Lake District with some mates and the mountain passes and off road routes meant I could chuck it around a bit. Fantastic!
So what's the allure of Triumph?
It's a British brand with legacy. Many brands have peaks and troughs but Triumph has always been consistent in its approach. You are buying into a legacy, you are buying a brand-new bike but also buying a piece of history.
There's a strong element of loyalty and tribalism with motorcycling. I feel proud to be associated with Triumph and I definitely wouldn't have agreed to be an ambassador if I didn't feel truly passionate about the brand. I know that makes me sound like a bit of a ___, but it's the truth.
If Triumph made a TV advert it would be all about pulling at your heart strings because any modern classic bike you buy now can be passed on to your son or daughter… and that's the same with all their bikes.
George Clarke: TV Architect to Passionate Motorcycle Collector
Architectural design and motorcycling aside, what other passions do you have?
I'm a massive Sunderland fan. We're going through a bit of a dodgy spell at the moment and the club doesn't seem to be being run very well. It's heartbreaking to see such a big club struggling, but we don't have a divine right to success. Whenever it gets too depressing to contemplate I just get out on my bike and try to forget it all.
We've got to ask, do you keep your bikes in an Amazing Space?
Ha ha, no. I get asked this a lot. I'm living in west London where garage space is ludicrously expensive so I just have a very boring and bland underground car park with enough CCTV and security to sink a battleship.
I wish I did have somewhere cool to keep my bikes and I haven't ruled out getting somewhere I can permanently keep them and show them off. If we ever decide to move out of London, that will be the number-one priority.
by For The Ride Magazine by Triumph