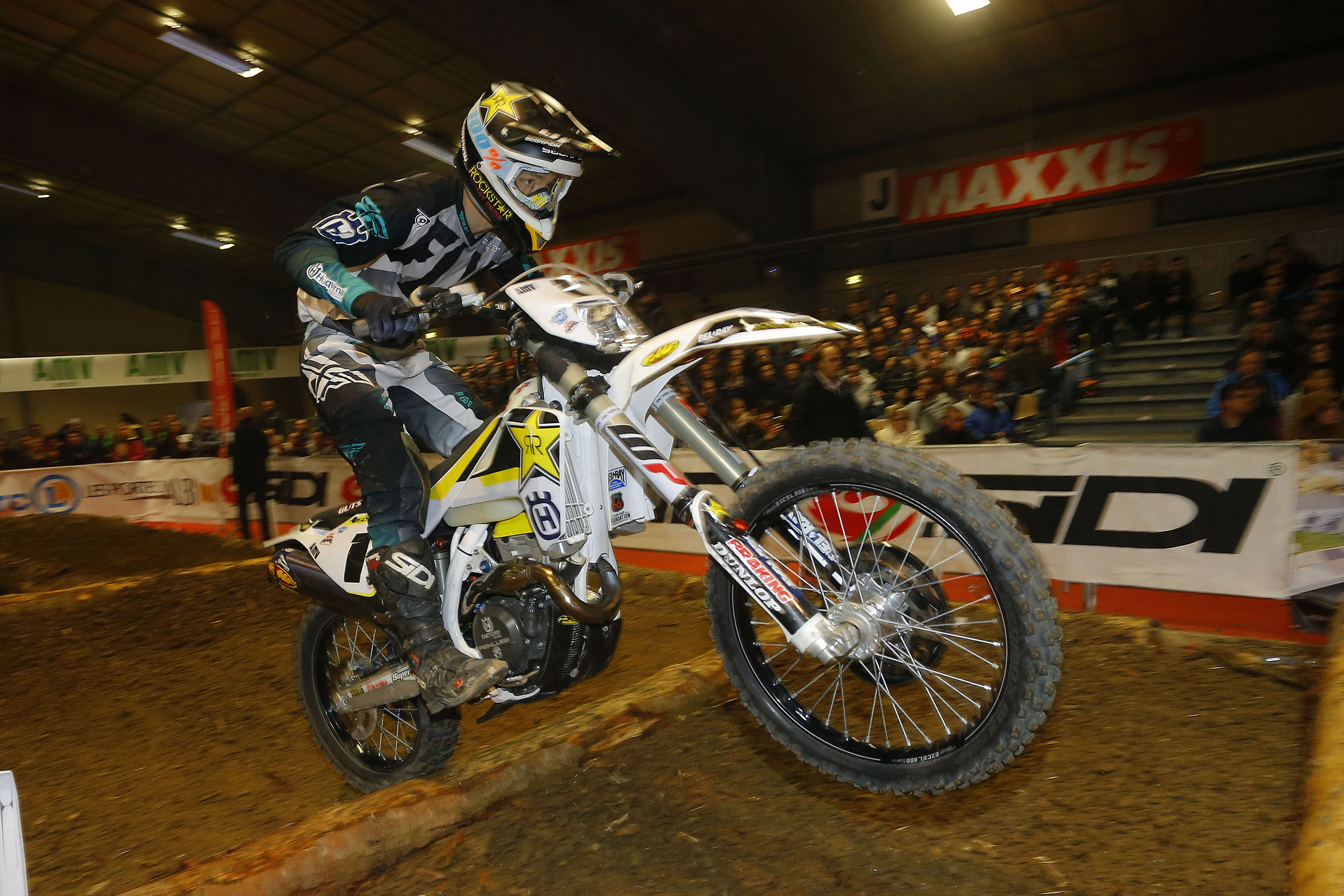 Featuring reigning SuperEnduro World Champion Colton Haaker, last year's runner-up Alfredo Gomez and promising rookie Billy Bolt, Rockstar Energy Husqvarna Factory Racing enter the five-round 2018 FIM SuperEnduro World Championship firmly focused on defending Husqvarna's status as a key player in the prestigious indoor enduro series.
For Rockstar Energy Husqvarna Factory Racing's Colton Haaker, the American returns to the series set on claiming the third SuperEnduro World Championship title of his career. Recovering from a recent elbow injury, which stopped him from defending his AMA EnduroCross Championship, Colton is highly motivated and looking forward to a positive return to SuperEnduro competition.
Further strengthening the Rockstar Energy Husqvarna Factory Racing team is 2017 FIM SuperEnduro World Championship runner-up Alfredo Gomez. Winning half of the rounds contested during last winter's series, the TE 300i powered rider will be a favourite for race wins in the upcoming championship.
Completing the Rockstar Energy Husqvarna Factory Racing SuperEnduro team is 20-year-old Billy Bolt. Following a strong season of Hard Enduro competition, the young Brit is all-set to make his SuperEnduro debut aboard Husqvarna's FE 350 machine.
Contested over five rounds in four different countries, the 2018 FIM Superenduro World Championship starts on December 9 in Krakow, Poland.
Colton Haaker: "I love the SuperEnduro series and I'm really looking forward to the start of the coming series. Defending the SuperEnduro championship is going to be tough but I am really motivated to give my best. It might not be ideal going into the championship following injury, but as long as everything goes to plan I should be in with a good chance of the title. With the series being spread out over a few months I'm hoping to build momentum as time goes on, ready to challenge for the title during the closing rounds."
Alfredo Gomez: "I am excited about getting my SuperEnduro campaign started. Winning half of the rounds last year, I proved I can consistently fight for the title. I learned a lot during the championship last year and I can't wait to make use of that experience. I am also really happy to have Colton and Billy as my teammates. We have a strong team and this gives some extra motivation to do well. Going into the championship my goal is clear – I want to start the season on a high in Poland and keep fighting for the World Championship all the way until the last round in Sweden."
Billy Bolt: "This is going to be my first season of SuperEnduro and I'm really looking forward to it. I've been following the series for many years and always wanted to do it. I've been training hard and improving in every little detail. It's good that there will be lots of good riders this year. I think we're going to have some good battles and I can't wait to be part of them. My goal going into Poland is to see where exactly I'm at, so that I can then gradually improve. I am confident that after Poland I'll know what to work on so that I can keep pushing and all being well challenge for podium results."