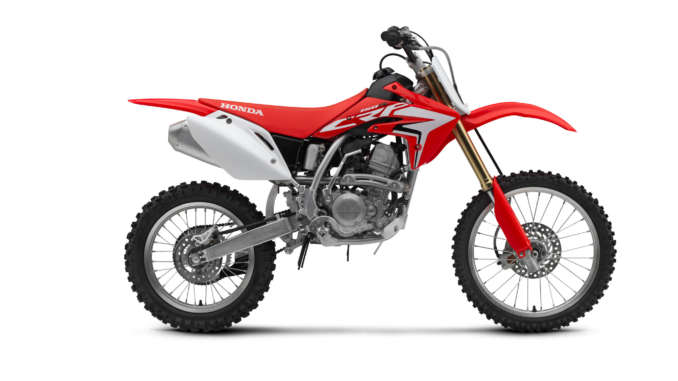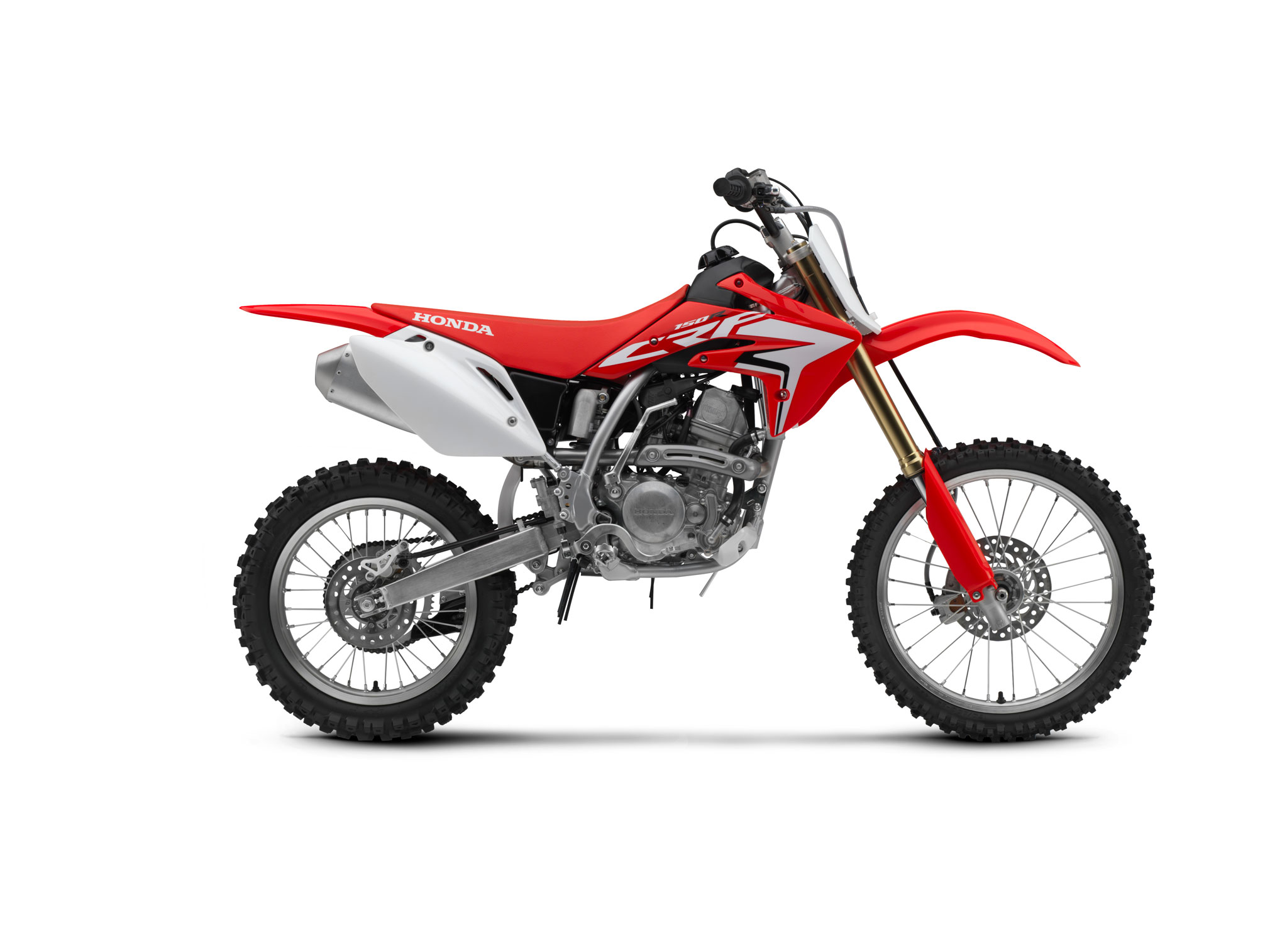 PERFORMANCE APLENTY.
2020 Honda CRF150R Expert:
CONFIDENCE RIGHT OUT OF THE GATE
A young rider's first motocross bike is the moment race dreams become reality. And no bike is built to help them find success, or the podium, like the Honda CRF150R. It's a competition quality machine, tailor-made for younger Red Riders. With a single-cylinder Unicam® engine that packs a punch, they'll ride with confidence right out of the gate. For taller riders there's the CRF150R Expert, with bigger wheels, a longer swingarm and higher seat. Two 150-class options to give the next generation of MX riders the strongest start possible.
Honda's smallest motocrosser delivers smooth, ample torque across the rev range thanks to its Unicam four-stroke engine—unique in the mini MX world. Showa suspension components include a rear shock working through a Pro-Link rear suspension system, and a 37mm inverted fork. The CRF150R is offered in both standard and Big Wheel versions, the latter featuring larger wheels, a taller seat height, and more rear suspension travel to better suit larger riders.
Premium Features
Bigger wheels and higher seat
Standard Features
149cc liquid-cooled single-cylinder four-stroke engine
Designed for smaller racers
2020 Honda CRF150R Expert Totalmotorcycle.com Key Features
Honda Announces 2020 Dirt Bikes – Performance updates to CRF250R highlight extensive CRF lineup
From the fire-breathing, high-flying CRF450RWE all the way down to the friendly, cute CRF50F, Honda's off-road motorcycle lineup is the most all-encompassing and versatile on the powersports market, a fact that was driven home when American Honda today made its first new-model announcement of the 2020 model year. With eight and four machines respectively, Honda's CRF Performance and CRF Trail families offer something for everyone, whether they be pro-level racers looking to give Ken Roczen and Cole Seely a run for their money, youngsters preparing for their first two-wheel forays, or anyone in between.
The newest iterations of Honda's proven full-size motocross models—the CRF250R and CRF450R, as well as the elite CRF450RWE—all receive important upgrades to raise performance levels even higher, while the CRF150R mini is back again in 2020. The CRF450RX and CRF250RX closed-course off-road racers benefit from the same improvements as their track-focused siblings, while the CRF450X off-roader and CRF450L dual-sport machine return for the new model year with updated graphics. At the other end of the spectrum, the approachable, fun 2020 CRF250F, CRF125F, CRF110F and CRF50F await recreational riders with trail-focused performance and proven reliability.
"For generations, Honda has demonstrated its commitment to the dirt bike market, and that's never been truer than now," said Chris Cox, American Honda's Manager of Experiential Marketing/Press. "Our 2020 lineup of off-road models, including the CRF Performance and CRF Trail families, comprises machines that are top-of-class for motocross, off-road competition, trail riding and, in the case of the CRF450L, even using streets to extend off-road adventures. With such a capable and diverse collection of motorcycles, you can once again expect to see a lot of red on tracks and trails from coast to coast."
CRF PERFORMANCE LINE
Last year saw Honda significantly expand its CRF Performance family to include machines for riding applications including motocross, closed-course off-road, pure off-road, and even dual sport. For 2020, a number of models in the lineup get important upgrades to keep Red Riders running at the front of the pack.
CRF TRAIL LINE
Motorcycling is armed with legions of riders who got their start on Honda trail bikes, and with the 2020 lineup of CRF Trail models, that trend is sure to continue long into the future.
2020 Honda CRF150R Expert Totalmotorcycle.com Features and Benefits
Engine/Drivetrain
High-performance Unicam cylinder-head design
Compact, lightweight engine assembly weighs only 43.6 pounds
Twin-sump lubrication system separates the oil supply for the crankshaft, piston and valve train from the clutch and transmission. This ensures a supply of cool oil to the clutch, eliminates potential clutch and transmission material contamination of the engine oil, reduces the amount of circulating oil, and permits the use of a smaller oil pump
Cylinder head, piston, camshaft, and carburetor provide power, torque, and rideability throughout the powerband
Lightweight, compact, internal auto decompression and handlebar-mounted hot-start system provide easy starting, hot or cold
32mm Keihin FCR carburetor with an accelerator-pump circuit provides accurate fuel metering, resulting in crisp throttle response and good rideability throughout the powerband
Suspension settings provide good action through even the toughest of track conditions
Exhaust system uses a lightweight stainless-steel header and re-packable aluminum muffler
Durable close-ratio five-speed transmission\
Chassis/Suspension
Front and rear suspension settings unique to the CRF150R deliver ideal bump-absorption characteristics
Lightweight, high-tensile steel frame with large-diameter frame tubing and cross-member provides excellent turning performance and straight-line tracking
37mm leading-axle inverted Showa cartridge fork features friction-reducing design to improve compression and rebound control
Pro-Link rear suspension
Strong, lightweight wheels are durable and minimize unsprung weight
Lightweight front and rear disc brakes with high-performance pads offer powerful, precise braking
Stout 15mm front and 17mm rear axles incorporate a surface-treatment for added strength and durability
Large-capacity airbox and reusable two-stage foam air filter
Lightweight plastic body components (radiator shroud, side covers, rear fender, seat base, fuel tank, front fender, and front number plate) offer a slim, aggressive style
High-quality Dunlop tires
HRC works-type rear-brake system integrates the rear master cylinder and fluid reservoir, eliminating the separate rear master-cylinder reservoir and hose
POWER
UNICAM® ENGINE
The CRF150R uses a Unicam engine based on our championship-winning CRF450R. Designed to give you excellent rideability and more power and torque across the rev range, the engine runs consistently at different tracks—it's an all-around winner.
PERFORMANCE
ACCELERATOR PUMP
The CRF150R uses a carburetor featuring a "direct push" accelerator pump which gives you better, more immediate throttle response.
HANDLING
TRACK-DESIGNED CHASSIS
A lightweight, high-tensile steel frame with large-diameter frame tubing and crossmember delivers excellent turning performance and straight-line tracking.
PRO-LINK® REAR SUSPENSION
The CRF150R's Pro-Link® rear-suspension system features a fully adjustable Showa® shock for superb bump absorption and wheel control.
SHOWA® SUSPENSION
The adjustable 37mm leading-axle inverted Showa® cartridge fork features specially tuned valving for small bumps and a friction-reducing design to improve compression and rebound control.
ENGINEERING
FRONT DISC BRAKE
The front disc brake provides powerful, precise braking.
LIGHTWEIGHT WHEELS
Strong, lightweight wheels are durable and minimize unsprung weight.
REAR DISC BRAKE
The rear disc brake provides powerful, precise braking.
STYLE
BIG-BIKE MX GRAPHICS
The CRF150R features clean, bold, bright graphics that look like our CRF450R's. Look like a pro, ride like a pro.
2020 Honda CRF150R Expert – Totalmotorcycle.com USA Specifications/Technical Details
US MSRP Price: starting from $5299 USD
Canada MSRP Price: $6299 CDN
Europe/UK MSRP Price:  £ GBP (On The Road inc 20% Vat)
ENGINE
Engine Type 149cc liquid-cooled single-cylinder four stroke
Bore And Stroke 66mm x 43.7mm
Compression Ratio 11.7:1
Valve Train Unicam, four-valve; 26mm intake, steel; 22.5mm exhaust, steel
Induction Keihin 32mm flat slide with Throttle Position Sensor (TPS)
Ignition Solid-state CD with electronic advance
DRIVE TRAIN
Transmission Close-ratio five speed
Final Drive #420 chain; 15T/50T
CHASSIS SUSPENSION BRAKES
Front Suspension
37mm fully adjustable leading-axle inverted Showa® cartridge fork; 10.8 inches of
travel
Rear Suspension Pro-Link fully adjustable Showa single shock; 10.7 inches of travel
Front Brake Single 220mm disc
Rear Brake Single 190mm disc
Front Tire 70/100-19 Dunlop MX51
Rear Tire 90/100-16 Dunlop MX51
DIMENSIONS
Rake (Caster Angle) 27° 48′
Trail 3.8 inches
Wheelbase 50.6 inches
Seat Height 34.1 inches
Ground Clearance 11.9 inches
Curb Weight
187 pounds (Includes all standard equipment, required fluids and full tank of
fuel–ready to ride.)
Fuel Capacity 1.11 gallons
OTHER
Emissions Consult owners manual for optional racing parts.
Available Colors Red
Model ID CRF150RB
2020 Honda CRF150R Expert – Totalmotorcycle.com Canada Specifications/Technical Details
Engine & Drivetrain
Engine type
Liquid-cooled single-cylinder 4-stroke
Displacement
149.7 cc
Bore & stroke
66 mm x 43.7 mm
Compression ratio
11.7:1
Valve train
Unicam, four valves
Fuel delivery
Keihin 32 mm flat-slide carb with throttle position sensor
Transmission
Close-ratio five-speed
Final drive
#420 O-ring-sealed chain; 15T/50T
Chassis & Suspension
Front suspension
37 mm fully adjustable inverted Showa cartridge fork; 241 mm (9.5 in.) travel
Rear suspension
Pro-Link® fully adjustable Showa single shock; 282 mm (11.11 in.) travel
Dimensions & Additional Information
Tires
Front: 70/100-19
Rear: 90/100-16
Brakes
Front: 220 mm disc with dual-piston caliper
Rear: 190 mm disc
Ground clearance
336 mm (13.2 in.)
Seat height
866 mm (34.1 in.)
Wheelbase
1,285 mm (50.6 in.)
Curb weight
84.4 kg (186 lb.) including required fluids and full tank of gas—ready to ride
Fuel capacity
4.3 L
Colour
Extreme Red
2020 Honda CRF150R Expert – Totalmotorcycle.com European Specifications/Technical Details
Manufacturer Specifications and appearance are subject to change without prior notice on Total Motorcycle (TMW).