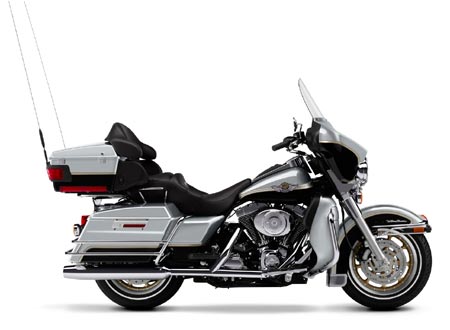 Back to 2002 Harley-Davidson Motorcycle Index Page
Click photo to enlarge.
It makes a great desktop image.


2003 Harley-Davidson FLHTCUI Ultra Classic Electra Glide

 
– 2003 Harley-Davidson FLHTCUI Ultra Classic Electra Glide

The fully dressed touring experience is realized with the Ultra Classic® Electra Glide®. With electronic cruise control, 40-watt per channel, 4-speaker stereo, AM/FM/WB compact disc player, separate passenger radio controls, CB, intercom and headset, riders are ready for the long haul. Effective lower fairings come standard and shield you from the elements while offering convenient storage compartments and great looks. The King Tour-Pak® luggage components are carpet-lined and come with soft luggage liners as well as dual tail/stop lights for added visibility and style.
Key FLHTCUI Ultra Classic® Electra Glide® characteristics
-Bat-wing, fork-mounted fairing
-Lower fairings with storage compartments
-Fiberglass saddlebags and deluxe King Tour-Pak®
-Fabric-lined Tour-Pak
-Dual tail/stop lights
-Custom-fit soft luggage liners
-Plush seat and passenger backrest
-Full instrumentation
-40-watt per channel, 4-speaker stereo
-CB and intercom
-Electronic Cruise Control
-Electronic Fuel Injection, standard
-Vibration-isolated, Black and Chrome Twin Cam 88® Engine
-Triple-disc brakes
-Air-adjustable rear touring suspension
SPECIFICATIONS:
2003 Specifications1 FLHTCUI Ultra Classic® Electra Glide®

DIMENSIONS
Length 98.3 in. (2496.8mm)
Seat Height (measure laden w/ 180 lb. rider) 27.3 in. (693.4 mm)
Seat Height (unladen) 30.7 in. (779.8 mm)
Ground Clearance 5.1 in. (130.0 mm)
Rake 26.0 degrees
Trail 6.2 in. (157.5 mm)
Wheelbase 63.5 in. (1612.9 mm)
Tires: Dunlop Harley-Davidson Series
Front – D402F MT90B16 72H
Rear – D402 MT90B16 74H
Fuel Capacity (includes 1.0 gal. reserve) 5.0 gal. (18.9 L)
Reserve Fuel Capacity (warning light @ approx. 1.0 gal.) 1.0 gal. (3.8 L)
Oil Capacity 4.0 qts. (3.8 L)
Dry Weight 788.0 lbs. (357.8 kg)
Vehicle Weight In Running Order (unladen) 831.1 lbs. (377.3 kg)
Gross Vehicle Weight Rating 1259.0 lbs. (571.6 kg)

ENGINE
Engine 45º Air-cooled Twin Cam 88® (vibration isolation-mounted)
Valves Pushrod-operated overhead valves; w/ hydraulic
self-adjusting lifters; two valves per cylinder
Bore x Stroke 3.75 x 4.0 in. (95.25 x 101.6 mm)
Displacement 88 cu. in. (1450 cc)
Compression Ratio 8.9:1
Fuel System Electronic Sequential Port Fuel Injection (ESPFI)
(single runner, 45 mm throttle bore ESPFI)

DRIVETRAIN
Primary Drive Double row chain, oil bath,
mechanical tensioner, 36/25 ratio
Final Drive Gates carbon fiber reinforced
polychain belt, 32/70 ratio
Clutch 9-Plate, wet
Transmission Five-speed
Overall Ratio::
1st 10.110
2nd 6.958
3rd 4.953
4th 3.862
5th 3.150

CHASSIS
Frame Mild steel, rectangular section backbone
w/ twin down-tubes
Swing Arm Conventional rectangular
Front Fork Telescopic cartridge-style damping
Rear Shocks Air-adjustable
Wheels 9-hollow spoke, cast aluminum alloy (laced option)
except two-tone silver/black gold cast only
Brakes:
Caliper type Dual-piston front and rear
Rotor type (diameter x width): Patented, Uniform Expansion Rotors
Front (DUAL) 11.5 in. x .20 in. (292.1 mm x 5.08 mm)
Rear 11.5 in. x .23 in. (292.1 mm x 5.84 mm)
Suspension travel:
Front 4.6 in. (116.8 mm)
Rear 3.0 in. (72.6 mm)

PERFORMANCE
Engine Torque (per SAEJ607)2:
North America 86.0 ft. [email protected] 3500 rpm (116.6 NM @ 3500 rpm)
International 81.0 ft. [email protected] 3100 rpm (110.0 NM @ 3100 rpm)
Lean Angle (per SAEJ1168):
Right 31.0 degrees
Left 30.0 degrees

ELECTRIC
Battery Sealed, maintenance-free, 12-volt, 30 amp-hour, 270 cca
(per Battery Council International rating)
Charging 44-amp permanent magnet alternator w/ solid-state regulator
(572 watts @ 3000 rpm, 585 watts peak)
Starting 1.2 kw electric w/ Bendix-tpe engagement
Lights: (As per country regulation)
Headlamp Quartz halogen, 55-watt low beam, 60-watt high beam
Passing lamps 2 @ 35w (except where prohibited by law)
Tail/stop lights 3 each @ 28w (int'l: 21w)
Turn signal lights (self-canceling) 28w (int'l: 21w)
Indicator lamps High beam, passing lamps, neutral, oil pressure,
engine diagnostic light, low fuel warning, cruise control,
speakers, accessory, turn signals, and security system (optional)3

STYLING/CONVENIENCE
Engine Trim Black powdercoated w/ chrome covers
Exhaust System Chrome crossover duals, blunt-cut mufflers
Ignition Tank console-mounted
Seat Extended comfort; plush, pillow-look;
accepts available driver backrest
Passenger Backrest Integrated in Tour-Pak lid w/ wrap-around armrest
Foot Supports Full-length operator floor boards
w/ heel-toe shifter lever
Fairing Fork-mounted "Bat Wing"
Fairing Air Deflectors Clear Lexan w/ hand-removable fasteners
Lower Fairings Fiberglass; removable; integral glove boxes
Windshield Clear Lexan
Glovebox 2 located in lower fairings w/ snap-covers
Instruments Electronic Speedometer and tachometer; fuel gauge; voltmeter;
oil pressure gauge; clock (integrated in stereo);
ambient air temperature gauge; odometer and resettable trip meter
Stereo Premium Sound System (40 watts per speaker) w/ AM/FM/CD player,
fairing-mounted speakers, Weather Band, digital clock, radio controls for
passenger, bi-directional seek and scan, music search and music scan,
4 presets and automatic volume control w/ adjustable sensitivity
Aux. Audio Input On radio face; will accommodate any line-level audio
output device, like personal CD or MP3 player
Antenna Twin AM/FM/WB and CB antennae
Rear Speakers Integral w/ passenger backrest
Intercom Push-to-talk, or voice-activated w/ adjustable sensitivity
CB 4-Watt, 40-Channel electronically tuned CB
(prohibited in some countries) w/ passenger controls
Headset/headset receptacles Driver and passenger stereo helmet headset
receptacles for CB/intercom/sound system
(use restricted in some states and countries; single headset included)
Cruise Control Electronic w/ set, resume, accelerate and decelerate functions
Handlebar Controls Start; engine cutoff; L/R turn signals; horn;
hi/low beam; sound system audio and channel control,
CB/intercom and cruise control
Hazard Warning Integrated w/ turn signal controls
Electrical Power Outlet Cigarette lighter;
4-pin accessory connector beneath seat
Tour-Pak Deluxe, fiberglass, side-hinged w/ capacity for 2 full-face helmets,
fabric-lined interior, custom-fit woven-nylon soft luggage liners,
storage pocket, and integral wraparound rear tail/brake lights,
volume: 2.5 cu. ft. (75L)
Saddlebags Fiberglass w/ hinged lids and slant chrome latches,
custom-fit woven-nylon soft luggage liners,
chrome dual-rail saddlebag guards volume: 1.2 cu. ft. (36L) per bag
Luggage Locks Tour-Pak and saddlebag barrel-key; common w/ ignition
Fork Lock Barrel key, common w/ ignition
Gas Cap Lock Barrel key, common w/ ignition

COLORS4
Two-Tone Sterling Silver and Vivid Black, Vivid Black, Gunmetal Pearl
Luxury Blue Pearl, Luxury Rich Red Pearl, White Pearl

WARRANTY
Warranty5 12 months (unlimited mileage)
Service Interval First 1,000 miles (1,600 Km);
every 5,000 miles (8,000 Km) thereafter.
— Inspections of certain systems and components are required at 2,500 mile (4,000 Km) intervals —

1Harley-Davidson reserves the right to discontinue models or change specifications at any time without incurring
any obligations. Vehicle specifications may vary from country to country depending on local laws, and
some models are not available in certain countries. All models feature 5-speed transmission and carbon
fiber belt final drive; 40 mm constant velocity carburetor with enrichner and accelerator pump (except
Electronic Sequential Pat Fuel Injection Models); and multi-plate clutch with diaphragm spring in oil bath.
2Values are nominal. Performance varies by country.
3North American security system includes immobilizer; outside North America the security system includes
immobilizer & siren.
4Availability may vary from dealer to dealer, and is subject to change without notice.
5See motorcycle owner's manual for complete details.