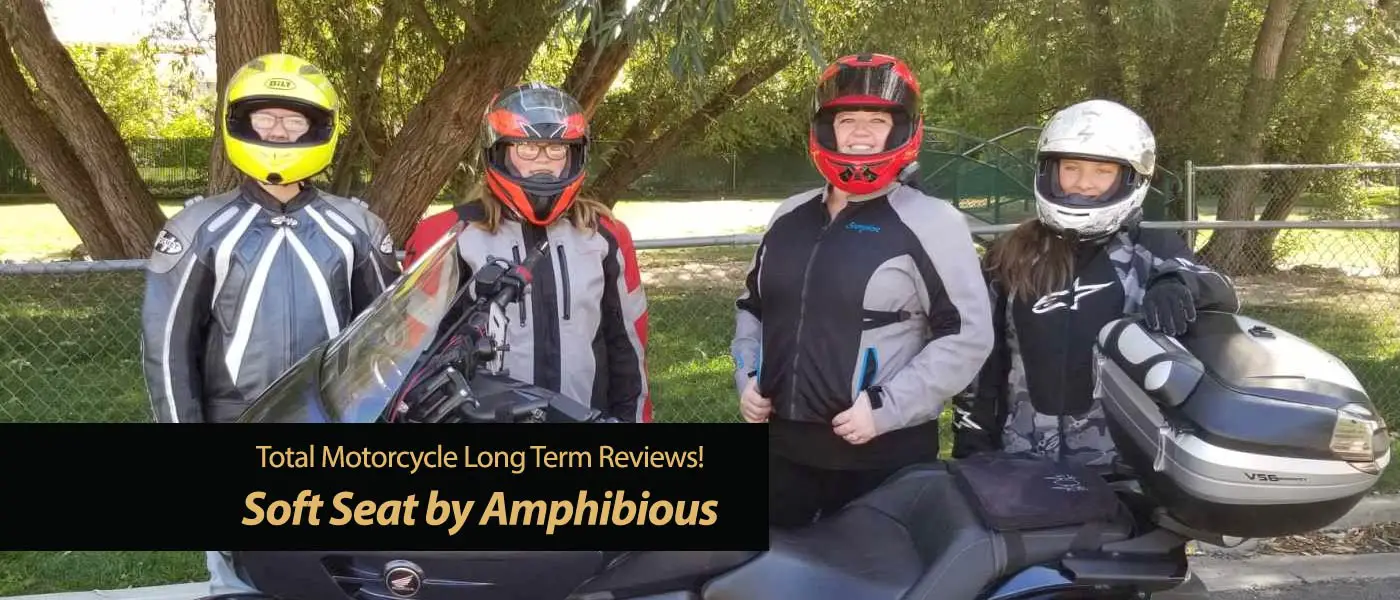 Total Motorcycle reviews the Amphibious Soft Seat. For added comfort on those long road trips or to make your daily commute just a little more enjoyable. Easy to install, self-inflating, universal adjustable fit and has neutral coloring to match most bikes. This is a good option. Read on to see our thoughts on why this product is necessary and how it performed for us.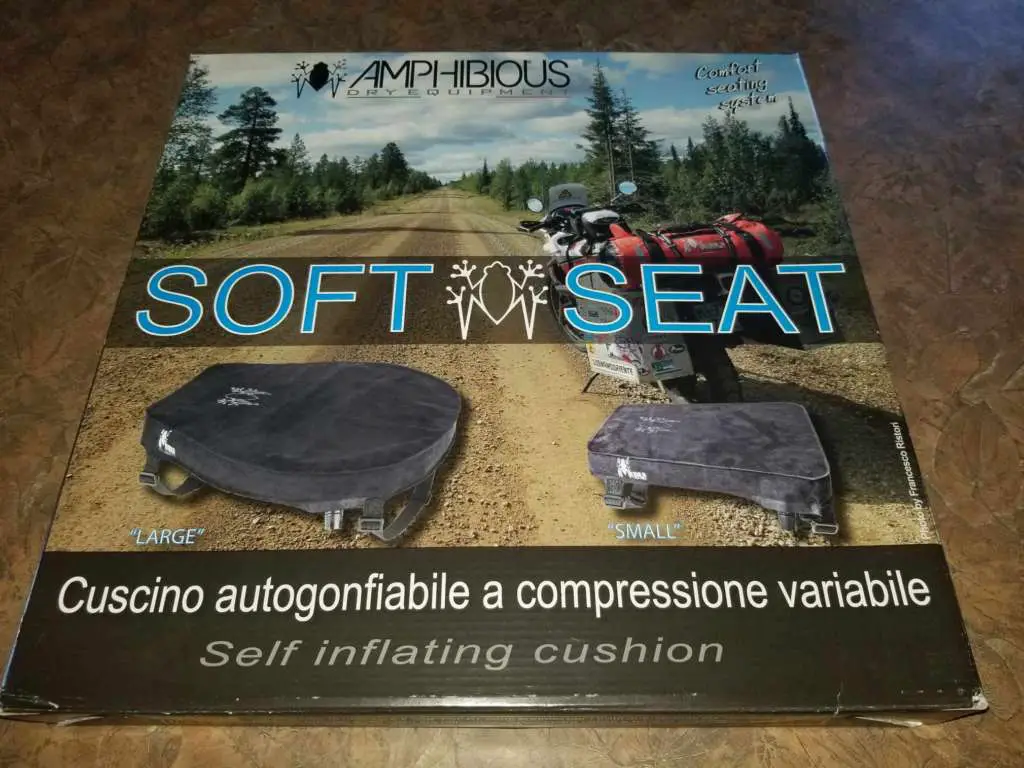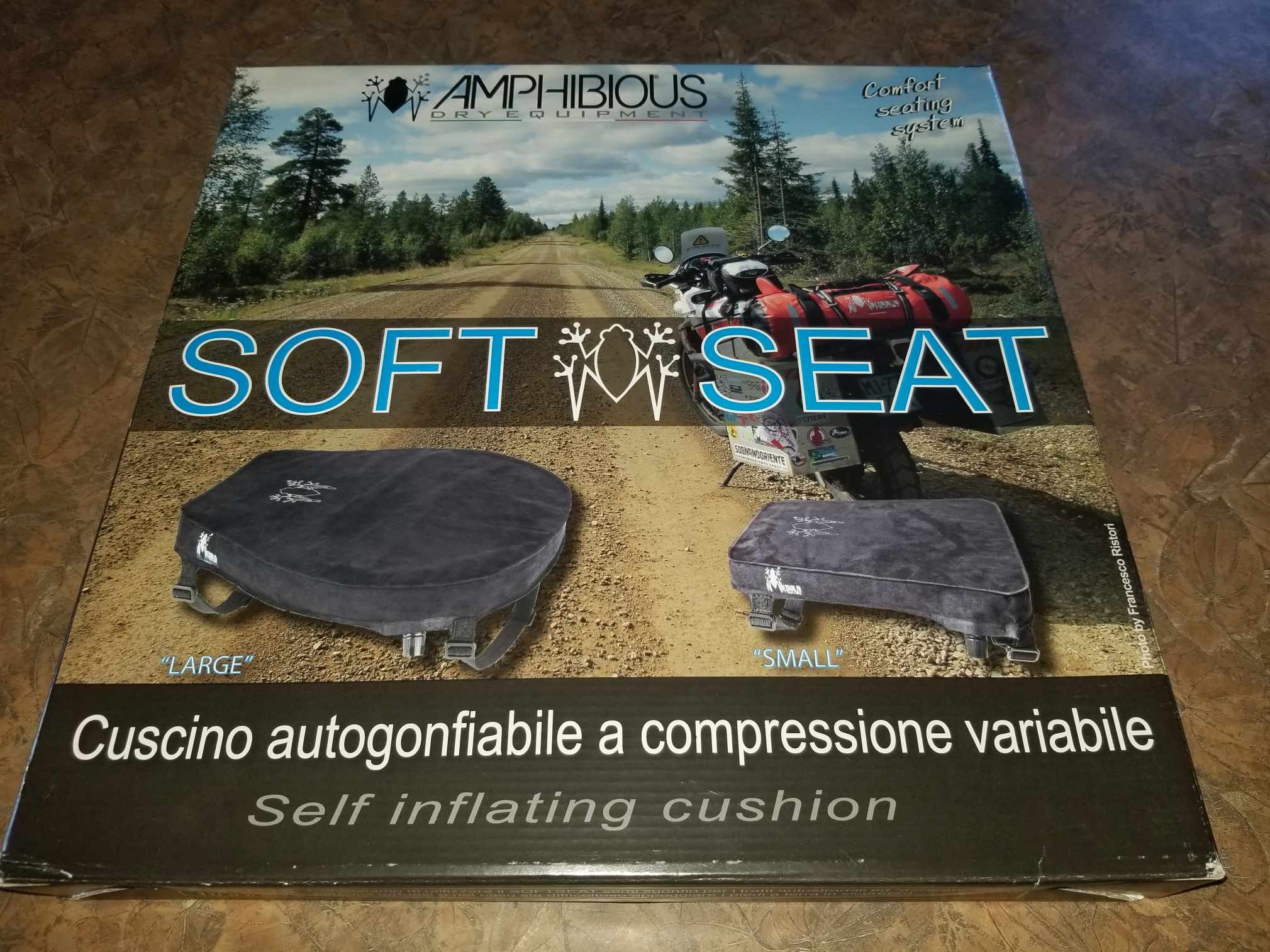 | | |
| --- | --- |
| Reviewers: | Carrie Leaverton & 3 Independent Riders |
| Motorcycle Product was tested on: | 2014 Honda CTX 1300 |
| Dates Tested: | July 12th, 2019 – August 31st, 2019 |
| Price Point: | $79.95 USD |
| Size: | Small |
| | |
What is a Soft Seat?
Essentially, a Soft Seat is an air bag for your rear that attaches to your motorcycle seat. The pad comes in multiple sizes to accommodate different seat sizes. Large for the operator's seat, small for the passenger's seat. We opted to try the size small as sometimes our passengers are less enthused about a long day on the bikes. If you've ever been a passenger or ridden with one you'll know exactly what I mean. It's harder to get comfortable on the back and you have less opportunity to move around when in motion.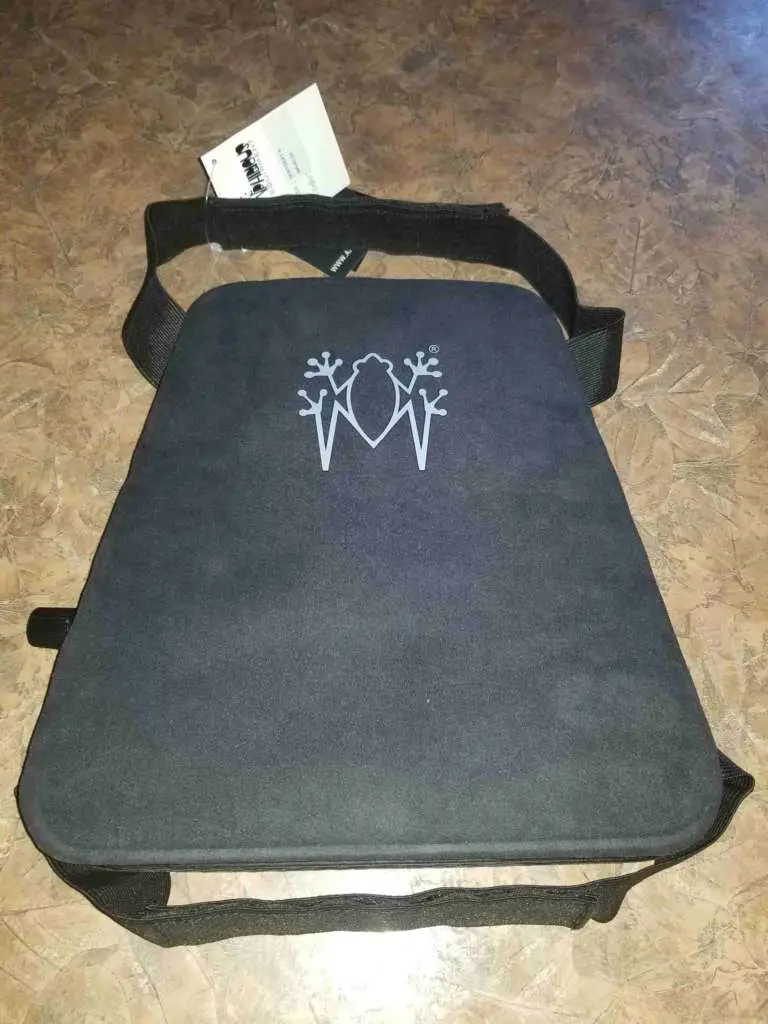 'A fix is more than worth the investment. Amphibious Dry Equipment created the Soft Seat for just that reason.'
Do you need a seat pad?
My first thought was…'Who really needs a Soft Seat pad?' That my friends is an open ended question. If you're in the market already, that tells me you definitely need an upgrade to improve your quality of life when in the saddle. After all, motorcycle riding is about the experience. It's more about where the ride takes your mind than your destination.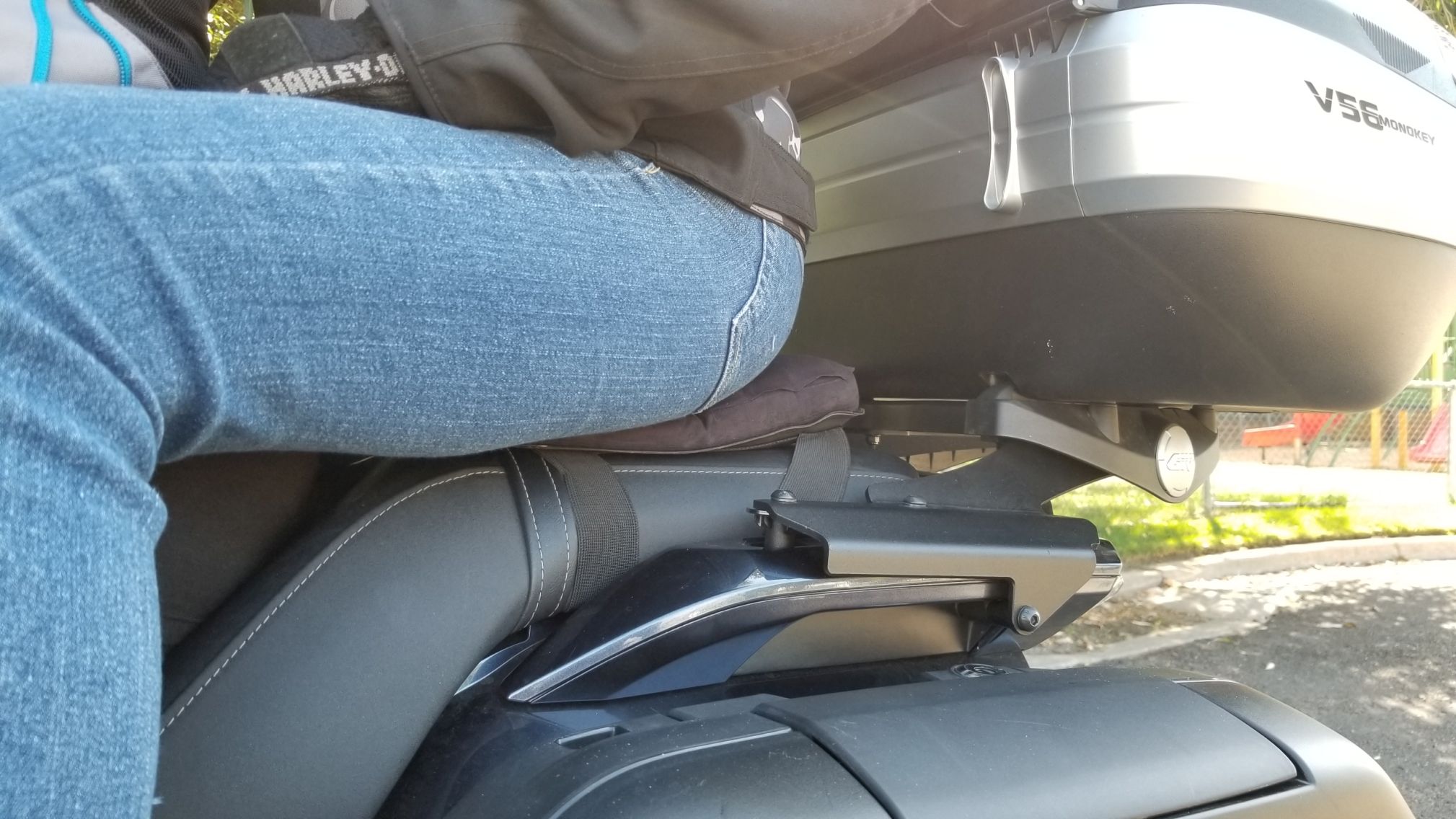 When riding, if you or your passenger's rear, lower back, or legs are uncomfortable, you're thinking about your discomfort. The reason we ride is to experience freedom. The thrill of the adventure. That peaceful open road. If your body is in agony the day after a ride and you opt to stay home in lieu of riding… A fix is more than worth the investment. Amphibious Dry Equipment created the Soft Seat for just that reason.
What Other Options are Available?
First, what type of motorcycle do you ride? Are you using it for it's intent? While many type of motorcycles are marketed as dual sport machines, many models are not. Maybe you purchased a bobber style motorcycle for around town enjoyment, but recently discovered a hunger for the open road. You may want to invest in a bike that has better suspension. Not to mention a larger gas tank. If you're traveling on your tourer or cruising on your cruiser and still have tinges of body pain or discomfort, you can always consider some foot peg, lever or handlebar adjustments.
Next is your saddle.  Aftermarket saddles are a thing. Corbin, Sargent, Mustang etc. Everybody has a recommendation. There's a man in Washington state that will make you a custom seat based on the pressure points of your rear end, after necessary measurements and analysis for fit of course! We've known riders to make a whole road trip out of the ordeal, waiting in a hotel for a couple nights for the saddle to be created. But these options are pricey. You can order a complete new saddle, or send in your current saddle to have it redone and wait for it to be shipped back to you. You'll pay several hundred dollars to just over a grand, depending on style, make and model. That brings us to the easier, more cost effective and strategic plan of using a Soft Seat versatile pad on top of the seat you already have.
Soft Seat Unboxing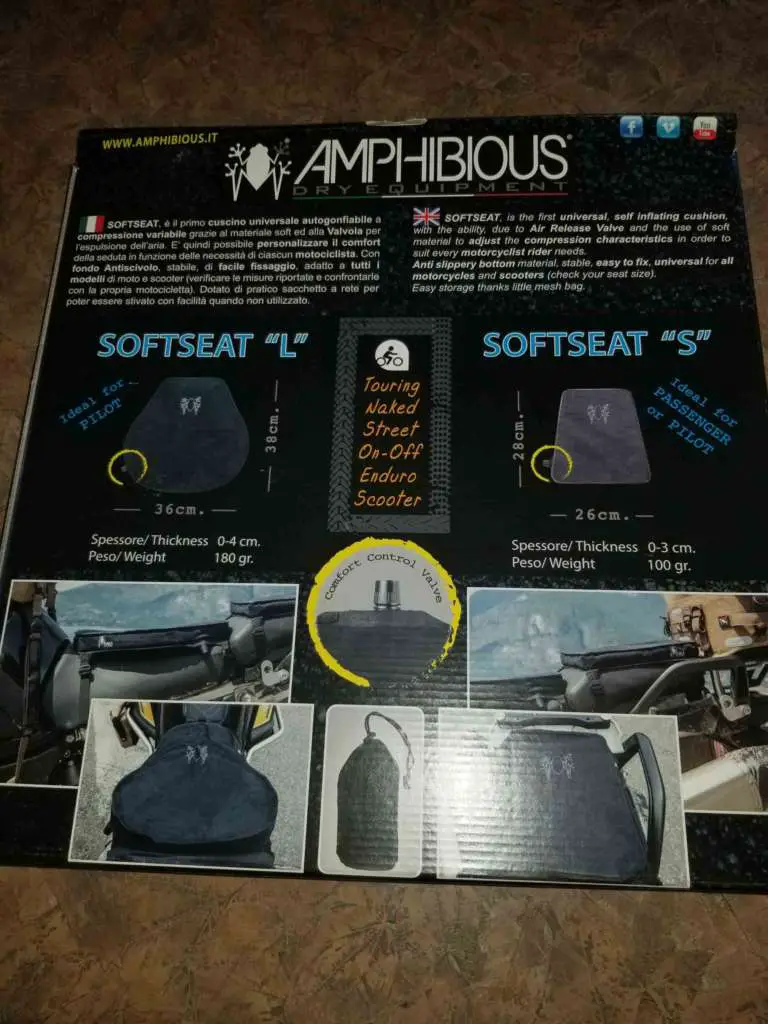 The Amphibious Soft Seat design is simple yet brilliant. It appears to be made out of quality suede like material that is soft to the touch yet seems durable and rugged. It has adjustable Velcro straps that wrap around the seat for optimum fit. In most cases, the saddle will have to be removed to accomplish this.
On the side is an easy to operate air valve. When you open the valve and push on the bladder, air escapes. When you release pressure, the pad self inflates. No need to blow it up yourself. When you screw the valve to the lock position the pad holds the air inside and can be easily deflated when in motion to achieve maximum comfort.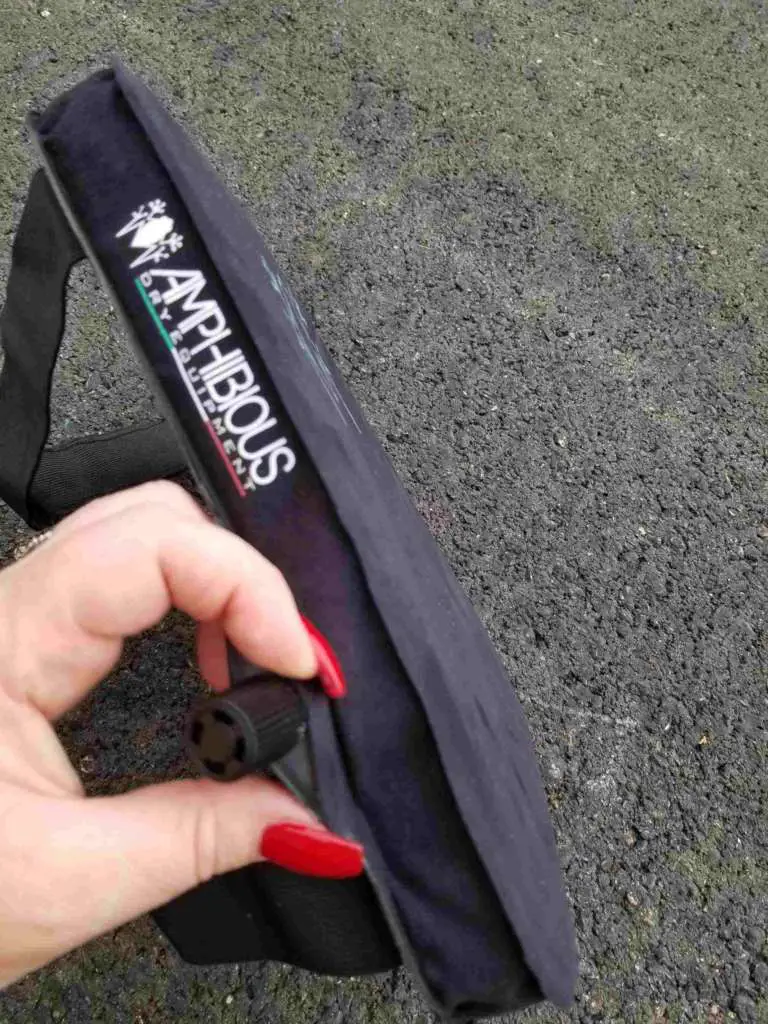 I immediately associated the Soft Seat with the kind of seat pad you'd see at High School sporting events. The kind where a spectator comes prepared for hours of sitting on metal bleachers. It's a simple invention that can provide welcome comfort when the need arises.
The dimensions are 28H x 26L and 0-3 cm thick. It weighs 100 grams.
Before we start…
Full disclosure, Eric and I ride a lot. The more comfortable we are the more we'll want to go. Going more equals more adventure and so on.
Our children are all teenagers now. Although it's not usually cool to hang out with mom and dad… It's cool to hang out when we take the bikes! Especially when we go on trips. Obviously, when we travel with one of the kids their comfort and safety is our biggest concern. They've been getting bigger and they're ready to travel farther, so Eric and I agreed on a couple necessary upgrades.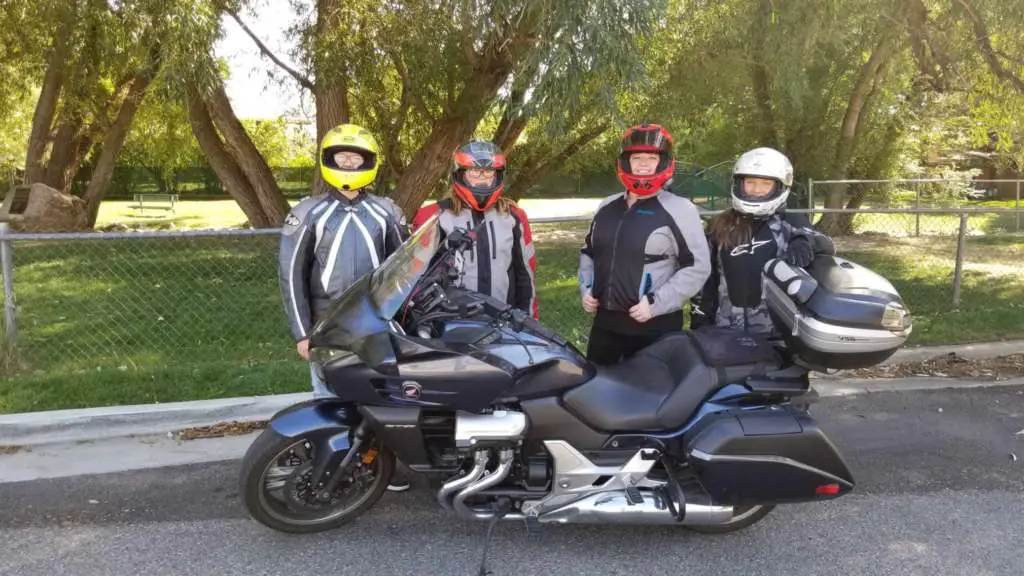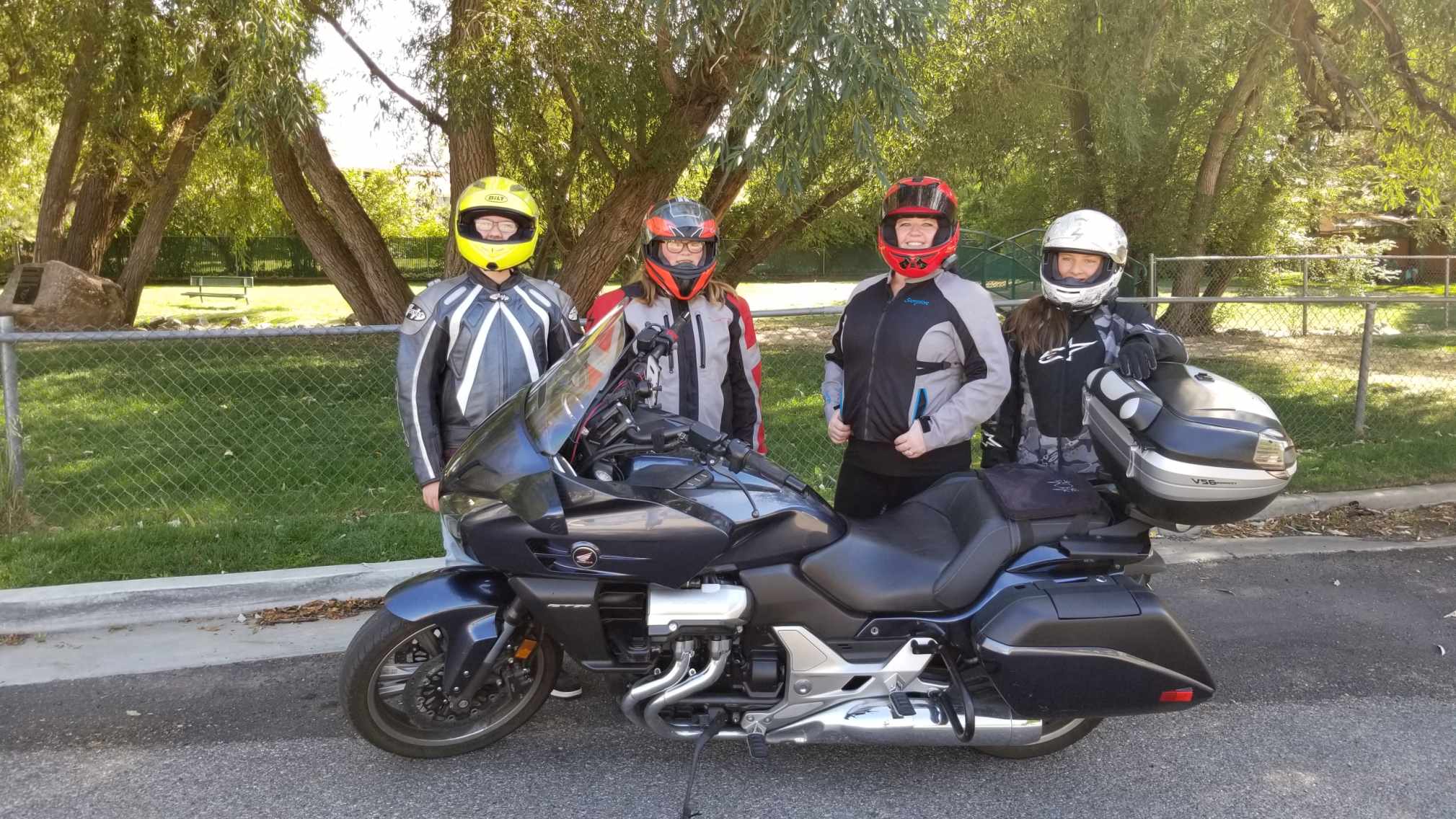 I made the jump from my Honda Shadow 750 (small pillion) to a Honda CTX 1300 (big pillion). It's so much better for long trips with the kids in tow. The CTX is big and comfy and has enough power to carry rider and an adult sized passenger as far as we care to go without a hitch. As my kids have spent many miles on a  pillion, I consider all three of them to be very accomplished motorcycle passengers. I was excited for them to try their cheeks on the Amphibious Soft Seat on my  new bike with an already comfortable seating and riding position then compare their reviews!
Installation
The plug and play installation process is as easy as removing your seat. On my bike it's a simple twist of a key, slide the seat in the proper direction and remove. Put the pad where you'd like it and apply the velcro straps around the back. Being mindful of where the seat components come together, of course. Slide the seat back on and listen for the snap in place. Verify the placement is correct and off we go! I've owned bikes in the past where tools are necessary though, making this process much more time consuming.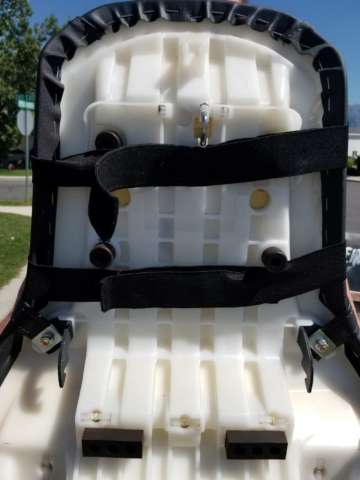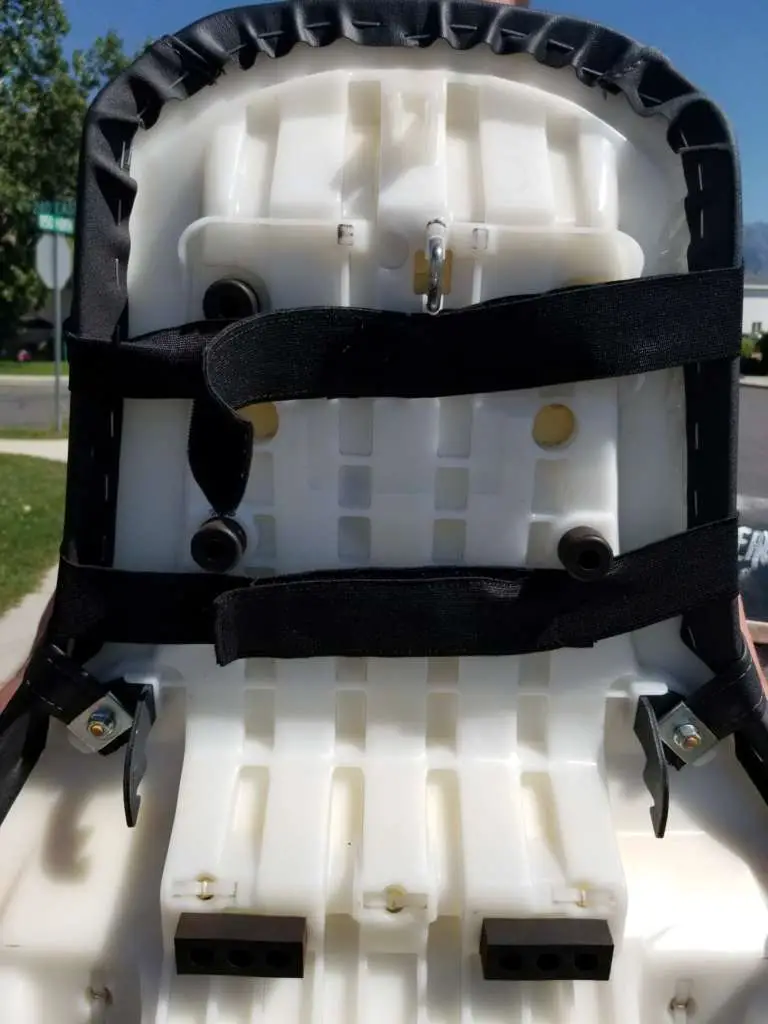 It's occurred to both Eric and I that this pad could be used for padding on the go. Such as when you take the bikes to your child's sporting events. (Oh how they love to see the bikes parked up front at games…) Remove the Soft Seat and put it on the bleachers. Motorcycle Camping.. Ever spend a weekend camping with nothing to sit on but a tree stump or a rubberized expanded steel camp table bench?  Or when you go to an outdoor bbq at that one family member's house. You know, the one who never has enough chairs for the masses and you pop a spot in the grass. Score for an easy to carry adjustable seat pad that just so happens to be already on your bike.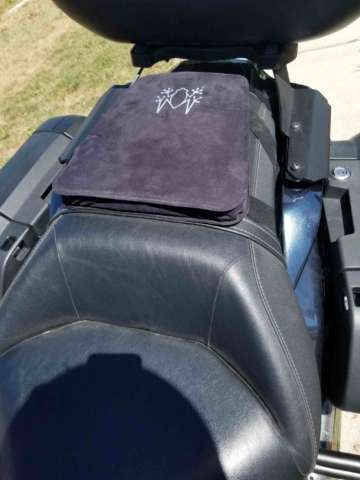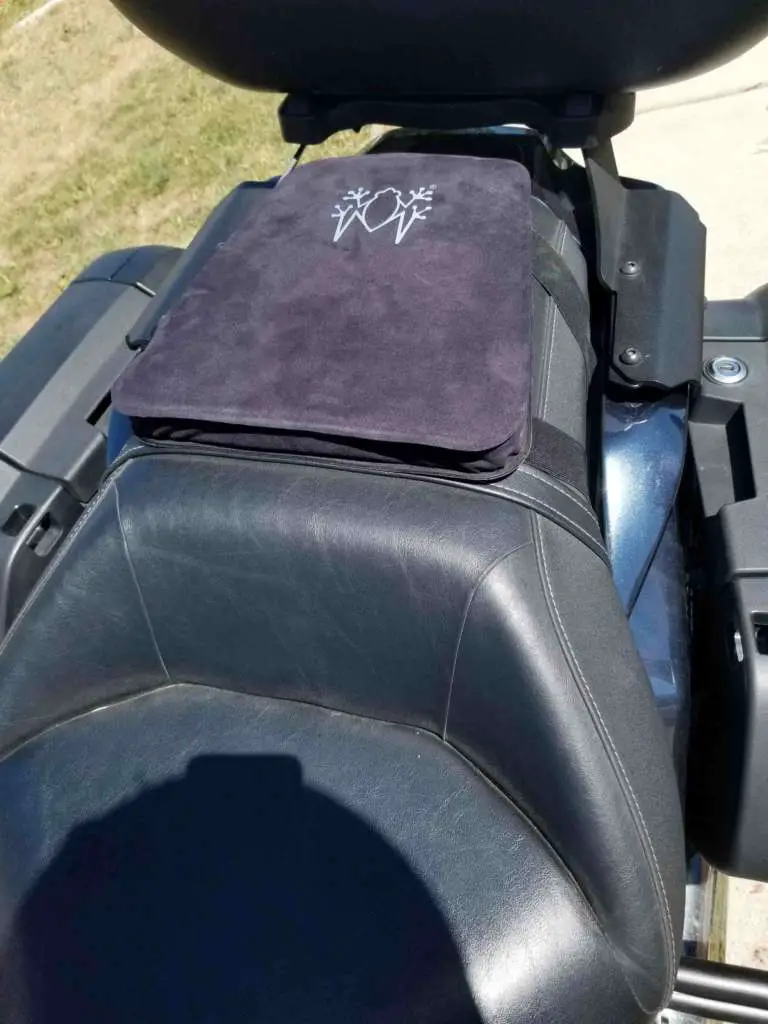 The Review Begins
The first thing I did was try the Soft Seat Pad myself on a flat surface. Thinking about high school bleacher padding, I sat the Soft Seat atop a concrete patio step. At first the seat inflation was too much, making the top rounded. It felt unsteady. I fiddled with the air valve to adjust the air quantity and imagined myself leaning back and forth while maneuvering some canyon curves. I finally decided the setting that felt the most steady was with no air inside at all. Curious to get this installed on the bike, and feeling cautioned about the ability to balance in motion, I was ready to give it a try.
Unfortunately, both Eric and I experienced the same balance issues in the saddle. We just couldn't get the Soft Seat pressure to a comfortable balance. It's agreed that the 'no air' setting was the best option for our setups. However, this pad is the small, and intended for pillion use.
'If you've ever been a passenger or ridden with one you'll know exactly what I mean. 

It's harder to get comfortable on the back and you have less opportunity to move around when in motion.'
Our Expectations
Our three kids put on their leather, Gortex and Kevlar gear in 95 degrees (Fahrenheit) heat to put the Soft Seat to the test. We gave them some notecards and asked that they notate some pre-ride expectations. They took turns on the pillion seat with me piloting Baby Shark (my Honda CTX) and we did several runs of one big loop. 1st ride just on the stock pillion, and 2nd ride on the Soft Seat with a stop in the shade halfway to fiddle with the air valve adjustment. They notated their before then after findings for us on their note cards.
Some pre-ride expectations: 'I think it will be easier to sit.'  'My butt won't get sore while I'm riding.'  'I'm worried the pad is going to affect the driver.'  'I might have problems mounting and dismounting.'  'I think this will be a fun experience.'
'I no longer felt pain in my butt!'
Spending Some Time in the Saddle

Rider A
Before
'I'm most comfortable on the bike at freeway speed. In stop and go traffic my leg position can get uncomfortable.'
After
'I no longer felt pain in my butt!' I didn't have difficulty mounting / dismounting like I thought, in fact it was much easier with the Soft Seat.'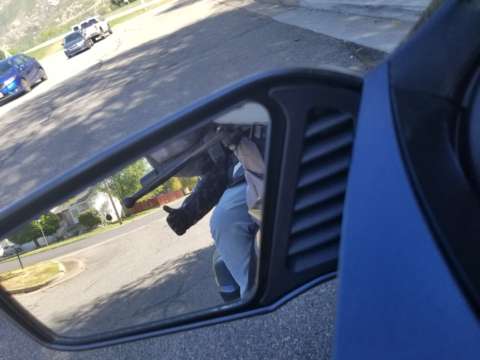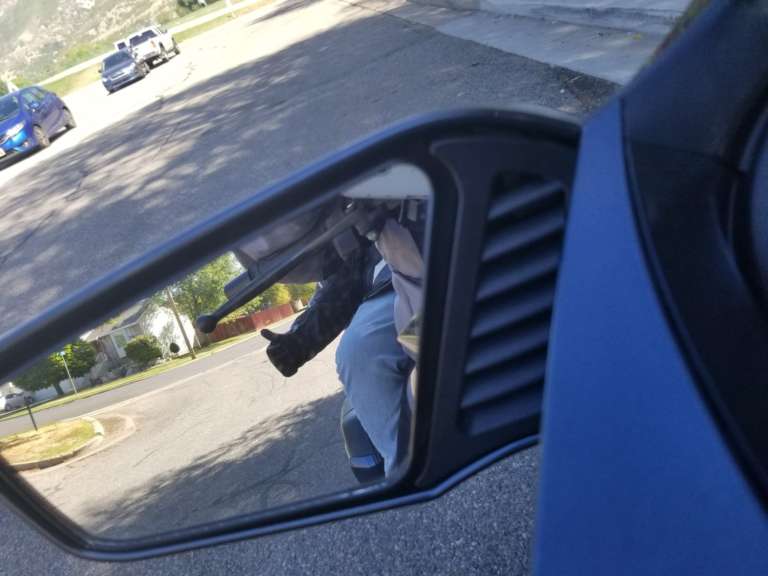 Rider B
Before
'The ride is comfortable as the stock seat is rounded. You can easily lean into corners. The stock seat does a good job of absorbing the impact of bumps in the road.'
After
'The Soft Seat dampens the impact of the overall ride. It fulfills it's task well. However, the pad doesn't feel very well secured. When the breaks are applied the pad pushes you a little more forward than usual. Because of this, I thought the pad would slide around a lot but it only did a little when the brakes were applied. Also I liked that the pad gave me a little more height in the seat, allowing me to see over my mom's head.'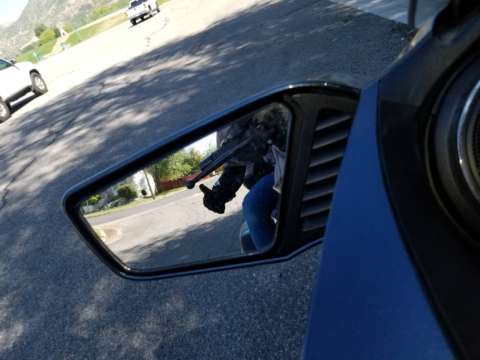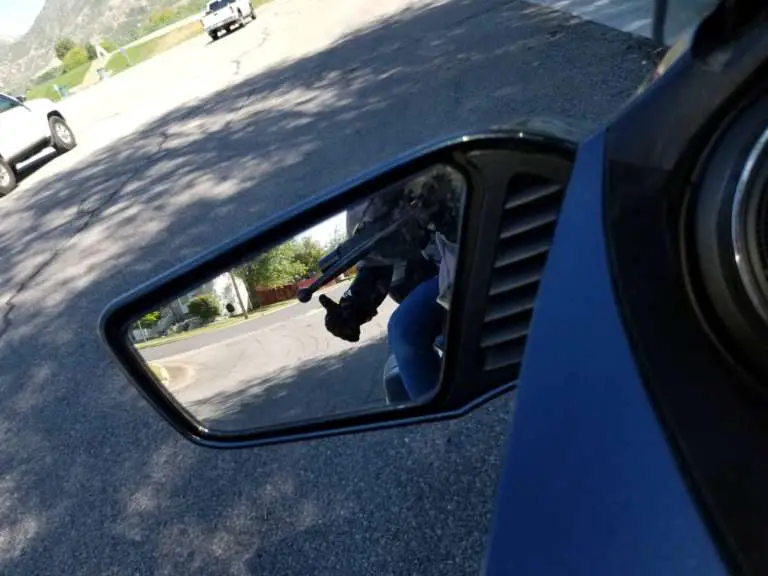 Rider C
Before
'This bike offers a very smooth ride. But your butt get's a little numb after a while. The stock seat is good and soft.'
After
'The Soft Seat is a great thing! You can't really feel the seat when you are riding but it helps. The straps made the pad slip a bit. It was a lot better than I thought it would be!'
Rating
We at Total Motorcycle are proud to give the Amphibious Soft Seat (Small) 3 Thumbs Up and our Editor's Gold Award of 4 stars!!!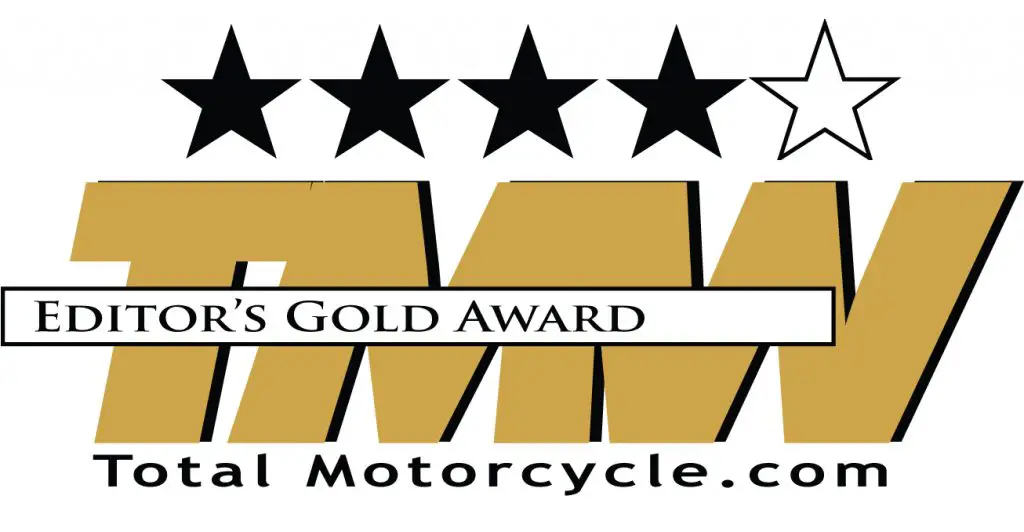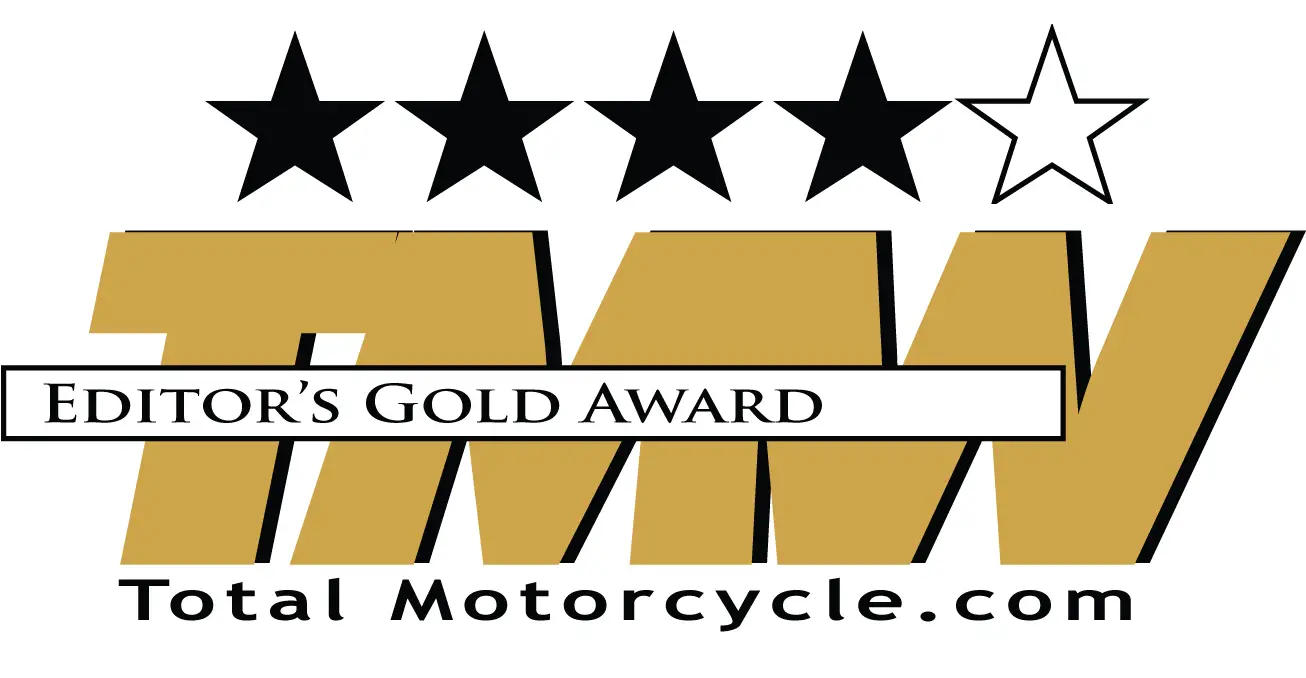 Final Thoughts
We have no doubts as to how much more enjoyable motorcycle adventures could be atop a Soft Seat. As Eric and I didn't have much luck with the size small in the driver's seat, it's safe to assume our experience could only get better with the size large. The only unanimous complaint we got from the kids was the stability provided by the easy install straps. Not sure how that problem could be remedied but it's worth noting. Meanwhile, I have to assume this product would be worth it's weight in gold to a passenger atop a tiny pillion.
We wanted to give a big Thank You! shout out to MotoMachines at www.motomachines.com for allowing us at Total Motorcycle the opportunity to review this product. It was a rare experience for Eric and I to be able to involve our whole family of motorcycle enthusiasts in the review process and we sure had a good time together.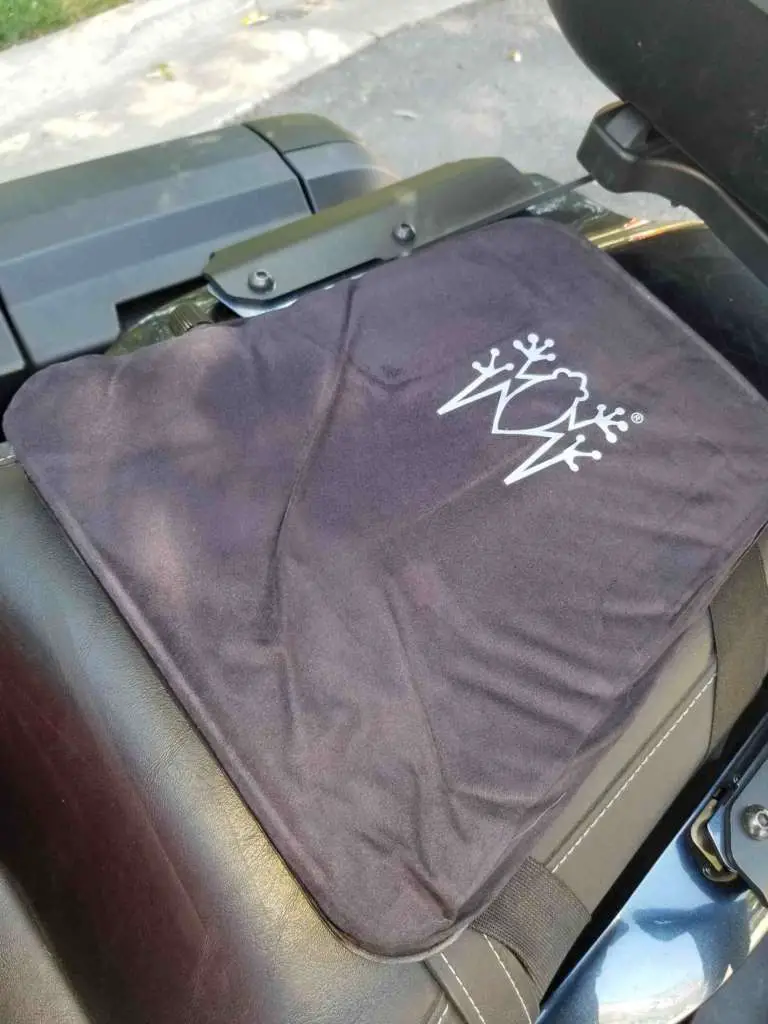 Who is Amphibious?
Amphibious Dry Products is an Italian Company that manufactures a variety of waterproof gear for outdoorsmen.  Products for hiking, camping, motorcycling, boating, workouts etc. Along with the Soft Seat, Amphibious offers backpacks, waste packs, first aid kids, baby carriers, shoulder bags, tube sacks, totes, and technology cases. Their website is available in both Italian and English languages and shows pricing in both Euro and US Dollars. When I used my smartphone device to scan the QR code on the Soft Seat Box I received a page unavailable error. However, when I manually enter the website  http://www.amphibious.it  on my device or PC it takes me directly to their website. It is colorful, well put together and features many pictures of their products in use. And, it looks like they're currently offering a limited 30% off sale.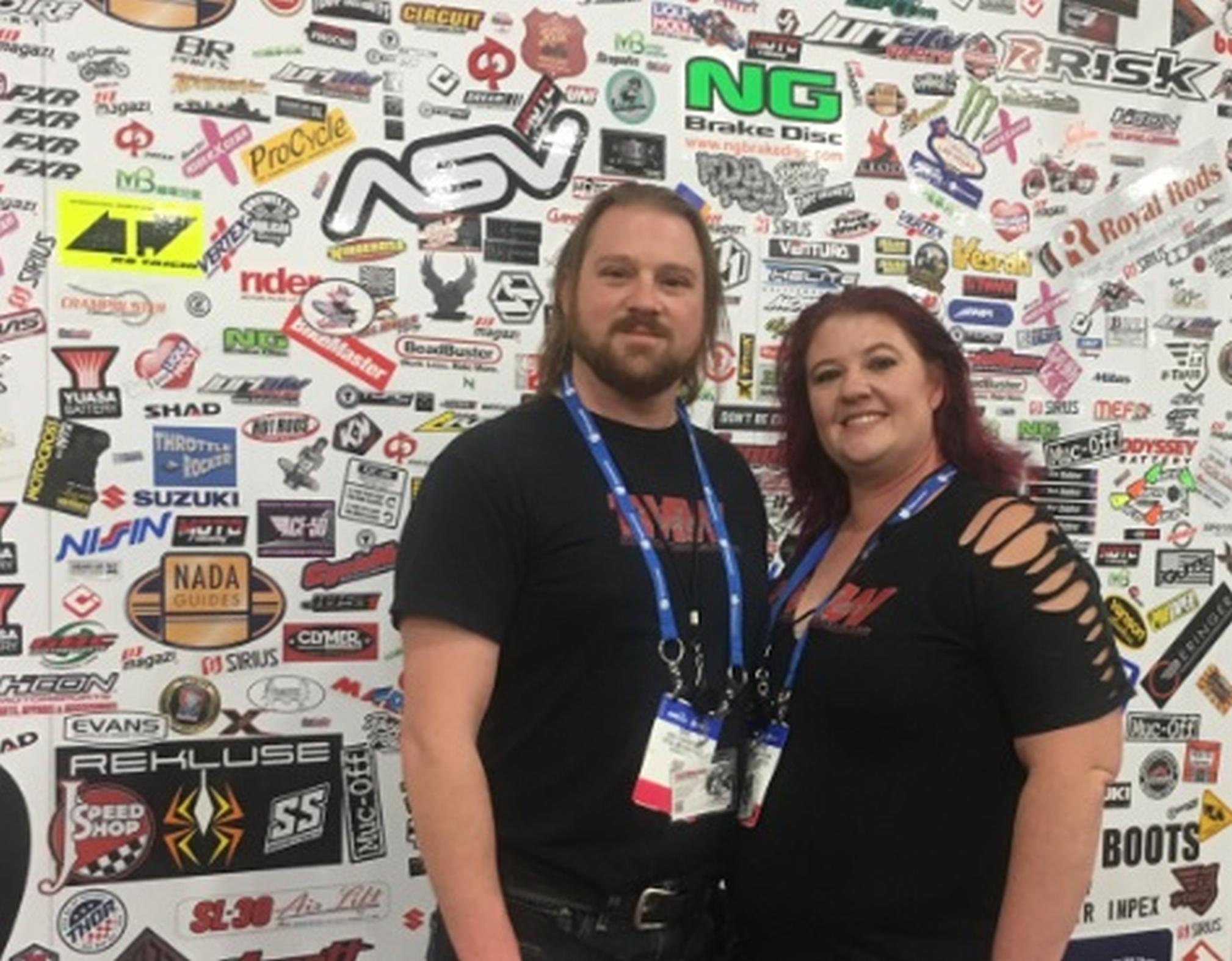 Hey, thanks for reading clear to the end!  If you enjoyed this article, please consider signing up as a Patron today! Subscriptions start at only $1 a month, and you can rest assured your donation will go towards improving and amplifying our future content for yourself and your fellow riders!