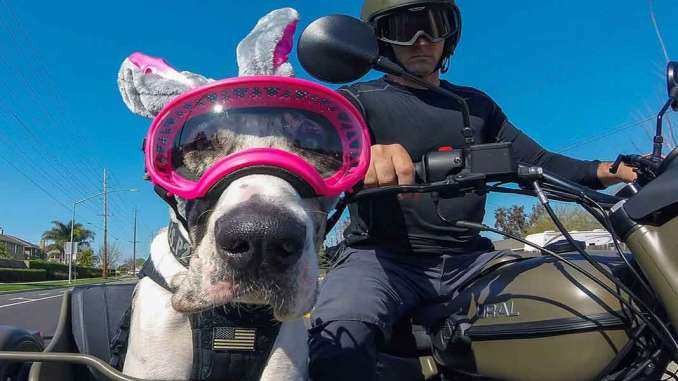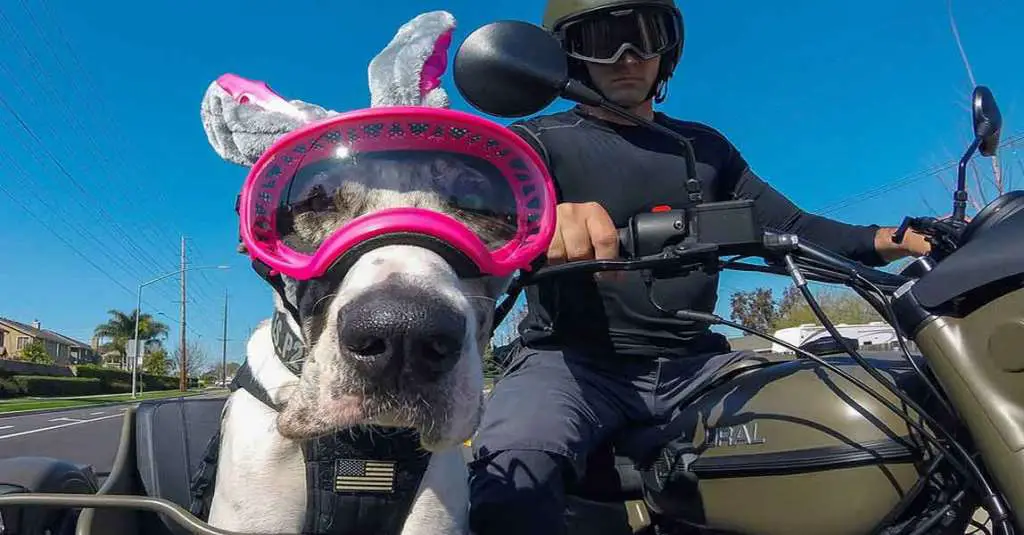 This week I was going to write all about protecting your privacy on Facebook, the #deletefacebook movement and that Total Motorcycle protects your privacy, doesn't sell your data and looks out for you but you already know that… so instead meet Waffles, a Great Dane from the Golden State who loves to ride in her dad's Ural sidecar. If you're around Modesto, California, you may have seen this 1-year old pup proudly riding shotgun in a 2018 Ural Gear Up.
"The open air feeling was awesome. I tend to go with my dad everywhere" –Waffles
We asked these questions to get Waffles' insight on sidecar life:
Ural: What is your favorite thing about riding around in a sidecar?
Waffles: People can see me now! Before the sidecar, I rode around in this large metal box thing, with four wheels and people and other pups would rarely get to see me. Now they see me first – basically I have made the red lights and traffic enjoyable for people and other pups!
Ural: What do people or dogs do when they see you on the road?
Waffles: Most laugh, some seem confused. Pups in the metal box things seem jealous; many take photos of me. Almost all dogs bark at me and ask me how I convinced my human to get one of these Ural things.
Ural: How did you react to your dad's sidecar at first?
Waffles: The Ural was a little louder but I adjusted to it well – the open air feeling was awesome. I tend to go with my dad everywhere. When dad first adopted me, one of our first activities was bike trails and I would travel along in a trailer for kids. The first day we went riding someone started talking to us at a red light and asked how long I had been riding in a sidecar. They were shocked when my dad told them it was my first day.
Here are the questions we asked Waffles' dad, Ryan Bauman.
What year and model Ural do you have?
I don't have a Ural, But Waffles has a pretty sweet 2018 Ural Gear Up in OD Green. She picked up her Ural from Triquest Motorcycles in Santa Clara, CA and had a great experience working with them.
Did you make any modifications or use additional equipment to accommodate Waffles?
Yes, safety was priority number one for Waffles, me, and the people/pups we share the road with. I ensured Waffles was safe and secure her in the sidecar at all times. I fabricated an adapter that bolts inside the trunk using the factory top bolts for the seat. Two Dog Dog Seat Belts with elastic nylon bungee buffer were added and come out on the sides of the seat. This helps Waffles stay centered when riding and helps her stay in place when braking. We also ditched the shovel, and used those mounts for Waffles' Squish Face toy. It is her favorite toy by far and I am not allowed to go anywhere without it.
Would you recommend a sidecar to other pet owners?
Yes, unless you don't like making people and other pups smile, meeting new people, having photos taken of you constantly and turning every grocery run into an opportunity to meet new people that either love dogs, motorcycles and the outdoors!
"DO IT ALREADY, you and your pup will have a blast and it is a great opportunity to meet people in your community!" –Ryan, Waffles' dad
Visit Waffles on Instagram, Facebook, and Twitter.
If you and your best friend are interested in riding sidecars, call your local Ural dealer or visit their shop to learn more. If you have a two-wheeler to trade in, we have a special offer here. This could be the start of a new adventure for you, but like Waffles and her dad, we encourage you to look into how you can safely enjoy your travels!
Do you ride with your dog? Post pics on Instagram and tag #uralmotorcycles and #sidecardog and we may feature them in a future post.
Total Motorcycle would like to thank URAL, Waffles and Ryan Bauman for sharing this weeks Rider Personal Interest story with our readers. We hope you enjoyed read it rather than the other article I was going to do on #Facebook privacy, privacy settings, how to protect your data and the #deletefacebook movement. You may notice we did remove our Facebook widget this week to protect you from any data scraping.
Photos by Waffles_P2K