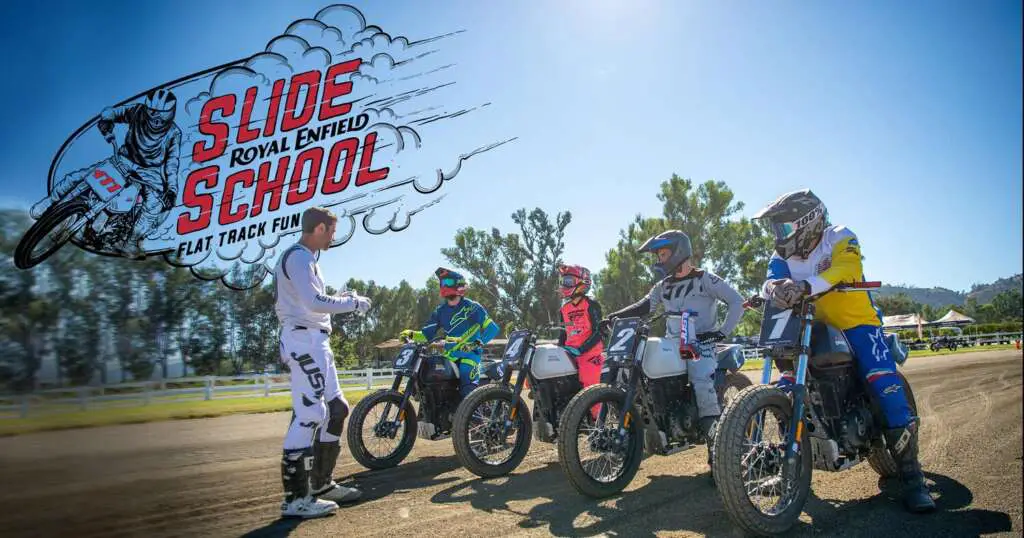 Royal Enfield And MotoAnatomy Get It Started In Daytona
Johnny Lewis and Ryan Wells kick off American Flat Track season at Daytona Short Track Doubleheader
Milwaukee, WI (Tuesday, March 14, 2023) – It's been a busy off-season for Johnny Lewis and the MotoAnatomy Powered by Royal Enfield team, and the Daytona Short Track is where they got to showcase all the hard work, and reach more milestone moments for the brand. For Lewis, his 2023 season started with a heat race win, a main event holeshot and leading the first lap of Thursday night's Daytona Short Track I. For Wells, it was his first race with the team, and the Daytona Short Track II marked first time ever that two Royal Enfields have been in an AFT SuperTwins main event.
"I love every bit of Short Track," says Jonny Lewis. "Because it's intense racing, but you're really trying to control the motorcycle. We're really try to push the bike in, get a direction change and you're coming almost to a dead stop and accelerating really hard… so it's really about trying to contain the power as much as you can, and keep the bike precise on the track. In Short Track, it's really hard to do."
Lewis put his razor-sharp technique to good use as he grabbed the holeshot and led the charge in the very first main event lap of 2023 American Flat Track. It also marked the first-ever unified SuperTwins race in AFT (previously, Lewis competed in the Production Twins class, which is now combined with the premiere Mission SuperTwins class). From there, Lewis settled into a strong fifth-place, but was taken out by another rider. He would soldier on to finish a respectable eighth.
For Ryan Wells, Daytona was his official debut with the MotoAnatomy Powered by Royal Enfield team. Like his teammate, Wells had some shining moments in Florida, and is looking to build on the excitement and progress into the rest of the season.
"It's when I have someone like Johnny riding the same exact bike," said Ryan Wells, "because Johnny's really good at eliminating anything that could be under the bike's control and puts it under his own control. Seeing what he's doing made me want to work harder. Because he busts his butt every day of the week and he doesn't stop. I know we feed off each other when he sees me working hard, he wants to work harder and vice versa."
"This great team synergy, the progress made with the Royal Enfield Twins FT motorcycle and the enthusiasm for the entire 2023 season are our main takeaways from the Daytona Short Track Doubleheader," said Adrian Sellers, Royal Enfield Head – Custom & Motorsport. "This is an exciting ride for all of us into uncharted territory and we're already seeing the work pay off. Mostly, we're just happy to be officially underway for the 2023 season."
About Royal Enfield
The oldest motorcycle company in continuous production in the world, Royal Enfield made its first motorcycle in 1901. A division of Eicher Motors Limited, Royal Enfield has created the midsize motorcycle segment in India with its unique and distinctive modern classic motorcycles. With its manufacturing base in Chennai, India, Royal Enfield has been able to grow its production rapidly against a surge in demand for its motorcycles. Royal Enfield is a leading player in the global middleweight motorcycle market.
Royal Enfield North America (RENA) is headquartered in Milwaukee, Wisconsin, and is developing a growing network of more than 150 dealers in North America, including the contiguous U.S. and Canada. RENA currently offers the all-new Scram 411, Classic 350, Meteor 350, Himalayan and the 650 Twins (INT650 and Continental GT 650) motorcycles, along with a range of Genuine Motorcycle Accessories and apparel.