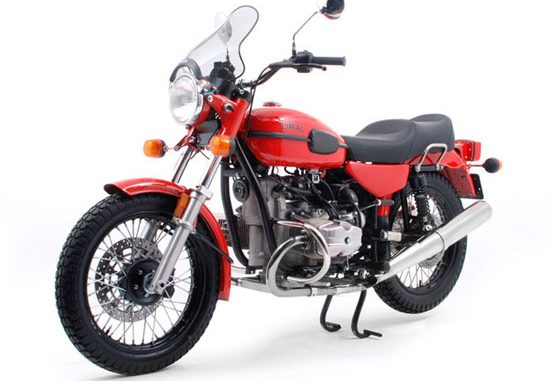 Back to 2010 Suzuki Motorcycle Index Page
Click photos to enlarge.
They make great desktop images.
– 2010 Ural sT

2010 Ural sT
What does a small motorcycle company do during the cloudy times? Make the best of it!

Ural, famous for its 2wd sidecar motorcycles went to create a solo motorcycle that would capture the best of Ural – its simplicity, versatility, the classic lines.

Think of it as a bike that could have been produced by Ural in the 1970's if the engineers were allowed to fulfill their ambition for a performance two-wheeler.

We took care of unfinished business and put together a motorcycle that answers the need for something functional, simple and reasonable. Just what a real motorcycle should be – a universal bike for your daily trips and weekend getaways whether on a street, highway or even a forest road …with the feel of a genuine classic ride and all modern day components.

Unlike any "normal" motorcycle company we invited our owners and even motorcycle journalists to participate in the development. We opened the prototype to the public, got feedback, took notes, made changes…

We'll say no more – here are some quotes and reviews:
"Individualists Unite! Russian manufacturer Ural prides themselves on building bikes with Iron Age-era stoutness and no-nonsense utility."- Basem Wasef on about.com, May '10
"…the ST has a breadth of ability utterly absent from modern motorcycles. It's competent on the highway, at home on back roads where it can comfortably cruise or be ridden relatively fast and is surprisingly capable on gravel or dirt despite the road-biased tires… the Ural ST is a motorcycle, plain and simple."- Hell For Leather Magazine, Aug '09
"This is a unique bike, it seems able to adapt itself the road, and riding conditions. Once again the Ural analogy applies, the Swiss army knife of motorcycles. A sport bike, a supermotard, a cruiser, an enduro, and a freeway mile marker…My only complaint is that I have to give it back…"- Barry Conti, Ural Owner, Sep '09
"The handling is outstanding. It's a short wheel base and it will turn as soon you think about turning. Nimble is the word for this machine. I think we're seeing a Russian Hooligan bike."- Doug Soderland, Ural Owner, Sep '09
"I found this motorcycle just down right pleasant. If I was going to buy another bike for commuting or putting around on the weekends Ural has got my attention." – SPR, Sep'09
"I rode my Arctic Gear Up 1500 km from Bodega Bay to Redmond (WA) just to test ride the Solo T. It's an awesome solo bike. I felt right at home as soon as I got on it. I rode city street, mountain roads and freeway. It has plenty of acceleration. It handles sweeping turns and city streets with ease."- Ivan Rider, Sep '09 Specs
Did our new solo just get you thinking?
Here is the detailed technical specification for Ural sT and a table of side-by-side comparison with offerings
from several other manufacturers (based on information from their official websites).

Ural A La Carte
Ural A La Carte means: we'll build every sT to order the way you want it. Here's how it works.

The starting point is the base model in flat black. It comes with straight stainless steel exhaust, standard gas tank, black trim, single tractor seat and a black rear fender rack. You can choose to order additional equipment and/or upgrade from standard specification.

Test your imagination, choose the options you want (unless you are going for the base model). The motorcycle you order will be built at the factory and delivered to your dealer exactly in specification you chose from the menu!

Pricing
The MSRP for the base model is $6,999. This excludes the usual: taxes, title and licensing, registration, destination charges and dealer setup. Dealer prices may vary and are subject to change. Prices for optional color, material and equipment are valid only at the time of placing the order.
2010 Ural sT – International Specifications
MSRP Base model $6,999
Engine and transmission

Engine and transmission, Displacement, cc: 745cc
Engine type OHV air cooled 2 cylinder 4 stroke "boxer" (flat twin)
Bore and stroke (mm x mm) 78 x 78 (3.07x 3.07)
Max output (hp) 40 @ 5600 rpm
Max torque (ft-lbs) 38 @ 4500 rpm
Compression 8.6:1
Fuel system Carbureted, twin Keihin L22 AA
Ignition Full electronic CDI
Starting Electric & Kickstart
Clutch Double-disc dry
Transmission type Manual
Speeds 4
Gears ratios – I 3.60
II 2.28
III 1.56
IV 1.19
Primary drive (rear wheel) Driveshaft
Final drive ratio 3.89
Physical measures
Overall length, mm 2,160 (85.0″)
Overall heights, mm 1,080 (42.5″)
Overall width (handlebar), mm 780 (30.7″)
Wheel base, mm 1,490 (58″)
Seat height, mm (unladen) 770 (30.3″)
Seat height, mm (laden) 760 (29.9″)
Ground clearance (unladen), mm 170 (6.7″)
Dry weight, kg 200 (441kg)
Chassis
Frame type Double loop steel tubular frame
Front suspension 40mm Marzocchi telescopic forks
Rake steering head (deg) 26.0°
Trail (mm) 65mm 2.6″
Front suspension travel (mm) 110mm 4.3″
Rear suspension Double sided swing-arm with two Sachs hydraulic spring
shock absorbers, 5x adjustable
Rear suspension travel 100mm
Wheels 2.5X18 painted steel rims with steel spokes
Tires Duro HF-308, 3.5×18″ front, 4.0×18″ rear
Front brake Single 295 mm full floating disc, 4-piston fixed Brembo
caliper
Rear brake
Single 245 mm fixed disc, 2-piston fixed Brembo caliper
Other
Fuel grade 91 Octane, unleaded
Fuel tank capacity (liters) 19, 5.l gal
Reserve (liters) app. 3.0l, 0.8gal
Estimated fuel economy, mpg 47
Range, miles 235
Recommended cruising speed (mph) 70
Estimated top speed (mph) 90
Max permissible weight 380kg 841lbs
Electrical
Alternator Denso, 55 Amp, 770 Wt
Battery FAYTX20HL (12V, 20A)
Headlight H6024 (65/35)
Spark plugs NGK BP6HS
Warranty 2-years parts & labor, unlimited mileage
Color
Base
Flat black
optional
Flat green $195
Sahara $195
Gloss black $255
Gloss white $255
Gloss maroon $255
Gloss red $255
Press Release
Ural sT Unveiled!!!
Are the times so crazy that a sidecar company takes a two-wheel detour? What a lofty ambition, some would say, to compete with the high-tech-shiny-polished-perfect two-wheel beast of a market!
Well, it's not really a detour, it's our intricate way to eventually lure those of you who only got 2/3 of the Ural bug. In the meantime, feel free to enjoy two-wheeled Ural, no pressure whatsoever. 😉
We loved putting the sT together as we know there are folks out there who appreciate simple things with functionality and character. For those bored with the plastic panels, vinyl stickers, electronically overspecialized spaceships, we give you a back-to-basics universal use motorcycle. Take it around town, or on some back roads. Nimble – is the word most often used to describe it by those who've taken it for a ride.