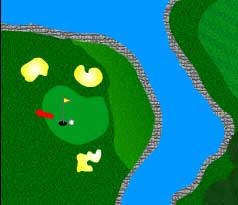 Page 1 – Page 2 – Page 3 – Page 4–
Page 5 – Page 6 – Page 7– Page 8
Golf 2001

– Sports

Choose your club, pick the direction and try to get it on the green for a hole in one! Watch out for the forest, sand traps, and water hazards along the way.

Kickoff Soccer – Sports

Really good Soccer game. Pick your country to play, try to qualify for the World Cup and then beat them at their own game!

Super Handball

– Sports

Handball can be quite fun and challenging, now throw in powerups to grab and a good opponent and you have Super Handball!

Ping Pong 3D – Sports

Anyone for a really good game of Ping Pong?

Fishing the Sea

– Sports

Nothing like a nice relaxing day on the water spent fishing on your boat… Too bad you have fish quotas to meet!!! Now get out there and fish the sea or you'll be fired!

Baseball Shootout – Sports

Take me out to the Ballgame. Let me his some home runs! Try to hit as many as you can for lots and lots of points!

12 Holes of Christmas

– Sports

On the first day of Christmas all I want to do is play GOLF! Now you can play golf on Christmas, or atleast in a Christmas theme.

Euro Headers 2004 – Sports

Euro World Cup Soccer at its best! Pick a country and play your way to the Euro Cup Finals! Will Greece win again?

Monster Sumo

– Sports

It is the ultimate summer poolside fight! Choose a monster and sumo your way to a win

Cricket Challenge – Sports

The Match is on! Get your wicket ready and make as many runs as you can! Nothing like a good game of cricket over tea.
On-Line Sport Games 4
Page 1 – Page 2 – Page 3 – Page 4–
Page 5 – Page 6 – Page 7– Page 8