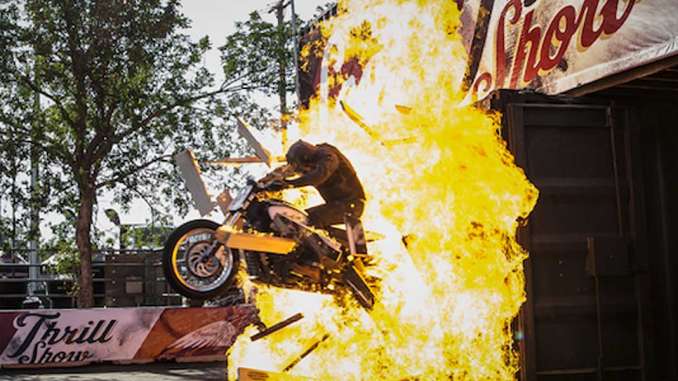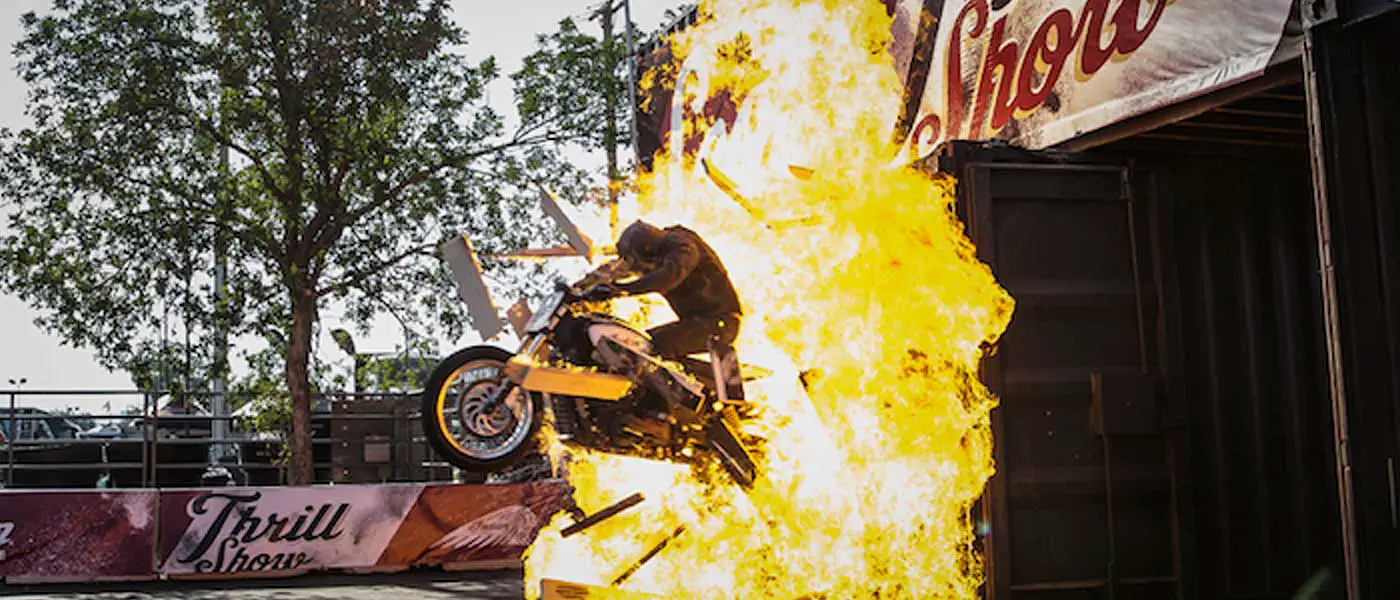 August 3rd-12th 2018 : 10 DAYS/NIGHTS OF RIDING, FOOD, AND MUSIC
2018 Sturgis Motorcycle Rally – 500,000 riders, concert fanatics, and street-food enjoyers attend the Sturgis Motorcycle Rally every year. Sturgis is located in the Black Hills of South Dakota, only minutes away from Mount Rushmore, Crazy Horse, Devils Tower, Custer State Park, and some of the most scenic riding in the country.
Indian Motorcycle®, America's first motorcycle company, has an exciting schedule of events during the 2018 Sturgis Motorcycle Rally. Indian Motorcycle will offer riders demo rides on 2018 models, adrenaline-charged thrill shows, two nights of American Flat Track and Hooligan racing, as well as group rides throughout the week.
The Indian Motorcycle Wrecking Crew and stable of privateers take Sturgis by storm on August 5 at the Buffalo Chip TT presented by Indian Motorcycle. Fans will have the opportunity to see team riders hit the track with the dominant Scout FTR750 race bike. American Flat Track 2017 reigning champion Jared Mees leads the series in total points and is fresh off a Gold Medal X Games victory.
"As the largest motorcycle rally in the U.S., Sturgis provides a great platform to connect with riders and current owners," said Reid Wilson, Senior Director –Indian Motorcycle. "It's important to have a strong presence with a full week of activities that enable riders to connect with us through displays and demos, flat track racing, custom builds, and exclusive events for our Indian Motorcycle Rider's Group (IMRG)."
Below are highlights of Indian Motorcycle's schedule of events for the 2018 Sturgis Motorcycle Rally.
Displays, Demo Rides, and More at Indian Motorcycle Site on Lazelle Street (3rd St. and Lazelle St.)
Riders can experience the entire 2018 lineup from Indian Motorcycle at its primary display on Lazelle Street. The display also welcomes one of three "Evel Live" Scout FTR750's used by Travis Pastrana to jump 16 Greyhound buses, 52 crushed cars, and the Caesar's Palace Fountain on July 8 in Las Vegas.
Scout Thrill Show (Lazelle St. & 3rd St.)
The exhilarating Scout Thrill Show takes place at the stunt area within the Lazelle Street activation site. The show features stunt performances aboard the Scout Bobber, including freestyle tricks such as handstands, burnouts, firewall jumps and more.
American Flat Track (Sturgis Buffalo Chip)
The Indian Motorcycle Wrecking Crew and stable of privateers continue the American Flat Track season at the Buffalo Chip TT and Black Hills Half-Mile.  Reigning 2017 AFT Champion Jared Mees has won nine of the 11 races this season aboard the Scout FT750 and seeks to improve on a second-place finish at last year's inaugural Buffalo Chip TT. The Buffalo Chip TT opening ceremonies begin at 5:30 on August 5.
Veteran's Charity Ride Heroes' Welcome (Indian Motorcycle Sturgis)
Riders can join Indian Motorcycle on Saturday, August 4, from 2:30-4:30 p.m. to welcome members of the fourth annual Veterans Charity Ride to Sturgis as they complete their eight-day journey from Las Vegas. A grand parade through Main Street will lead to Indian Motorcycle of Sturgis, where the group will be honored by a color guard salute and welcome reception.  To learn more about the Veterans Charity Ride, visit veteranscharityride.org.
RSD Super Hooligan Moto Stampede (Sturgis Buffalo Chip)
On August 8 from 4:00-7:00 p.m. the RSD Super Hooligan race, presented by Indian Motorcycle, returns for the Buffalo Chip Moto Stampede.  The night will be packed with racing, giveaways, and a performance by Eric Church. For more information, or to visit tickets, visit here.
The Wrench: Scout Bobber Build Off Unveil (Buffalo Chip & Indian Display on Lazelle St.)
"The Wrench: Scout Bobber Build Off" is a custom motorcycle competition designed to highlight non-professional builders who wrench for the passion and not the pay. After nearly three months of building, the three finalists' custom Scout Bobber will be unveiled at the Buffalo Chip on Sunday, August 5, at 10 p.m. Following the unveil, all three builds will be on display for riders to see up close at the Indian Motorcycle display location on Lazelle St. Following the unveil, a fan vote will ensue to name the grand prize winner. Visit IndianMotorcycle.com for more information.
Indian Motorcycle of Sturgis (2130 Main Street)
Open every day and offering daily rally specials and free breakfast, Indian Motorcycle of Sturgis offers demos of any model from the full 2018 lineup. Riders can also visit the dealership to get their exclusive Indian Motorcycle Sturgis 2018 apparel.
Special Ride Opportunities
A variety of special ride opportunities will be available, including:
The annual Legends Ride on Monday, August 6, from Deadwood to the Buffalo Chip. Learn more or sign up at legendsride.com.
The annual Biker Belles Ride, presented by Indian Motorcycle, will be on Tuesday, August 7, from the Buffalo Chip to Deadwood. For more information or to sign up, visit bikerbelles.com.
The Carey Hart Good Ride, which raises money for Infinite Hero Foundation, is Sunday, August 5, from Indian Motorcycle of Sturgis to the Buffalo Chip. Riders can sign up by visiting goodriderally.com.                 
To track all the Sturgis excitement in real time, follow Indian Motorcycle on Facebook, Twitter and Instagram. Learn more about Indian Motorcycle by visiting IndianMotorcycle.com
ABOUT INDIAN MOTORCYCLE®
Indian Motorcycle is America's First Motorcycle Company®. Founded in 1901, Indian Motorcycle has won the hearts of motorcyclists around the world and earned distinction as one of America's most legendary and iconic brands through unrivaled racing dominance, engineering prowess and countless innovations and industry firsts. Today that heritage and passion is reignited under new brand stewardship. To learn more, please visit www.indianmotorcycle.com.