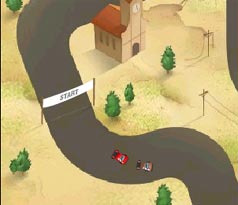 Page 1 – Page 2 – Page 3 – Page 4 – Page 5
Page 6 – Page 7 – Page 8
Rural Racer

– Action Racing

1 or 2 players, use your turbo to win! Multiply levels including snow and ice racing! Quite fun.

Fast and the Furious

– Action Racing

Pick your car based on looks, acceleration, top speed, handling then off you go! Can you get First Place? My fastest: 17.7s

Gone in 60 Seconds

– Action

Steal cars, make money, advance levels.. just watch out for the cops! Really fun game.

Golden Gate Drop

– Action

Bombard vehicles, people, boats, animals and old people with water ballons from the top of the Golden Gate Bridge. Watch out for the police cars!

Alcohol and Ammo – Action

Alcohol and Ammo do not make a good mix and this game shows why. Use various weapons to shoot and apple of yer friends head, try not to miss ok?

Maximum Torque

– Racing

You have heard of the movie, now play the game! Choose your motorcycle, paint job and charater. Race against your opponent. Collect Nitro along the way. Do wheelies, power slides and jumps. Really fun!

BB Blast

– Action

Really good space shooting game. Shoot enemy ships, collect power-ups, defeat the bosses!

Quick Draw Shooter – Action

Quick, draw yer gun and protect the west from the Bad Guys!

Soakamon

– Action

It's a wild west water fight! Send the competition home and back to their momies by tagging them with your water balloons!
On-Line Action Games Page 2
Page 1 – Page 2 – Page 3 – Page 4 – Page 5
Page 6 – Page 7 – Page 8