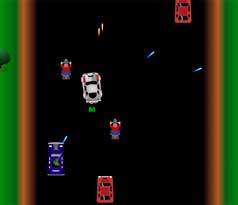 Page 1 – Page 2 – Page 3 – Page 4 – Page 5
– Page 6 – Page 7
Spy Hunter

– Classic

Easily one of my all-time favourite arcade games. Too many quarters over too many years and like Pacman the music track still haunts me it is that fun of a game to play.

Shuriken Assault

– Classic

I cannot seems to remeber what arcade game this is from, maybe Ninja Assult in 1987? Shoot the ninjas with your Shuriken throwing stars before they can get to you…

Pang 2001

– Classic

Classic arcade game Pang returns! Destroy the balloons before they destroy you!

Zelda

– Classic

Welcome to the big little world of Zelda! Get your sword, bow and bag of bombs ready as you go out and explore it!

Defender

– Classic

Almost a clone of the original arcade classic but this version is a little different. Your enemies evolve, learn and grow along the way to defeat you!

Star Castle

– Classic

Classic Arcade game Star Castle! Use your firepower to knock out the enemy shields then blast them into oblivion!

Tank Wars

– Classic

Classic Tank Wars game for 1-4 players! Choose your tank, choose your map, weapons and opponent(s).

Moon Lander

– Classic

Moon Lander, another super classic and fun game! Manuever your ship to land on the landing pads for points… but watch the fuel and terrain.

Pong 2

– Classic

The original classic arcade game! Easy and simple to play, yet oh so addictive…

Colosseum Black Jack

– Classic

Anyone for a game of Black Jack, casino style? Try to beat the dealer without going bust.
On-Line Classics 4
Page 1 – Page 2 – Page 3 – Page 4 – Page 5
– Page 6 – Page 7