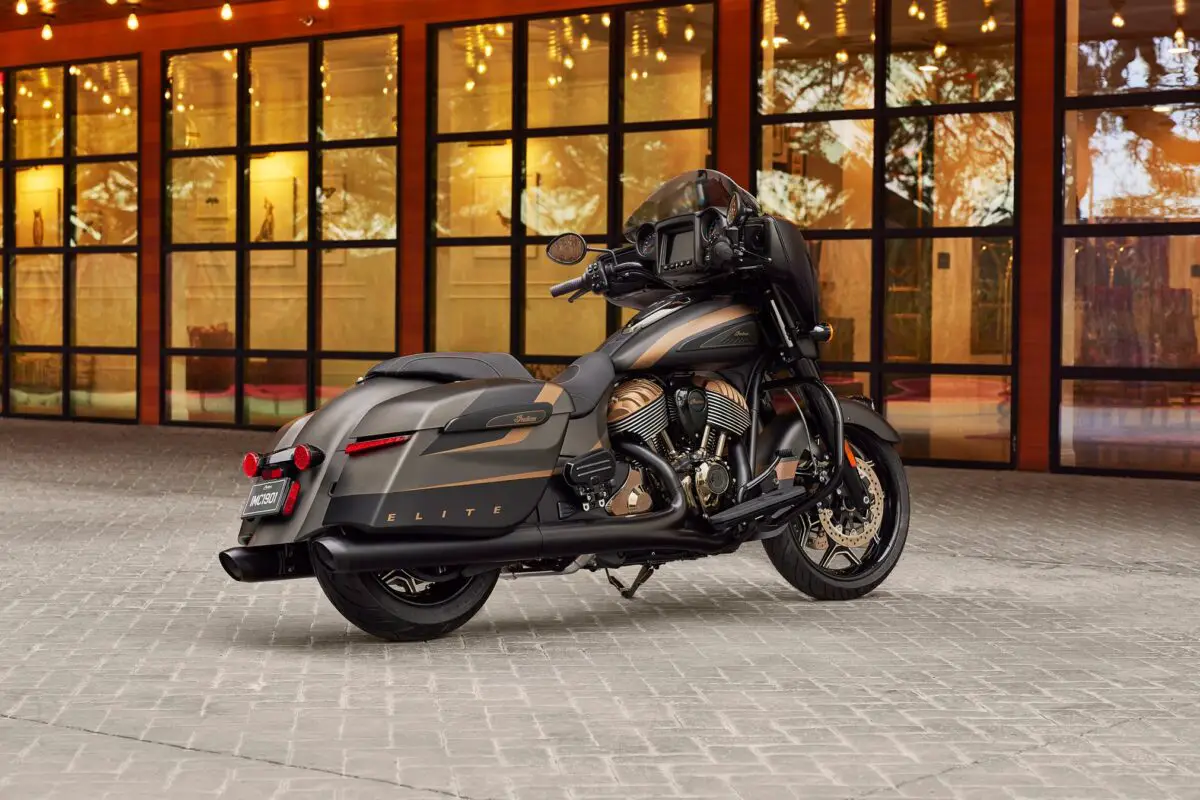 Indian Motorcycle renews partnership as headline sponsor of Indian Riders Fest 2024
'Back In Time' theme including a vintage model exhibition
10th Anniversary celebration of the Indian Riders Group
Limited special presale ticket prices until the end of October
2023 record-breaking attendance sees extra day added
Indian Motorcycle, America's first motorcycle company, is proud to announce the renewal of its partnership as the headline sponsor for the Indian Riders Fest 2024 (IRF24). This partnership marks the continuation of a successful collaboration that marks the 10th anniversary of the official Indian Riders Group and celebrates the spirit of riding. With an extra day added to the program off the back of record-breaking attendance of over 3000 people from 39 nationalities in 2023, IRF24 aims to bring together riders and fans from all corners of the globe to reconfirm its position as one of the most significant gatherings of Indian Motorcycle enthusiasts globally.
Located in České Budějovice (Budweis), Czech Republic, from July 13-16, IRF24 promises to be an unforgettable experience for motorcycle enthusiasts with a host of exciting activities, exclusive product showcases, and unforgettable rides. In addition, the festival's 2024 theme, 'Back In Time,' will take participants on a journey through the storied history of Indian Motorcycle with an immersive experience that pays homage to the classic designs and innovations that have defined the brand over the years, illustrated with a display of iconic vintage models.
"We are delighted to renew our partnership with Jean-Marie and the IRF team for Indian Riders Fest for 2024," said Grant Bester, Vice President International for Indian Motorcycle. "Indian Motorcycle has always been committed to the riding community, and the IRF is not just a celebration of our motorcycles but also highlights the dedication of our riders. The rapid evolution of the IRF since 2019 is a testament to the team and as the major event on the international calendar, it allows us to connect with owners at a deeper level. After the hugely enjoyable time I had at the 2023 event, I cannot wait to meet, and ride, with everyone in Budweis again next year."
Jean-Marie Guyon, organiser of the IRF, commented, "I am thrilled at this renewed commitment from Indian Motorcycle. It marks another exciting chapter in our ongoing collaboration. We look forward to taking IRF24 to new heights and creating unforgettable moments for the Indian Motorcycle community. Indian Motorcycle and the IRF team are eagerly anticipating the event and invite motorcycle enthusiasts from all over the globe to come and be part of this extraordinary event. With our theme of 'Back In Time,' we'll take you on a nostalgic journey back to an era filled with music and freedom, a time before social media dominated our lives. Let's make memories and friendships that will last a lifetime."
Alongside a variety of food and retail stalls, festival goers will be thrilled with heart-stopping performances from the Wall of Death, fearless stunt riders, live concerts, a genuine Indian Motorcycle apparel shop, the Indian Motorcycle Roadshow truck offering test rides on the latest models, and much more.
CONTINUES
Another major feature of the 2023 festival was the AMD-approved Budweis Indian Motorcycle Custom Show, the only custom show to be 100% dedicated to Indian Motorcycle. Back with official AMD approval for 2024, the larger custom show will again be a showcase for skilful builders and incredible craftsmanship. More details of the 2024 Budweis Indian Motorcycle Custom Show will be detailed in a future release.
Until the end of October, attendees can take advantage of special "early bird" discounted prices on IRF24 tickets, Riders Packs, and hotel accommodations. Additionally, the event offers a unique "Two Person" ticket option and Riders Pack, providing a 15% saving over buying two separate tickets, an excellent opportunity for riding partners and friends to join in the festivities.
To stay up to date with all the latest news and developments about IRF24, visit the newly redesigned IRF24 website which now includes an e-shop where enthusiasts can purchase tickets, Riders Packs, and even hotel accommodations.
Festival Website: www.indianridersfest.eu
Direct e-Shop link: eshop.indianridersfest.eu
The Indian Riders Fest has become an essential date for Indian Motorcycle riders welcoming everyone, regardless of motorcycle brand. Anyone interested in planning on attending IRF24 should mark their calendars, visit the festival website to secure their tickets, and get ready for four days filled with laughter, new friendships, and a celebration of the simplicity and freedom that characterised a bygone era.
Below is just a taste of the packed program throughout the weekend:
Larger Budweis Custom Indian Motorcycle Show – AMD-Approved
Indian Riders Group 10th Anniversary Celebration
Indian Motorcycle Demo Rides
Vintage Indian Motorcycle Display
Indian Motorcycle Bar & Chill-out Area
Parade Ride – New Route
Guided Motorcycle Tours
Wall Of Death Shows
Stunt Rider Displays
Street Artists & Dance Shows
Live Music & DJs
Secured & Monitored 24h Parking
ABOUT INDIAN MOTORCYCLE®
Indian Motorcycle is America's First Motorcycle Company®. Founded in 1901, Indian Motorcycle has won the hearts of motorcyclists around the world and earned distinction as one of America's most legendary and iconic brands through unrivalled racing dominance, engineering prowess and countless innovations and industry firsts. Today that heritage and passion are reignited under new brand stewardship. To learn more, please visit www.indianmotorcycle.eu
INDIAN and INDIAN MOTORCYCLE are registered trademarks of Indian Motorcycle International, LLC. Always wear a helmet, protective clothing and eyewear and insist your passenger does the same.  Ride within the limits of the law and your own abilities. Read, understand, and follow your owner's manual. Never ride under the influence of drugs or alcohol.